Find out if buckwheat flour is safe for a gluten-free diet, what it's made of, used for, and what brands are good choices when you're gluten-free.
Note: I am a proud Amazon, Chomps, MunkPack, and Thrive Market affiliate and am happy to recommend their service and products to you. Please know that as an affiliate, I may receive a small commission on the products you purchase after clicking through my links. For more info, please see my disclosure policy here.
If you're getting started with a gluten-free diet and trying to determine which types of flour are okay to keep eating, you may be wondering if buckwheat flour is one of them.
Buckwheat flour is used in all kinds of foods, from pancakes to noodles to bread. It's full of fiber and healthy amino acids so people flock to this flour for all kinds of baking and cooking needs.
If you're gluten-free, you know that looking at each and every ingredient that goes into your body matters. One bite of a food that has gluten and you could be feeling the effects of it for days after.
Whether you're trying to decide if the buckwheat noodles at the pho shop are okay to eat or you're thinking about making some homemade buckwheat pancakes this weekend, I hope this post can clear up some of the questions you may have about this ingredient.
In this post, we'll talk about what buckwheat flour is, what it's made from, what it's used for, and answer the question "is buckwheat flour gluten-free?"
We'll also go over a list of some gluten-free buckwheat flour brands in case you need a jumping off point of what to look for next time you're at the grocery store.
Let's dive into buckwheat flour!
What is buckwheat flour?
Buckwheat flour is a type of flour that comes from the buckwheat grain (buckwheat groats). It looks white and gray with black speckles throughout. It is high in fiber, manganese, and magnesium making it a healthful choice for your favorite healthy recipes.
What is buckwheat flour made from?
Buckwheat flour is made from buckwheat grains, or groats, that are technically seeds and not grains at all. We often call buckwheat a grain, because of its uses and how we cook with it.
Its color is varied in whites, grays, and black speckles, because the different parts of the buckwheat groat are in these shades. If you see variation in your buckwheat flour, know that's normal!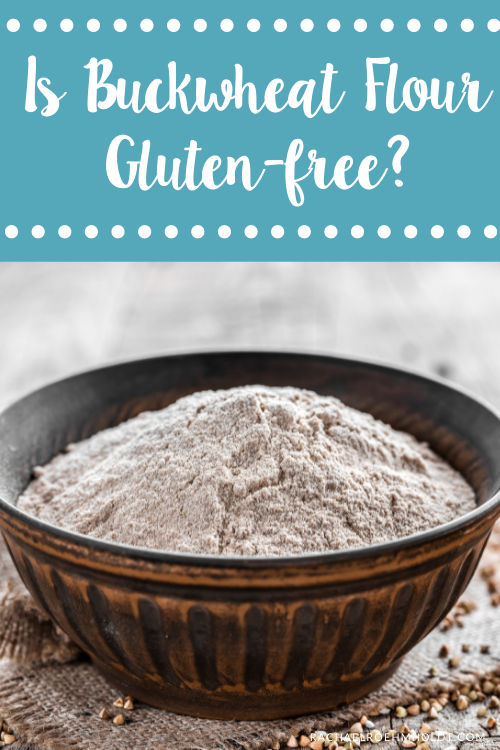 What is buckwheat flour used for?
Buckwheat flour is often used for breakfast foods, like pancakes and muffins, noodles, and breads. Buckwheat can also be used in cold cereals as buckwheat flakes.
Buckwheat soba noodles are popular at pho and ramen noodle restaurants too.
Read on: Are soba noodles gluten-free?
Read on: Gluten-free noodles
Read on: Gluten-free ramen noodles: brands and alternatives
Read on: Gluten-free bagels
What is gluten?
Gluten is a protein found in most wheat products, and acts as the "glue" that helps to hold wheat, barley, kamut, spelt, farro, durum, bulgur, rye, and semolina together to maintain their shape.
Gluten is naturally occurring in these grains, and even if the grains have gone through a lot of processing and manufacturing, the gluten can't truly be removed from the rest of the grain.
Is buckwheat gluten-free?
Buckwheat is naturally gluten-free as it doesn't come from a gluten-containing grain. In fact, it's a really great substitute for rice or barley (not gluten-free) in many recipes.
You can find a number of recipes that call for buckwheat that are safe for a gluten-free diet, but it's not as straightforward as saying that buckwheat is always gluten-free.
While buckwheat is naturally gluten-free, it is often processed on shared equipment and in facilities with gluten-containing grains. This means that it's likely that most buckwheat, unless processed on dedicated lines, contain gluten from cross contamination.
Since there's no way to know how much gluten is present, it's best to avoid any buckwheat flour from bulk bins or from brands that sell it without gluten-free labels on the packaging.
Read on: Is buckwheat gluten-free?
Read on: Which whole grains are gluten-free?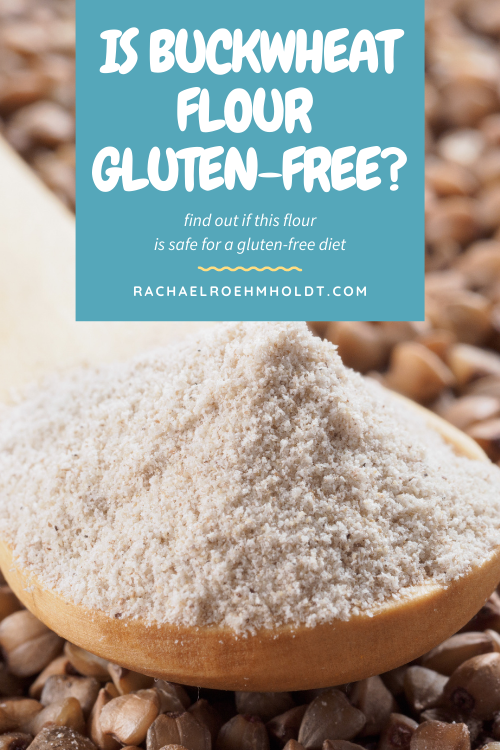 Is buckwheat flour gluten-free?
Buckwheat flour may or may not be gluten-free. Yes, buckwheat is naturally gluten-free, but since it is often processed on the same manufacturing lines as wheat products, it is likely to be cross contaminated with gluten.
Your best option when buying buckwheat flour is to look for a packaged product that has a gluten-free label on it and a note that says "processed in a gluten-free facility" to help you be sure there is no opportunity for cross contamination.
Be aware if you're buying foods that are pre-made using buckwheat flour that sometimes these foods, like noodles or pancakes, may also contain wheat flour alongside the buckwheat flour.
It's important to check ingredients lists or talk to a server at restaurants to help you understand the extent to which gluten may have come in contact with that food.
Read on: Are udon noodles gluten-free?
Read on: Gluten-free Chinese food
Read on: Gluten-free Cereal
Read on: 5 best gluten-free dairy-free pancake mixes
Brands of gluten-free buckwheat flour
Even though buckwheat flour is naturally gluten-free, cross contamination is a big possibility with this ingredient. If you're shopping for buckwheat flour, find a product that comes with a gluten-free label so you know there is less than 20ppm of gluten in that package.
Here are some brands that are labeled as gluten-free buckwheat flours that you can shop for next time you're at the store or shopping online.
Read on: Gluten and dairy-free diet: how to stock your pantry
Read on: 5 best gluten-free flour blends
If you've been looking to find out if buckwheat flour is a good choice for your gluten-free diet, I hope you've found the answers you've been after here in this post. Buckwheat flour is safe for a gluten-free diet when it has been processed in a facility and on machinery that doesn't also process gluten grains.
As with any food, check for gluten-free labels on packaging to help you make an informed decision about brands. A gluten-free label will show you that there's less than 20ppm in that product and you can purchase with confidence.
If you loved this post, I hope that you'll share it with your friends on Facebook and pin it for future reference on Pinterest.
Love this post? You might also want to check out these!
Find out if your favorite foods and ingredients contain gluten with these posts!