Get started with a gluten and dairy-free diet and find out what foods you can enjoy with this food list and PDF printable.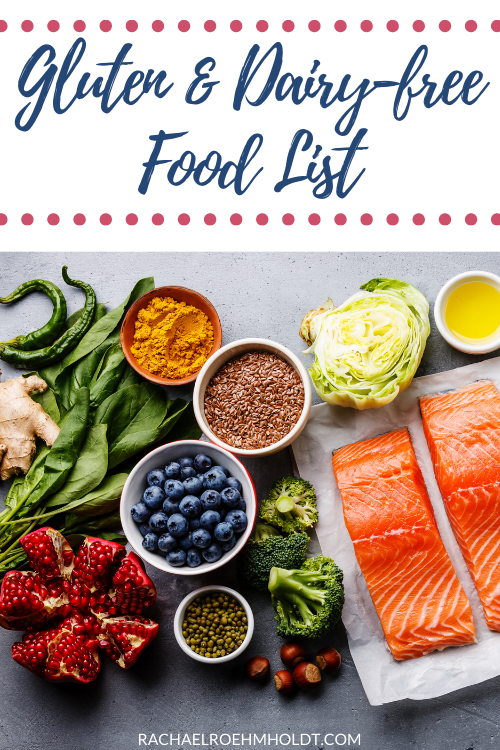 Note: I am a proud Amazon, Chomps, MunkPack, and Thrive Market affiliate and am happy to recommend their service and products to you. Please know that as an affiliate, I may receive a small commission on the products you purchase after clicking through my links. For more info, please see my disclosure policy here.
If you're just getting started with a gluten and dairy-free diet, you may be at the very beginning stages of learning how to make this diet work for you and your lifestyle.
For many of us who have had to give up foods with gluten and dairy, it can be extremely overwhelming to know which foods are "safe" and which ones to avoid.
Knowing some foods are off limits, like bread, cheese, and ice cream can be pretty straightforward, but it's pretty discouraging to only think about the foods that we CAN'T continue eating.
That's why I decided to put together a list of foods that are good options for a gluten and dairy-free diet. This will work for you if you have food allergies, food intolerances, or even celiac disease.
These are a combination of naturally gluten-free and dairy-free foods, as well as some foods you might want to find substitutions for in your regular diet. Foods like vegan butter, gluten-free crackers, and dairy-free cheese.
I think it's important to take note of the simple ingredients that are always going to be good options and start making meals around them rather than trying to always find one-to-one replacements for foods that you used to eat.
When you know what ingredients you can eat on a gluten and dairy-free diet, making meals and keeping your kitchen stocked with safe options is much easier.
With this list, you should be able to have a stocked kitchen that will make creating tasty recipes for yourself and your entire family even easier.
I've divided this list into eleven categories, including:
Vegetables
Fruits
Whole grains
Nuts & seeds
Beans
Meat, fish & eggs
Canned & packaged products
Condiments
Herbs & spices
Dairy alternatives
Oils & vinegars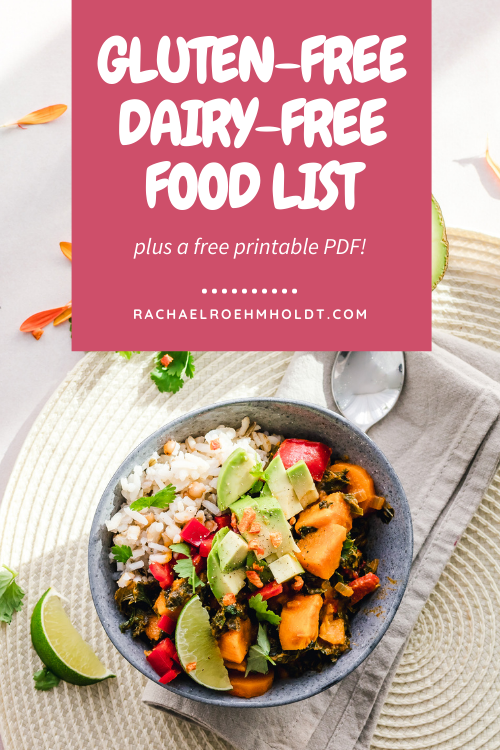 Even though I've included these categories, know that there are many more categories and ingredients that you can eat.
This list is to give you a jumping off point for helping you stock up your fridge and pantry and provide some inspiration for meals you can enjoy on a gluten and dairy-free diet.
I like to keep it simple when I'm helping people make the transition, so these are just the basic ingredients you might consider having on hand and start making meals out of. You should be able to find most of these ingredients at your grocery store or online at places like Amazon or Thrive Market.
Over time, as you get comfortable with this diet, you'll be able to branch out a bit and start getting comfortable with adding more foods and ingredients in.
I cover so much information on my blog about how to go gluten and dairy-free, including dedicated posts with many of these ingredients.
I've linked off to some of these posts in the list below if you're looking for more information or specific brands of some of the packaged foods.
I've also literally written the book on getting started as a beginner on a gluten and dairy-free diet.
If you'd like to learn more about taking on a gluten and dairy-free diet, I highly recommend checking out The Gluten and Dairy-free Diet: A Beginner's Guide. You can find more information on that here or below.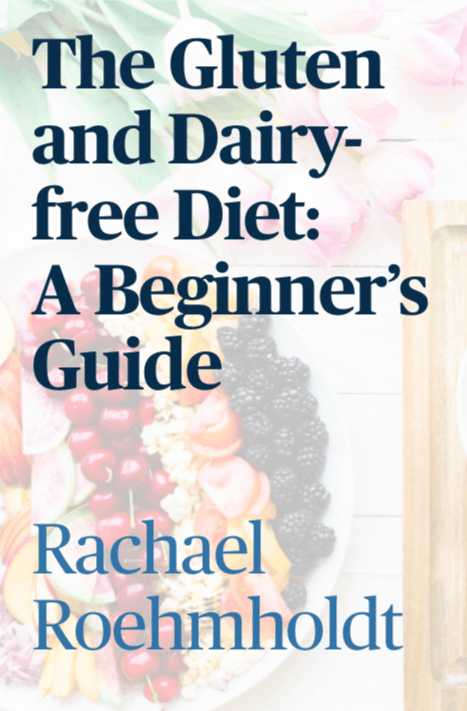 Now let's go over the gluten and dairy-free food list!
If you'd like this in PDF form, be sure to enter your details to get a free printable copy – plus 5 sample recipes on how to use these ingredients to make meals.
Get the FREE Gluten-free Dairy-free Shopping List
Get access to the most comprehensive - and healthy! - gluten-free dairy-free shopping list around!
Plus get 5 sample gluten-free dairy-free recipes!
Vegetables
For the most part, you can assume that all vegetables are gluten and dairy-free. That is, if they are prepared without other gluten or dairy ingredients in a recipe.
Your best option is to buy fresh or frozen without added ingredients and as close to their natural state as possible to prevent cross contamination.
Enjoy vegetables in salads, soups, stews, smoothies, breakfast hash, as stuffed squash, peppers, or potatoes, in stir-fries, mixed into some desserts for just a few ideas.
Kale
Collard greens
Spinach
Chard
Cabbage
Broccoli
Red or green leaf lettuce
Cauliflower
Green beans
Asparagus
Eggplant
Sweet potatoes or yams
Potatoes (all varieties)
Carrots
Beets
Acorn Squash
Butternut Squash
Zucchini
Delicata Squash
Spaghetti Squash
Tomatoes
Eggplant
Kabocha Squash
Pumpkin
Onions
Garlic
Shallots
Leeks
Mushrooms
Peppers
Avocado
Fruits
Fruit is also naturally gluten and dairy-free, which is great news, because we need plenty of them to keep us healthy and get fiber, vitamins, and minerals into our diet.
You can enjoy fruit on its own as a snack, in smoothies, oatmeal or smoothie bowls, in salads, baked desserts, and freeze a fruit puree into popsicles or blend into a homemade sorbet in the summer.
Apples
Cherries
Grapes
Mangos
Apricots
Plums
Peaches
Nectarines
Strawberries
Blueberries
Raspberries
Oranges
Grapefruit
Lemons
Limes
Tomatoes
Watermelon
Honeydew
Cantaloupe
Kiwifruit
Pears
Pineapple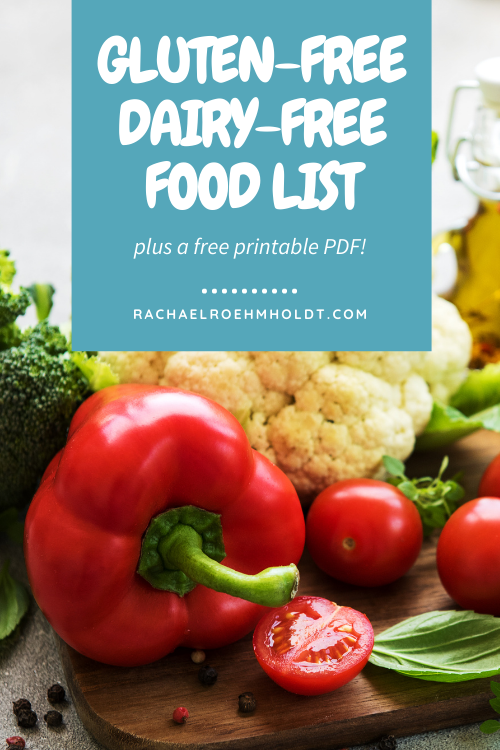 Whole grains
There are plenty of gluten-free whole grain options that you can enjoy on this diet. Whole grains are important for you to include in your diet, because they're full of vitamins, minerals, protein, and they're high in fiber.
When you know which whole grains you can eat, you can build meals around them. Grains provide an excellent springboard for ideas, which is why I love incorporating them in my meals.
Various types of rice can turn into side dishes, pilafs or fried rice, rice pudding, rice bowls with different ingredients for breakfast, lunch, and dinner. And that's just one example!
The main thing to keep in mind when choosing whole grains is to opt for packages that have gluten-free labels. This will tell you that they've been processed and tested where there is less than 20ppm of gluten.
Otherwise, you can assume there is a risk of cross contamination during manufacturing – including buying whole grains from bulk bins.
Wild rice
Kasha (buckwheat)
Quick-cooking, steel cut, or rolled old fashioned oats (choose "gluten-free" oats)
Amaranth
Teff
Sorghum
A lot of my pantry staples, including whole grains, nuts and seeds, and canned products come from Thrive Market these days.
What I love about them is that you can filter for gluten-free and/or dairy-free products, making it easy to choose and order exactly what you need to stay on track with your food needs.
If you aren't familiar with Thrive Market, they have amazing gluten and dairy-free foods, as well as supplements and probiotics.
You can check out all the great things I have to say about this service, AND get a 30% off your first order AND a free gift (up to $24 value) when you sign up for either their monthly or annual plan.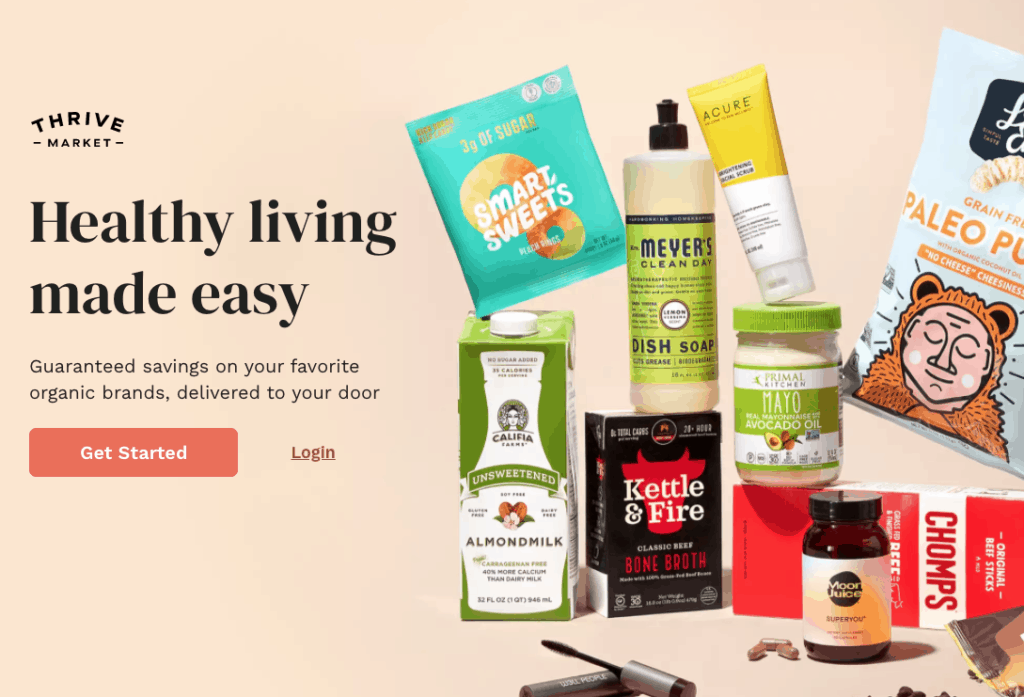 Nuts & seeds
Nuts and seeds when raw or roasted without seasonings are naturally gluten and dairy-free.
You'll want to keep this in mind when you're buying them as you can buy all kinds of flavors of nuts, but often the seasonings used on them contain gluten or dairy.
Review ingredients lists before you buy just to be sure you're buying something that works for your diet.
You can add nuts to homemade granolas, trail mixes, salads, mixed into baked goods like muffins or cookies, or enjoy them by the handful as a snack. I've even recently seen them turned into healthy dip options for veggies and gluten-free crackers.
Almonds
Walnuts
Cashews
Pecans
Pine nuts
Pumpkin seeds (pepitas)
Sunflower seeds
Hemp seeds
Chia seeds
Flax seeds and flax seed meal
Sesame seeds
Almond butter
Read on: Are chia seeds gluten-free?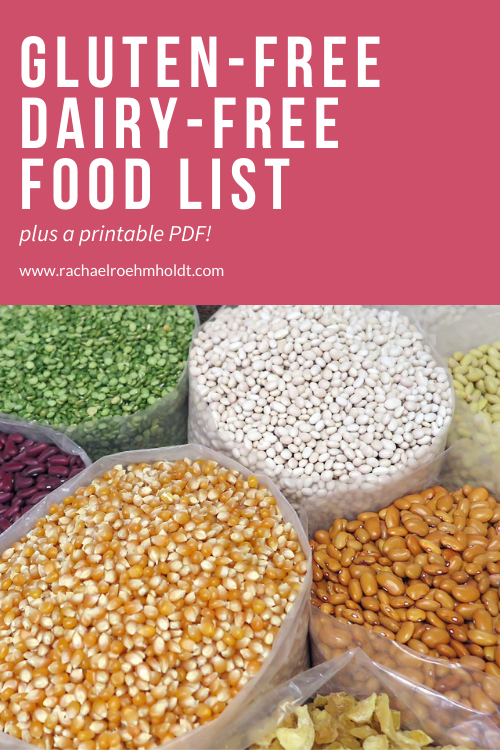 Beans
Beans are naturally gluten-free when prepared simply and as close to their natural form as possible. Both dry and canned beans are a good option, as long as no other ingredients have been added that contain gluten.
Beans can be used in soups, chilis, Mexican dishes, salads, or pureed into hummus and bean dips. I've even seen people add beans to dessert recipes!
Chickpeas (aka garbanzo beans)
Lentils
Adzuki beans
Cannellini beans (white beans)
Fava beans
Great Northern beans
Kidney beans
Mung beans
Pinto beans
Meat, fish & eggs
Any meat, poultry, fish, and eggs are naturally gluten-free and when bought fresh or frozen will be a great option for your gluten and dairy-free diet.
The places you'll want to watch out for are the processed meats or anything that has been pre-seasoned before you buy it.
It's a good idea to look for gluten-free labels or review ingredients lists before buying. Enjoy any of these as protein sources in your gluten and dairy-free diet.
Beef
Chicken and chicken breasts
Turkey
Gluten-free deli meat, pepperoni, salami cuts
Gluten-free chicken apple sausage
Pork, bacon, ham (check that its gluten-free if packaged)
Fresh fish
Other fresh seafood (packaged items need to be reviewed for gluten)
Canned & packaged products
It's a great idea to have a well-stocked pantry with some canned and packaged foods to help you get quick meals to the table on your gluten and dairy-free diet.
These are some of the staple ingredients I keep in my pantry to make soups, pasta dinners, sandwiches, and quick lunches.
Gluten-free chicken stock or chicken broth
Gluten-free beef stock
Gluten-free vegetable broth or stock
Diced tomatoes
Tomato paste
Tomato sauce
Marinara or spaghetti sauce
Olives
Chunk-light tuna
Canned chicken
Canned beans
Fruit & nut bars or snack bars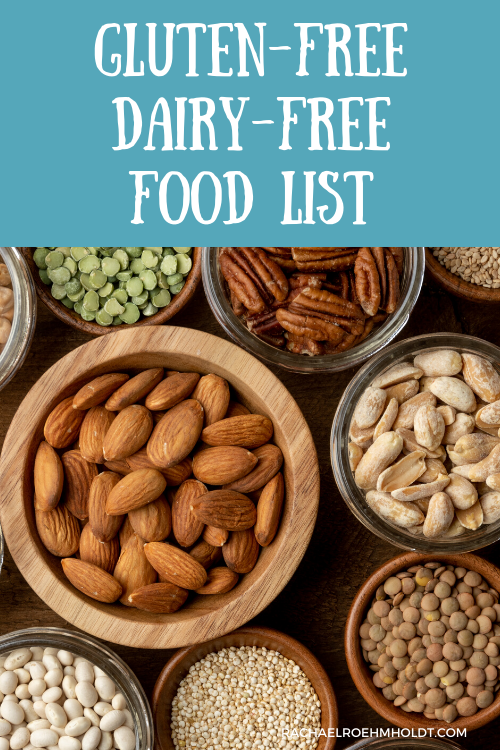 Condiments
There are so many condiments that have no gluten or dairy, which is amazing news for those of us who avoid these ingredients.
You can make a very simple dish taste completely different by swapping out herbs, condiments, and sauces.
Try this as an exercise: if you make a one-pan chicken dish with chicken, green beans, and potatoes – how many different flavors can you make it? I'd say an endless amount!
Here are just a few that come to mind and show the power of playing with condiments in your cooking: BBQ, honey mustard, dairy-free ranch seasoning, marinated with various salad dressings, Mediterranean-inspired with fresh herbs, capers, olives, and lemon juice.
Fresh herbs (basil, parsley, cilantro, etc.)
Hot sauce
Dijon mustard
Whole grain mustard
Pickles
Olives
Capers
Sauerkraut
Salsa
100% whole fruit preserves or jam
Nut butters (almond butter, cashew butter, etc.)
Read on: 17 gluten and dairy-free condiments
Herbs & spices
Sea salt
Kosher salt
Pepper
Garlic powder
Onion powder
Italian seasoning
Basil
Bay leaves
Oregano
Rosemary
Thyme
Cayenne pepper
Cinnamon
Cumin
Nutmeg
Red pepper flakes
Curry powder
Chinese five spice powder
Chili powder
Ground ginger
Paprika
Smoked paprika
Mustard powder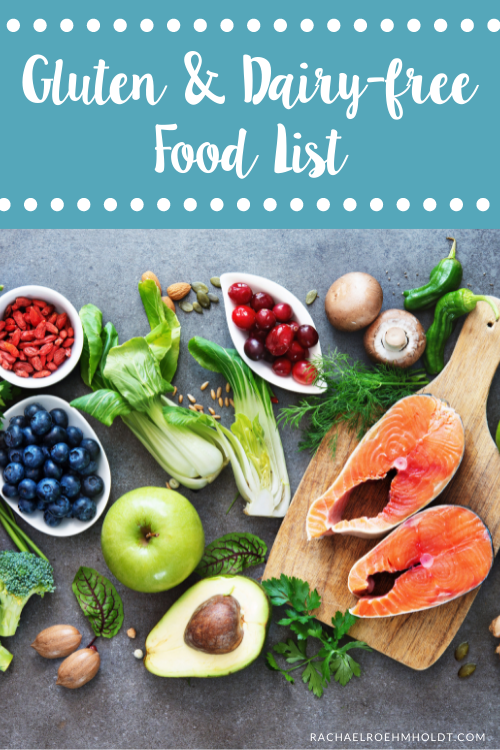 Dairy alternatives
Dairy alternatives have exploded in the past 8 years since I started on this diet. If you can blend something with water, you can turn it into milk – almonds, cashews, oats, rice, soy! The options are endless.
There are dairy-free butters, coffee creamers, cream cheese, sour cream, yogurt, salad dressings, and yes, even ice cream!! Try different varieties and different brands to find some that work for you and you like best.
Full-fat canned coconut milk
Earth Balance vegan butter
Coconut milk (carton)
Rice milk
Soy milk
Hemp milk
Oat milk (check for a gluten-free label)
Dairy-free coffee creamer
Coconut cream
Vegan cheese (Daiya, Violife, Trader Joe's)
Mayonnaise or vegenaise
Dairy-free salad dressings
Oils & vinegars
Oils and vinegars help add some healthy fat and flavor to many of the meals I make. I keep these options on hand for homemade salad dressings, marinades, sauces, or to add some extra flavor to other dishes.
Coconut oil
Sesame oil
Toasted sesame oil
Sunflower oil
Grapeseed oil
Balsamic vinegar
Red wine vinegar
White wine vinegar
If you'd like this list in a PDF form, be sure to enter your information below to get access.
Get the FREE Gluten-free Dairy-free Shopping List
Get access to the most comprehensive - and healthy! - gluten-free dairy-free shopping list around!
Plus get 5 sample gluten-free dairy-free recipes!
I hope if you've been looking for what foods you can enjoy on your gluten and dairy-free diet, that this list gives you a nice jumping off point.
It's easier to make this transition when you focus on what you CAN eat rather than what you can't.
Enjoy building meals around these ingredients and get creative with how you mix and match them.
You might be surprised how delicious being gluten and dairy-free really is!