If you follow a gluten-free diet, you may be wondering if ramen noodles are gluten-free. Find out if ramen is safe for a gluten-free diet and what brands to look for.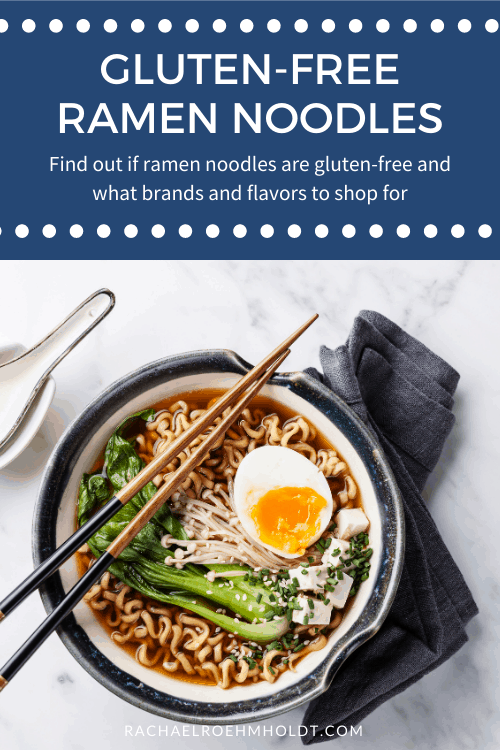 Note: I am a proud Amazon, Chomps, MunkPack, and Thrive Market affiliate and am happy to recommend their service and products to you. Please know that as an affiliate, I may receive a small commission on the products you purchase after clicking through my links. For more info, please see my disclosure policy here.
Ramen is a convenient and easy meal that so many people love for lunches or quick dinners. Those little packets of instant soup cups can be lifesavers on busy days when you don't have much time for anything else.
I myself have eaten my fair share of ramen noodles when I was a kid and especially when I was living on a college kid budget. They came in handy when money was tight and were so easy to pick up in bulk and turn into meals that satisfied me without breaking the bank.
Maybe you have a really great ramen restaurant nearby that you would love to frequent and your friends have been raving about, but you aren't sure if these noodles work for your gluten-free diet.
Other noodles, like semolina pasta, contain gluten, so you may be wondering if ramen is the same. No matter the reason for wanting to know why, we all have the same questions:
Do ramen noodles have gluten? Are there options for us gluten-free folks that taste just as good as the real thing?
Read on: Gluten-free Chinese Food
In this post, we'll discuss what ramen noodles are made from, if they are gluten-free, which noodles you can use for ramen, and some brands to look for.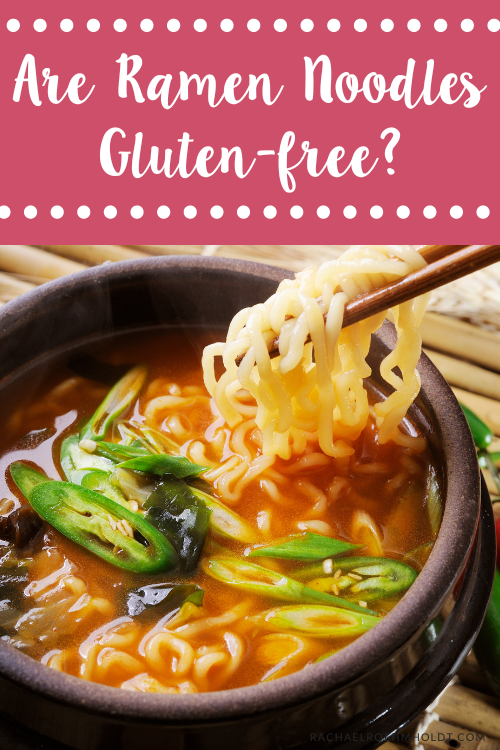 What are ramen noodles made of?
Ramen can be made in many different ways with different ingredients, but traditionally these noodles are made from wheat flour, salt, oil, and other flavorings. There are different types of ramen noodles, I've learned too. Some have eggs or some are seasoned, while others aren't.
There's so much to know about how to make ramen noodles properly that honestly, I could spend an entire day trying to understand the science behind them. But really, I'm just here to answer questions and get answers for myself.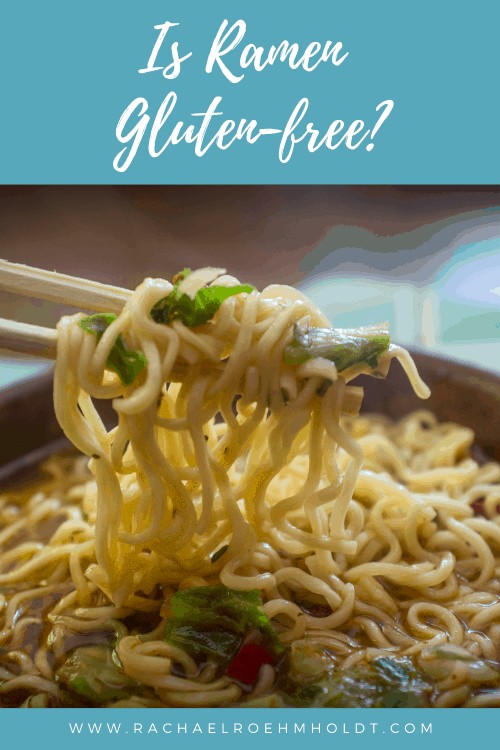 What is gluten?
Gluten is a protein found in most wheat products, and acts as the "glue" that helps to hold wheat, barley, kamut, spelt, farro, durum, bulgur, rye, and semolina together to maintain their shape.
You can find gluten in whole grains, but also in many processed foods as well. Many processed foods have hidden gluten in them in the form or gluten or wheat derivatives. These are also in the form of flavorings, binders to keep ingredients together, or other additives.
Read on: What is gluten in food? The basics of a gluten-free diet
Is ramen gluten-free? Do ramen noodles have gluten?
Most ramen noodles contain gluten, as traditional ramen noodles contain wheat.
However, there are many other noodles that function and taste the same as ramen that are gluten-free. While they may not be considered "ramen," they can be used in the same ways that you would use normal ramen noodles. In soups, stir-fries, in noodle dishes, etc.
Read on: Is mirin gluten-free?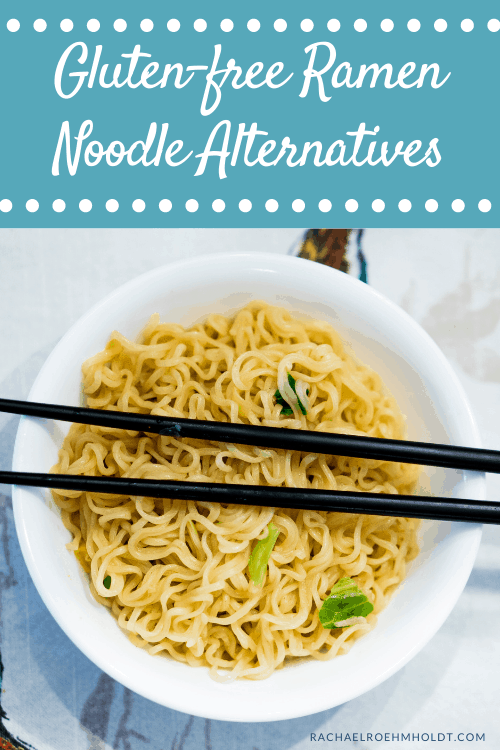 What are the best gluten free ramen noodle substitutes?
Now you know that many ramen noodles contain gluten, let's make sure you have some great alternatives to get your ramen fix on a gluten-free diet. Here are some ramen noodle substitutes that are completely gluten-free.
Read on: Gluten-free noodles: options & brands
Gluten-free Rice Ramen Noodles
While ramen is traditionally made using wheat flour, many brands now offer gluten-free ramen that is made using brown rice flour and/or millet flour.
These cook up in the same way that other instant noodles do, with boiling water for just a few minutes on the stove. These can be mixed into any stir-fries or ramen noodle soups that you wish.
While I've tried many other instant-style noodles that claim to be like ramen, these are the closest I've had to what I associate with ramen noodles: Top Ramen.
You can get Gluten-free Rice Ramen Noodles on Thrive Market.
You can also pick some up on Amazon.
Read on: Is brown rice gluten-free?
Read on: Is rice flour gluten-free?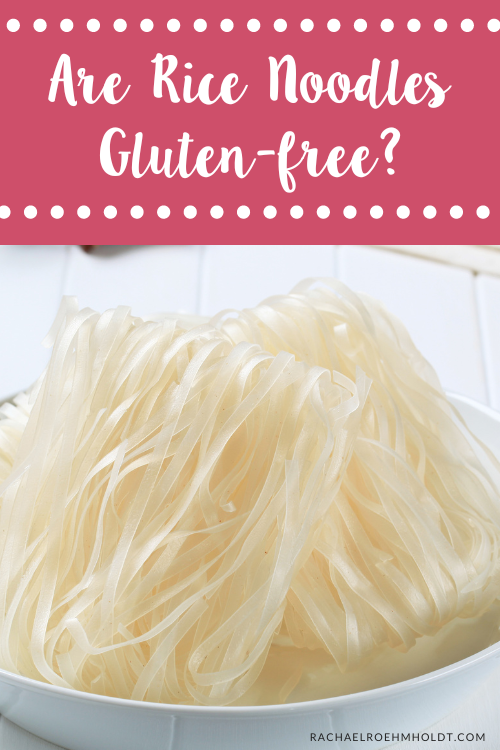 Rice Noodles
There are many different shapes of rice noodles, but all of these are gluten-free and great as a gluten-free alternative for ramen in many recipes. Rice vermicelli, pad thai, rice sticks, or chow fun are great options when it comes to mimicking a similar size and shape of ramen for soups and stir-fries.
You can get rice noodles on Thrive Market.
You can also pick some up on Amazon.
Read on: Are Rice Noodles Gluten-free?
Read on: Is Pho Gluten-free?
Read on: Is Pad Thai gluten-free?
Buckwheat (Soba) Noodles
Some soba noodles are made from buckwheat flour AND wheat flour, although authentic soba noodles are made with only buckwheat flour. Despite the name, buckwheat and buckwheat flour is completely gluten-free.
Look for buckwheat noodles that are made using buckwheat (no wheat) flour to be sure what you're eating is gluten-free. Enjoy these in soups and other noodle dishes.
You can get buckwheat noodles on Thrive Market.
You can also pick some up on Amazon.
Read on: Is buckwheat gluten-free?
Read on: Is buckwheat flour gluten-free?
Read on: Are soba noodles gluten-free?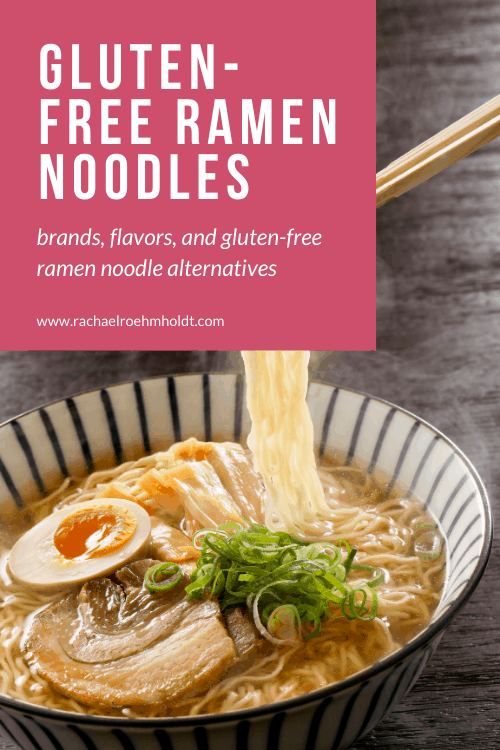 Glass Noodles
Glass noodles are also known as "cellophane noodles," as they are made using starch from mung beans, potatoes, sweet potatoes, or tapioca starch. They are gluten-free and very versatile for many stir-fried noodle dishes. You can also enjoy them up in soup.
You can get glass noodles on Thrive Market.
You can also pick some up on Amazon.
Read on: Are glass noodles gluten-free?
Kelp Noodles
Kelp noodles are made using… you guessed it, kelp. These are a traditionally Korean noodle, but they have the added perks of being gluten-free and loaded with iodine.
Enjoy kelp noodles as you would any other ramen dish: in stir-fries in ramen soup, or other noodle entrees.
You can get kelp noodles on Thrive Market.
You can also pick some up on Amazon.
Shirataki Noodles
Shirataki noodles are an ingredient that I just learned about as I was researching this post. These noodles are made out of starch from a yam-like ingredient called konjac. These make a great soup with a flavorful broth, because on their own they don't have much flavor.
You can get shirataki noodles on Thrive Market.
You can also pick some up on Amazon.
Read on: Are udon noodles gluten-free?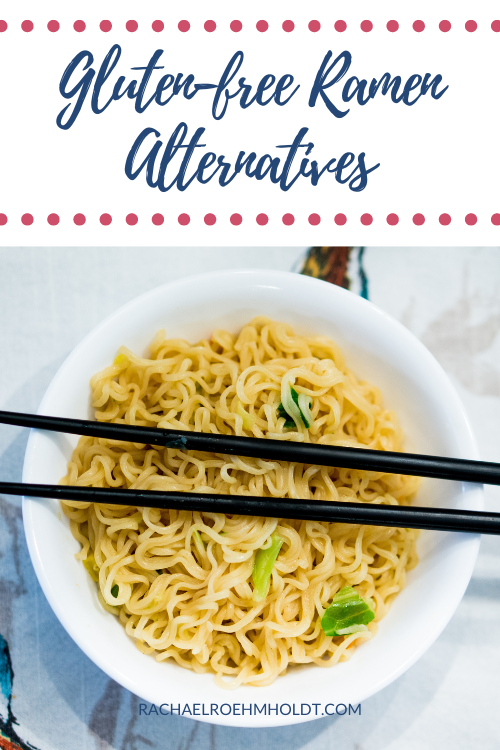 Vegetable Noodles
Have you heard of shredding noodles and enjoying them as they would other noodles? Zucchini noodles ("zoodles") are probably the most popular. You can also make noodles out of carrots, beets, butternut squash, daikon radish, summer squash, kohlrabi, and sweet potatoes.
If you have a spiralizer, this is easy work to run your choice of veggie through it. If you don't have one, you can make your own veggie noodles with a mandoline or a box grater. There are also very inexpensive hand spiralizers that make veggie noodles very easily.
Add these vegetable noodles to your ramen recipes for a boost in vitamins and minerals, but with a slightly different flavor and texture.
Gluten-free Spaghetti Noodles
Okay, yes, these aren't ramen noodles, but they do work similarly in recipes that call for ramen noodles in soups and stir-fries. If you can't find any of the other options, try your favorite gluten-free pasta noodles. The ones made from brown rice flour will be somewhat similar to the flavor and texture of ramen noodles.
You can get spaghetti noodles on Thrive Market.
You can also pick some up on Amazon.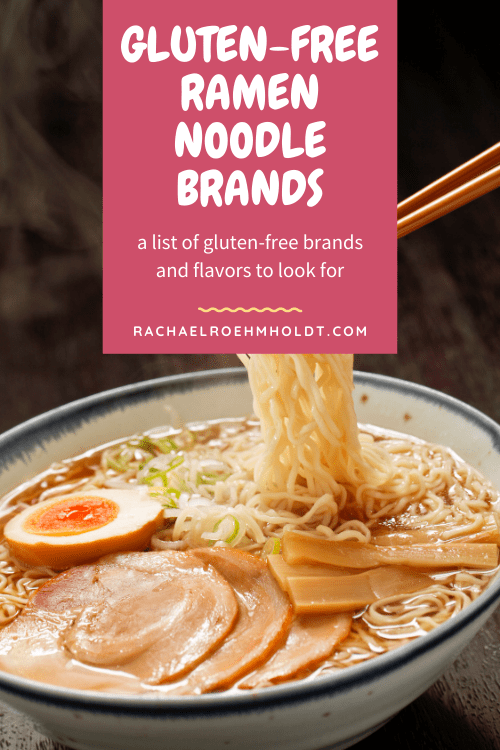 Gluten-free Ramen Noodle Brands and Alternatives
Look for some of these gluten-free ramen noodle brands and flavors next time you're at the store or looking for some ramen alternatives online.
Annie Chun's
Big Green Organic Food
Explore Cuisine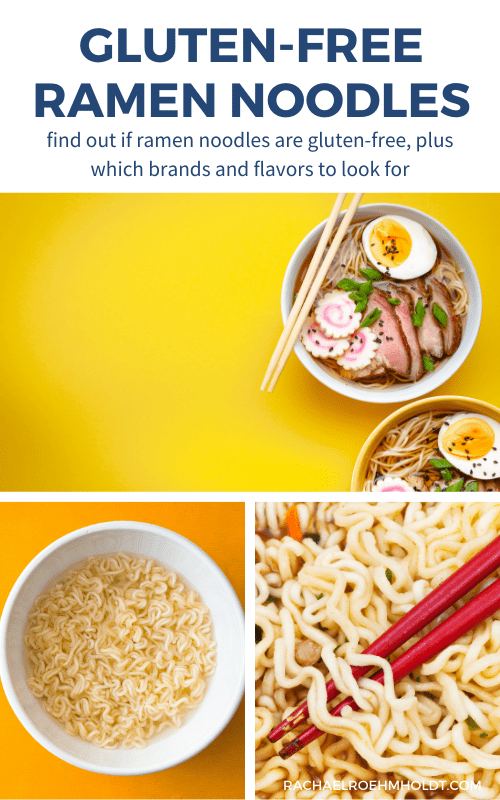 Jovial
King Soba
Lotus Foods
Thai Kitchen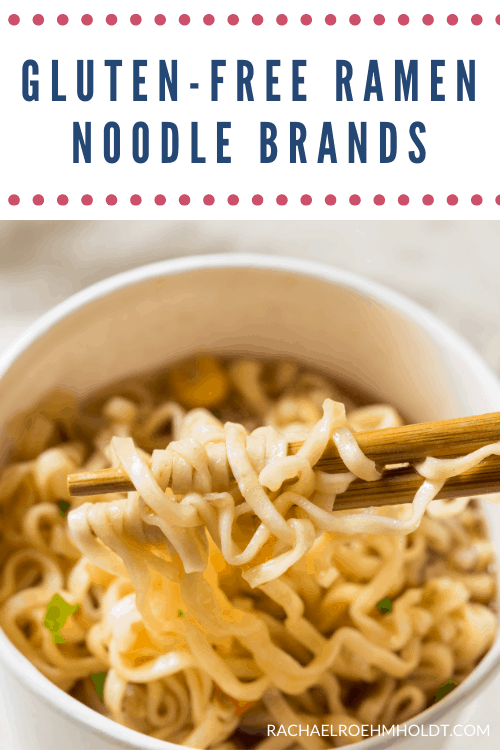 Gluten-free Instant Noodle Brands
There may be plenty more gluten-free instant noodle options out there (and if you know of some, pop them in the comments!), but as I was researching, I didn't find too many. Here are a few brands and flavors to choose from.
Be sure that you're looking at ingredients lists before buying, because even if one product a brand offers is gluten-free, they might not all be. Always double check or look for that gluten-free label to help you make an informed buying decision.
You can find most of these on Amazon, and if you're lucky at your local grocery store.
Dr. McDougall's Right Foods
Lotus Foods
Read on: Is miso soup gluten-free?
Mr Lee's Noodles
Oma's Own FUNoodles
Thai Kitchen Instant Rice Noodle Soup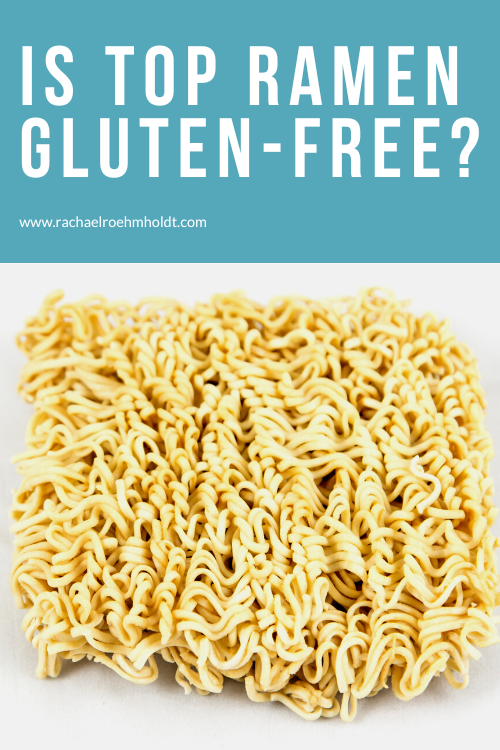 Is Top Ramen gluten-free?
The very first ingredient in all Top Ramen packages are "enriched flour" made from wheat flour.
Unfortunately, this brand only makes products that aren't safe to enjoy on a gluten-free diet. Try one of the brands listed above for a gluten-free substitute to Top Ramen.
A Note on Gluten-free Instant Ramen Noodles
Ramen noodles very likely contain gluten, we've established that much. Before I close up this post, I want to make sure I make a note that it's not JUST the noodles that make traditional ramen not a great idea for a gluten-free diet.
If you're eating instant ramen with a flavor packet to turn it into soup, you'll want to check that the flavorings don't contain gluten. Oftentimes gluten hides in the hidden flavorings in ingredients like "yeast extract" or "soy sauce." Both of these contain gluten and you'll want to be certain that you're looking in not just the noodles, but the broth for gluten too.
Read ingredient lists and look for a gluten-free label to help you make decisions on instant noodles from the grocery store.
Read on: How to Read Ingredient Lists
Read on: Is Soy Sauce Gluten-free?
Read on: Is yeast extract gluten-free?
Gluten-free Ramen at Restaurants
If you decide to enjoy ramen from a restaurant, be aware of the ingredients in the broths used, as well as where the food is prepared.
While you may be able to choose a gluten-free noodle option, is the broth gluten-free? Is it prepared in the same bowl or wok that other gluten-containing noodles or broths are prepared? Is traditional soy sauce used? Ask these important questions before ordering.
If you've been searching for gluten-free ramen noodles, wondering about your favorite instant ramen, or deciding if that new ramen restaurant down the road seems like a good idea for you and your gluten-free diet, I hope this post has helped you find the answers you've been looking for.
As with anything on a gluten-free diet, it's a good idea to do your research, look at ingredients lists, and check for gluten-free labels before buying.
The most important thing to know is that you CAN enjoy the flavors of ramen soup or ramen noodles in your favorite dishes, but with a few swaps to make them gluten-free.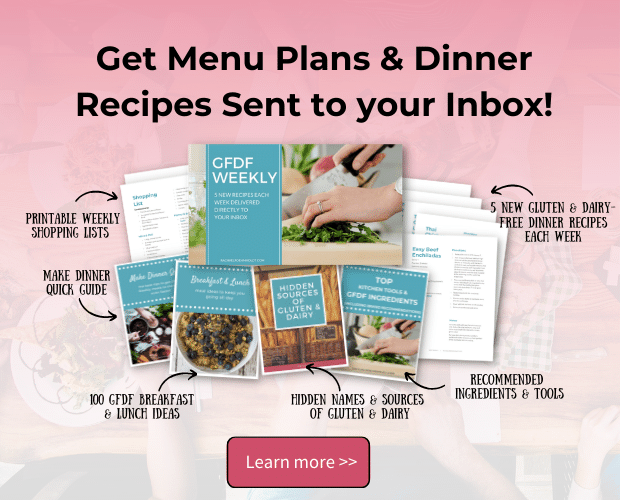 If you loved this post, I hope that you'll share it with your friends on Facebook and pin it for future reference on Pinterest.
Love these posts? You might also find these interesting!