Looking for a gluten-free dairy-free pancake mix from the store? Check out the best gluten and dairy-free pancake mixes in this post.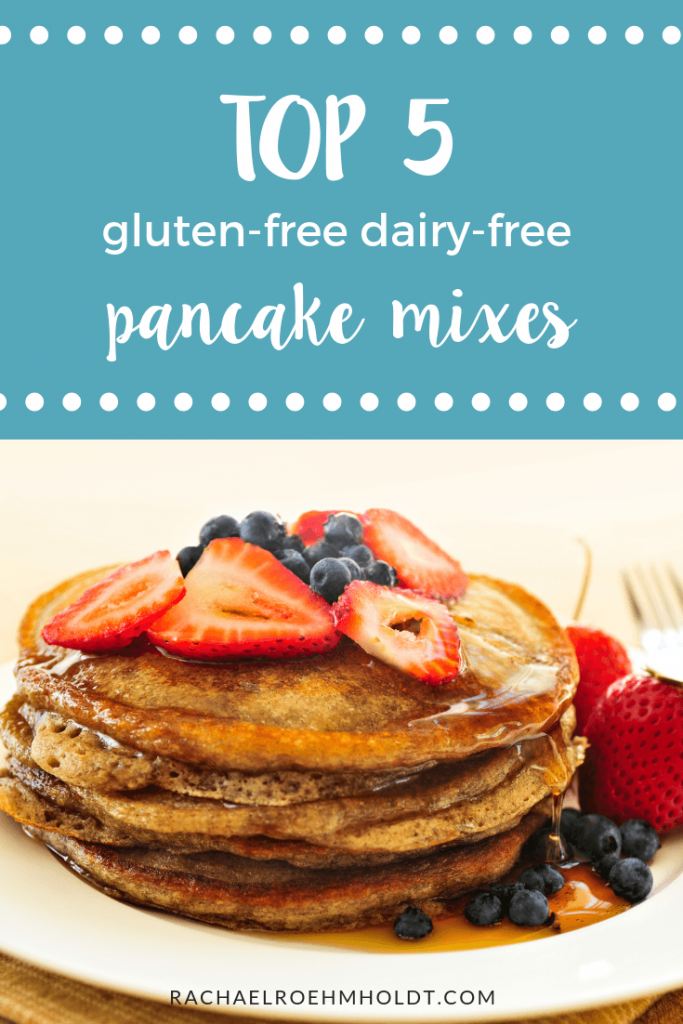 Note: I am a proud Amazon and Thrive Market affiliate and am happy to recommend their service and products to you. Please know that as an affiliate, I may receive a small commission on the products you purchase after clicking through my links. For more info, please see my disclosure policy here.
Over the years of eating a gluten and dairy-free diet, I've gone in waves of making pancakes from scratch and making pancakes using a boxed mix. I even have my own gluten-free pancake mix and gluten-free pancake recipe on the blog.
There are definitely pros to making pancakes at home using your own gluten-free flours and measuring everything out yourself so you know the quality and quantity of things like sugar (and can avoid as many additives as possible).
For me, my inner lazy girl wins out most times – and the conveniences of a gluten-free dairy-free pancake mix cannot be beat.
Now, you might be thinking isn't the "from scratch" option always going to be better for you and better tasting?
The answer for me is "not really." If it's going to be better for me, then it will probably need to have some kind of added fruit or vegetable mixed in – AND some kind of extra protein.
In order for it to rank higher on the "better tasting" meter for me, I need to have tested it out many times to know for certain that it's a keeper – and that my entire family loves it.
Why go with a boxed gluten-free dairy-free pancake mix?
My (very biased) reasons that have me reaching for the easy way out most Saturdays that I make pancakes are:
Less time to prepare

Less time I have to wait to eat

Less mess

Less "helping" my son does again less time I have to eat

Consistent flavor and texture every time

Hard to mess up – you add two or three ingredients and you're done
I try to keep a box or two of gluten-free dairy-free pancake mix in my pantry most of the time. I'll do a larger order on Amazon or Thrive Market for some of my favorites and have them on hand for when my son begs for them. Yes, the begging happens long before necessary, because I'm usually pretty quick to give in to a request for PANCAKES.
While it's true that boxed mixes are more expensive – especially when they're under the "specialty" names of gluten-free and dairy-free, you can buy them in packages on Amazon for a cheaper price than what you might get at your local grocery store or individually online.
Remember that when you're making these boxed mixes at home that if necessary, you'll want to swap out the ingredients that are called for on the box with dairy-free versions.
For example, swap out vegan butter for butter and your favorite dairy-free milk for any milk that the recipes call for. If you are also eating an egg-free diet, you'll want to swap out eggs for flax eggs. The results might not be 100% what you'd expect with the dairy versions, but they still come out tasting great.
Now that I've presented my best case for gluten-free dairy-free pancake mixes (did I really have to convince you all that hard?!), here are my 5 best picks – in no particular order.
Read on: Dairy-free pancakes
King Arthur Gluten-free Pancake Mix is my go-to option and the one I keep stocked in my pantry most of the time. I love how fluffy these pancakes are in comparison to many of the other options available, and they taste just like the real thing.
This gluten-free dairy-free pancake mix is made using whole grain brown rice flour, potato starch, and rice flours. You mix in eggs (I've had success with flax eggs), vegan butter, and your favorite dairy-free milk.
>> You can find it on Amazon here.
Read on: Is rice flour gluten-free?
Enjoy Life Pancake & Waffle Baking mix is a great option, especially if you have more than just gluten and dairy intolerances you're living with because this mix is free from all Top 8 allergens.
This mix is made with a blend of buckwheat, rice, teff, millet, tapioca, brown rice proteins, and more – which is just another great reason to reach for the convenience of this box vs trying to keep all these ingredients on hand. These are a little on the plain side flavor wise, but still come out well, and are quite tasty!
>> You can get yours on Amazon here.
Read on: Is buckwheat gluten-free?
Read on: Is buckwheat flour gluten-free?

I haven't tried one Simple Mills product that I haven't liked – and this pancake and waffle mix is no exception. This pancake mix is made with almond flour and coconut flour so it's nutrient-dense and you can feel good about it. If you try to keep your carbs down and can eat nuts with no problem, this is a great mix for you to try.
>> You can get yours from Amazon here.
Read on: Is coconut flour gluten-free?

Pamela's gluten-free non-dairy pancake and waffle mix is super tasty. These make up light and fluffy pancakes that my whole family enjoys. Heads up though – they also make a version of pancake mix that DOES have dairy included (the yellow package), so be sure to check the ingredients before buying. This mix is made using a mixture of sorghum, brown rice, and tapioca flours.
>> You can get yours on Amazon here.

Bisquick has been off my radar for so many years that when I was doing research on the best gluten-free dairy-free pancake mixes to share with you, I was shocked when this product came on my radar.
After doing some further digging, I've discovered that as far as anyone can tell, it is actually dairy-free too! I tested out a box for myself and my family, and really enjoyed the flavor and texture. You definitely want to be sure to use dairy-free milk when following the recipes!
Okay now that I've shared all these gluten-free dairy-free pancake mixes with you, you might be thinking "why would she be talking about something so (unhealthy/inflammatory/sugary/carb-heavy) here on her blog when she always talks about how committed to being healthy she is?!"
Here's the truth on that:
I have a kid. Kids love pancakes. If I'm going to make my kid pancakes, I'm likely going to want to eat at least one. If I make him "normal" ones and I eat them, I'll feel sick. If I make some that won't make me sick, we all win. My kid gets pancakes, I don't get sick.
I believe in moderation in all forms. Sure, sometimes I swing to eating more sugar than at other times. That's life. I'll swing back the next day and probably eat too many vegetables to the point of getting a stomach ache. That's just how I keep myself balanced. I've never been satisfied on this diet by telling myself I can't have something if I want it. I just find a way to make it work. In moderation.
Yep, there's definitely carbs in these. Yep, they are probably inflammatory. I don't live a carb-free life. Or eat an anti-inflammatory diet. I don't need to, so I don't. Again, all things in moderation, friends. If you eat that way, find a solution that works for you. Until then, I'll be munching on some of these very tasty pancakes covered in vegan butter and sweet sugary syrup.
There you have it – my top picks for gluten-free dairy-free pancake mixes. Do you use any of these brands at home? Or do you prefer to make yours from scratch? Leave a comment below to share what you do in your house.
If you loved this post, I hope that you'll share it with your friends on Facebook and pin it for future reference on Pinterest.
Need more breakfast ideas for your gluten-free dairy-free diet? Check out my Ultimate Gluten-free Dairy-free Breakfast Guide below.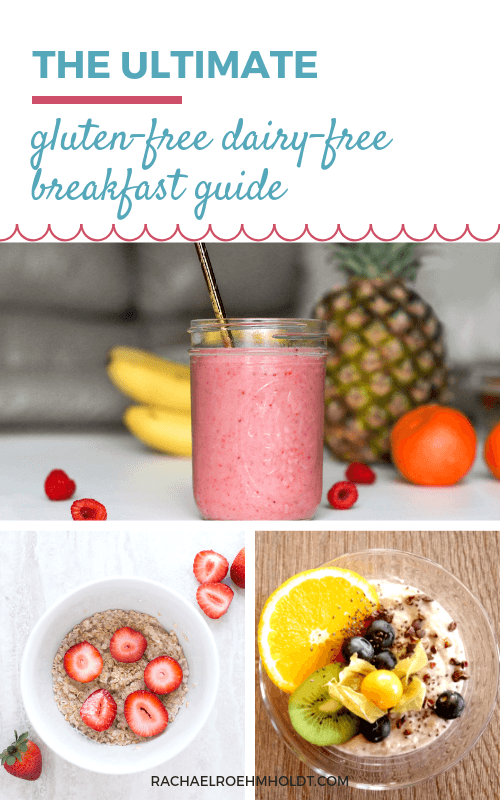 Love this post? Be sure to check out some of my other great breakfast posts!
Not sure what to make for breakfast on a gluten and dairy-free diet? These posts will give you loads of ideas!
If you'd love even more inspiration and recipes for a gluten-free dairy-free diet, be sure to grab my free shopping list – plus 5 free recipes – by entering your details below!