Are you a fan of rich creamy risotto? Find out if this popular Italian rice dish is safe for a gluten-free diet!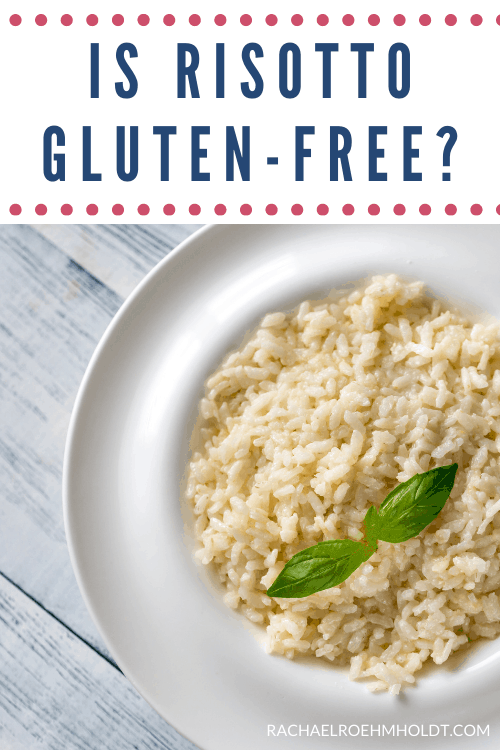 Note: I am a proud Amazon, Chomps, MunkPack, and Thrive Market affiliate and am happy to recommend their service and products to you. Please know that as an affiliate, I may receive a small commission on the products you purchase after clicking through my links. For more info, please see my disclosure policy here.
If you've been to a restaurant with risotto on the menu, you may have thought to yourself that it is a definite safe dish for your gluten-free diet. But look before you leap! Sometimes this dish is gluten-free and other times it isn't.
In this post, we'll talk about the basics of risotto and gluten, as well as answer the question "is risotto gluten-free?" Let's discuss further so you can feel comfortable enjoying this delicious dish without worry.
What is risotto?
Risotto is a traditional Italian rice dish that is usually made from butter, arborio rice, wine, chicken stock, and Parmesan cheese.
People love it for its rich creaminess and hearty mouthfeel. Many people see risotto as a fancy dish, because of the time and attention it takes to prepare. Risotto can be served as a main or side dish, and is a popular dish at many restaurants.
Risotto takes time to prepare, as it involves a lot of stirring, ladling, and waiting. While it's not innately difficult to prepare, it does take hands-on cooking time of about 30 to 40 minutes.
What is gluten?
Gluten is a protein found in most wheat products, and acts as the "glue" that helps to hold wheat, barley, kamut, spelt, farro, durum, bulgur, rye, and semolina together to maintain their shape.
Gluten is naturally occurring, and therefore is impossible to strip away from the grain. If a grain naturally has gluten in it, there's no way to make that food gluten-free.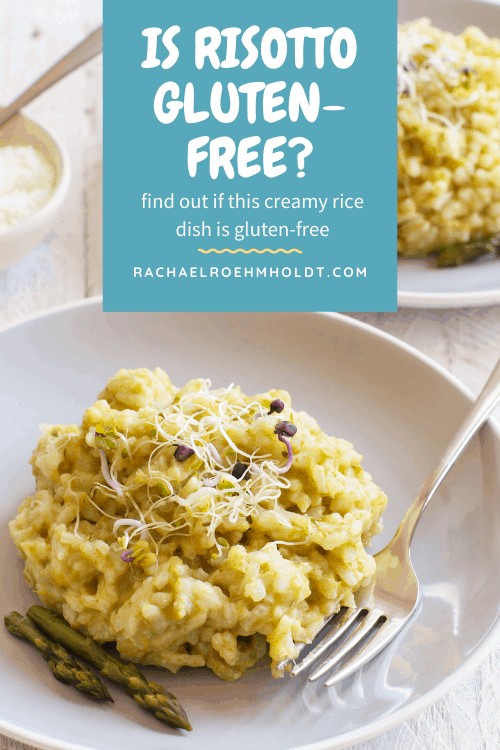 Is arborio rice gluten-free?
Arborio rice is a short and starchy rice that is naturally gluten-free. Since all rice is naturally gluten-free, this grain is a great base for a gluten-free risotto.
Is risotto gluten-free?
The answer to this question is: it depends.
While arborio rice is naturally gluten-free, the other ingredients used in the risotto dish must also be gluten-free in order for it to be considered gluten-free.
Read on: Is rice gluten-free?
Read on: Is white rice gluten-free?
For example, you'd need to be sure the chicken stock used is gluten-free, and that there aren't any additional flavorings or add-ins, like sausage or meats that contain gluten. The more ingredients in a risotto dish, the more opportunity for gluten to make its into the dish.
Risotto can easily be made at home using gluten-free ingredients: plain arborio rice and gluten-free chicken stock. Any additional ingredients should also not contain gluten to be sure the dish is safe for your gluten-free diet.
I make my own gluten free risotto at home every New Year's, being sure to only use gluten-free ingredients and it's always been a success! I like to add frozen spinach, artichoke hearts, and sometimes gluten-free sausage. It's so flavorful and filling!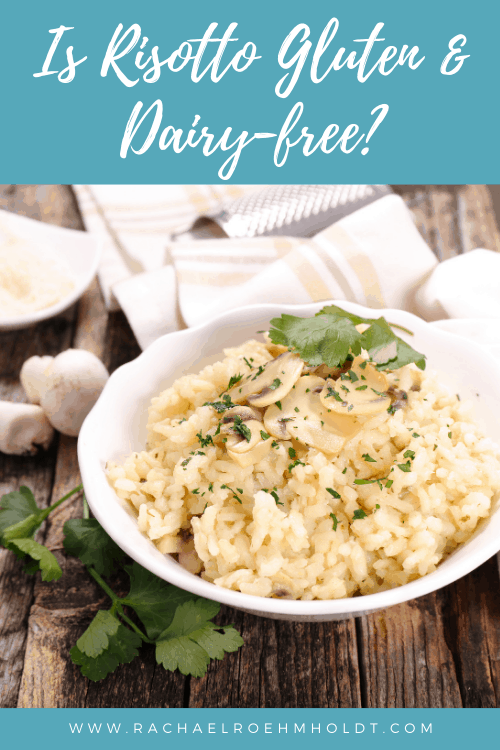 Is risotto dairy-free?
Risotto is traditionally made with butter and cheese, making it not dairy-free. However, you can easily make this dish dairy-free with a few swaps.
I make gluten and dairy-free risotto by using dairy-free butter or olive oil in place of butter. I simply omit the cheese from the dish, and it tastes just as amazing.
This version of risotto may taste slightly different than a recipe with cheese, but it's not lacking any creaminess or richness you'd be looking for in a plate of risotto.
Notes on boxed risotto mixes
If you buy a boxed mix of risotto, with rice and seasonings included, be sure to read the ingredients carefully for any hidden sources of gluten.
Gluten tends to hide in flavorings and seasonings in packaged foods, so do your due diligence and check the ingredients list against the other names of gluten. Also be aware of cross contamination with these ingredients. It's always best to look for a gluten-free label just to be sure.
One of my little secrets is that I carry around a copy of my GFDF Take Along Cards so that I always have a point of reference when I can sneak a peek at the ingredient list of a food.
>> Get your copy of the GFDF Take-Along Cards to make this easy on you.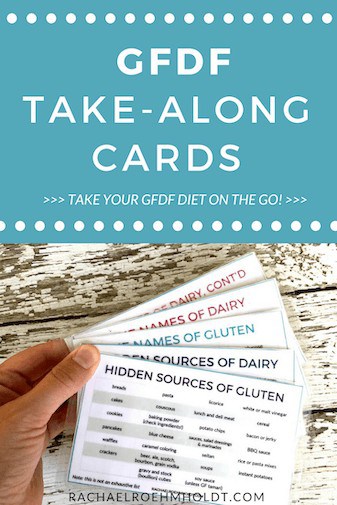 If you love risotto, be encouraged that you can keep this dish in your diet as long as all other ingredients in the recipe are also gluten-free!
I hope this post has given you the information you need to continue eating this delicious rice dish and maybe even try your hand at making it at home for yourself and your family!
If you loved this post, I hope that you'll share it with your friends on Facebook and pin it for future reference on Pinterest.
Love this post? You might also want to check out these!
Find out if your favorite foods and ingredients contain gluten with these posts!