Find out if Olive Garden offers gluten-free pasta, plus what you need to know about their gluten-free offerings.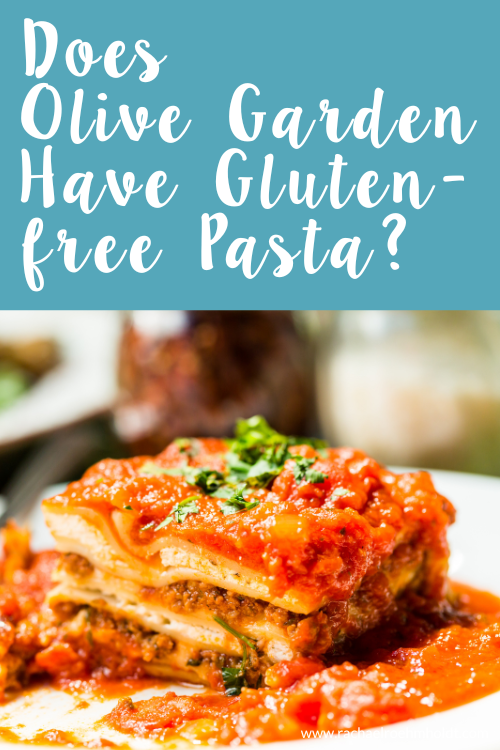 Note: I am a proud Amazon, Chomps, MunkPack, and Thrive Market affiliate and am happy to recommend their service and products to you. Please know that as an affiliate, I may receive a small commission on the products you purchase after clicking through my links. For more info, please see my disclosure policy here.
If you've found yourself at an Olive Garden before, you know that they have an extensive menu full of all kinds of delicious pasta and cheese dishes. Carbs and cheesy comfort food for the win when you visit this restaurant!
But if you've recently decided to switch to a gluten-free diet, you may have been wondering if this restaurant is going to suit your needs now and as you make this adjustment in your diet.
So many restaurants are tricky for folks on a gluten-free diet. Not only do you need to find out if a restaurant has ANY gluten-free options, but then you need to dig a little deeper to understand if the options that are available are decent ones.
In this post, we're going to talk about Olive Garden, and more specifically their pasta. We'll talk about what types of food Olive Garden has on their menu, touch on their allergen statement, and get you the details you're looking for in regards to their gluten-free pasta.
We'll wrap this post up with what you can expect when you order dishes with gluten-free pasta from Olive Garden, and what you need to know about cross contamination.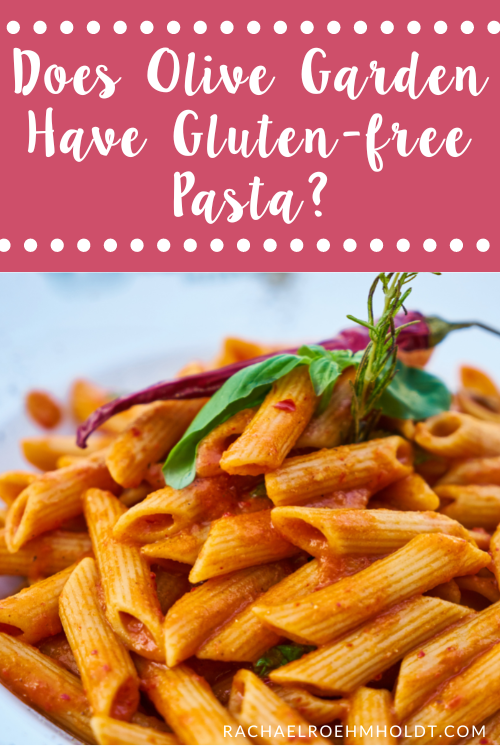 What types of food does Olive Garden offer on their menu?
Olive Garden is a chain of restaurants that offers Italian food. You can find these restaurants near major shopping centers around the United States.
This restaurant is most well known for their pasta dishes, like chicken alfredo, ravioli, fettuccine, and lasagna. You can also find some entrees like salmon and sirloin steak if you're opting to avoid pasta.
Olive Garden is also famous for their soups, salads, and breadsticks. Many folks love to visit this restaurant purely for their appetizer options over than the main dishes.
Read on: Gluten-free ravioli brands
What is gluten?
Gluten is a protein found in most wheat products, and acts as the "glue" that helps to hold wheat, barley, kamut, spelt, farro, durum, bulgur, rye, and semolina together to maintain their shape.
Gluten is naturally occurring, and therefore is impossible to strip away from the grain. If a grain naturally has gluten in it, there's no way to make that food gluten-free.
Some of the most common foods that contain gluten are bread, pizza, pasta, cakes, and cereals.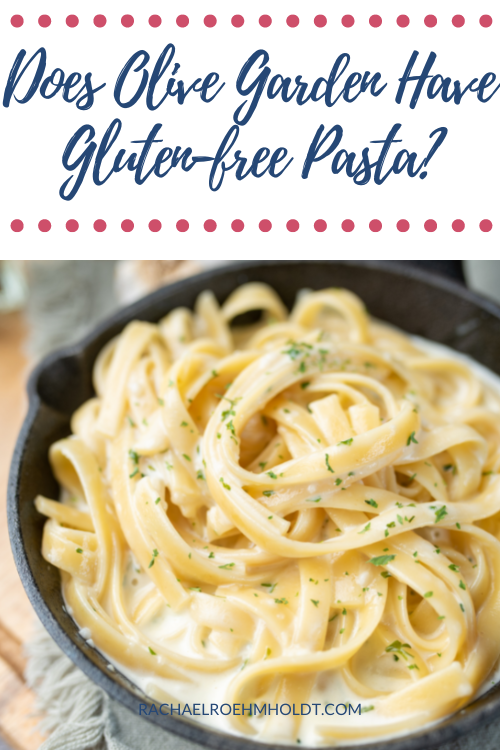 Olive Garden allergen statement
Olive Garden's website has a document of all the allergens in every menu item they serve at their restaurants. These are the notes specific to folks who are on a gluten-free diet or are avoiding allergens like gluten:
"At Olive Garden, we're committed to making the dining experience for every guest, including our guests with food allergies, an exceptional one. That's why we are proud to offer this information to help you make an informed food selection."
"The information inside details which menu items contain the most common allergens and intolerances, based on the information provided by our suppliers. We work to keep this information as up-to-date as possible, and suggest you check our allergen information each time you dine with us. Please also note that this information does not indicate which items may have been made in a facility with an allergen."
"Note on Gluten… Our menu items are freshly prepared in our kitchens, which are not free of gluten. Cross-contact with other food items that contain gluten is possible. While we aim to accommodate the dietary needs of our guests, we cannot ensure that these items meet the definition of "gluten-free." Please let your server know you are avoiding gluten."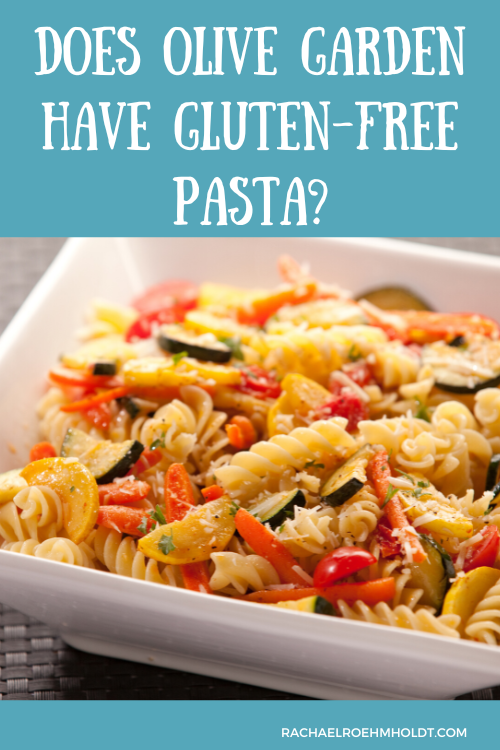 Does Olive Garden have gluten-free pasta?
Yes, Olive Garden does offer gluten-free pasta. The only pasta shape that's offered to folks trying to avoid gluten is their gluten-free rotini, a spiral shaped pasta.
What is Olive Garden's gluten-free pasta made from?
According to the Olive Garden website, the gluten-free pasta used in their restaurants contains brown rice flour as the primary ingredient.
They don't give any other details of what ingredients may also be included in this pasta, so keep that in mind if you're considering ordering a dish with this ingredient.
How is their gluten-free pasta prepared?
On the Gluten Sensitive Diet page of their website, Olive Garden's official statement on this is:
"Our gluten-free pasta is cooked and held separately until ordered. At that time it is added directly to the sauté pan to avoid cross contact with other pasta or pasta water."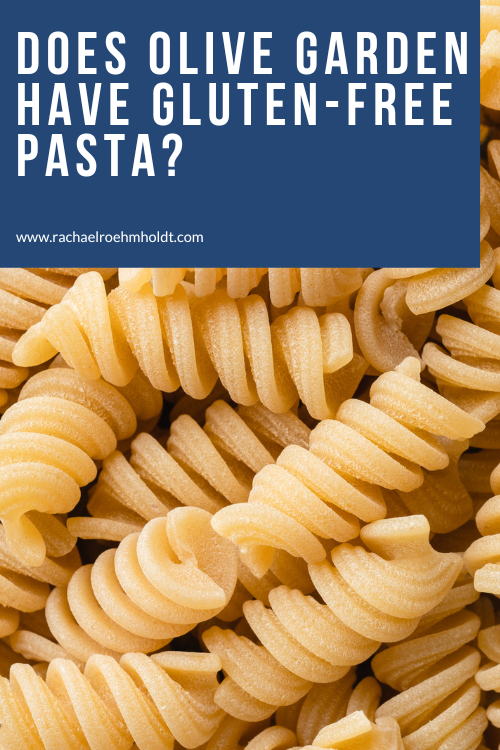 Should I order gluten-free pasta from Olive Garden?
If you are trying to follow a gluten-free diet for health reasons, like gluten intolerance or celiac disease, this might be a dicey option for you to choose.
If you have celiac disease, it's not recommended to visit this restaurant due to the high likelihood of cross contamination.
If you have gluten intolerance, know that even if they use pasta without gluten ingredients, that there is a chance of cross contamination in the kitchens during preparation. Even with separate pots and cooking water, there is always going to be a chance in a shared kitchen environment for cross contact.
Keep in mind that Olive Garden doesn't do any testing to ensure their gluten-free pasta is truly gluten-free and they can't make any claims as such. They can say they offer "gluten sensitive" options, but not gluten-free options.
The bottom line is that it's your body and you get to choose what level of gluten goes into your body based on what you know about how you handle even trace amounts of gluten.
If you have a gluten intolerance, you might be okay ordering their pasta, but you might not. Do so at your own risk and don't be shocked if you do have a reaction to their food.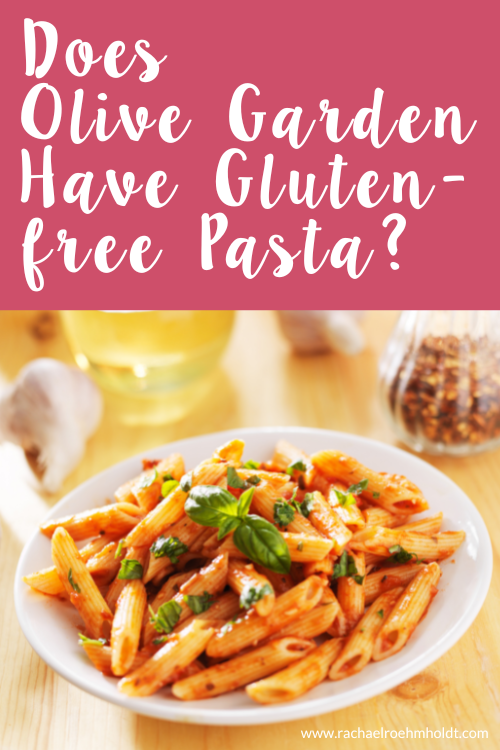 What menu items from Olive Garden are gluten-free?
I've done a full write up on the menu from Olive Garden and dug into their offerings to help provide some clarity around which menu items may be safe for folks on a gluten-free diet.
Read that whole post here: Olive Garden Gluten-free Menu Items.
If you enjoy Olive Garden or are trying to find a way to make this restaurant work for the sake of not missing out with friends and family who want to go here, I hope this post has been helpful for you to get the answers you're looking for.
While Olive Garden does offer gluten-free pasta, it is not guaranteed that folks who are following a gluten-free diet will be able to eat this pasta without issue. Use your best judgment about ordering gluten-free pasta from Olive Garden if you're trying to avoid gluten in your diet.
If you loved this post, I hope that you'll share it with your friends on Facebook and pin it for future reference on Pinterest.