Find out if Arby's fries are safe for a gluten-free diet, what they're made of, and what you need to be aware of before you order them.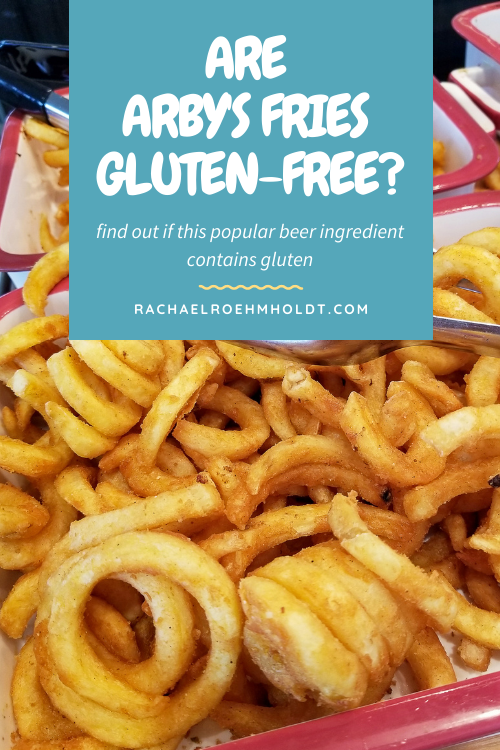 Note: I am a proud Amazon, Chomps, MunkPack, and Thrive Market affiliate and am happy to recommend their service and products to you. Please know that as an affiliate, I may receive a small commission on the products you purchase after clicking through my links. For more info, please see my disclosure policy here.
If you enjoy picking up lunch or dinner while out of the house once in a while, you may have found yourself curious about Arby's menu options and whether or not they contain gluten.
There seem to be Arby's fast food restaurants all over large cities and small towns in the U.S. If you're like me, you're always looking for an option to grab a quick bite while doing errands or other out-of-the-house activities or a go-to option for a dinner idea on nights I just simply don't have the energy to make up a full meal.
If you follow a gluten-free diet, you know that finding fast food options that are safe for you can be a little challenging. It seems there's always hidden gluten either in the food itself or from cross contamination.
In this post, we're getting to the bottom of this topic and how Arby's rates when it comes to their popular French fries. Let's find out if Arby's fries are safe for a gluten-free diet or if you should keep on driving past this drive thru for a better option.
What kinds of fries does Arby's sell?
Arby's fast food chains offer two different types of fries. They have their signature curly fries, as well as the classic crinkle fries.
Curly fries come in little curls with a slight coating and seasoning on them. Their crinkle fries are a more classic French fry option with grooves on them and are lightly salted.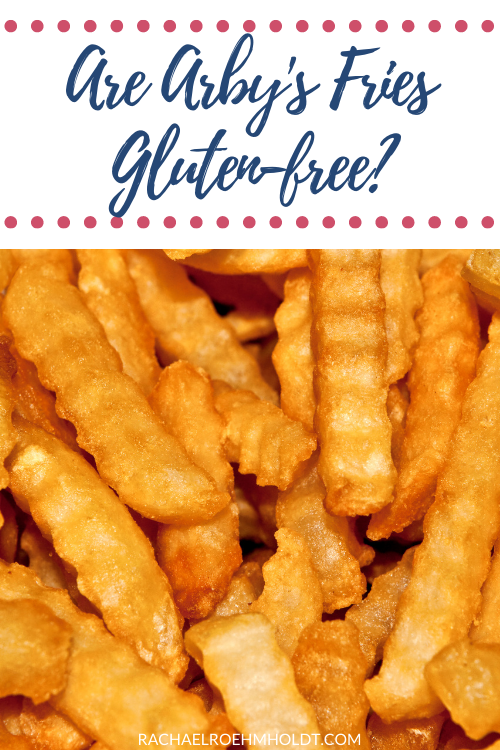 What are Arby's fries made of?
Arby's fries, like other fast food restaurant French fries, have a whole lot of ingredients for one seemingly simple food. Here is the breakdown of the ingredients from the Arby's website for both their curly fries and their crinkle fries.
Curly fries: Potatoes, Vegetable Oil (contains one or more of the following: canola oil, soybean oil, cottonseed oil, sunflower oil, Corn Oil, palm oil), Enriched Bleached Flour (wheat flour, niacin, reduced iron, thiamine mononitrate, riboflavin, folic acid), Salt, Corn Starch, Onion Powder, Yellow Corn Meal, Spices, Garlic Powder, Leavening (sodium acid pyrophosphate, sodium bicarbonate), Modified Corn Starch, Dextrose, Spice and Coloring, Natural Flavor, Dried Torula Yeast, Xanthan Gum, Sodium Acid Pyrophosphate (to preserve color). Cooked in Vegetable Oil.
CONTAINS: WHEAT. May be cooked in the same oil as menu items that contain Soy, Egg, Milk, and Fish (where available).
Crinkle fries: Potatoes, Vegetable Oil (contains one or more of the following: canola, palm, soybean, sunflower), Modified Food Starch (potato, corn, tapioca), Rice Flour, Dextrin, Salt, Leavening (disodium dihydrogen pyrophosphate, sodium bicarbonate, Dextrose, Xanthan Gum. Cooked in Vegetable Oil.
May be cooked in the same oil as menu items that contain Egg, Milk, Soy, Wheat and Fish (where available).
How are Arby's fries made?
Arby's fries are made in a factory, frozen and packaged, then shipped to the individual Arby's franchise stores to be deep fried for customer orders.
This fryer is the same fryer used to make their crispy fish, crispy chicken, chicken nuggets, and chicken tenders. It's also used to make their mozzarella sticks and jalapeno bites.
Read on: Arby's Gluten-free Menu Items
What is gluten?
Gluten is a protein found in most wheat products, and acts as the "glue" that helps to hold wheat, barley, kamut, spelt, farro, durum, bulgur, rye, and semolina together to maintain their shape.
Gluten is naturally occurring, and therefore is impossible to strip away from the grain. If a grain naturally has gluten in it, there's no way to make that food gluten-free.
Gluten is often added as a binding ingredient in many foods, and in French fries, it may be in a batter that is added to help get a French fry to be more crispy on the outside.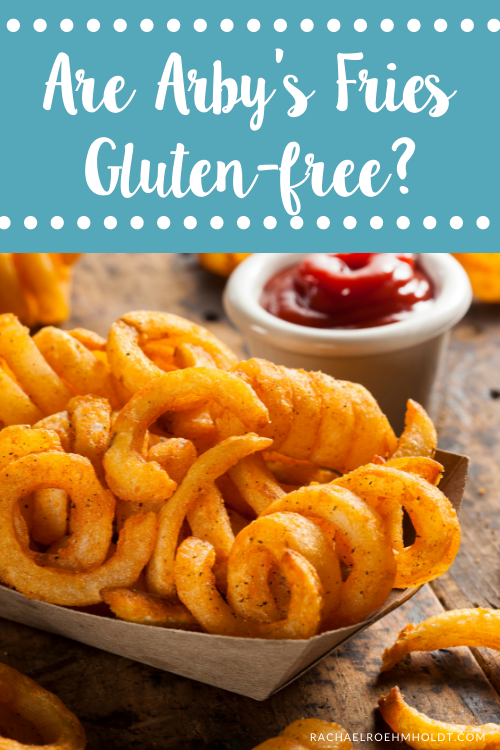 Are Arby's fries gluten-free?
After researching Arby's fries, we can learn that their curly fries are not gluten-free. There is enriched bleached flour that's added to give the fries a crispy texture, as well as a "Contains Wheat" note on the ingredient list.
Arby's crinkle fries contain no gluten-containing ingredients, but are cooked in the same fryer where other foods with gluten are made. Foods like the crispy chicken and crispy fish for sandwiches, chicken nuggets, mozzarella sticks, and jalapeno bites all contain gluten and are cooked in this same fryer.
If you are celiac, you'll want to avoid any foods that are cooked in their fryers since it is shared with gluten-containing foods. If you have a gluten sensitivity and can tolerate some amount of gluten, you may be okay with eating fries from Arby's.
However, only you know what your body can handle, so you may want to steer clear of this simply because of how much gluten could be swimming around in that vat of oil in the shared fryer.
Use your best judgment based on what you know about how your body reacts to gluten to decide whether or not you want to eat Arby's crinkle fries.
Read on: Are French fries gluten-free?
Read on: Are McDonald's French fries gluten-free?
Read on: Are Burger King French fries gluten-free?
Read on: Are Wendy's French fries gluten-free?
Read on: Are Chick-Fil-A fries gluten-free?
Are Arby's fries dairy-free?
Neither Arby's curly fries or their crinkle fries contain any dairy products and can generally be considered dairy-free. If you have a dairy allergy, you may want to avoid their fries anyway, because they use the same fryer as what they make mozzarella sticks in and there's a potential for cross contamination.
If you've been wondering if Arby's fries contain gluten, I hope this post has helped you get the answers you've been looking for.
While some fast food restaurants offer fries that don't have any gluten ingredients, most of them do use shared fryers with foods that do have gluten. You'll want to be aware of this next time you're looking for a quick fast food option that works for your gluten-free diet.
f you loved this post, I hope that you'll share it with your friends on Facebook and pin it for future reference on Pinterest.
Love this post? You might also want to check out these!
Find out if your favorite foods and ingredients contain gluten with these posts!