If you're looking for a butter substitute for your dairy-free diet and a dairy-free butter to add to your recipes, look no further. In this post, we'll talk about what your options are and which are best for baking and cooking.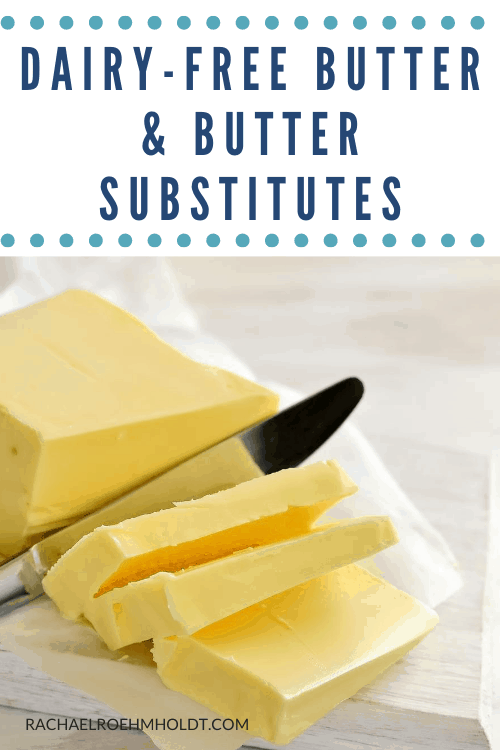 Note: I am a proud Amazon, Chomps, MunkPack, and Thrive Market affiliate and am happy to recommend their service and products to you. Please know that as an affiliate, I may receive a small commission on the products you purchase after clicking through my links. For more info, please see my disclosure policy here.
If you follow a dairy-free diet, you may be quick to realize some of the staples in your diet will have to change. Butter, milk, yogurt, and any other ingredients made from cow's milk will need to either be removed or replaced.
Don't worry – there are plenty of substitutions you can make to continue getting a similar flavor and function of butter in your cooking and baking!
In this post, we're going to talk all about dairy-free butter options. Let's first dive into the basics of butter and why it's considered not safe for a dairy-free diet.
Butter ingredients
Butter is made up of milk or cream, generally from cow's milk but can be made from other animal milk, and churned until the butterfat separates from the buttermilk. The butterfat is what we know of as butter.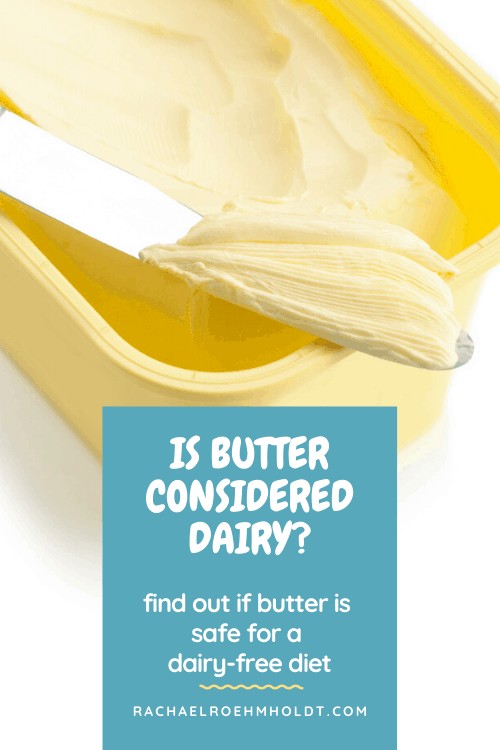 Is butter considered dairy?
Since butter is made from cow's milk or cream (or other animal milk or cream), it is considered a dairy product. A food is considered to be a dairy product when it is made from anything that comes from an animal, including milk.
Does butter have lactose?
Lactose is a sugar that is found in milk, and some people generally follow a dairy-free diet due to their lactose intolerance. If you avoid dairy due to lactose intolerance, you may be in the clear to eat butter.
According to this Livestrong article, there is 0.01 gram of lactose per tablespoon, making this small amount of lactose easier to digest than a glass of milk that has 13 grams of lactose.
Even though butter has low levels of lactose, if you follow a dairy-free diet, you will still want to avoid it. If you can tolerate small amounts of lactose and otherwise follow a dairy-free diet, then it might be okay for you to eat it.
Whatever your decision, know that following your body's signs and symptoms will help you decide if this food is okay for you to keep in your diet or not.
Read on: What's the difference between dairy, lactose, casein, and whey?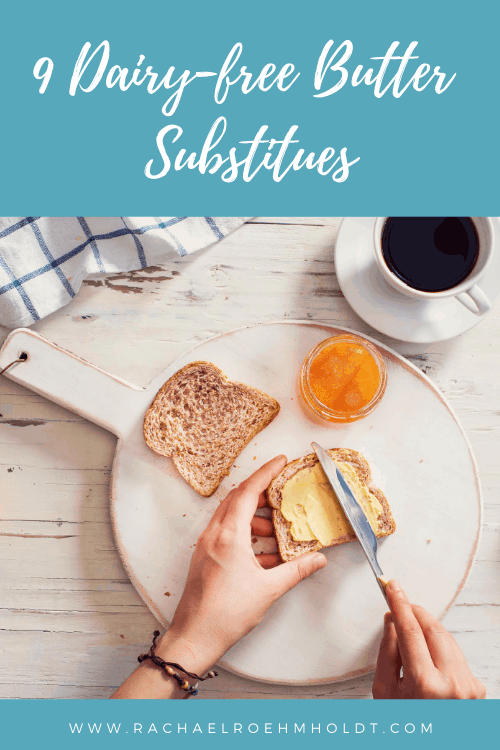 Butter substitutes
Since you now know that butter isn't a food you'll want to include in your dairy-free diet, what can you substitute this ingredient for in your cooking and baking? Let's go through some of the options so you can try out some of these options and find what you like best.
What can I substitute for butter?
Substitute Coconut Oil For Butter
Coconut oil is a great substitute for butter in baking and cooking, because it provides the same full fat flavor and texture that most people look for in butter.
Coconut oil can replace butter one-for-one in recipes, although in some baked goods you may want to scale it back slightly, because coconut oil is a little more oily than butter.
Using coconut oil in your recipes also brings with it a slight coconut flavor. While some people don't mind this coconut flavor added to some of their baked goods or recipes, others find it off-putting. Give it a try and see what you think!
Dairy-free Butter, Vegan Butter, and Vegan Margarines
You can find specific dairy-free butters and vegan butters at grocery stores with health food sections these days.
Some great brands to check out are: Earth Balance Buttery Spread, Forager Dairy-free Buttery Spread, and Miyoko's Vegan Butter.
Dairy-free butter, vegan butter, and vegan margarines all can be used as substitutes for butter with a one-to-one ratio in both cooking and baking.
See this post for a full list of dairy-free margarine.
Plant butter
Another new term that you might start seeing in grocery stores is "plant butter." Plant butter simply means butter that's made from plants. Yes, it's basically the same as margarine but without any added dairy ingredients.
You'll find plant butter by the Country Crock brand, although original Country Crock margarine is also dairy-free and safe to enjoy on a dairy-free diet.
Plant butter can be used as a substitute for butter with a one-to-one ratio in both cooking and baking.
Shortening
Shortening is made from hydrogenated oils, and can be used generally as a one-to-one ratio for substituting butter. You might find ¾ cup is a better substitute, so play with your recipe or refer to recipe notes if you're following a recipe online.
It works best in baked goods, like cookies, bars, and pie crusts. Some great brands to try are Nutiva and Spectrum Naturals.
Olive Oil and Avocado Oil
You can replace butter with olive oil or avocado oil in many baking and cooking recipes in a one-for-one ratio. These provide the fat that you're after in baked goods, while keeping the consistency of the baked good light.
I'm a big fan of Spectrum Naturals for my cooking and baking oils.
Fruit Purees
Fruit purees, such as applesauce, banana puree, avocado, and even fruit purees marketed as baby food can be used in place of butter in baked goods. These are a good butter substitute if you don't mind the fruit flavor being added to your recipe.
Fruit purees are a great option for adding a little fiber, although they don't have the fat like butter, oil, or vegan butter, so your baked goods will taste great but might not have the same texture as you'd expect from the recipe you're using if you make this swap.
Pumpkin Puree
Pumpkin puree is another great butter substitute and can be used, just like you would with fruit purees, in baked goods. This option is great any time of year, but can be particularly nice in the fall months when "pumpkin everything" is available.
To wrap this post up, let's sum up what we've covered so far in terms of butter substitutions.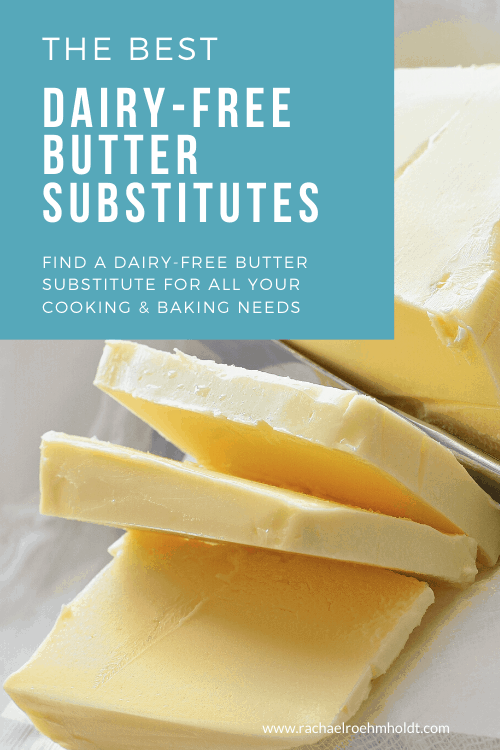 Butter Substitutes for Cooking
Coconut Oil
Dairy-free Butter
Vegan Butter
Plant Butter
Avocado Oil
Olive Oil
Butter Substitutes for Baking
Coconut Oil
Dairy-free Butter
Vegan Butter
Plant Butter
Avocado Oil
Olive Oil
Shortening
Fruit Purees
Pumpkin Puree
If you've been looking for a dairy-free butter or a butter substitute for your dairy-free baking, I hope this post has helped you find some options for your recipe.
Try your recipe with whatever you have on hand or try it over time with a few different of these options to find what you like best. It may be that you love coconut oil for one type of cookies, and vegan butter for another. There are plenty of options available, so try some of these out and see what you love!
Love this post? You might enjoy some of these other posts related to dairy-free substitutes!
Wondering if other ingredients or foods are dairy-free? Check out the FAQ's on my Gluten and Dairy-free Diet Basics Page for more.