Have you found yourself craving the thick creaminess of milk or heavy cream without the dairy? Find out how to make cashew milk with just two ingredients and a blender! Scroll down for details.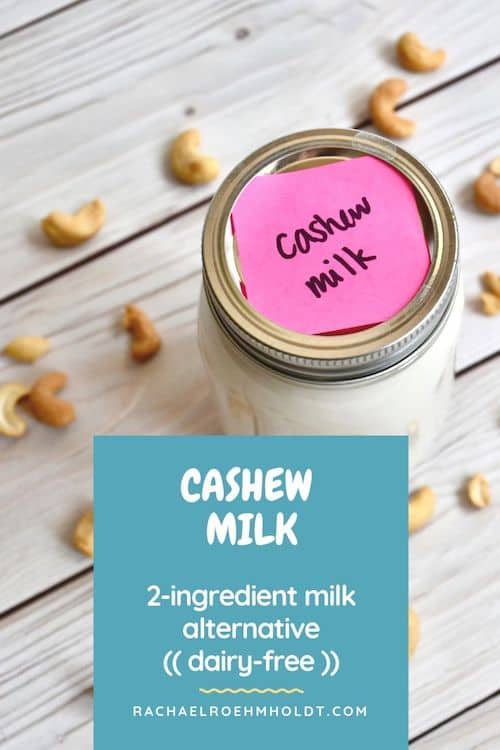 Note: I am a proud Amazon affiliate and am happy to recommend their service and products to you. Please know that as an affiliate, I may receive a small commission on the products you purchase after clicking through my links. For more info, please see my disclosure policy here.
Have you ever done something a million times and then one day, someone shows you how to do something similar, and a lightbulb moment goes off? Like the secret key to make something easier just clicks – and it's like your singing "A Whole New World" from the Aladdin movie?!
That happened to me recently while I was making a recipe I found on Instagram by A Pinch Of Yum. I was scrolling through my feed and saw a short little video of how to make a cashew milk coffee drink. I was in the mood for coffee that rainy afternoon, so I thought to myself "I'll go give that a try!"
It turned out the drink was beyond amazing, and I went about making it a few times over the following couple of weeks.
Basically the idea was that you put hot brewed coffee, some cashews, a pinch of salt, and a drizzle of maple syrup in your high-speed blender – and voila! You have a delicious super-creamy drink that will fill you up as a snack and make your belly happy.
It really was divine. You can find the recipe here if you want to check it out.
It was only a few days later that I was making a recipe for dinner from my GFDF Weekly menu plans that called for cashew milk, and I realized I was all out.
After a few trips through my grocery store in the previous few weeks, realized that they were no longer carrying the cartons of it that I had been buying.
I stood in the kitchen not so sure what to do… I do this once in a while when I'm brainstorming ideas. Just stand there and look around. And then – aha! I had a serious lightbulb moment!
I had remembered just having that cashew coffee a few days before and had thought how easy it was to blend up some creamy cashews in a hot liquid – and thought… oh my goodness, making my own cashew milk can be THAT easy.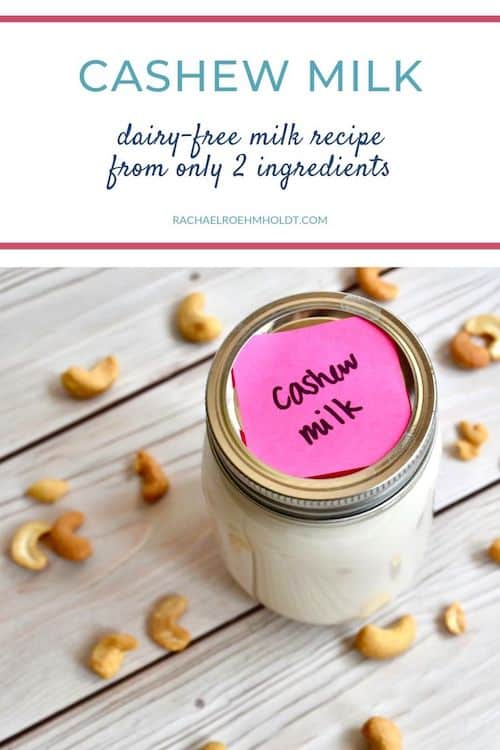 Now before I get too much farther, let me just say that I've made my own dairy-free nut milks at home for years. It's nothing new to me to soak some cashews or almonds in water overnight, drain the water, the blend it all up the next morning.
BUT… BUT! I had never ever considered the idea that I could make cashew milk WITHOUT soaking the nuts.
For whatever reason, I thought I'd give it a shot that night as I was trying to get that dinner to the table. I threw some hot water and a handful of cashews into my blender, wizzed it up, and tried it.
I could barely believe that the cashew milk that I'd made right then and there was the exact same flavor and consistency of the one that I'd been buying in a carton at the store for months before. Crazy, right?!
So now… when I need a recipe that calls for cashew milk, you better bet that I'm not going to waste extra money for the packaging that the containers come with. Or I'm not going to spend almost $4.00 on a shelf-stable container of cashew milk.
Nope, I'm going to buy a cup of raw or roasted cashews and mix it with some hot water, blend it all up.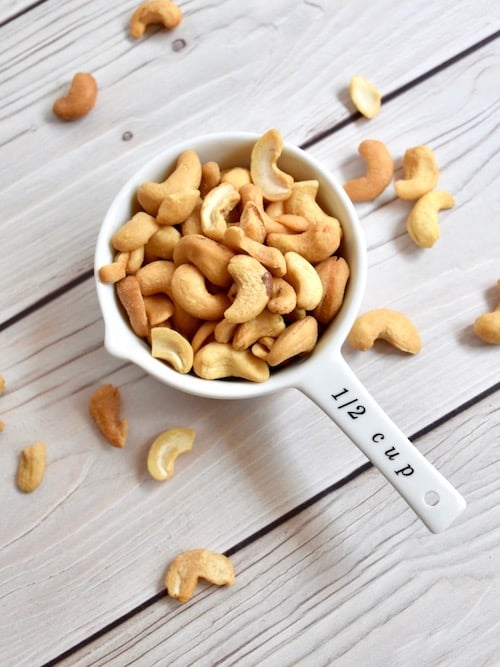 Tips for how to make this cashew milk recipe:
Use hot water. It's important to use hot water so that the cashews actually can break down entirely. For some reason, when I used cold water, I noticed that the cashews left a thicker consistency – meaning I had to strain it through a nut milk bag to get all the little pieces out. If you soak the cashews overnight, cold water works fine. With the hot water, my not-soaked cashews, and my Vitamix, I didn't have any pieces at all and it was super smooth.
You need a high-speed blender, like a Vitamix or a BlendTec to really get all the little pieces to blend up. If you don't have one, you'll very likely want to invest in a nut milk bag to strain your milk to be a smooth consistency.
You can use either raw or roasted cashews for this milk. In traditional nut milks, you want to use raw cashews and soak them beforehand. But when you're going for quick and easy, and you're using a high-speed blender, you can have almost exactly the same results using either raw or roasted cashews. You'll get a completely different flavor from both raw and roasted, so try both and see which one you like better!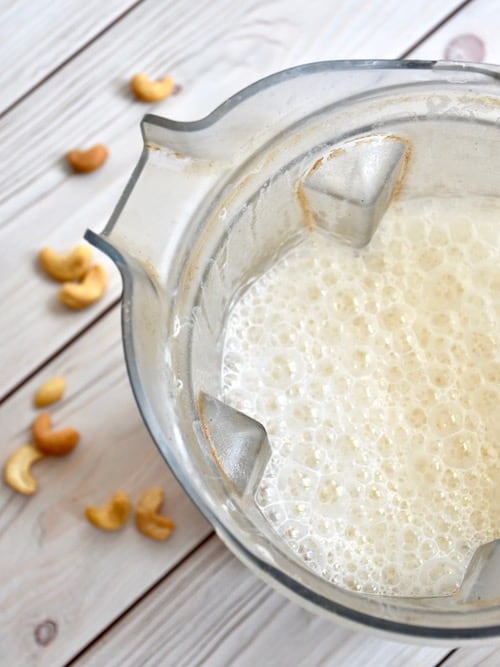 Yield: 3 cups
Cashew Milk Recipe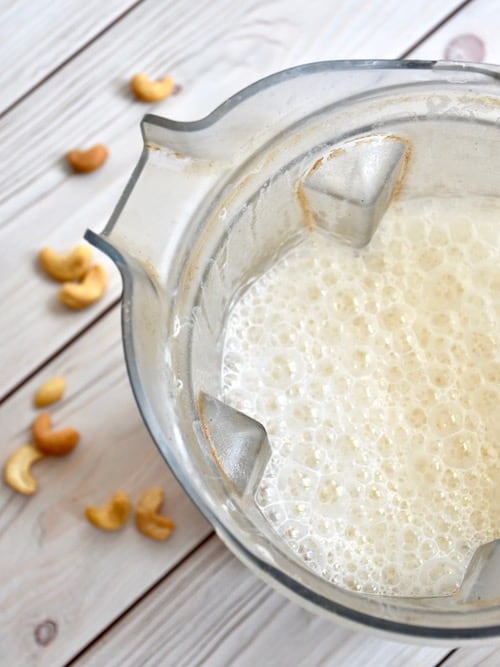 Try this homemade cashew milk recipe made from just 2 ingredients and your blender! A delicious dairy-free milk to add a creamy texture to lots of your favorite recipes.
Instructions
Heat the water in a pot on your stove, or in a microwave-safe container in the microwave. The water should be hot, but doesn't need to be boiling.
Add the cashews and water to your high-speed blender (I love my Vitamix!).
Blend for about 30 seconds on the highest setting. If you want to, you can strain through a nut milk bag, but if you are using a high-speed blender, you probably won't need to.
Transfer to a glass mason jar or other sealable container.
Store in the fridge for up to 5 days.
Notes
I've had success using roasted cashews too - so if you only have those on hand, try it out!
You can sweeten your cashew milk with a few dates or some honey or maple syrup.
Make chocolate cashew milk by adding cacao or cocoa powder and sweetener.
Recommended Products
As an Amazon Associate and member of other affiliate programs, I earn from qualifying purchases.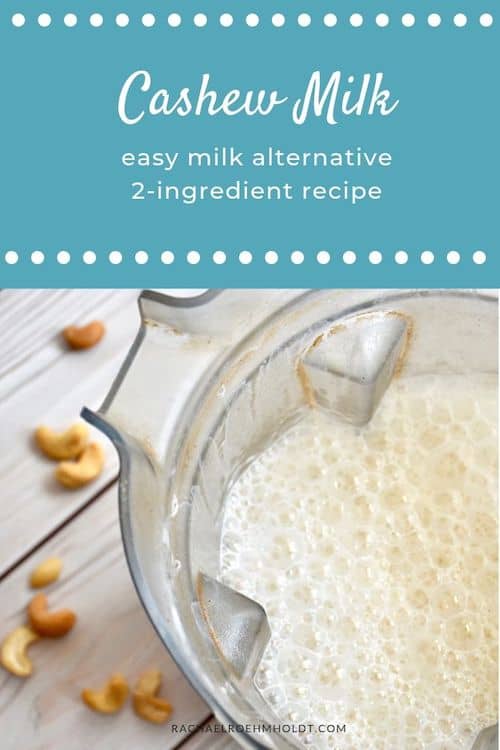 How to use homemade cashew milk:
I've been using cashew milk in quite a few ways in my cooking and baking lately – here are a few ideas for how you can use it too:
In coffee
In smoothies
In place of heavy cream in pasta dishes
In polenta
With cereal or granola
In creamy soups
In curries
In salad dressings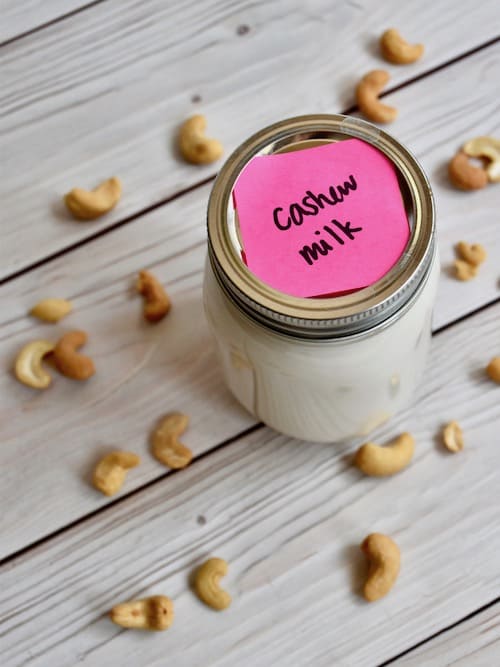 Are you a big cashew milk fan? Do you make yours at home or buy it at the store? I'd love to hear if you try this out and what you think!
If you love this post, you may also want to check out my other popular post below!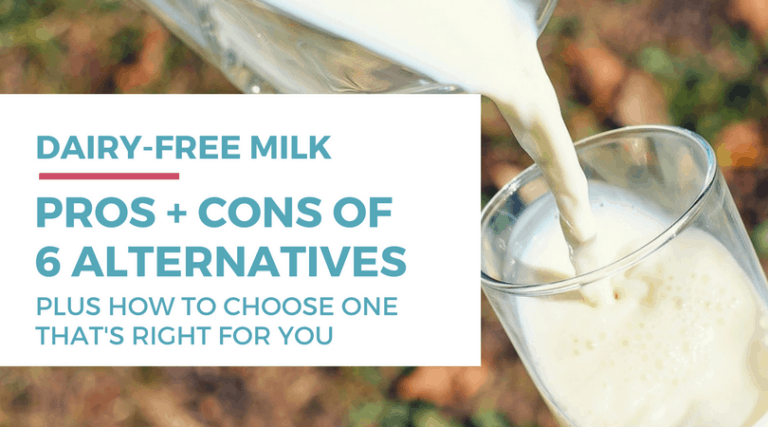 Interested in getting more updates and gluten and dairy-free recipes from me every week? Be sure to sign up for my shopping list plus 5 sample recipes below! I'll also send you weekly updates from the blog.