Find out if chicken broth is made from and if this ingredient is safe for your gluten-free diet. Plus find out if chicken bouillon is gluten-free.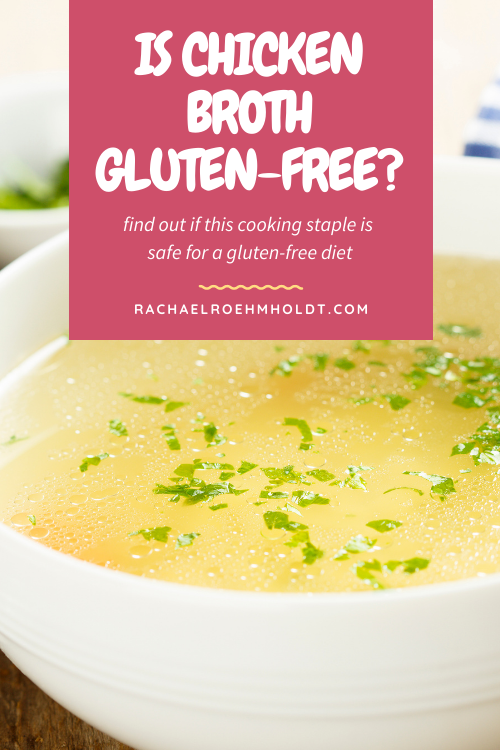 Note: I am a proud Amazon, Chomps, MunkPack, and Thrive Market affiliate and am happy to recommend their service and products to you. Please know that as an affiliate, I may receive a small commission on the products you purchase after clicking through my links. For more info, please see my disclosure policy here.
If you like to use chicken broth in your cooking, you're not alone. I love adding chicken broth and chicken stock to many of my favorite recipes, like soups, stews, and rice dishes for some added flavor.
Chicken broth is perfect to have on hand in cans if you like to make quick soups for lunch or dinners, particularly in the colder months. If you've been following a gluten-free diet for only a short time, you may have learned that gluten can hide just about anywhere – and chicken broth is just another ingredient you'll want to keep your eyes peeled for hidden gluten.
Find out in this post what chicken broth is, what the main ingredients are in this cooking staple, and if chicken broth is naturally gluten-free. We'll also talk about when chicken broth may not be gluten-free, and set you up with a resource to find a gluten-free chicken broth that you can buy at the store.
Finally, we'll make sure that if you like to take a shortcut with chicken broth at home using chicken bouillon, that you have all the information you need about this ingredient to stick with your gluten-free diet.
Read on: 50 gluten-free dairy-free soups, stews & chili recipes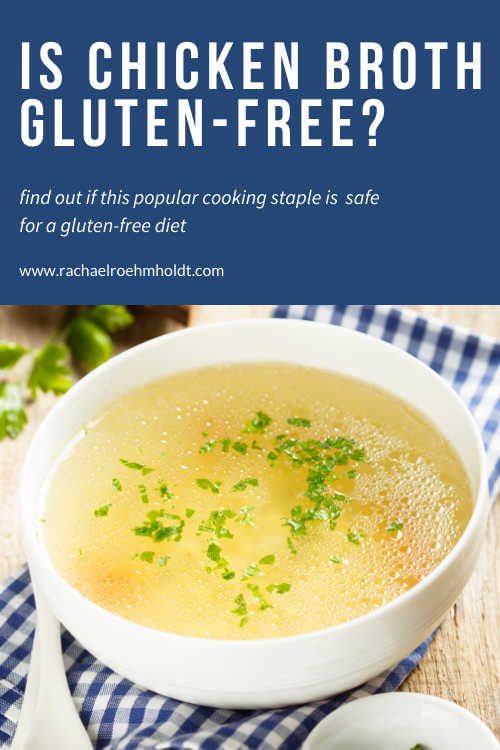 What is chicken broth?
Chicken broth is a type of broth that's made with chicken and vegetables. It's a liquid that's added to soups, stews, and sauces. Many people use chicken broth in gravy, marinades, and to add flavor to their rice or whole grain dishes as well.
You can find chicken broth in cans or cartons at the grocery store or you can make it from scratch. With just a few ingredients, you can make chicken broth on your stove top in a big pot.
Chicken broth and chicken stock can sometimes be used interchangeably in your cooking, but the main difference is that chicken broth is made with chicken meat whereas chicken stock is made with chicken bones.
The result is that chicken broth is usually lighter in flavor and color than chicken broth, which has the gelatin from the chicken bones and is a thicker consistency and heavier flavor.
Read on: Gluten-free gravy and gluten-free chicken gravy
What is chicken broth made of?
Chicken broth is made of chicken, vegetables like celery, carrots, and onions, and herbs and other seasonings like bay leaves, salt and pepper.
Some people use turnips, parsnips, leeks, fresh thyme, and bouillon cubes to flavor their chicken broth.
You can add other ingredients to your chicken broth if you have other vegetables you like to add, but these few ingredients are the basics of what you need to make a simple chicken broth.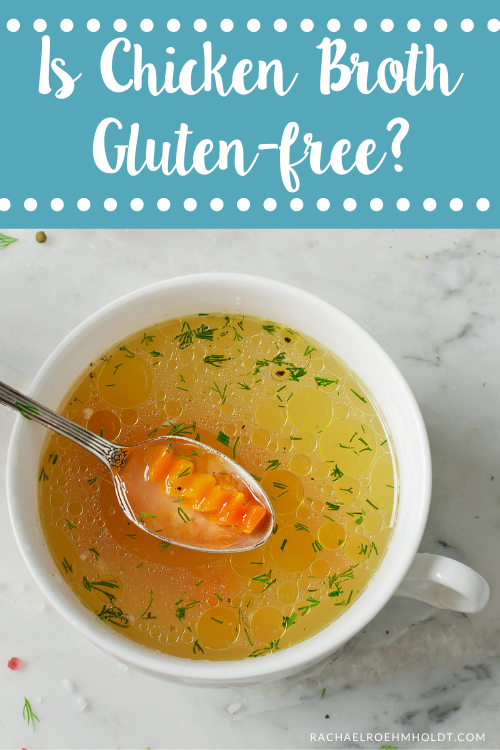 What is gluten?
Gluten is a protein found in most wheat products, and acts as the "glue" that helps to hold wheat, barley, kamut, spelt, farro, durum, bulgur, rye, and semolina together to maintain their shape.
Gluten is naturally occurring, and therefore is impossible to strip away from the grain. If a grain naturally has gluten in it, there's no way to make that food gluten-free.
Gluten is often added as a binding or thickening ingredient in many foods, particularly those that have been processed.
Is chicken gluten-free?
Chicken is a naturally gluten-free food. When prepared simply and without added gluten ingredients, chicken is considered to be gluten-free and safe for folks on a gluten-free diet.
The places to look out for with gluten and chicken is the seasonings used on it or where it has been processed.
Chicken is considered gluten-free unless an ingredient has been added to it that contains gluten. Another way chicken could contain gluten is if it is cooked in an area that is shared with another food that contains gluten, causing cross contamination.
Read on: Does chicken have gluten?
Read on: 25 gluten-free chicken recipes
Read on: Gluten-free chicken and dumplings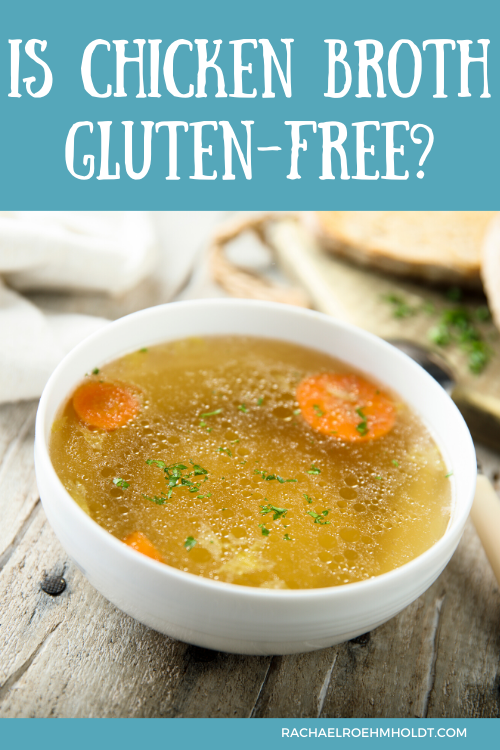 Is chicken broth gluten-free?
Chicken broth can be either gluten-free or not, depending on the ingredients that are used. Homemade chicken broth is gluten-free when only gluten-free ingredients are used. This is easy to accomplish, because most main ingredients in chicken broth are naturally gluten-free.
Chicken broth that comes in cans or cartons from the grocery store may or may not be gluten-free. For example, Campbell's chicken broth has the following ingredients:
"Chicken Stock, Contains Less Than 2% Of: Chicken Fat, Salt, Yeast Extract, Monosodium Glutamate, Corn Oil, Natural Flavoring, Soy Protein Concentrate, Dried Chicken, Celery Extract. Contains: Soy May Contain Traces Of Wheat"
This "contains" note tells us everything we need to know: This product may contain wheat, and therefore gluten. This is why it's important to check every product and ingredient list for notes about gluten.
Your best option for finding a gluten-free chicken broth is to review ingredients for any hidden names of gluten.
One of my little secrets is that I carry around a copy of my GFDF Take Along Cards so that I always have a point of reference when I can sneak a peek at the ingredient list of a food.
>> Get your copy of the GFDF Take-Along Cards to make this easy on you.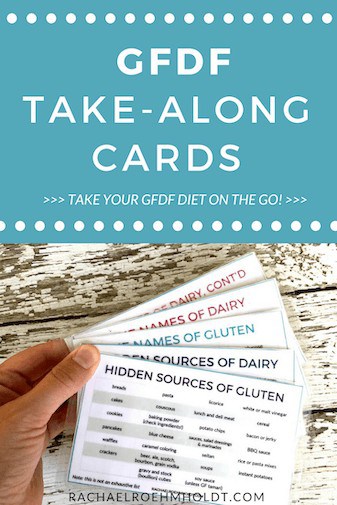 Read on: 25 Gluten-free chicken soup recipes
Read on: Dairy-free cream of chicken soup (gluten-free)
Read on: Is cream of chicken soup gluten-free?
Read on: Is egg drop soup gluten-free?
Read on: Is chicken stock gluten-free?
Is chicken bouillon gluten-free?
Chicken bouillon is a condensed version of chicken broth that gets cooked down to create a powder or cube that's used to flavor soups and sauces. It can be used to create a quick and easy chicken broth by simply adding water to it to add to your favorite recipes.
Depending on the brand, chicken bouillon may or may not be gluten-free. Many chicken bouillon options on the market do contain gluten or do not disclose whether or not there is gluten in their products.
Without a gluten-free label, you can read ingredient lists and see whether or not a product has gluten-containing ingredients, but will not know if the product is made on shared equipment or has the possibility of cross contamination.
A few brands of gluten-free chicken bouillon are BOU, Herb-Ox, Savory Choice, and Vogue Cuisine.
Read on: Is Better Than Bouillon gluten-free?
Read on: Is Knorr chicken bouillon gluten-free?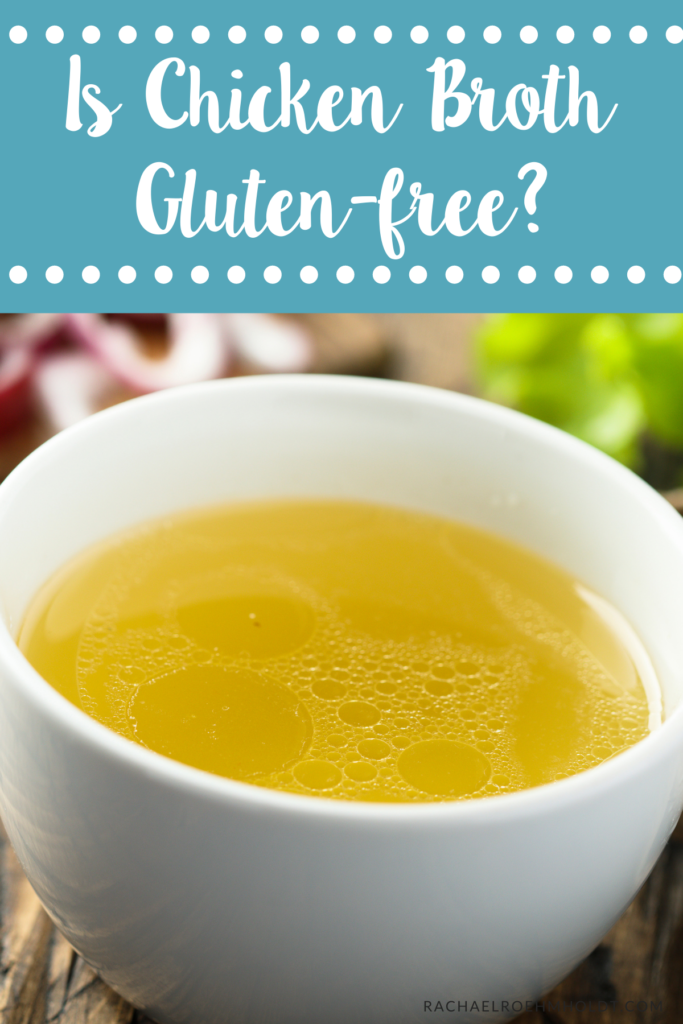 Gluten-free chicken broth brands
There are a number of great gluten-free chicken broth brands. I have a full blog post outlining some of the best brands and options, which you can check out here: Gluten-free Chicken Broth.
Read on: 25 Gluten and dairy-free chicken crockpot recipes
Read on: 25 Gluten-free dairy-free chicken casserole recipes
If you've been wondering if chicken broth is safe for your gluten-free diet, I hope this post has given you the information you've been looking for.
Many chicken broth brands are gluten-free, but many contain hidden gluten in the form of yeast extract. Be sure to check ingredient lists and look for "contains wheat" notes before purchasing any chicken broth product.
Chicken broth you make at home will almost always be gluten-free, assuming you use other naturally gluten-free ingredients.
If you loved this post, I hope that you'll share it with your friends on Facebook and pin it for future reference on Pinterest.
Love this post? You might also want to check out these!
Find out if your favorite foods and ingredients contain gluten with these posts!