Find out what rice pilaf is, what it's made of, and whether or not this is a safe option for your gluten-free diet.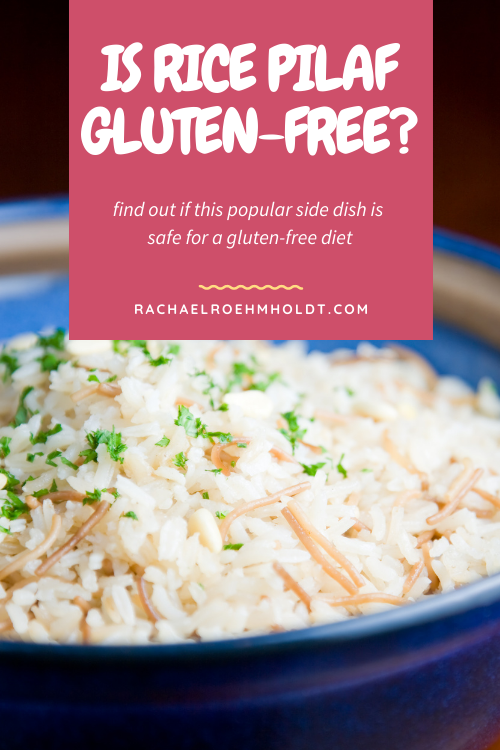 Note: I am a proud Amazon, Chomps, MunkPack, and Thrive Market affiliate and am happy to recommend their service and products to you. Please know that as an affiliate, I may receive a small commission on the products you purchase after clicking through my links. For more info, please see my disclosure policy here.
If you enjoy rice pilaf as a side dish to some of your favorite main dishes, you know that this dish is as flavorful and interesting as you make it. Rice pilaf can be simple with just broth and seasonings, or it can be full of tons of flavor from vegetables, garlic, meat, and herbs.
If you follow a gluten-free diet, you may have wondered if this dish contains gluten and if you can safely enjoy it from a restaurant or by making it at home.
In this post, we're going to talk about the basics of rice pilaf, so you can confidently order and make this dish at home if you wish to. Find out what rice pilaf is, what the main ingredients are, and if it's safe for a gluten-free diet. Plus learn what the main things to look out for in rice pilaf when ordering at a restaurant or buying a premade box from the store.
What is rice pilaf?
Rice pilaf is a type of rice dish that's served as a side dish in many cuisines worldwide, including Caribbean, Central Asian, East African, Eastern European, South Asian, Latin American, and Middle Eastern.
Pilafs worldwide are made with both rice or other grains like bulgur. Rice pilafs can vary from region to region, but most are made by cooking rice in stock or broth. Flavorings are added, like vegetables, meat, nuts, and even dried fruits to give it a unique taste.
You can find rice pilaf at restaurants as well as store-bought shortcut options. Making your own rice pilaf at home is simple and can be as basic or complex as you want it to be in terms of how many ingredients and how it is prepared.
Read on: Is white rice gluten-free?
Read on: Is brown rice gluten-free?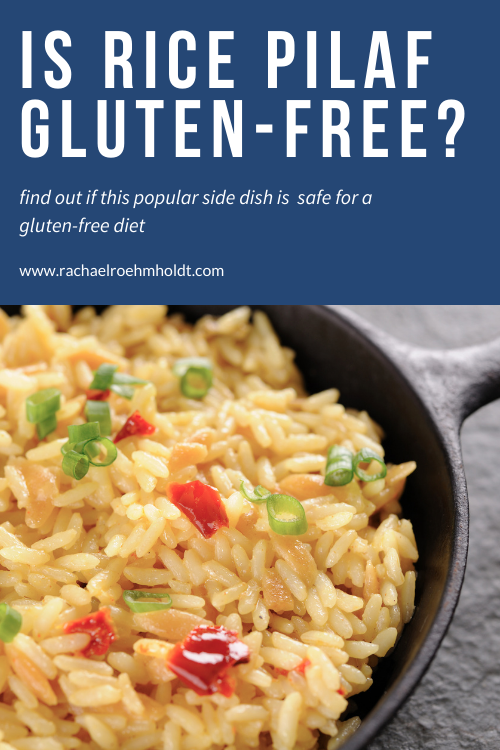 What is rice pilaf made of?
Rice pilaf will vary in ingredients depending on the type of cuisine you're trying to mimic. In America, you will most often find rice pilaf made with butter or oil, broth or stock, and vegetables like onions, garlic and celery.
Some rice pilafs also have small pasta or vermicelli noodles, sliced almonds, and herbs.
Read on: Is vermicelli gluten-free?
Read on: Is orzo gluten-free?
Read on: Is basmati rice gluten-free?
What is gluten?
Gluten is a protein found in most wheat products, and acts as the "glue" that helps to hold wheat, barley, kamut, spelt, farro, durum, bulgur, rye, and semolina together to maintain their shape.
Gluten is naturally occurring, and therefore is impossible to strip away from the grain. If a grain naturally has gluten in it, there's no way to make that food gluten-free.
Is rice gluten-free?
Rice is naturally gluten-free as long as it hasn't come into contact with other gluten-containing grains during processing or in the dish you're making.
For example, rice that comes in a bag will almost always be gluten-free. However, if you buy a rice pilaf box mix from the store, there may be gluten if it has small pasta or gluten in the seasoning packet that comes with it.
Rice is that it is often manufactured on the same lines and processing equipment as other whole grains. Grains of many different kinds are processed on the same equipment, including gluten-free grains and sometimes grains that contain gluten.
If you are sensitive to even tiny amounts of gluten, you'll want to avoid buying rice from bulk bins at the grocery store. Choose only rice that comes in a package that has been processed on a dedicated gluten-free line.
Read on: Is rice gluten-free?
Read on: Gluten-free chicken broth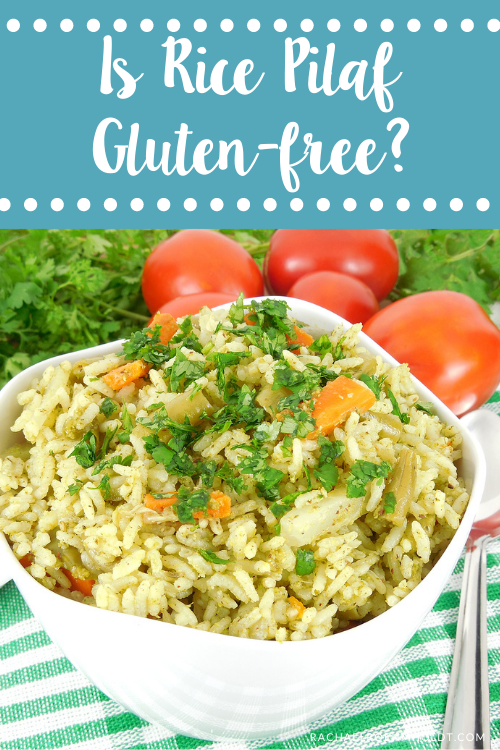 Is rice pilaf gluten-free?
Rice pilaf may or may not be gluten-free depending on the ingredients that are used in it. If you make your own rice pilaf at home, you can easily make it gluten-free with gluten-free ingredients.
Since we know that rice is naturally gluten-free, you'd just want to check that the other ingredients you use are also naturally gluten-free or have a gluten-free label on them. Use gluten-free stock or broth and any seasonings you use should also be gluten-free.
Rice pilaf you get from a restaurant may not be gluten-free. Some rice pilafs have small pasta in them, like couscous or vermicelli, which both contain gluten. Other ingredients to watch out for in rice pilaf are the stock or broth used as sometimes gluten can be hidden in these if it is a store bought product instead of made at home or in a restaurant.
If you are considering eating a rice pilaf at a restaurant, be sure to check with the wait staff to find out if that food is made using gluten-free ingredients. If you aren't sure, it's best to hold off on this and make your own at home using ingredients you can confirm for sure are safe for your gluten-free diet.
Gluten-free Rice Pilaf Recipes
If you're looking for a few gluten-free rice pilaf recipes to try out, you might want to consider one of these delicious options.
Rice pilaf may or may not be a good option for your gluten-free diet, depending on whether you are at a restaurant, buying a store-bought mix, or making it at home. Your safest option is to make it at home with ingredients you have reviewed.
If you loved this post, I hope that you'll share it with your friends on Facebook and pin it for future reference on Pinterest.
Love this post? You might also want to check out these!
Find out if your favorite foods and ingredients contain gluten with these posts!