Find out if eggs are dairy, what food group they are in, why people think they are dairy, and if you can eat eggs on a dairy-free diet.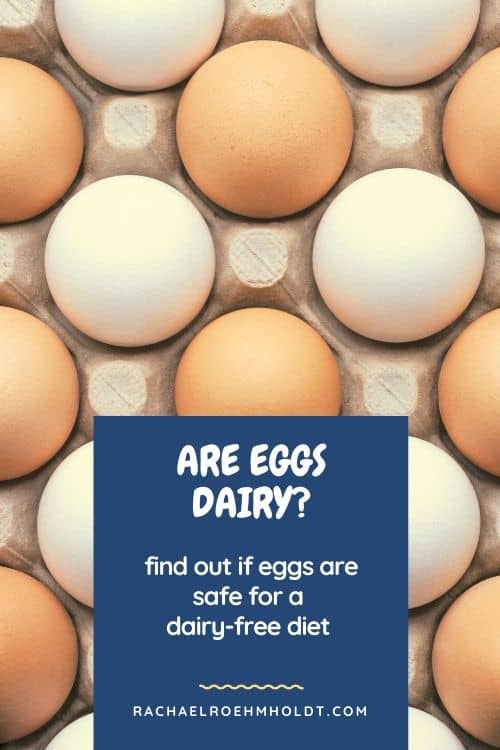 Have you wondered if eggs are dairy? It's a good question, because so many people often believe that eggs are considered part of the dairy food group. Running a blog dedicated to eating a gluten-free and dairy-free diet, I get asked this question a lot. It can be confusing, especially since eggs and milk are often close together in grocery stores.
In this blog post, we'll cover the health benefits of eggs, what is dairy, are eggs considered to be dairy, eggs and lactose intolerance, and which food group eggs really belong in.
Health Benefits of Eggs
If you've been wondering if eggs are dairy and whether or not to avoid them on a dairy-free diet, let's go over the health benefits of eggs and find out why they are so good for us. Why would we want to keep including them in our daily diet?
Eggs are high in protein, about 6 grams per one large egg
Eggs have healthy fat, about 5 grams per one large egg
Eggs provide a good source of folate, phosphorus, and selenium
Now that we know why eggs are so great for any diet, let's talk a little more about what dairy is to understand if eggs fall into the category of dairy.
What is Dairy?
Dairy is a general name for ANY food that is made from milk. Technically, this is any food made from cow's milk or goat's milk or sheep's milk. Any animal milk is dairy. However, mostly when we're talking about dairy, we're talking about drinking cow's milk, because that's what is most popular here in the United States.
The most common foods that are considered to be dairy are: milk, cream or heavy cream, cheese, ice cream, and yogurt. This includes different variations of each of these as well, such as: hard cheeses, soft cheeses, cottage cheese, feta cheese, flavored milks, different flavored ice creams and yogurts, pudding, and sherbet.
If a product is made from cow's milk or any animal milk, it is considered to be a dairy product.
That leads us to our question at hand… are eggs dairy?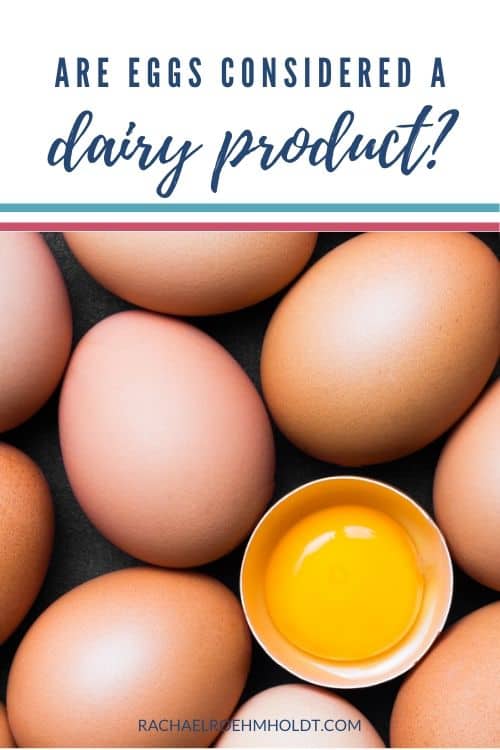 Are Eggs Dairy?
Are eggs dairy products? Based on our definition above that a dairy product is one that comes from or is derived from animal milk, eggs are not dairy products.
Eggs are not considered to be dairy, because although they are an animal byproduct, they aren't made from animal milk. An animal byproduct is simply a resulting food (product) that comes from an animal, such as eggs or honey.
Just because an egg comes from an animal doesn't mean that it comes from milk. Therefore, eggs are not dairy.
Eggs are dairy-free and safe for a dairy-free diet. If you follow a dairy-free diet and can tolerate eggs with no issue in your digestion or otherwise, feel free to enjoy eggs as a regular part of your overall diet.
Are Eggs Meat?
Eggs are not meat nor dairy. They are an animal product that does not fall into either of these two categories. You can often find eggs and meat in the same sections of the grocery store, and this is why people often mistake eggs for meat.
Are Eggs Poultry?
People would love to put eggs into a category and sometimes that means lumping them into the poultry category. While eggs come from poultry, they are not actually considered poultry.
Eggs are an animal product, but not a bird without being fertilized and hatching, therefore not part of the poultry family.
Eggs and Lactose Intolerance
If you have lactose intolerance or a dairy intolerance, eggs are perfectly safe on this diet. Assuming you have a diagnosis of lactose intolerance and do not have an egg intolerance or allergy, you should be safe to enjoy eggs regularly.
While it is common for people to think that eggs are a dairy product, and therefore contain lactose, this is a myth. Eggs do not contain lactose and are safe to eat on a lactose-free diet.
Learn the difference between dairy, lactose, casein, and whey.
Are Eggs Vegan?
A food is considered vegan if it doesn't include any ingredients or foods that come from animals or animal byproducts. Fruits, vegetables, grains, and plant-based sources of protein and fat are all vegan.
Eggs come from chickens, meaning they are an animal byproduct, therefore eggs are not vegan. If you are planning to eat a vegan diet for health or moral reasons, eggs are a food you'll want to avoid.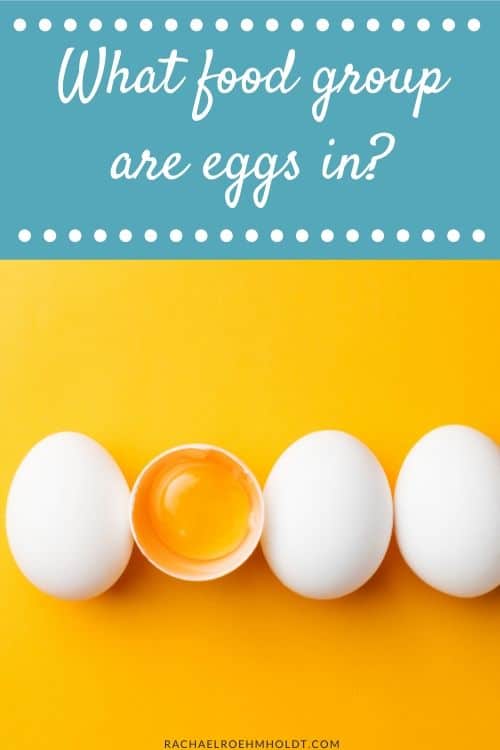 What food group are eggs in?
While it's clear based on what we've discussed so far in this post that eggs are not considered to be dairy, what food group are eggs in?
If you consider the food groups to be meat and protein, grains, fruits, vegetables, and dairy (according to the current government's website ChooseMyPlate.gov), you might think that eggs fall under the dairy food group.
In fact, eggs would be considered part of the protein food group. This is a little confusing, mainly because this protein food group and category used to be known as the meat food group. If you were ever taught that meat was a food group like I was, this is probably a holdover from when you were learning food groups as a kid.
Since we all know that eggs aren't meat, it is confusing to know where they fall in the food groups. Since eggs are high in protein and do not come from milk, they are considered part of the protein food group that includes meat, fish, poultry, and eggs.
Why do people think eggs are dairy?
If you've thought that eggs are dairy, you're not alone. Many people think that eggs are considered to be part of the dairy food group and therefore not safe on a dairy-free diet, because of where they are located in a grocery store.
Eggs are often found in the refrigerated section of grocery stores near the dairy products or meat department. The truth is the eggs are next to the dairy products, because they both need to be kept cold, not because they are in the same food group. This coupled with the fact that most people don't know the true definition of dairy, any product that comes from animal milk, is how this thought has been perpetuated over the years.
Now that you know the ins and outs of eggs, I'd encourage you if you're on a dairy-free diet to continue to eat them and enjoy them. They're a great source of protein, healthy fat, and they're really delicious too.
Do eggs have gluten? Are eggs gluten-free?
Eggs are a naturally gluten-free food, meaning if you follow a gluten-free diet, these are safe to enjoy regularly.
Read on: Are eggs gluten-free?
Try one of the 10 recipes below if you eat a gluten and dairy-free diet to enjoy eggs as part of your diet.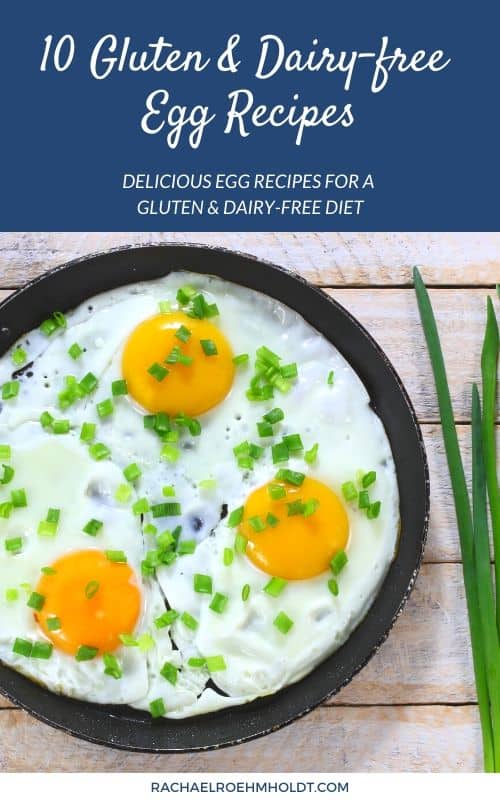 10 Gluten and Dairy-free Egg recipes
1. Slow Cooker Bacon, Egg, and Hash Brown Bake
This "hands-free" breakfast bake is loaded with tasty ingredients like bacon, eggs, hash browns, and green onions. This is gluten-free, dairy-free, and is great for when you have a lot going on in the morning and have very little time to get breakfast to the table.
2. Dump & Bake Veggie Omelet
A veggie omelet made in the slow cooker is easy and healthy. You can make one of these to please anyone in the family and feel good about getting your veggies before the day has gotten too far along.
3. Whole30 Breakfast Bake with Sausage, Eggs, Spinach and Mushrooms
This delicious breakfast bake is packed with protein, fiber, and veggies – a perfect start for the morning. It's gluten-free and dairy-free too. Even though it's not specific to the slow cooker, you can easily do most of the cooking there after prepping the ingredients.
4. Gluten-free Dairy-free Sausage Egg Casserole
I love that this gluten-free dairy-free sausage egg casserole can be made into individual portions so that you can make them ahead and retreat for easy on the go breakfasts.
5. Ground Beef & Spinach Egg Casserole
This ground beef and spinach egg casserole has only 9 ingredients, so you know it's got to be simple. Without any gluten or dairy, you're still going to make sure you get your veggies and protein in this dish.
6. Make Ahead Mexican Breakfast Casserole
This make ahead Mexican breakfast casserole has got to taste good, because it has almost all my favorite Mexican flavors included: ground beef, sweet potatoes, jalapeno, chili powder, and tomatoes. Add some eggs, spinach, and some seasonings – and a beautiful breakfast that can be prepped ahead is born.
7. Breakfast Casserole
While most gluten-free dairy-free breakfast casserole dishes tend to lean towards the paleo or whole 30 direction, this recipe is a nice change. This breakfast casserole recipe calls for gluten-free bread heels, sausage, eggs, dairy-free milk, herbs de Provence, and salt and pepper. Couldn't be easier!
8. Overnight Chai Eggnog French Toast Casserole
Overnight chai eggnog french toast casserole is an awesome make-ahead breakfast casserole option. While it says it's for the holidays only, you could totally swap the eggnog out for coconut milk to make it for any weekend brunch or breakfast year-round!
9. Eggs Benedict Casserole
If you're a fan of eggs Benedict, but are eating gluten-free and dairy-free – you may think there's no option for you to enjoy this delicious dish. But this recipe from Mama Knows Gluten Free uses gluten-free bread and a dairy-free Hollandaise sauce to make it possible! This recipe feeds a crowd to keep this one handy for those big gatherings you host or brunches where you're asked to bring a dish.
10. 3-Ingredient Peanut Butter Cookies
If you need a cookie fix, this recipe has you covered. I couldn't highlight ONLY breakfast recipes with eggs – this recipe showcases them nicely. With only 3 ingredients, you could probably whip up a batch of these any night of the week. All you need is peanut butter, sugar, and an egg. That's it! Enjoy them, because they're gluten-free and dairy-free too.
Read on: Click here for more gluten-free dairy-free breakfast casserole recipes.
I hope that if you've been wondering if eggs are safe for a dairy-free diet, that this post gives you hope! You can definitely still enjoy eggs while avoiding dairy.
f you loved this post, I hope that you'll share it with your friends on Facebook and pin it for future reference on Pinterest.
Love this post? You might want to check these out!
Find out if your favorite foods and ingredients contain dairy with these posts!