Have you ever wondered if mayo has dairy? Find out in this post what mayo is made of, if mayo is a dairy product, and if you can eat mayo on a dairy-free diet.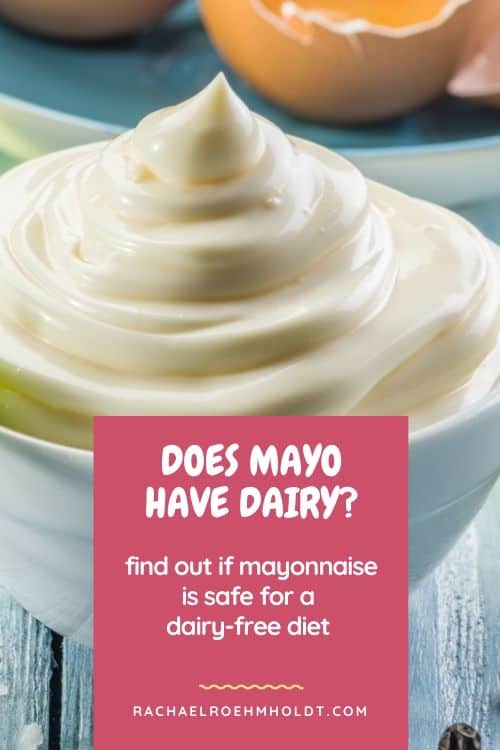 Note: I am a proud Amazon, Chomps, MunkPack, and Thrive Market affiliate and am happy to recommend their service and products to you. Please know that as an affiliate, I may receive a small commission on the products you purchase after clicking through my links. For more info, please see my disclosure policy here.
Does mayo have dairy? This is a question I get asked a lot running a blog dedicated to eating a gluten and dairy-free diet. It seems like mayo might contain dairy, since it has a creamy texture and a rich flavor.
In this post, let's dig a little deeper and discover what mayo is made up of, find out does mayo have dairy, if mayo is dairy-free, and how to find a dairy-free mayonnaise if you're eating a dairy-free diet.
What is mayo?
Mayo, short for mayonnaise, is a condiment that is commonly used as a sandwich spread. It is a thick sauce or dressing that can be used in salad dressings or as a dipping sauce, as well.
What is mayo made of?
Mayonnaise is an emulsion of oil, egg yolks, lemon juice or vinegar, and seasonings. It is usually made by whisking the ingredients together or blending in a food processor or with a hand blender.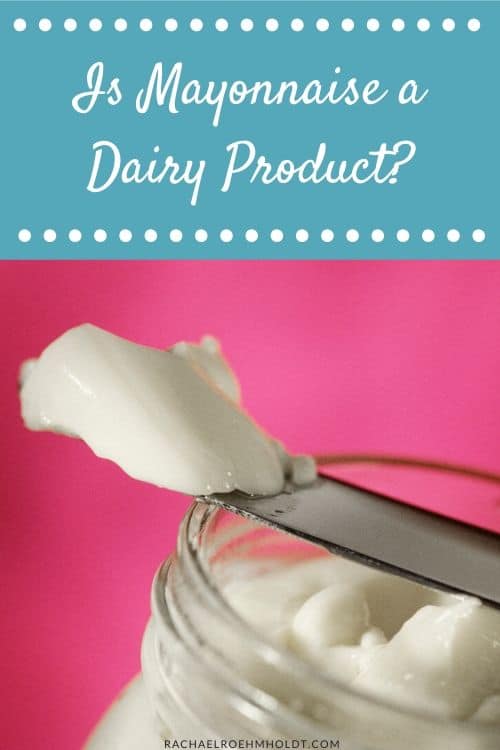 Is mayonnaise a dairy product?
Most mayonnaise is made using oil, egg yolks, lemon juice or vinegar, and seasonings. A product is considered to be dairy if it is made using animal milk. Since eggs are not a dairy product, most mayonnaise is not considered a dairy product.
Does mayo have lactose or dairy?
Since most mayo is made without milk or milk products, it does not contain dairy. Lactose is only found in milk, therefore mayonnaise should not contain lactose either.
Learn the difference between dairy, lactose, casein, and whey.
Is mayo dairy?
Since mayo is made without milk or milk products, mayo is not a dairy product and can safely be enjoyed on a dairy-free diet.
Can lactose intolerant people eat mayo? Can dairy intolerant people eat mayo?
Yes, if the mayonnaise that you have purchased does not contain any hidden sources of dairy or milk products, there should be no lactose. Therefore, mayonnaise is safe for lactose intolerant people to eat mayo.
Dairy intolerant people can also eat mayo as long as they've looked at the ingredient lists and confirmed there are no hidden sources of dairy in the product first.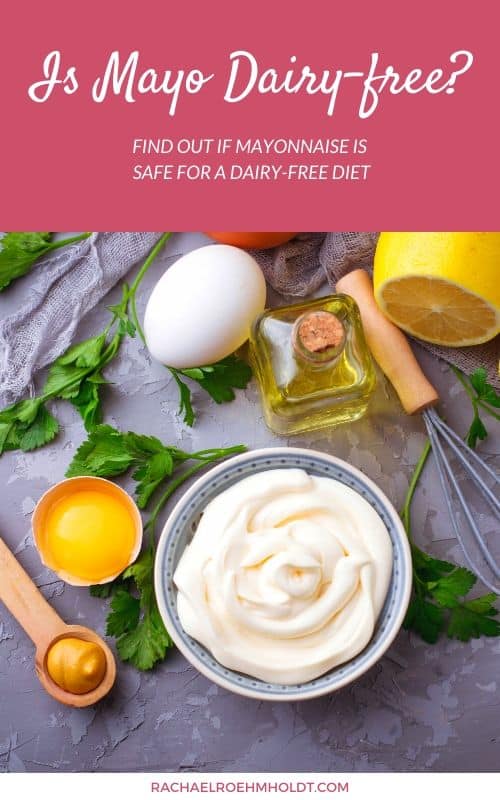 Most mayo is dairy-free
Knowing that most mayo is made from oil, egg yolks, lemon juice or vinegar, and seasonings, that means most mayo is dairy-free. This is true for the products that are on shelves, as well as homemade.
If you find yourself looking for an eggless mayo at the grocery store, these products are more likely to contain dairy or milk, so be on the lookout for these. You'll want to avoid them if you follow a dairy-free diet.
However, like most packaged products, it's important to do your own research before buying anything off the shelf if you follow a dairy-free diet. Learn how to read ingredient lists and look for the hidden names of dairy to be sure you can avoid them when you find them.
How to ensure your mayo is dairy-free
I keep saying that most mayo is dairy-free, but what if it's not?
The only way to ensure that the mayonnaise that you purchase and use is dairy-free is to read ingredient lists, look for hidden sources of dairy, and avoid any products that contain dairy.
As with any packaged product you buy at the store when you have a food intolerance or food allergy, research is key. 
Does aioli have dairy?
Aioli, like mayonnaise, doesn't generally contain any milk or dairy products. It does have eggs, but not likely to have dairy. It will depend on the recipe, so do your research before eating.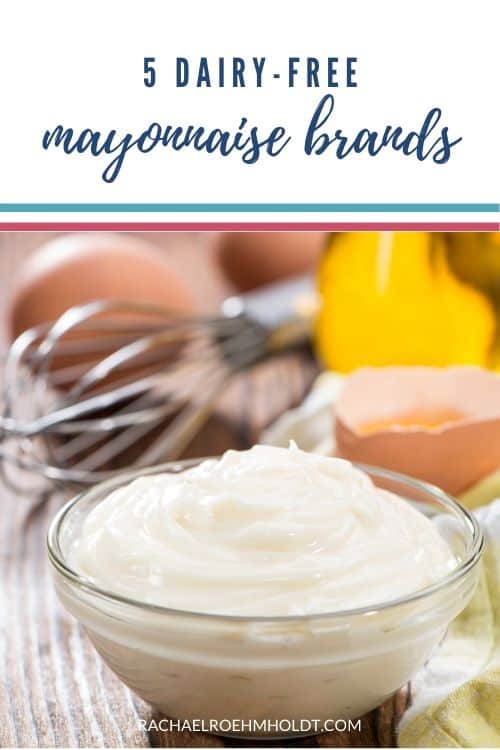 Mayonnaise Brands that are Dairy-free
Here is a list of mayonnaise brands that are known to be dairy-free. Give one of these a try if you're on a dairy-free diet!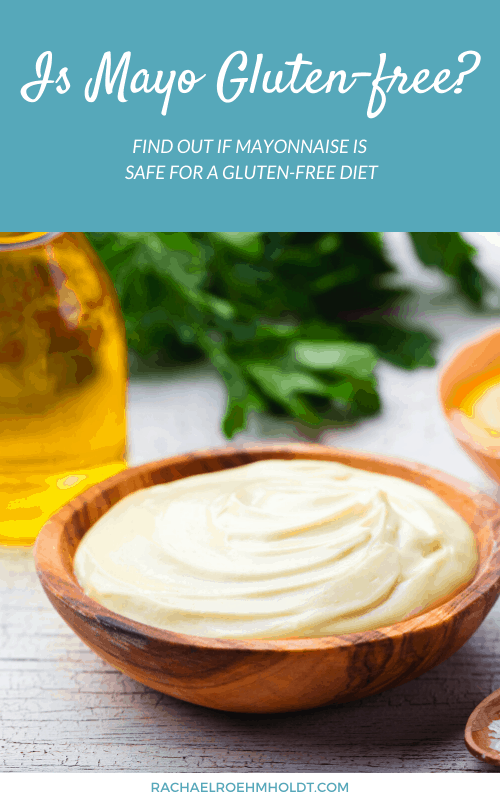 Is mayo gluten-free?
If you also follow a gluten-free diet in addition to a dairy-free diet, you might be wondering if mayo contains gluten as well.
Most of the shelf stable mayonnaise brands that I have seen don't include any ingredients that include gluten, which means that it is gluten-free. However, there may be some cross contamination if the mayo is processed in the same facility as other gluten-containing products.
As with anything when you're dealing with a food intolerance, cross contamination and reactivity to small amounts of gluten is variable from person to person.
Therefore, if you can tolerate some levels of gluten from cross contamination, you're sure to be able to tolerate shelf-stable mayonnaise. If not, you'll want to do some further research to find out which mayonnaise brands are manufactured on a strictly gluten-free line.
Read on: Is mayonnaise gluten-free?
If you've been wondering the big question "does mayo have dairy?" I hope you found your answers in this post. If you'd like even more resources on eating a dairy-free diet, be sure to check out my Hidden Sources of Gluten and Dairy in the free guide below.
If you loved this post, I hope that you'll share it with your friends on Facebook and pin it for future reference on Pinterest.
Love this post? You might want to check these out!
Find out if your favorite foods and ingredients contain dairy with these posts!