Find out if Subway offers gluten-free bread for folks who are on a gluten-free diet. Plus how this restaurant handles gluten ingredients.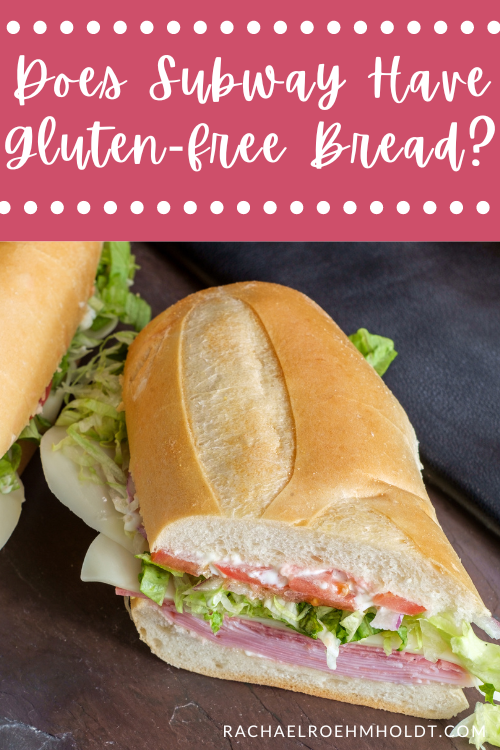 Note: I am a proud Amazon, Chomps, MunkPack, and Thrive Market affiliate and am happy to recommend their service and products to you. Please know that as an affiliate, I may receive a small commission on the products you purchase after clicking through my links. For more info, please see my disclosure policy here.
If you love to grab a quick bite to eat on a busy day, you may have wanted to make a healthy choice and opted for a sandwich from Subway. This restaurant has locations all over the US and is promoted as one of the healthier fast food options around.
With lean meats, loads of veggies, and options for lower fat dressings and condiments, it's no wonder this "build your own sandwich" shop is so popular.
If you follow a gluten-free diet, you know that it can be super tricky to come across any restaurant, let alone a fast food place, that offers gluten-free options.
That's why we're going to answer this important question – does Subway have gluten-free bread?
We'll talk in this post about Subway restaurants, what their gluten-free options are for sandwich bread and other menu items, plus discuss what you need to know about sticking with your gluten-free diet while ordering from here.
If you love Subway sandwiches and still want to eat gluten-free, don't miss this post!
What is Subway?
Subway is a popular sandwich chain restaurant in the US. They offer made-to-order sandwiches with both cold cuts and warmed sandwich options, among other menu items.
So many people love Subway, because it's easy to customize your order and get whatever bread, meat, cheese, and condiments you want. For many folks, it's a no-brainer lunch option, especially if there's one close to where you work.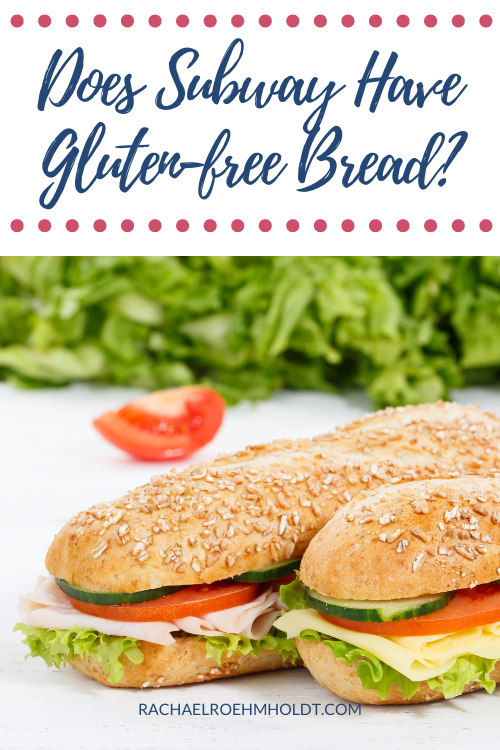 What does Subway's menu include?
Subway has a number of sandwich options, including cold sandwiches, toasted sandwiches with melted cheese, "no bready bowls," wraps, breakfast sandwiches, and salads. They also offer sides, like chips, applesauce for kids, and cookies.
Most sandwiches come in either 6″ or 12″ sizes. You can order directly from their menu with specific ingredients, or order a sandwich based on the protein choice and build the ingredients around it.
For example, you could order a turkey sandwich, but have options for which bread, vegetables, sauces, and condiments that you wish to have on it.
Other menu items are more fixed (but still customizable), like their Fresh Melts which have specific bread, cheese, and toppings that they recommend.
You can always opt to change things on these menu items, but they have a standard "base recipe" that you order from.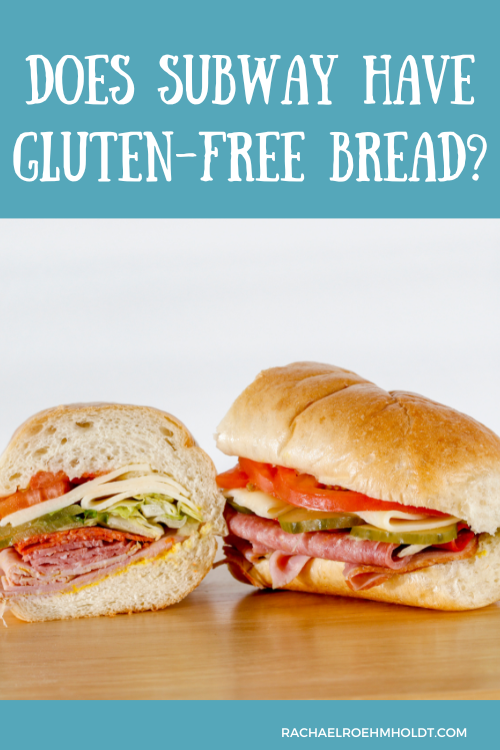 What bread does Subway offer?
Subway currently offers these bread choices, according to the Subway website:
Artisan Italian (White) Bread
Flatbread, Artisan
Flatbread, Multigrain
Gluten-free Bread
Hearty Multigrain
Italian Herbs & Cheese Bread
Jalapeno Cheddar Bread
Monterey Cheddar Bread
Parmesan Oregano Bread
Sourdough
Wrap, Spinach
Wrap, Tomato Basil
Wrap
Though the website says these are the choices, it will depend on what your local Subway has to offer that day. Sometimes certain options aren't always available, so keep that in mind before visiting.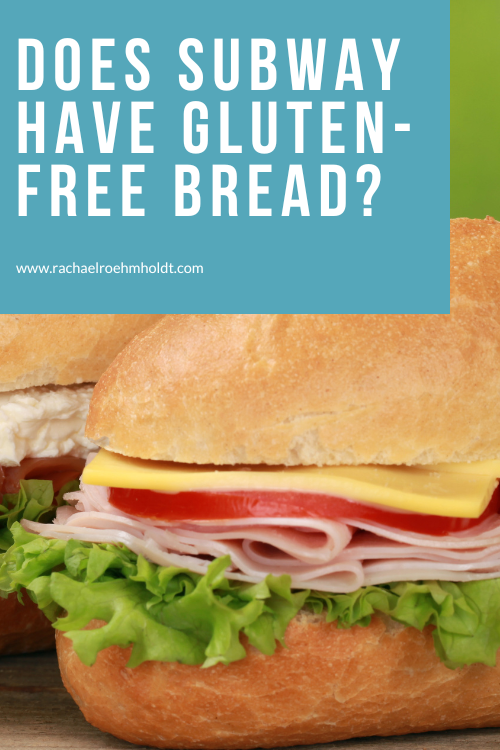 Does Subway have gluten-free bread?
Some Subway restaurants offer gluten-free bread, but not all. Check with your local Subway before visiting to make sure they have a gluten-free bread option for you.
According to the Allergen Guide from Subway's website, their gluten-free bread is considered "gluten-free" and contains less than 20ppm of gluten as tested. The bread in its container is considered gluten-free, as it is packaged and sealed.
That said, once the package is opened, there are no guarantees that this product will be gluten-free as there is gluten in all Subway restaurants and there is a chance for cross contamination.
This is what the Subway Allergen Guide states about their gluten-free bread:
"The Gluten-Free bread is manufactured in a Gluten-Free facility. However, other menu items and ingredients in our restaurants contain gluten and are prepared on shared equipment, so we cannot guarantee that our menu items are 100% gluten-free."
Read on: Subway Gluten-free Menu Items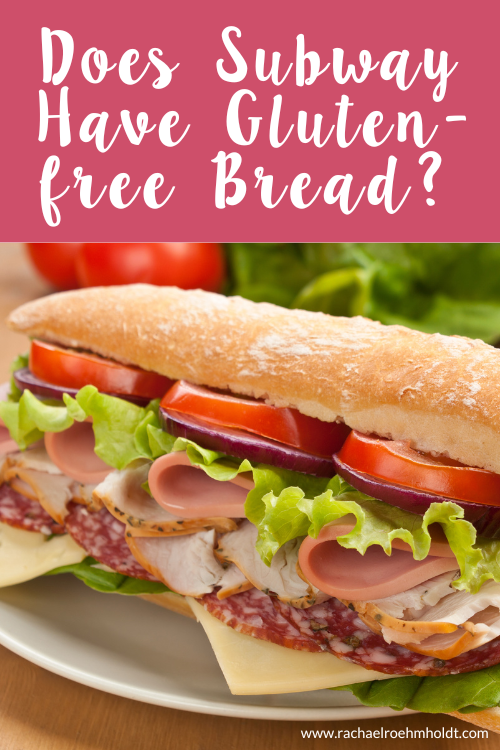 What ingredients does Subway's gluten-free bread contain?
The ingredients listed in the Gluten-free Bread from Subway according to their US Product Ingredient Guide (updated in July 2022) are:
"Egg whites, cornstarch, modified cornstarch, tapioca starch, palm oil, sugar, distilled monoglycerides, contains less than 2% of the following: yeast, rice bran and germ, salt, natural flavor, leavening (sodium acid pyrophosphate, baking soda, monocalcium phosphate), pectin, xanthan gum, carbohydrate gum, guar gum, enzyme. Contains: Eggs."
What else should I know about ordering gluten-free options from Subway?
It's impossible to guarantee that anything from Subway is completely gluten-free since there are so many gluten ingredients in the kitchens. There will be a possibility for cross contamination in all Subway restaurants.

That said, if you request that a Subway employee change their gloves, cutting board, or knives while prepping your sandwich, they will very likely be happy to fulfill this request to help keep you safe and keep the risk of gluten cross contact low.
The other thing to know is that Subway offers other menu items that do not contain gluten aside from their sandwiches with gluten-free bread.
Try a "No Bready Bowl" or Salad without ingredients containing gluten to make another choice that's likely to work with your gluten-free diet.
For a full list of ingredients that contain no gluten at Subway, be sure to check out the Subway Gluten-free Menu Items post.
If you like to visit Subway for a quick lunch or dinner option, I hope this post has helped you get the answers you've been looking for in relation to the bread choices at this fast food restaurant.
While Subway does offer gluten-free bread, there's no guarantee that the restaurant as a whole can be sure there's no cross contact while in the kitchen or preparation areas. Keep this in mind before visiting this restaurant and ordering from here on a gluten-free diet.
If you loved this post, I hope that you'll share it with your friends on Facebook and pin it for future reference on Pinterest.