Get 25 delicious gluten-free cupcake recipes, swaps to make cupcakes gluten-free, plus find out how to freeze gluten-free cupcakes.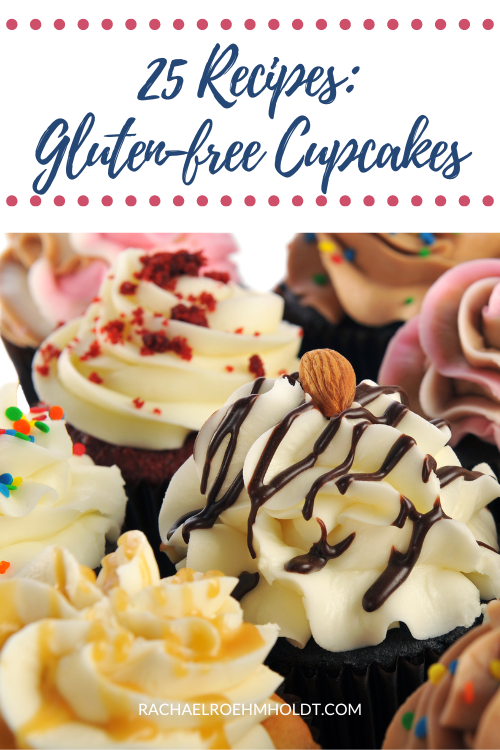 Note: I am a proud Amazon, Chomps, MunkPack, and Thrive Market affiliate and am happy to recommend their service and products to you. Please know that as an affiliate, I may receive a small commission on the products you purchase after clicking through my links. For more info, please see my disclosure policy here.
In my house, homemade cupcakes are mostly reserved for birthday parties, but we do have a bakery that we frequent that has both traditional and gluten-free vegan cupcakes that we stop by once in a while nearby.
Cupcakes aren't any different to make than a regular cake except the pan they're baked in and how long they bake.
What's great about making cupcakes is that they're small and individually sized, so while you can make a whole batch of cupcakes look the same with frosting and toppings, you can also make them all unique.
You can make up a batch of vanilla cupcakes and decorate them all the same with frosting and toppings for a crowd. Or you can make one type of cupcake, then a few different flavors or colors of frosting and change out the toppings to be completely unique.
It's also fun to bake cupcakes and eat a few now and save the rest for later. Many of the cupcake recipes I'm going to share in this post work well with freezing.
In this post, we'll go over 25 delicious gluten-free cupcake recipes, but first let's talk about how to make a cupcake gluten-free and how you can freeze cupcakes in case you don't finish them off before you get around to eating them all.
Read on: 5 Best gluten-free dairy-free cake mixes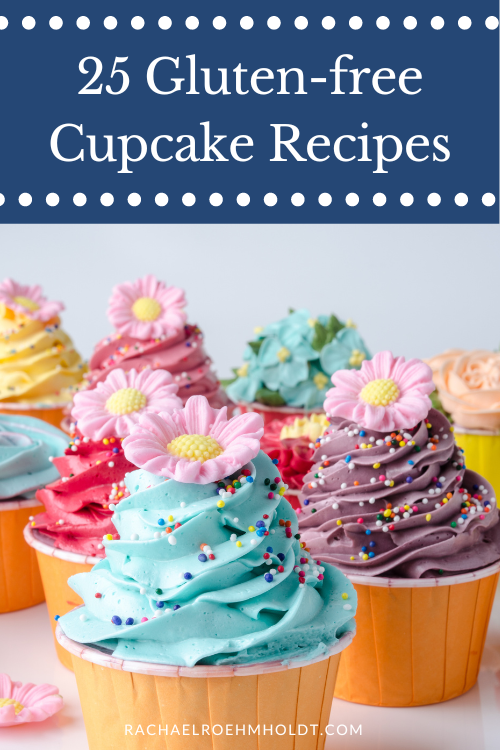 How to make a cupcake recipe gluten-free
The simplest swap in making a cupcake recipe gluten-free is to swap out the traditional all purpose flour for a gluten-free flour option.
Though if you've baked at all, you know that gluten-free baking isn't always as straightforward as a one-to-one replacement of flour.
Gluten-free flours all have different textures, absorbency, and hole up differently when baked. Some turn grainy, some collapse, and some get gummy after baking.
The best option is to follow a recipe that you have found online, knowing that the person who put it out into the world has done the testing to ensure it's good enough to produce a decent result.
Or if you have a cupcake recipe you're hoping to turn into a gluten-free option, you will want to stick to a gluten-free measure-for-measure flour blend. This ingredient takes into account a lot of different factors when it comes to taste, texture, absorbency, and how well it holds up after baking.
My favorite is King Arthur Gluten-free Measure-for-Measure Flour Blend. There are others from Bob's Red Mill, Cup4Cup, and you can even make your own blend by using recipes you find online.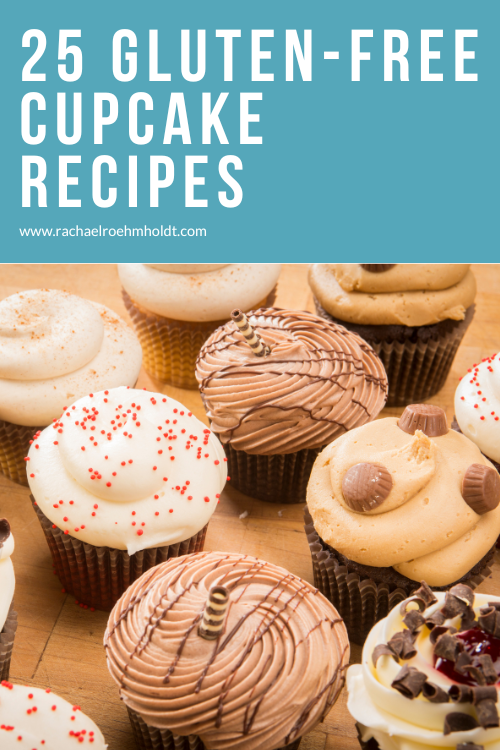 How to freeze gluten-free cupcakes
Freezing gluten-free cupcakes is a great idea if you want to prepare your celebration treat ahead of time or don't have time in the kitchen in the day or two before you need to serve cupcakes.
It's also a good idea if you don't plan to eat an entire batch of cupcakes at once. With a small family of three, this plan works well for my family. We can't eat a dozen cupcakes on our own, so we reserve cupcakes either for parties with plenty of friends to share them with or freeze them for later.
To freeze cupcakes, you'll want to skip frosting them before putting them in the freezer. Wrap each cupcake in plastic wrap, then place in a freezer bag. They will keep well in the freezer for up to three months.
To serve frozen cupcakes, thaw entirely. Then frost with your favorite store-bought or homemade frosting and decorate to your liking.
Read on: 25 Dairy-free frosting recipes
25 Gluten-free Cupcake Recipes
If you're looking for some new cupcake recipes to try while sticking with your gluten-free diet, you won't want to miss out on these 25 recipes.
In this recipe roundup, we have vanilla, chocolate, yellow, fruit-flavored, and unique flavors of cupcakes you'll want to try – all gluten-free too!
Many of the recipes I've included are also dairy-free or have dairy-free/vegan options.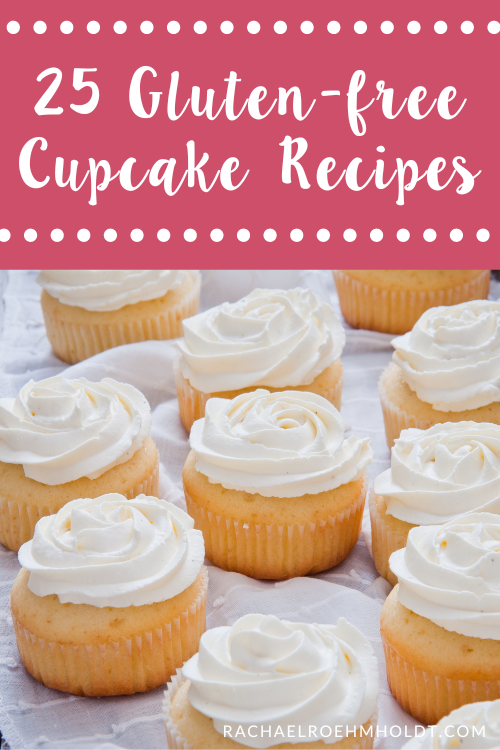 Gluten-free Vanilla Cupcake Recipes
Vanilla cupcakes are many people's go-to when it comes to looking for recipes. Try one of these gluten-free varieties from popular gluten-free bloggers.
Try these delicious gluten-free vanilla cupcakes that are topped with a vanilla buttercream frosting. Both the cupcake and frosting recipe have dairy-free options as well.
These gluten-free vanilla cupcakes are made with gluten-free flour, sugar, baking powder, salt, sour cream, vegetable oil, one egg, and vanilla bean paste.
The author recommends letting the batter sit for 30 minutes before putting into a cupcake tin for baking to allow the flour to absorb moisture from the wet ingredients.
If you're looking for a gluten-free and vegan cupcake option, try these vanilla cupcakes from The Loopy Whisk.
The recipe is moist and rich despite having no dairy or eggs. With a vegan vanilla frosting made of coconut cream, powdered sugar, and vanilla paste, this cupcake looks divine.
For an allergy-friendly vanilla cupcake, you might want to check out this recipe. It's free of dairy, wheat, eggs, nuts, and soy.
This treat uses gluten-free flour, dairy free margarine, oat milk, and aquafaba to turn a traditional cupcake recipe into one that's gluten-free, dairy-free, and egg-free.
Minimalist Baker always has delicious recipes and this gluten-free vanilla cupcake is no exception.
This recipe uses a combination of almond flour, potato starch, and cornstarch in place of a normal all-purpose flour making it safe for folks on a gluten-free diet.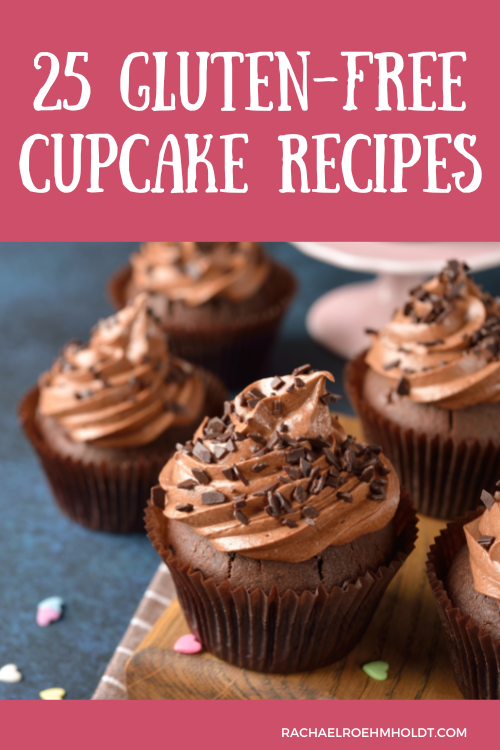 Gluten-free Chocolate Cupcake Recipes
Everyone needs a good chocolate cupcake recipe in their back pocket. This set of five recipes showcases some delicious gluten-free chocolate cupcake options. Some are dairy-free and vegan too.
These chocolate cupcakes are made with just nine ingredients: gluten-free flour, cocoa powder, sugar, baking soda, salt, brewed coffee, white vinegar, vanilla extract, and olive or vegetable oil.
Add some moisture and color to your gluten-free chocolate cupcakes with this recipe. It calls for one cup of beet puree, but you can also use butternut squash, applesauce, or another fruit puree in its place.
If you love cupcakes that can be made a day ahead of time, you'll want to give this recipe a try.
The author from My Gluten-free Kitchen says that they have the best texture the day after baking them! Enjoy them with a delicious homemade fudge frosting.
These gluten-free chocolate cupcakes are perfect for any picnic, birthday party, or potluck you want to bring a treat to.
They are made with gluten-free flour, sugar, cocoa powder, baking powder, salt, eggs, milk or cooled coffee, and vegetable oil.
With a homemade chocolate buttercream frosting, you can guarantee there won't be any leftovers!
Try these gluten-free chocolate cupcakes that are also dairy-free. They keep for 3 to 5 days at room temperature in a sealed container, but can also be frozen if they're frozen before they're frosted.
To enjoy later, just defrost from the freezer and add homemade dairy-free frosting.
Read on: 15 Gluten-free dairy-free chocolate cake recipes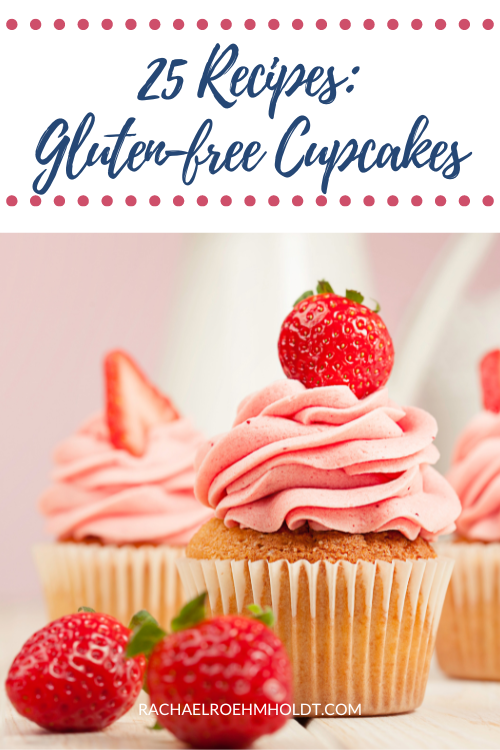 Gluten-free Fruit Flavored Cupcake Recipes
For something new and different, try one of these fruit-flavored twists on classic cupcake recipes. These five recipes incorporate tons of flavor from fruit puree, concentrates, and extracts in a few different flavors.
If strawberry cupcakes sound like the perfect addition to your birthday party or Valentine's Day, you'll want to check out this gluten-free recipe from Danielle Walker.
These cupcakes are light, fruity, and topped with a coconut whipped cream.
These gluten-free lemon cupcakes are the cutest things around. With a lemon cake base AND adding in both lemon zest and lemon extract, you'll get loads of lemon flavor.
I love how this author gives tips on making them pretty with tips on topping with fruit, edible flowers, and herbs. So fun for a celebration!
If you're looking for an orange cupcake recipe, look no further. This one from Land O Lakes has sugar, butter, orange juice concentrate for that big orange flavor, an egg, orange zest, vanilla, gluten-free flour, salt, baking powder, baking soda, and buttermilk.
The frosting also has orange juice concentrate to bump up the orange flavor. What a clever way to flavor cupcakes!
While most of us think of blueberry muffins before blueberry cupcakes, these blueberry cupcakes are full of big juicy blueberries and a dairy-free vanilla buttercream frosting.
Top the cupcakes with sugar-coated blueberries for that finishing touch.
These tasty passion fruit cupcakes are a unique fruity dessert option that you might try your hand at making next time you want something different for a party or gathering.
This recipe is made with a gluten-free flour blend, baking powder, salt, passion fruit, eggs, sugar, oil, milk, and vanilla. The author also gives substitution ideas for making them dairy-free as well.
Read on: 101 Gluten-free dairy-free dessert recipes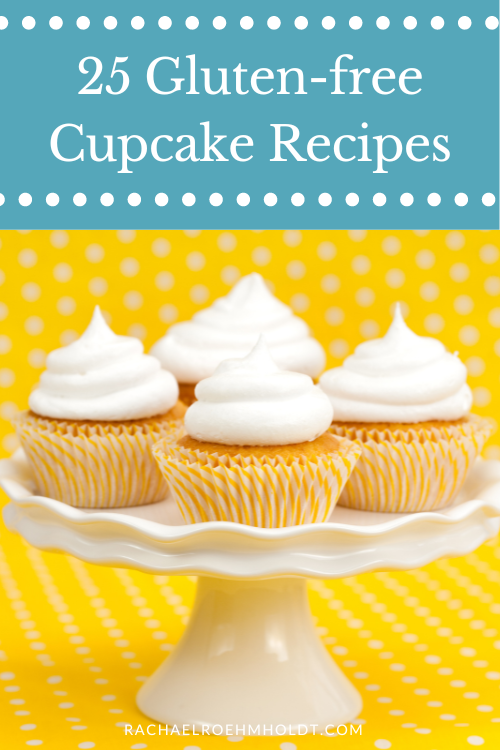 Gluten-free Yellow Cupcakes Recipes
Yellow cupcakes add extra egg yolks for that rich yellow color and moist texture. Try one of these gluten-free options for your next birthday party or gathering.
This yellow cake recipe is both gluten-free and dairy-free that's perfect for being topped off by any of your favorite frosting recipes.
This recipe calls for two egg yolks and one egg, giving the cupcakes a perfect yellow hue.
This classic recipe is made gluten-free by using gluten-free all-purpose flour in place of a normal all-purpose flour.
This recipe calls for 4 eggs for a batch of 12 cupcakes to get that perfect yellow color. Enjoy these cupcakes with a rich chocolate frosting.
If you're looking for a gluten and dairy-free yellow cupcake recipe, give this one a try.
It's a simple vanilla cake recipe with one egg and two extra egg yolks to get that signature yellow color. Enjoy these with a delicious homemade chocolate frosting piped on top.
These gluten-free yellow cupcakes are light and fluffy and use ingredients that you may not have on hand, but can order online or look for at your local store.
This recipe calls for all-purpose gluten-free flour, psyllium husks, baking powder, baking soda, salt, butter, sugar, 3 eggs plus 3 egg yolks, vanilla extract, and buttermilk.
Enjoy these with whatever frosting your heart desires!
Okay, so this recipe isn't exactly gluten-free. You'll want to swap the all-purpose flour for a gluten-free measure-for-measure blend, but this recipe IS dairy-free and egg-free, which is a useful to have on hand when you know folks with allergies.
The simple flour swap will allow you to accommodate anyone you know with food allergies to gluten, eggs, and dairy.
Read on: 101 Gluten-free dairy-free cake recipes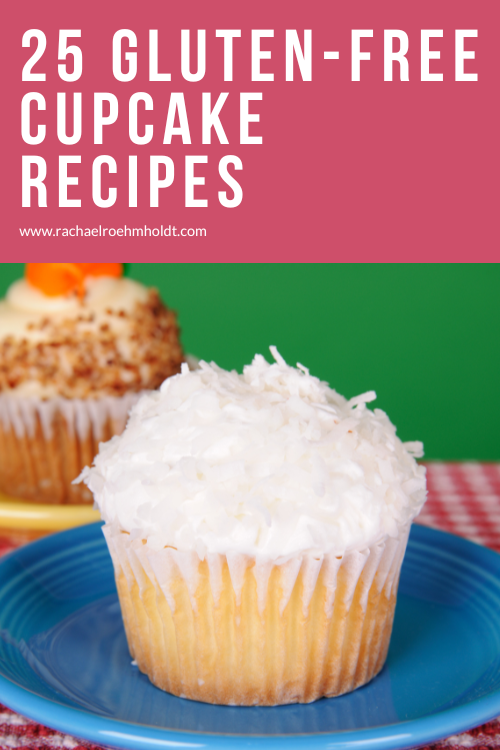 Gluten-free Unique Cupcake Recipes
If you love going to local bakeries, you're likely to find some unique flavors of cupcakes for sale. Try one of these gluten-free cupcakes in some fun flavors, like coconut, caramel filled, salted caramel, chocolate chip, and funfetti.
These full-flavored coconut cupcakes are delicious any time of year, but can be perfect for Easter with the addition of a few bunny ears made out of white chocolate.
These coconut cupcakes get their flavor from full fat coconut milk, a cream cheese frosting with coconut extract, and unsweetened shredded coconut.
These Millionaire's cupcakes have a nice little caramel surprise in the middle of them.
With a yellow cake that's flavored with caramel extract and chocolate buttercream frosting, these cupcakes are decadent and you won't even know they're gluten and dairy-free.
Salted caramel cupcakes are among my favorite flavors and these are perfect if you have multiple food allergies.
These cupcakes are made with a white cake with caramel sauce mixed right into the batter and a caramel flavored frosting with sprinkles of salt right on top. Yum!
These chocolate chip cupcakes look almost muffin-like to me, but really who cares when they look so good.
These are made with oat flour, tapioca starch, baking powder, salt, maple syrup, applesauce, coconut butter, water, dairy-free chocolate chips, vanilla, and a homemade vegan buttercream frosting.
Just the addition of chocolate chips gives these a fun twist on a simple vanilla cupcake!
If you love Funfetti cupcakes, you'll love these vegan and gluten-free alternatives.
This recipe calls for blanched almond flour, gluten-free all purpose flour, corn starch, baking powder, baking soda, salt, and sprinkles.
Enjoy these for a birthday party or any other celebration you have coming up!
Read on: 10 Gluten-free dairy-free birthday cake recipes
I hope if you've been looking for some new cupcake recipes or a recipe to try for your next birthday gathering or celebration, that one of these options strikes your fancy.
With so many great recipes out there, I hope this recipe collection will help to narrow down your options.
If you loved this post, I hope that you'll share it with your friends on Facebook and pin it for future reference on Pinterest.
Love this post? You might also want to check out more of my recipe roundups here!
Find some delicious gluten and dairy-free recipes in these popular recipe roundup posts!
Want more? Check out all my Gluten-free Dairy-free Recipes!