Find out what types of noodles are safe for your gluten-free diet – and which aren't. Plus get ideas on which brands to shop for at the store for each type of gluten-free noodle.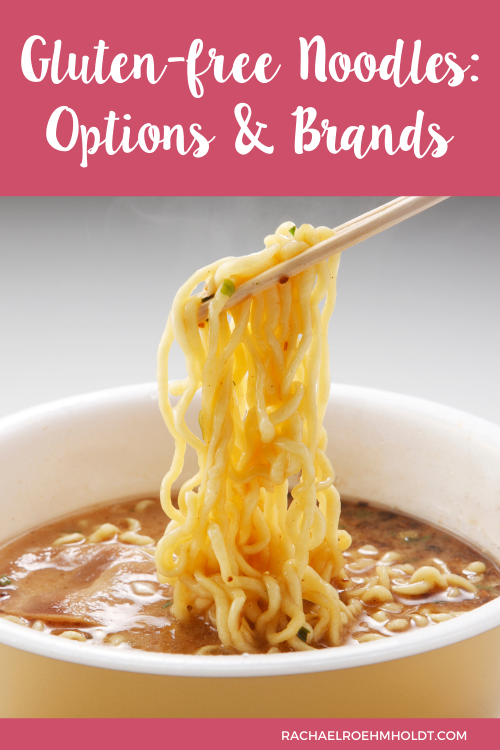 Note: I am a proud Amazon, Chomps, and Thrive Market affiliate and am happy to recommend their service and products to you. Please know that as an affiliate, I may receive a small commission on the products you purchase after clicking through my links. For more info, please see my disclosure policy here.
I'm not sure about you, but we are noodle people in my house. We love all things pasta, ramen, and noodle stir-fries. We eat noodles of some kind at least once a week, because they are fast and easy to make – plus they're so dang versatile!
If you love noodles like we do, you might be wondering what types of noodles I choose for my gluten-free diet. After all, there are about a million different types of noodles out there.
So which ones are naturally safe for a gluten-free diet? Which ones do you need to search for special gluten-free versions of? Which ones will you wind up avoiding altogether?
I have written a number of blog posts on the topic of noodles – and I am rounding them up here in this post today.
We're going to cover some of the most popular types of noodles, answer whether or not they're gluten-free, and I'll even link off to their dedicated posts where you can find full lists of brands and recommendations for each type.
Find out if your favorite style of noodle is gluten-free and how it can fit into your gluten-free diet here in this post! And if I miss any, be sure to ask about it in the comments and I'll do my best to get you some answers.
No one should have to go without noodles in their lives – or bellies!
Gluten-free Noodles
Discover what types of noodles are safe for a gluten-free diet, plus brands to shop for at the grocery store.
In this roundup, we'll cover so many types of noodles that you may have been wondering if you can eat them just the way they are from the store - or if you need to go out hunting for gluten-free versions.
If you loved this post, I hope that you'll share it with your friends on Facebook and pin it for future reference on Pinterest.
Want more product recommendations for gluten and dairy-free foods? Check out these posts!