Find out if glass noodles, or cellophane noodles, are safe for a gluten-free diet, plus which brands to shop for at the store.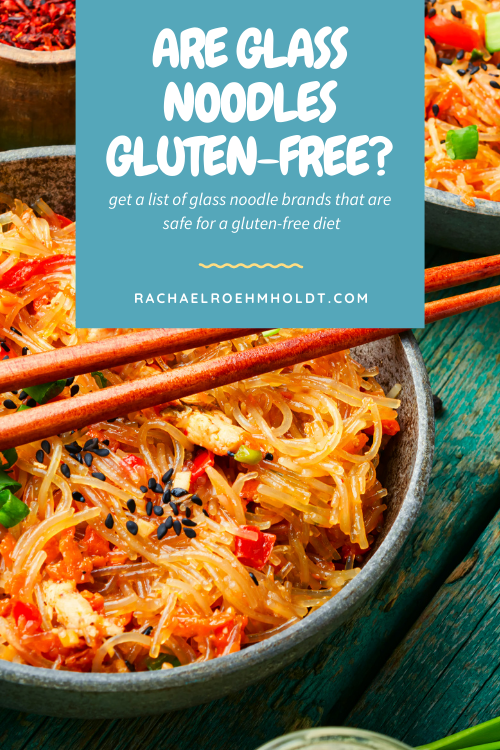 Note: I am a proud Amazon, Chomps, MunkPack, and Thrive Market affiliate and am happy to recommend their service and products to you. Please know that as an affiliate, I may receive a small commission on the products you purchase after clicking through my links. For more info, please see my disclosure policy here.
If you love glass noodles in stir-fries, soup, or spring rolls, you're not alone. This popular Chinese and Korean noodle is a versatile noodle that takes on just about any flavor of dish you add it to.
If you've never tried glass noodles, they don't have much of a flavor on their own, but they do add some great texture and flavor to dishes. They sometimes get mistaken for rice noodles, though they are most commonly made with mung beans or sweet potatoes.
If you follow a gluten-free diet, you may have been wondering if this ingredient is safe to enjoy, and hopefully here in this post you'll get the answers you're looking for. Find out what glass noodles are, what they're made of, and if they're gluten-free. Plus get a list of brands to look for next time you're shopping in person or online.
What are glass noodles?
Glass noodles, also known as cellophane noodles, are a type of noodle that are often used in stir-fries and soups. These Asian noodles are called glass noodles, because with some ingredients, they can look transparent.
Although the name implies they're transparent, they aren't always, and they often look white or brown when cooked. This ingredient doesn't have much of a flavor on its own, rather it takes on the flavor of the ingredients around it in the stir-fry or soup that it is used in.
Read on: Gluten-free Chinese food
What are glass noodles made of?
Glass noodles are made using the starch from mung beans, potatoes, sweet potatoes, or tapioca starch. Depending on the brand, they may be made from one or more of these ingredients.
Though they are similar to rice noodles or rice vermicelli, they aren't actually made with rice and are not considered rice noodles.
Read on: Are rice noodles gluten-free?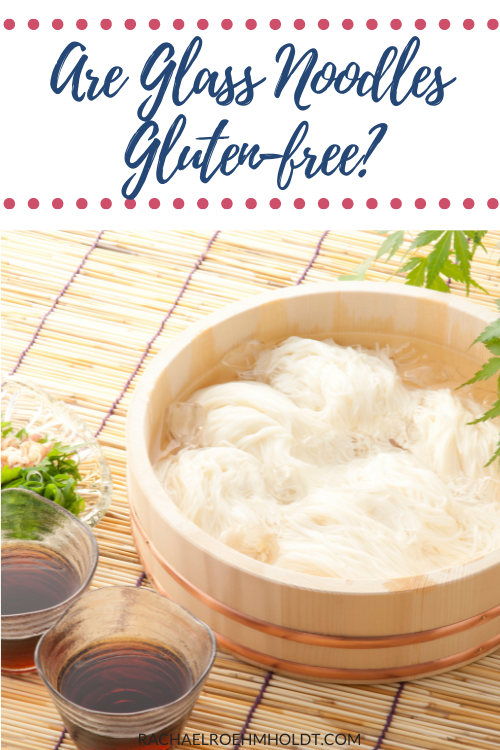 What is gluten?
Gluten is a protein found in most wheat products, and acts as the "glue" that helps to hold wheat, barley, kamut, spelt, farro, durum, bulgur, rye, and semolina together to maintain their shape.
You can find gluten in whole grains, but also in many processed foods as well. If you purchase wheat bread, there will be gluten in it, because wheat by nature has gluten.
Many processed foods have hidden gluten in them in the form of gluten or wheat derivatives. These are also in the form of flavorings, binders to keep ingredients together, or other additives.
Read on: What is gluten in food? The basics of a gluten-free diet
Are glass noodles gluten-free?
Since glass noodles are made with mung beans, potatoes, sweet potatoes, or tapioca starch, these are considered to be an option for a gluten-free diet.
Though it's generally accepted that glass noodles are gluten-free, some manufacturers may add other ingredients that contain gluten. It's always a good idea to check ingredients lists before purchasing.
Glass noodles are gluten-free and can be used in many stir-fry dishes as well as soups.
This type of noodle is a great substitute in recipes that call for noodles with gluten, like udon or ramen noodles.
Read on: Are udon noodles gluten-free?
Read on: Gluten-free Ramen Noodles
Read on: Are spring rolls gluten-free?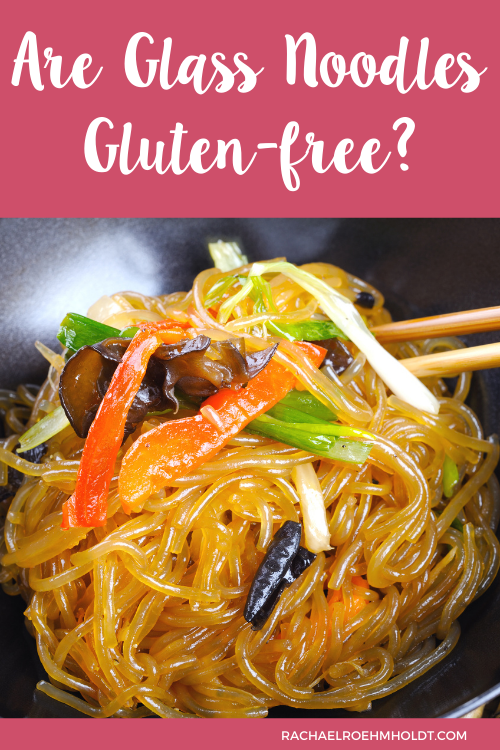 Gluten-free glass noodle brands
When shopping for gluten-free glass noodles, here are some brands and options you can look for next time you're putting together a recipe with this interesting ingredient.
You can buy glass noodles at some grocery stores on the Asian or International food aisle, online, or at Chinese and Korean markets.
Read on: Gluten-free noodles: options & brands
If you enjoy glass noodles or cellophane noodles and have been wondering how these fit into a gluten-free diet, I hope that this information has been helpful for you.
Feel free to enjoy these in your favorite stir-fries, spring rolls, or soups, and be sure to check ingredients lists on the packaging before purchasing just to be sure the option you've chosen is gluten-free.
If you loved this post, I hope that you'll share it with your friends on Facebook and pin it for future reference on Pinterest.
Love this post? You might also want to check out these!
Find out if your favorite foods and ingredients contain gluten with these posts!