Looking for some gluten-free Costco items to make the most of your membership? In this post, you'll find dairy-free and gluten-free Costco picks that are healthy and a great way to round out your shopping.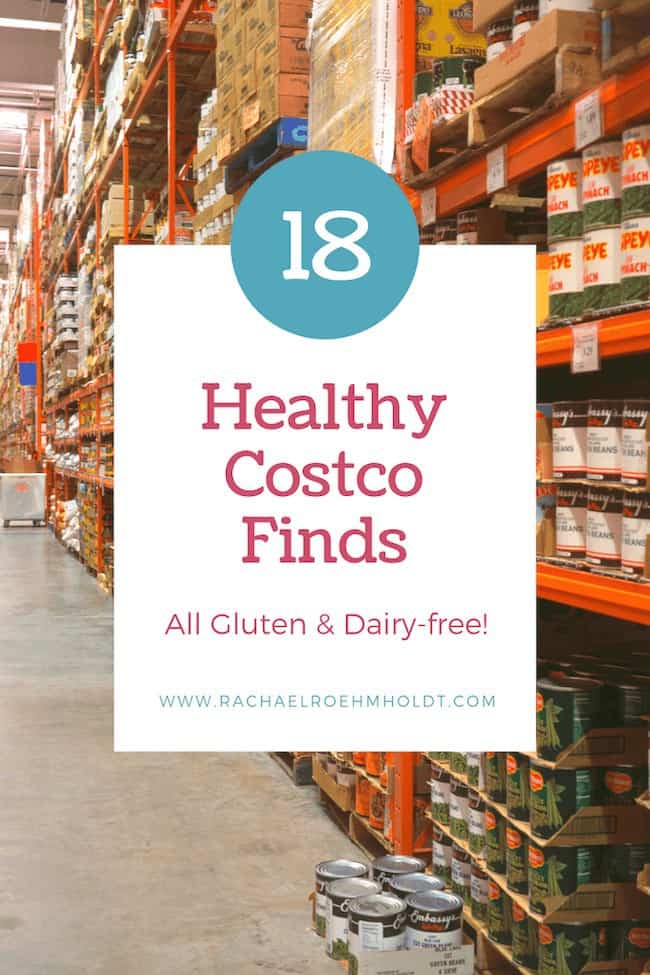 Note: I am a proud Amazon, Chomps, MunkPack, and Thrive Market affiliate and am happy to recommend their service and products to you. Please know that as an affiliate, I may receive a small commission on the products you purchase after clicking through my links. For more info, please see my disclosure policy here.
When it comes to shopping, I generally split it up about three ways. The first is my local grocery store, the second is an organic produce delivery service, and the third is hands-down Costco.
Truth be told, as much as I love to eat, I hate to shop. So Costco is a no-brainer when it comes to finding products that we use over and over and stocking up. I try to plan for a monthly shopping trip but sometimes we head back a second time to restock on items that we've run out of early.
It has taken a bit of detective work to find foods that work with my current diet and lifestyle. Not only do the foods that we pick up once a month need to be gluten- and dairy-free, but I am a huge stickler on picking up only healthy foods.
A one-time lapse in judgment has found me with a case of 54 Rice Krispy Treats in my cart that we absolutely did not need in the house. Two? Maybe. 54? Absurd.
These days, I've developed a plan of attack for making my way into and out of Costco without completely blowing my healthy eating plan. My top two tips? Avoid the candy and bakery aisles. Easier said than done, right?
With all of that said I want to share with you my go-to healthy shopping list for Costco. We don't buy all these items every time we go there, but this is a rotational list that we always come back to.
I've outlined the items plus a few ways we use each of them on a regular basis at my house. Enjoy!
This post was originally published in June 2015, and there weren't many dairy and gluten-free foods available (only 18 in my original post).
It's now 2019, and there are loads more dairy-free and gluten-free foods at most Costco stores! It's very exciting – and this post has been updated to reflect some of the items I have seen or buy regularly from Costco.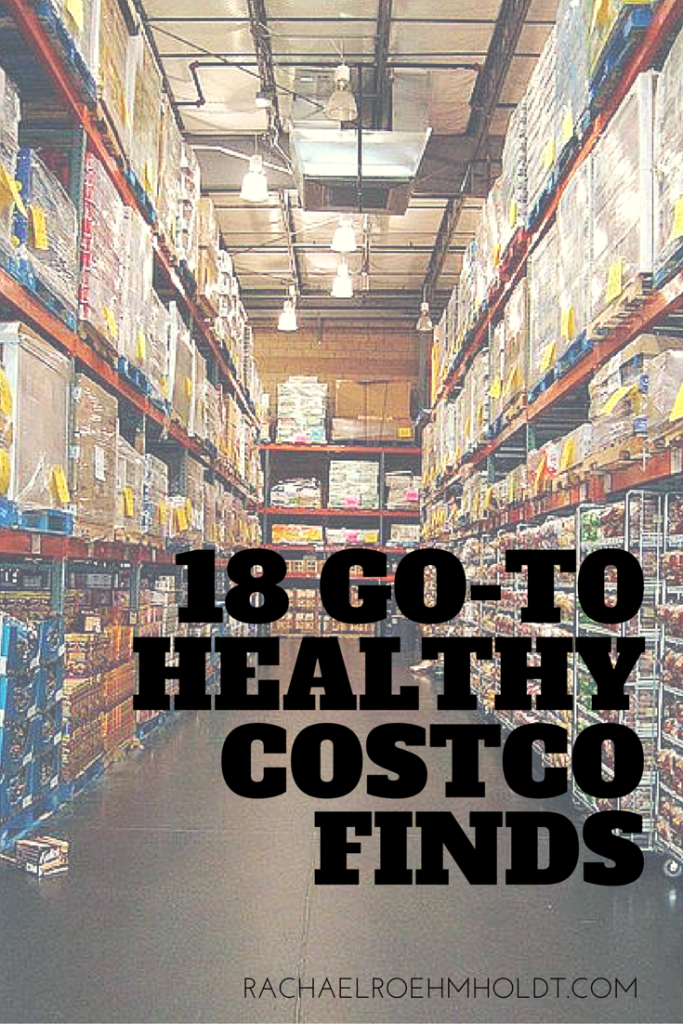 I like to make a big batch of quinoa on the weekends and use for breakfasts (instead of oatmeal), as a base for salads, or for side dishes for dinner. This is the brand I usually see at my local Costco.
Read on: Is quinoa gluten-free?
Rice
You can get large bags of rice at Costco at great prices in different varieties. I always keep a bag of brown rice and jasmine rice from Costco in my pantry at all times for any gluten and dairy-free meals.
Read on: Is rice gluten-free?
Read on: Is jasmine rice gluten-free?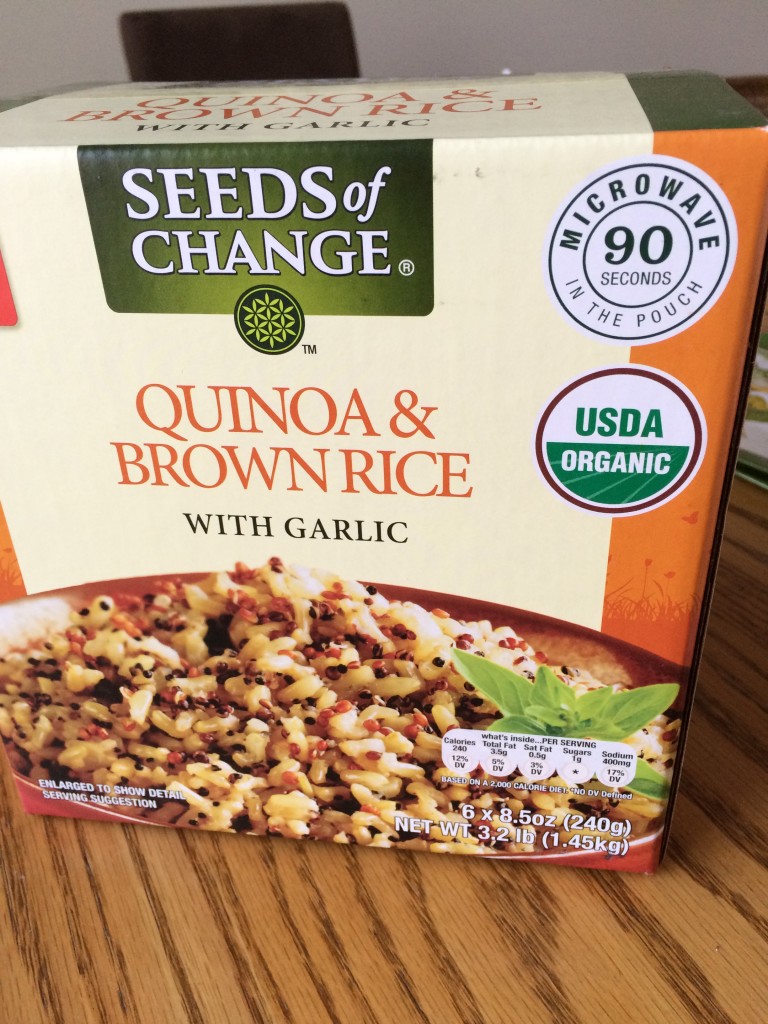 These quinoa and rice packs have become a staple at dinner time for us. We use them as a quick side when we're short on time. They're super easy since they heat in the microwave in 90 seconds.
We use a ton of coconut oil in our baking and cooking. My new favorite way to use it is with sauted veggies – so good! I also use it for oil pulling and the occasional hand cream if my hands are really dry. You can really do a million things with coconut oil.
We like the Kirkland brand of olive oil, because its organic, it tastes good, and its a pretty good price for the quantity. I use it in all my homemade dressings, and marinades.
I'm not eating eggs right now, so we use flax meal as an egg replacer in baking, as well as a nice boost for our morning oatmeal or smoothies.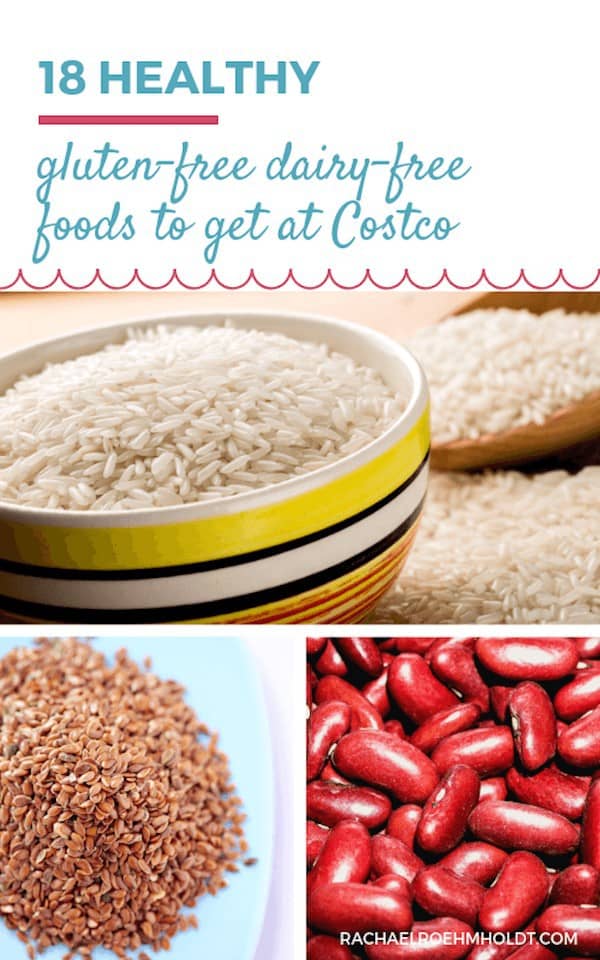 This canned chicken has become one of my go-to ingredients for fast lunches lately. It's not organic chicken, but it is a great price and it tastes amazing. I like using it in salads, in stuffed sweet potatoes, and as a sandwich or lettuce wrap filling.
Canned tuna
Canned tuna is great for pantry meals or adding to easy sandwiches or tuna casseroles. They come in packs of 6, which make them a great value from Costco.
Canned beans
Canned beans are a great buy if you don't want to go through the effort of cooking dried beans. These go in many of our soups and chilis, and occasionally get tossed into lunch salads.
These canned tomatoes are great in soups and homemade pasta sauce. One of my go-to 5-minute dinner recipes from back in my college days was a can of black beans, a can of tomatoes, chicken stock and a bit of whatever seasonings I could toss in (usually Italian seasoning, garlic, and onion powder). Easy and done.
I love Costco's organic chicken stock and use it whenever we make homemade soups, when cooking up rice or quinoa for extra flavor, or if we make any sauces from scratch. This is a really great buy!
Read on: Gluten-free chicken broth
Marinara or pasta sauce
Costco has had a number of different pasta sauces on rotation the past few times I've been there, but the one that I always like to see is the Bertolli 3-pack of organic tomato, basil and garlic blend. Its so good and one of the best pasta sauces I've ever had from a jar.
Chicken, steak, ground beef, ground turkey
These are pretty straight forward. We buy most of our protein sources from Costco. Surprisingly they have better quality meat than we can get at our local grocery store, so we always stock up.
I wouldn't say its any cheaper than elsewhere, but the quality is great. And buying in bulk means buying less often. A win win for my family. Plus, these are the proteins that usually go into most of my freezer meals.
Aidell's chicken meatballs and chicken apple sausage
These are a great quick-fix ingredient to have on hand, either in the fridge or freezer. We don't have a ton of time in the evenings to make dinners from scratch so if were in a pinch, we often rely on one of these two for a fast dinner.
We like them on their own with a few sides, with a pasta sauce over noodles, or cooked then served over salad.
Organic frozen berries
We always have a stash of frozen berries from Costco in our freezer. Either the antioxidant blend, the triple berry blend, or blueberries. Its nice to have a smoothie-ready option available all the time. We also heat them up and serve over our oatmeal or quinoa from time to time.
Organic frozen vegetables
Another quick go-to side dish at our house is frozen veggies. We keep big bags of frozen peas, green beans, corn, and broccoli in our freezer at all times.
I like to use these as last-minute healthy side dishes even with minimal time to prep, or to add to soups or other recipes as called for.
Fresh fruits and vegetables
Costco carries a lot of fresh produce, and a lot of it is offered at great prices. The large plastic clamshells of spinach and big bags of salad greens (the mix-ins may contain gluten or dairy) are a great value. All the produce that has no extra sauces or flavorings added are all gluten-free and dairy-free.
Be sure that if you buy produce at Costco that you have plans to eat it quickly or find a way to prep and freeze it, so it doesn't go to waste. My biggest problem buying produce at Costco is simply not using it quickly enough before it goes bad.
Gluten-free flour
Costco offers a few different gluten-free flour options and gluten-free flour blends. I have regularly seen Namaste Foods gluten-free flour blend, as well as other one-ingredient flours, like almond flour or coconut flour. Both of these are great for gluten-free baking.
Read on: Is coconut flour gluten-free?
There are a few gluten-free Costco bread options. Udi's is one of them (in the frozen aisle). The brand I buy is called Franz.
It's usually an amazing price for two loaves. I don't buy this every time I go, because I find that I'll eat it too fast if we have it around the house. I use it for toast or sandwiches.
Costco seems to change out their gluten-free pasta brands pretty frequently, but I almost always have luck finding at least one option when were there. We stock up so we can have another quick meal option to go with those meatballs and marinara sauce.
Applesauce and fruit pouches
Applesauce comes in these great pouches that are perfect for kids or to keep in your car for quick and easy snacks.
Kirkland Signature has their own plain organic applesauce, which is usually the best value. I've also seen some brand name options for applesauce and other fruit blends in the pouches
Fruit snacks and fruit leather
If you have kids, fruit snacks are a yummy sweet treat that kids love. Costco carries a few different options for fruit snacks and fruit leather that are gluten-free and dairy-free. Mott's, Kirkland Signature, Annie's, and Welch's are all different brands I've seen at my local Costco.
Gluten-free granola
There are a number of granola options at Costco, often found in the breakfast cereal area of the store. On rotation, I've seen at least one gluten-free option at any given time.
The granola may or may not be marked as gluten-free on the packaging, but if you read the ingredient lists, you can check to be sure they contain no gluten ingredients.
Read on: Is granola gluten-free?
Granola bars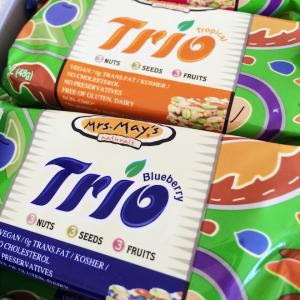 Another great buy is granola bars. There a a few dairy-free and gluten-free Costco options now at our store, like Trio bars or Pure bars. Both are delicious – and great to have on hand for snacks at home or to store in your purse or car.
Potato chips and tortilla chips
Costco carries a variety of potato chips in their stores. I love that they carry Kettle brand chips, because these are both gluten and dairy-free in the Sea Salt and Backyard Barbecue flavors.
Kirkland Signature tortilla chips are gluten-free and come in a big bag for no more than $5, which are perfect for different Mexican style meals or as snacks. I like to keep these on hand in our pantry for easy snacking. These are a great value!
Read on: Are potato chips gluten-free?
Read on: Gluten-free tortilla chips
Nuts
Costco carries a wide range of raw and roasted nuts in their stores, everything from mixed nuts to single nuts. They have peanuts, almonds, pistachios, and blends.
I've seen plenty of flavored nuts, but many of these have gluten in them, so be sure to check the ingredients list before purchasing for any hidden names of gluten.
Read on: Are peanuts gluten-free?
Read on: Are nuts gluten-free?
Peanut butter and almond butter
If you're looking for peanut butter or almond butter that has no added sugar or preservatives, Costco is the place to get it. You can get a two pack of either peanut butter or almond butter for a great value from Costco.
The ingredient lists on both of these items are usually only peanuts or only almonds, which makes them a really great product with no potential for hidden gluten.
Read on: Is peanut butter gluten-free?
Dairy-free Milk
Costco offers a lot of great dairy-free milk options these days. I like to buy the 6 packs of coconut milk in containers or the 10 pack of almond milk and keep them in my pantry.
Since they are 32 oz containers, they are smaller than what you can buy in the refrigerated section of the grocery store. I find that the large bottles from the grocery store only last about 7 days in the fridge after opening, so I like these smaller containers so I can use them up before they go bad.
Although I prefer almond or coconut milk, I've also seen soy milk, oat milk, and rice milk on the shelves as well.
Gluten and dairy-free condiments
Costco carries a variety of different condiments that are both gluten and dairy-free. Mustard, ketchup, relish, pickles, balsamic vinegar, salsa, jam, honey, and maple syrup are all great buys at Costco.
Read on: Gluten and Dairy-free Diet: 17 Condiments to Stock Your Kitchen
Read on: Is mustard gluten-free?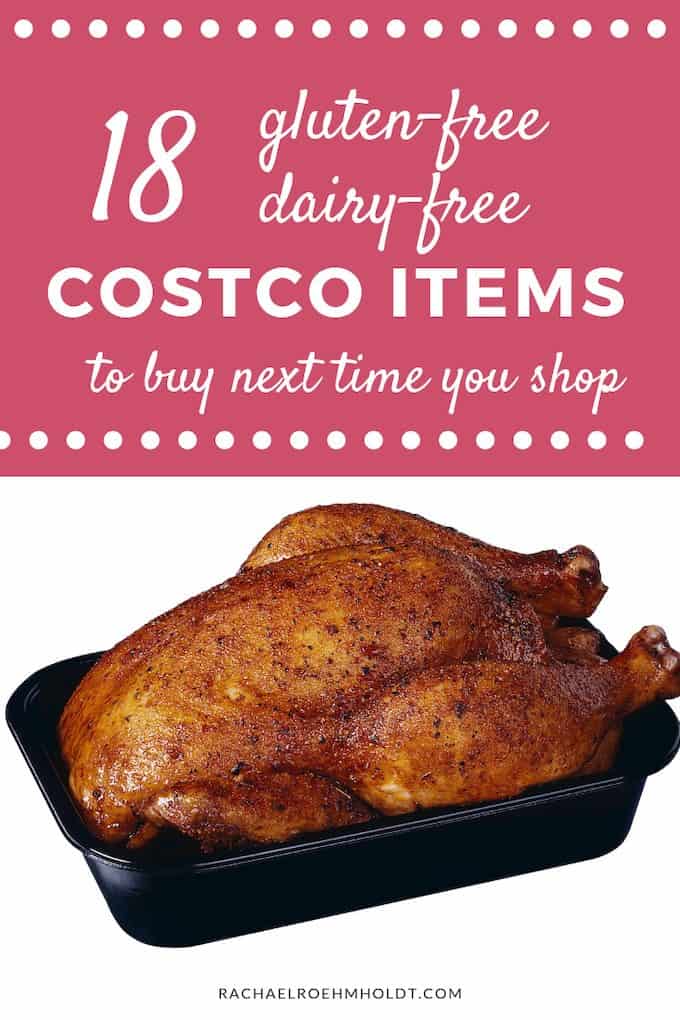 $5 chickens
The $5 chicken cant be beat at Costco. I once read an article about Costco and they said that they always lose money on those chickens, but they keep them so low of a price, because they know people will always leave with a ton more than that chicken (and boy, does that work!).
I like to pick up one or two when we go and use them a few times – the first time we just eat the meat; the second, we pick the meat off and stretch it a little further in a soup or as a filling like enchiladas or tacos; and the third, I pop the bones into my crockpot with some veggies and water and make a stock for soup out of it. That $5 is a crazy good investment!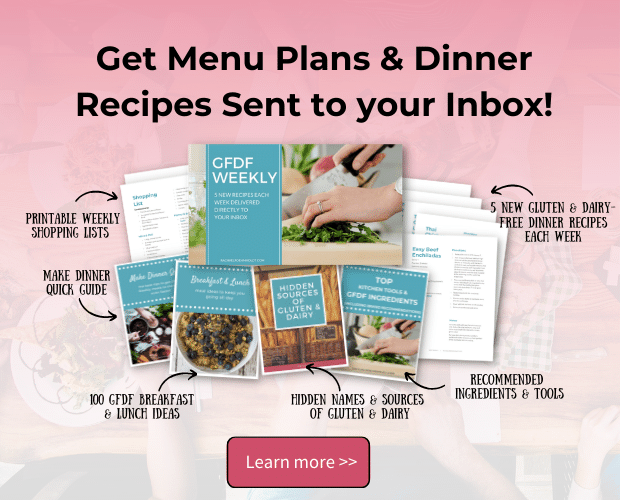 Now that I've laid out all my favorite Costco finds – what are a few of yours? What are your go-to items when you visit the big box store?
If you loved this post, I hope that you'll share it with your friends on Facebook and pin it for future reference on Pinterest.
Want more product recommendations for gluten and dairy-free foods? Check out these posts!