Find out if lo mein is gluten-free, what this noodle dish is made from, and how to make a gluten-free version at home.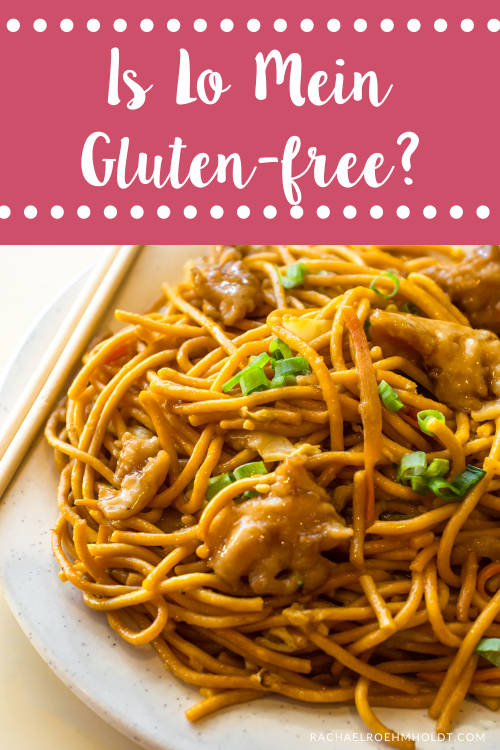 Note: I am a proud Amazon, Chomps, MunkPack, and Thrive Market affiliate and am happy to recommend their service and products to you. Please know that as an affiliate, I may receive a small commission on the products you purchase after clicking through my links. For more info, please see my disclosure policy here.
If you love getting lo mein at Chinese restaurants or takeout counters at your local grocery store that serves Chinese dishes, you may have been wondering what this food is made from.
Lo mein is a popular noodle dish that can be found in many restaurants, but is also easy to prepare at home too. With noodles, meat or other protein, vegetables, and a sauce, it's basically stir-fried noodles that are a crowd pleaser across all ages.
If you're just getting started with a gluten-free diet or are looking for ideas on what to order next time you're out to Chinese food with your family, you may be wondering how this dish fits in with your gluten-free diet.
In this post, we're going to talk about what lo mein is, what it's made from, and find out if this delicious noodle dish is gluten-free.
Plus, we're going to talk about how to make a gluten-free version of lo mein at home with a few simple swaps and substitutions. We'll wrap the post up with a few recipes for gluten-free lo mein that you can try at home.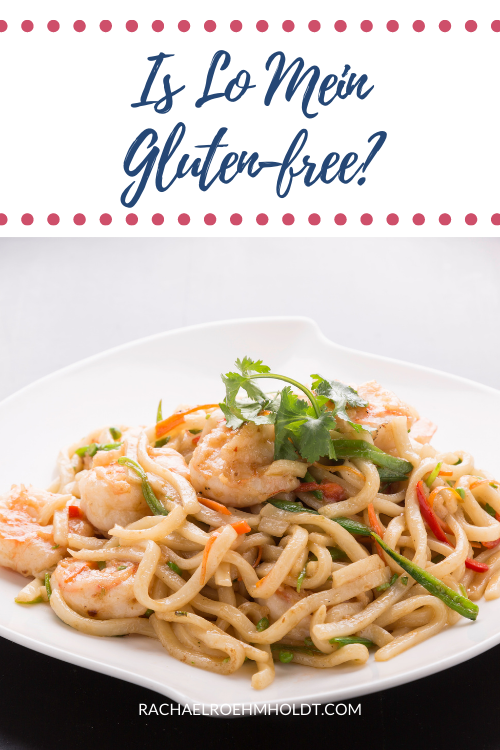 What is lo mein?
Lo mein is a noodle dish that originated from Chinese cuisine. This dish includes egg noodles, vegetables, and usually some type of meat or protein source. It's coated in a soy sauce based sauce that's full of flavor.
You can find lo mein at most Chinese restaurants or Chinese takeout places, even at grocery stores that sell Chinese food at their deli counter.
The term lo mein translates to tossed or mixed noodles, according to the San-J website. It's a dry version of a traditional noodle soup, utilizing the same ingredients but with less liquid. It has a bold flavored sauce with meat, vegetables, and noodles all tossed together.
Read on: Gluten-free Chinese food
What is lo mein made from?
Lo mein is usually made from a protein source, lo mein noodles, vegetables, and a sauce. The protein used in lo mein can be chicken, beef, pork, tofu, or shrimp.
Lo mein noodles are Chinese egg noodles, which are generally made from wheat flour and eggs. Any vegetables you want can be used in lo mein, including bell peppers, mushrooms, snow peas, carrots or anything else you like.
A lo mein sauce includes soy sauce, sugar, oyster sauce, sesame oil, ground ginger, and sometimes Sriracha sauce. 
Read on: Are egg noodles gluten-free?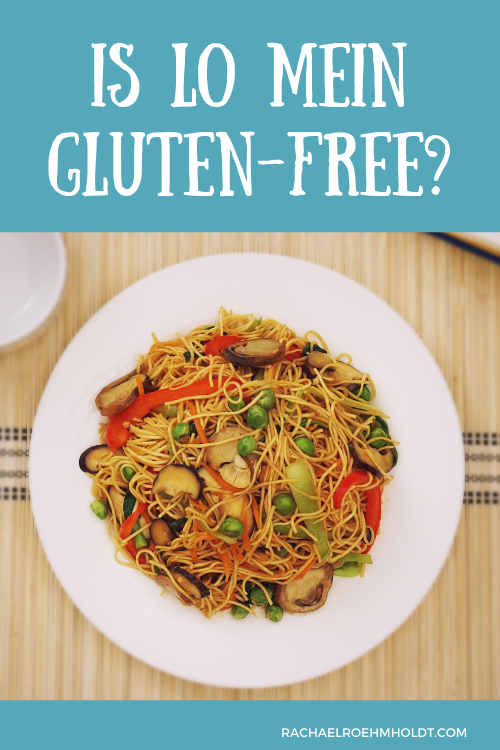 What is gluten?
Gluten is a protein found in most wheat products, and acts as the "glue" that helps to hold wheat, barley, kamut, spelt, farro, durum, bulgur, rye, and semolina together to maintain their shape.
Gluten is naturally occurring, and therefore is impossible to strip away from the grain. If a grain naturally has gluten in it, there's no way to make that food gluten-free.
Is lo mein gluten-free?
Lo mein is generally not going to be gluten-free, because the noodles used in this dish contain wheat. Most lo mein sauces also contain gluten from the soy sauce used.
It's going to be a dish that you'll likely want to avoid if you're eating at restaurants or getting takeout somewhere. Lo mein will probably have gluten and you'll want to avoid ordering it out.
That said, if you choose to make your own lo mein at home, you can make a few swaps to your ingredients and make sure it is gluten-free.
Read on: Gluten-free Noodles
Read on: Is chow mein gluten-free?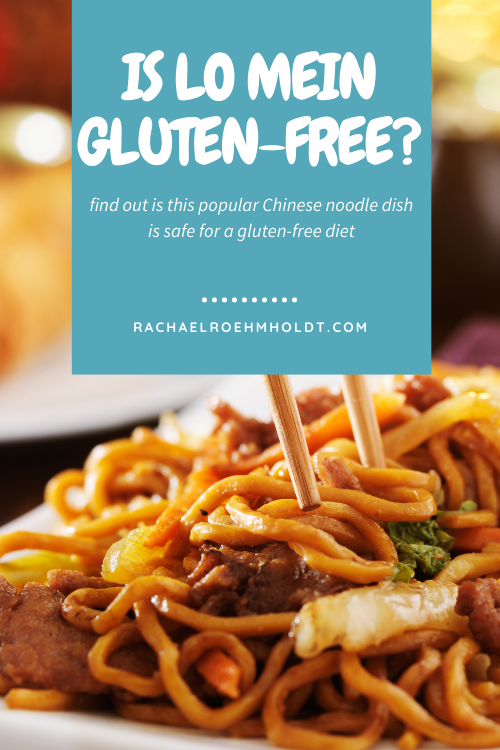 How to make lo mein gluten-free
If you love lo mein and you're willing to make it at home so you can enjoy it on your gluten-free diet, you'll want to make a few simple swaps to the ingredients.
You can swap out the lo mein noodles which have wheat flour in them for another rice-based noodle. Rice noodles are almost always gluten-free, and you can get a list of gluten-free brands by checking out this post: Are rice noodles gluten-free?
You can also make sure your lo mein sauce is gluten-free by using a gluten-free soy sauce. Tamari is a Japanese soy sauce that's naturally gluten-free and tastes like the more popular Chinese soy sauce, but it uses no wheat or gluten ingredients.
You can also be sure to choose a gluten-free oyster sauce if that ingredient is called for in the lo mein sauce recipe you're using.
Read on: Is tamari gluten-free?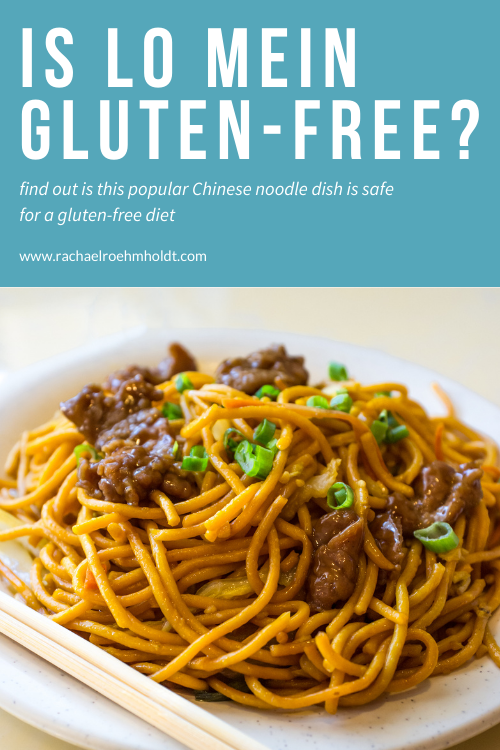 Gluten-free lo mein recipes
If you've been on the hunt for a lo mein recipe that you can still enjoy on your gluten-free diet, you'll love to check out one of these options.
If you've been wondering if you can order lo mein at restaurants while sticking with your gluten-free diet, I hope this information has been helpful for you. Most lo mein from restaurants, takeout spots, and even deli cases from grocery stores that serve Chinese food will contain gluten.
If you love lo mein and want to continue to enjoy it in your diet, you can make a few simple substitutions for gluten-free ingredients to make a delicious lo mein dish at home.
f you loved this post, I hope that you'll share it with your friends on Facebook and pin it for future reference on Pinterest.
Love this post? You might also want to check out these!
Find out if your favorite foods and ingredients contain gluten with these posts!