Find out if udon noodles are safe for a gluten-free diet and what some gluten-free udon noodle substitutes are.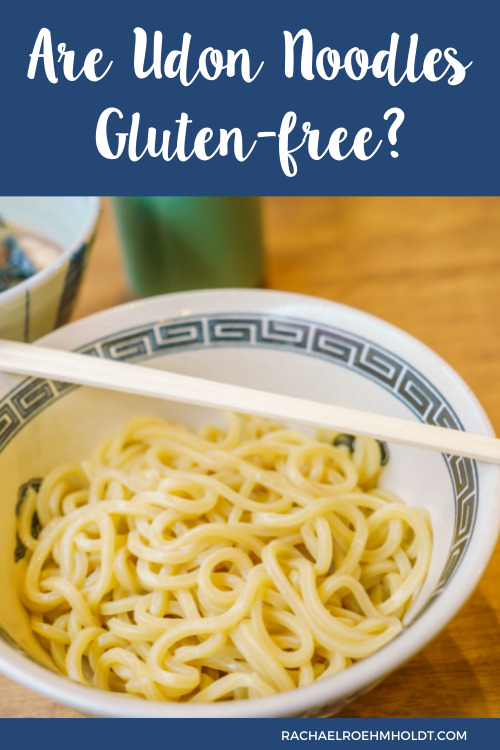 Note: I am a proud Amazon, Chomps, MunkPack, and Thrive Market affiliate and am happy to recommend their service and products to you. Please know that as an affiliate, I may receive a small commission on the products you purchase after clicking through my links. For more info, please see my disclosure policy here.
Do you enjoy udon noodle soup, stir-fry, or other instant udon noodle cups? These delicious noodles can take on loads of flavor from sauces and broths to provide a very filling meal. Though these noodles are native to Japanese cuisine, people all over the world love udon noodles in a variety of dishes.
If you follow a gluten-free diet, you know that it's important to review all ingredients and food that go into your body to ensure you're not accidentally consuming gluten and feeling sick later.
If some of your favorite Japanese dishes use udon noodles, you may be wondering how these noodles will work in your gluten-free diet. In this post, we'll talk about what udon noodles are, what they're made of, and if they are gluten-free.
Finally, we'll talk through some gluten-free udon noodle substitutions for all your favorite dishes.
What are udon noodles?
Udon noodles are long, thin noodles that are used in Japanese cuisine. You can use them in a variety of ways, like in soup with broth, in a stew with miso and vegetables, with a curry sauce, in a hearty soup with vegetables and seafood, or as a dedicated stir-fried noodle dish.
You can find udon noodles at grocery stores in the International foods aisles and in many Japanese restaurants. 
Read on: Is miso soup gluten-free?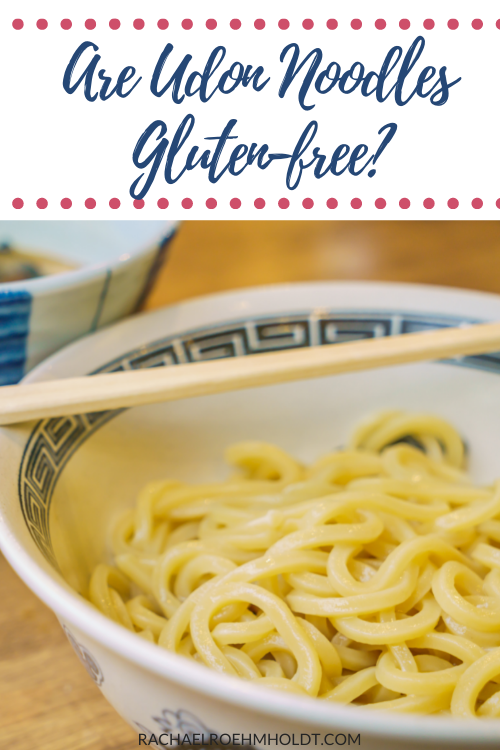 What are udon noodles made of?
Udon noodles are made with wheat flour, salt, and water. They are rolled out and cut into thin strips before cooking.
What is gluten?
Gluten is a protein found in most wheat products, and acts as the "glue" that helps to hold wheat, barley, kamut, spelt, farro, durum, bulgur, rye, and semolina together to maintain their shape.
You can find gluten in whole grains, but also in many processed foods as well. If you purchase wheat bread, there will be gluten in it, because wheat by nature has gluten.
Many processed foods have hidden gluten in them in the form of gluten or wheat derivatives. These are also in the form of flavorings, binders to keep ingredients together, or other additives.
Read on: What is gluten in food? The basics of a gluten-free diet
Are udon noodles gluten-free?
Udon noodles are made using wheat flour and are therefore not gluten-free. These should be avoided on a gluten-free diet.
However, you can use other noodles as a gluten-free substitute in many recipes. The flavor and texture may be a bit different than that of udon noodles, but you can still enjoy some noodle dishes while avoiding gluten.
In general, you'll want to skip any dishes with udon noodles from restaurants, adding them to your homemade noodle dishes, or instant soup packets that use udon noodles.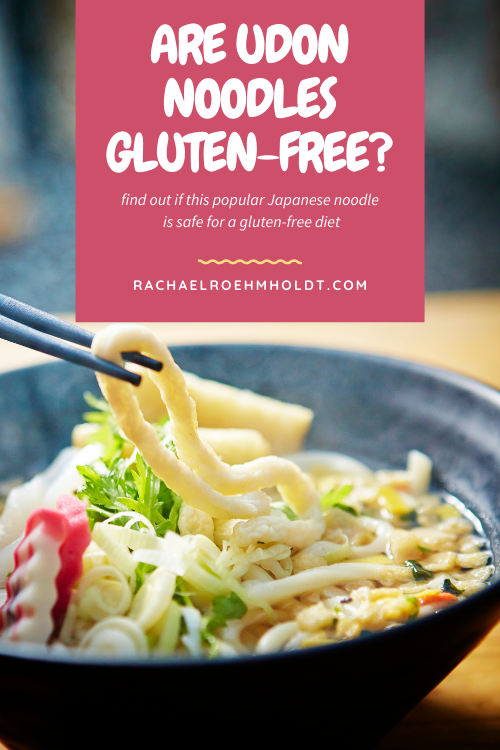 Gluten-free udon noodle substitutes
If you love udon noodles but also are avoiding gluten, you'll want to find a gluten-free substitute. There are a few other gluten-free noodles you can use in place of udon noodles in your cooking. Try one of these ideas next time you're making your favorite noodle dishes at home:
Gluten-free soba noodles
These noodles are made with buckwheat flour, which is a gluten-free grain. Be sure to find a package of soba noodles with a gluten-free label to make sure there isn't any flour or other gluten used in the processing.
Read on: Are soba noodles gluten-free?
Read on: Is buckwheat flour gluten-free?
Gluten-free rice noodles
Rice noodles come in a variety of shapes and sizes making them useful for a variety of dishes. Try Pad Thai, pho noodles, or rice ramen noodles in place of udon noodles in your recipes.
Read on: Are rice noodles gluten-free?
Read on: Is Pad Thai gluten-free?
Glass noodles
Glass noodles are also known as "cellophane noodles," as they are made using starch from mung beans, potatoes, sweet potatoes, or tapioca starch. They are gluten-free and very versatile for many stir-fried noodle dishes. You can also enjoy them in soup.
Read on: Are glass noodles gluten-free?
Kelp noodles
Kelp noodles are made using… you guessed it, kelp. These are a traditional Korean noodle, but they have the added perks of being gluten-free and loaded with iodine.
Enjoy kelp noodles as you would any other udon noodle dish: in stir-fries in noodle soup, or other noodle entrees.
Read on: Gluten-free Noodles: Options & Brands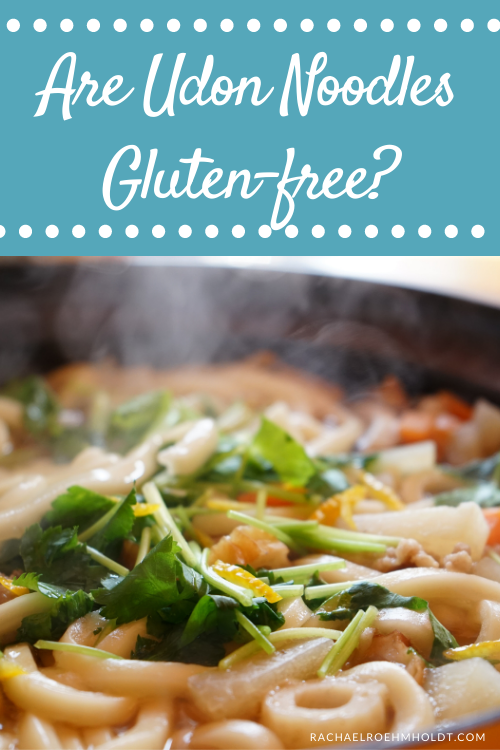 If you love udon noodles and follow a gluten-free diet, I hope this information has given you what you need in order to make an informed decision about how they will fit into your diet moving forward.
There are plenty of great gluten-free noodles available and work well in many soups, stir-fries, and noodle dishes that will substitute well for udon noodles.
If you loved this post, I hope that you'll share it with your friends on Facebook and pin it for future reference on Pinterest.
Love these posts? You might also find these interesting!