Check out these top 10 gluten and dairy-free cookbooks full of gluten-free dairy-free recipes. These are my hand-picked favorite cookbooks for a gluten and dairy-free diet out today.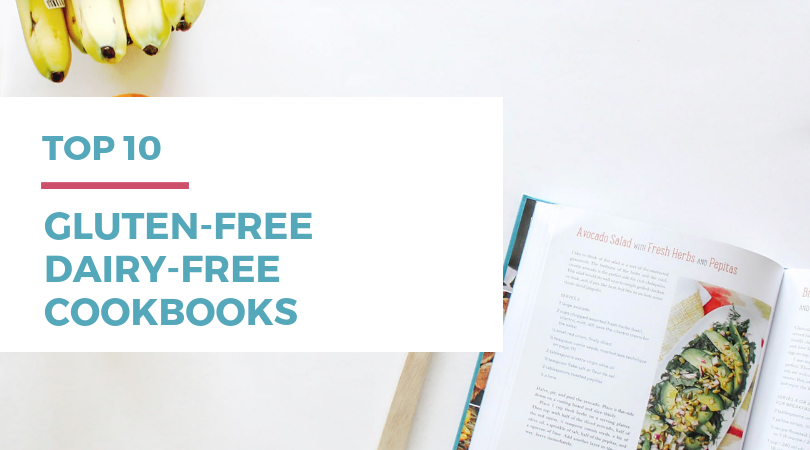 Note: I am a proud Amazon affiliate and am happy to recommend their service and products to you. Please know that as an affiliate, I may receive a small commission on the products you purchase after clicking through my links. For more info, please see my disclosure policy here.
When you're first going gluten and dairy-free, one of the first things you're likely to think is "what can I eat now?!" followed quickly by "where can I find recipes that actually taste good?!"
When it comes to foods you CAN eat on a gluten and dairy-free diet, I've got you covered. Check out these two popular posts: how to stock your fridge and how to stock your pantry.
As for where you find recipes that are gluten-free and dairy-free, there are many places you could look:
When I first took on this diet and lifestyle change, I relied on different cookbooks to help me navigate what I could and couldn't eat. I also learned what kinds of dishes I enjoyed making substitutions for – and which just weren't going to cut it for me.
Of course, if you're just getting started right now with this diet and lifestyle, I highly encourage you to check out my recipe and menu planning service, GFDF Weekly, because it helps take a lot of the guesswork out and allows you to get recipes delivered straight to you without having to do a bunch of the organization work and find things that tastes good.
In GFDF Weekly, I send 5 delicious gluten and dairy-free recipes to your inbox each and every week, including a combined shopping list. I'm all about making this diet and lifestyle as easy as possible, which is why I created a service to help you stay with it.
But since all of us learn and get inspired in different ways, let me share some great gluten-free dairy-free cookbooks that I've used and heard about from other readers. I've put together this list of 10 cookbooks in hopes that something will jump out at you.
A lot of these cookbooks have really useful information, like substitutes or alternatives to ingredients, in the front or the back, which is really valuable. Of course, most of this sort of thing I cover on my blog and in my book The Gluten and Dairy-free Diet: A Beginner's Guide. But like I said, I know some formats work better for some people than others.
Alright, let's get to it, shall we?

This is my #1 favorite cookbook for GFDF eating. I've made so many dishes from this cookbook and have never been disappointed. There are also some great tips on sourcing healthy gluten-free and dairy-free products that I found extremely useful.

This book has a number of whole foods based recipes. This is one of the first gluten and dairy-free cookbooks I bought and I found the section on elimination diets, as well as the scientific information about each food group to be extremely valuable.

This is a great cookbook for if you're looking for some ideas for how to make some of your favorite recipes gluten-free: breads, grains, pasta, comfort foods, etc.

Here's another great bread cookbook to try out – not only is it gluten-free and dairy-free friendly, but it aims to help you HEAL your gut… so it's full of healthy ingredients that will help you feel your best and nourish your body.

This cookbook has loads of awesome recipes, make-ahead options, shopping lists, leftover ideas, and even quick 30-minute meal ideas. This one has everything!

This cookbook is great for anyone with a busy schedule – or just doesn't love to be in the kitchen. With all the recipes made in under 30 minutes, this book gets the thumbs up from me! Try recipes like Creamy Mac n Cheese, Chicken Mole Soft Tacos, and even Deep Dish Pizza with Italian Sausage.

This is actually the very first gluten-free and dairy-free cookbook I ever saw way back in 2012 when it was released. It gave me so much hope that I could stick with my GFDF diet and still enjoy some of my favorite foods.

This cookbook is a definite go-to, because not only is every recipe GFDF-friendly, but all recipes have been worked to reduce refined oil and sugar consumption (something I know I can always be working on!). With recipes like pizza, pancakes – and even lasagna, this cookbook is a great one to add to your (cook)bookshelf!

This is a great cookbook with tons of recipes ranging from breakfast and brunch to gluten-free breads to "fakeout takeout" and of course, desserts! This is another great one by Silvana Nardone, a GFDF recipe goddess.

This cookbook includes over 100 gluten and dairy-free recipes that are simple to make with easy to find ingredients. Lots of staple recipes you love and will want to make over and over again.
I definitely encourage you to check out one or many of these cookbooks for recipe inspiration for taking on – and sticking with – your gluten-free dairy-free diet and lifestyle. I hope you found this useful, it was fun to put this roundup together for you. And hey, if you love getting cookbooks as gifts, be sure to add one of these to your wishlist for the holidays too!
If you loved this post, be sure to save it and share it on Pinterest.
Want more product recommendations for gluten and dairy-free foods? Check out these posts!