If you love to make pasta dishes and rely on egg noodles for some of your recipes, you may be wondering if egg noodles are gluten-free. Learn what egg noodles are made out of and what your options are for a gluten-free diet.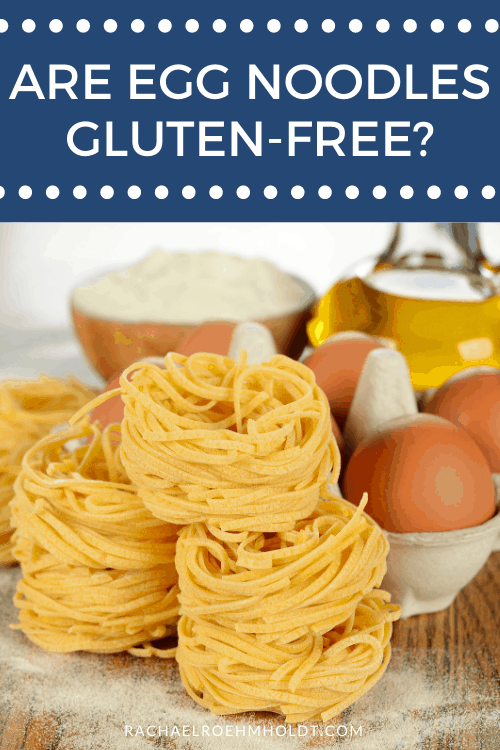 Note: I am a proud Amazon, Chomps, MunkPack, and Thrive Market affiliate and am happy to recommend their service and products to you. Please know that as an affiliate, I may receive a small commission on the products you purchase after clicking through my links. For more info, please see my disclosure policy here.
Egg noodles are a great addition to recipes that call for a little comfort. Egg noodles are often used in chicken noodle soup, as a side dish, or in casseroles.
If you've recently learned you need to follow a gluten-free diet, should you continue eating egg noodles?
In this post, we're going to dive into egg noodles, find out what they're made of, if they're gluten-free, and what brands you can look for at the grocery store.
We'll wrap the post up with a few gluten-free egg noodle recipes in case you want to get brave in the kitchen and try to make your own.
What are egg noodles?
Egg noodles are usually flat noodles that are more broad than semolina pasta and they are made using… you guessed it – eggs.
I've seen egg noodles served with meatballs, stroganoff, in pasta casseroles, or in noodle soup although there a ton of different uses for them.
What are egg noodles made out of?
Egg noodles are made out of flour, eggs, and salt using the most basic of recipes. You can find recipes that also contain milk and butter as well.
Egg noodles you find from the grocery store might also contain preservatives or other additives.
Read on: Are eggs gluten-free?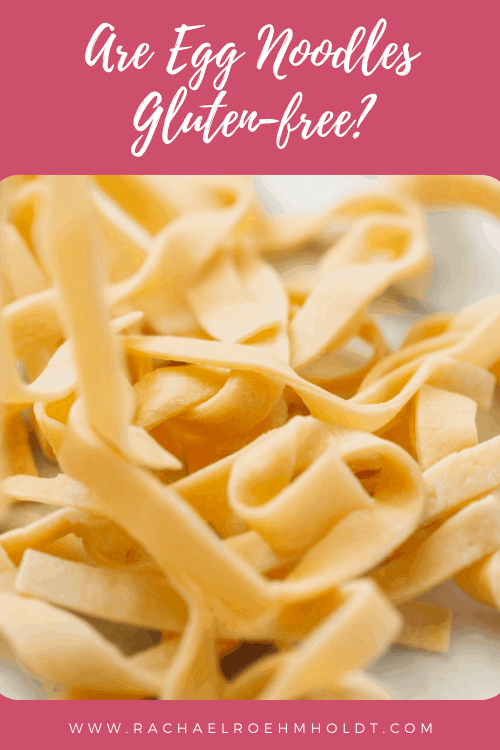 What is gluten?
Gluten is a protein found in most wheat products, and acts as the "glue" that helps to hold wheat, barley, kamut, spelt, farro, durum, bulgur, rye, and semolina together to maintain their shape.
You can find gluten in whole grains, but also in many processed foods as well. If you purchase wheat bread, there will be gluten in it, because wheat by nature has gluten.
Many processed foods have hidden gluten in them in the form or gluten or wheat derivatives. These are also in the form of flavorings, binders to keep ingredients together, or other additives.
Are egg noodles gluten-free?
Egg noodles are most often not gluten-free as they contain wheat flour.
Unless you are able to find a gluten-free version of egg noodles from the store, you might opt to make your own egg noodles at home using gluten-free flour.
Are Chinese egg noodles gluten-free?
Chinese egg noodles are not generally gluten-free. Wonton noodles, chow mein noodles, and lo mein noodles all contain gluten from the wheat flour used in them. Avoid these at the grocery store or when eating at restaurants.
You can make your own gluten-free Chinese egg noodles at home using a recipe like this one.
Read on: Is chow mein gluten-free? Is lo mein gluten-free?
Read on: Gluten-free pasta: brands & options
Read on: Gluten-free noodles: options & brands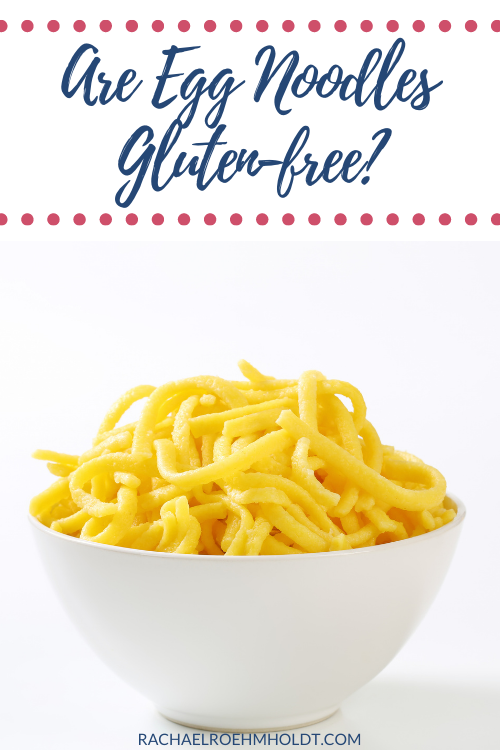 How do brands make egg noodles gluten-free?
The few brands that I've found that make gluten-free egg noodles are using other gluten-free flours and starches in place of wheat flour.
On these gluten-free egg noodle packages, you'll find ingredients like potato starch, potato flour, potato flakes, white rice flour, and tapioca starch in place of wheat, semolina, or all-purpose flour.
Read on: Is semolina gluten-free?
Read on: Is rice flour gluten-free?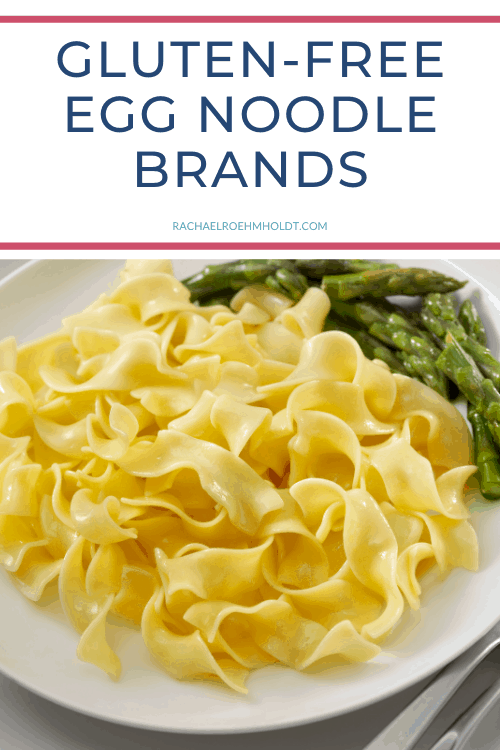 Gluten-free Egg Noodle Brands
There are a few gluten-free egg noodle brands available on the market if you decide you don't want to make them yourself. Be on the lookout for these brands and options.
These gluten-free egg noodles are made from white rice flour, tapioca starch, millet flour, dried egg yolk, xanthan gum, and water.
This product is not actually an egg noodle at all, but an EGG-FREE wide noodle that is similar in shape and texture to an egg noodle, but without the eggs.
This is good for folks who are looking for a replacement for egg noodles in a recipe, but also need it to be gluten-free and egg-free.
The ingredients in this product are potato flour, potato starch, salt, cellulose gum, and beta carotene.
Jovial is one of the better known gluten-free pasta brands, which is nice to know they've made an option for egg noodles.
This tagliatelle shape pasta is made with brown rice flour and organic eggs. Simple and straight-forward.
These gluten-free egg noodles are made from potato starch, potato flakes, tapioca starch, fresh eggs, and spices.
These egg noodles are another good option for a gluten-free alternative. The ingredients are tapioca starch, dehydrated potato flakes, modified potato starch, pasteurized egg whites, emulsifier, xanthan gum, and turmeric.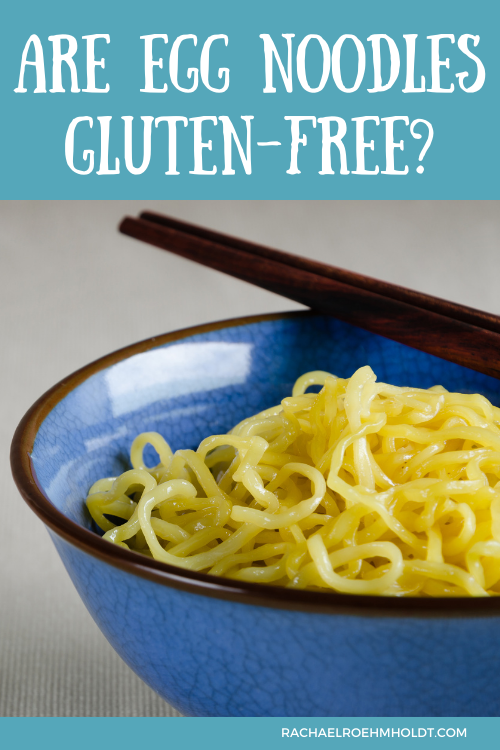 Where To Buy Gluten-free Egg Noodles
Although there are a few brands of egg noodles that are gluten-free, I've never been able to find them locally. Even the Jovial brand, which is pretty common, doesn't carry these noodles at my local grocery store.
Depending on where you live and the options available to you, you may or may not have a hard time finding them as well.
If you can't find any of these gluten-free egg noodle brands in person, you can find them on Amazon or directly through their websites.
Can I make my own gluten-free egg noodles?
You can definitely make your own gluten-free egg noodles at home if you're having a hard time finding some at the store. In fact, homemade egg noodles are probably much better than the store bought option anyway, and they are surprisingly easy to make.
Try one of these recipes for homemade gluten-free egg noodles to add to your favorite recipes: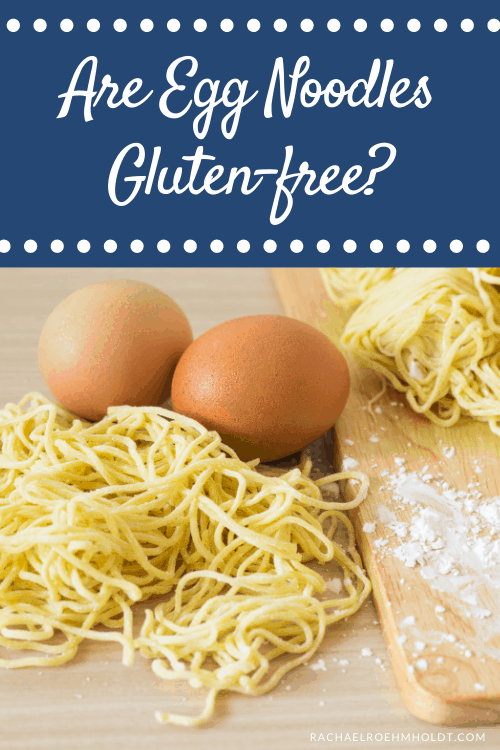 Are egg noodles dairy-free?
Most egg noodles are dairy-free, as they often contain flour, eggs, and salt. Of course, look at ingredients lists before buying to look for any hidden sources or dairy.
Also be aware that if you're trying to avoid dairy, you'll want to be sure whatever you serve your egg noodles with are also dairy-free. This means you'll want to avoid milk, white sauces, or any added cheese added to the dish.
I hope if you've been looking for a gluten-free alternative for egg noodles that this post has helped point you in the right direction of brands and recipes if you choose to make them at home.
Enjoy egg noodles with all your favorite dishes without having to give up your gluten-free diet!
If you loved this post, I hope that you'll share it with your friends on Facebook and pin it for future reference on Pinterest.
Love these posts? You might also find these interesting!