Find out if your favorite Italian dish is safe for a gluten-free diet – plus get a list of gluten-free gnocchi brands to buy at the store.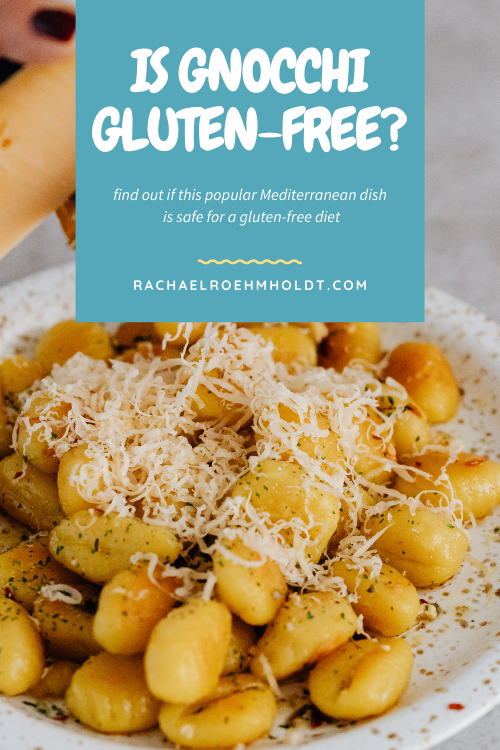 If you and your family love gnocchi, it's not a big surprise. These little potato dumplings are so delicious and easy to make with just a few ingredients and a little bit of time.
As a traditional Italian food, you're likely to find these at plenty of restaurants and even in the pasta or refrigerated and freezer sections of many grocery stores.
But if you're just getting started with a gluten-free diet, you may be wondering if you can enjoy your love of gnocchi while still doing what's best for your body.
In this post, we're going to answer some popular questions about how gnocchi will fit into a gluten-free diet, including the following questions and topics:
What is gnocchi?
What are the ingredients in gnocchi?
What is gluten?
Is gnocchi gluten-free?
Is gnocchi dairy-free?
Is gnocchi vegan?
Gluten-free gnocchi brands
Is Trader Joe's gnocchi gluten-free?
Is cauliflower gnocchi gluten-free?
By the end of this post, hopefully you will have all the answers you need to confidently enjoy this delicious potato pasta dish without worrying about straying from your gluten-free diet.
What is gnocchi?
Gnocchi is a small dumpling of Italian cuisine that's usually made from potatoes and flour. It's often served with a tomato sauce, pesto, or a sauce with butter, Parmesan cheese and fresh sage leaves.
Gnocchi itself is very versatile and can be served with a number of different sauces to give it loads of flavor. You can think of it as pasta that's made with potatoes.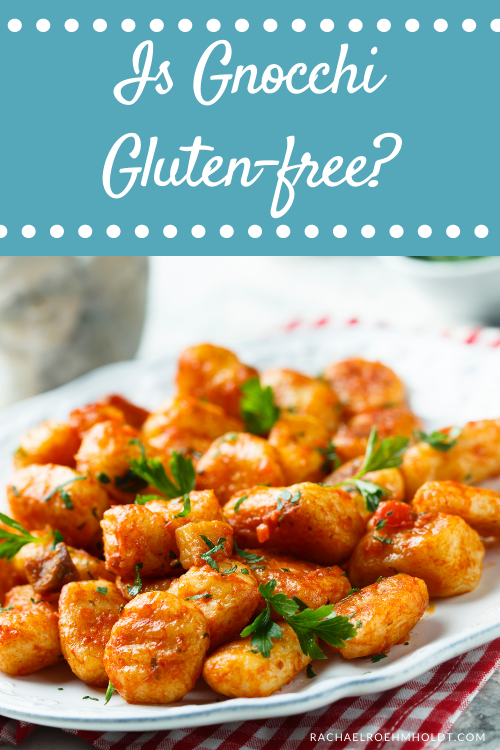 What are the ingredients in gnocchi?
Though the ingredients may vary from brand to brand and recipe to recipe, the main ingredients in a traditional Italian gnocchi are potatoes, all-purpose flour, egg, and salt and pepper. Some recipes also call for ricotta and parmesan cheeses.
Is gnocchi potato or pasta?
Gnocchi is a dumpling that's made similarly to pasta and with potatoes. It's not a dish that is completely potatoes or completely pasta, but a potato pasta that's in the shape of a dumpling.
What is gluten?
Gluten is a protein found in most wheat products, and acts as the "glue" that helps to hold wheat, barley, kamut, spelt, farro, durum, bulgur, rye, and semolina together to maintain their shape.
You can find gluten in whole grains, but also in many processed foods as well. Many processed foods have hidden gluten in them in the form of gluten or wheat derivatives.
These are also in the form of flavorings, binders to keep ingredients together, or other additives.
Read on: What is gluten in food? The basics of a gluten-free diet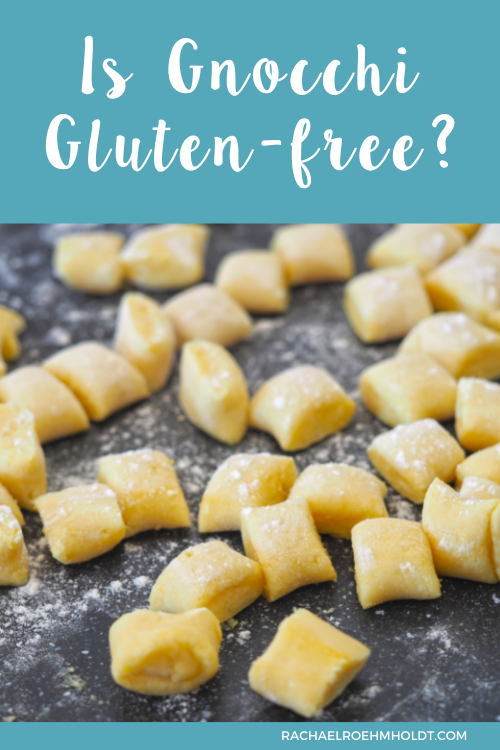 Is gnocchi gluten-free?
Gnocchi is generally not gluten-free as most recipes call for all-purpose flour.
It's possible to enjoy gluten-free gnocchi using a gluten-free flour blend, but you would need to check ingredients lists on packages or make your own at home.
Read on: Gluten-free pasta: brands & options
Read on: Gluten-free noodles: options & brands
Is gnocchi dairy-free?
Some gnocchi may be dairy-free if it doesn't contain any ricotta, parmesan, or other cheese. That said, you'd also need to be very careful on a dairy-free diet that any sauces used on your gnocchi.
If a sauce contained butter, milk or cream, or cheese of any kid, that would not be a good option for your dairy-free diet.
Is gnocchi vegan?
Gnocchi may or may not be vegan, depending on if there is cheese used in the gnocchi recipe itself. It also depends on the sauce used with the gnocchi and other ingredients used in the dish alongside the gnocchi.
If those ingredients don't contain any butter, cheese, or milk or cream, then it will likely be safe for your vegan diet, but it never hurts to check ingredients lists or talk to the person who has made the gnocchi to determine if it will work for your diet.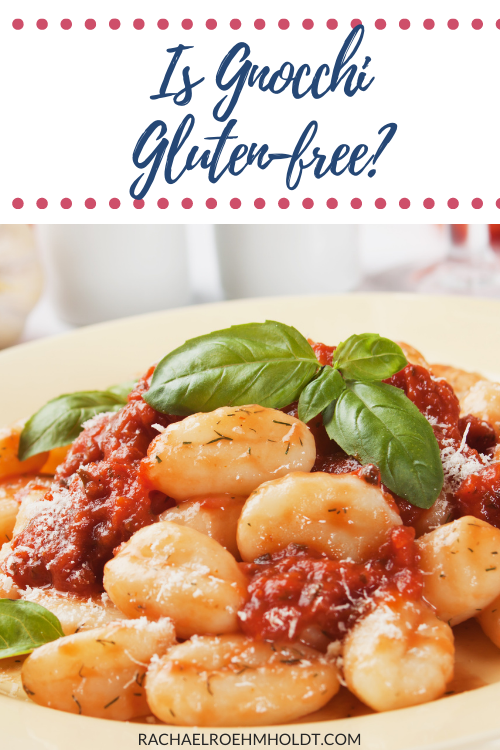 Gluten-free gnocchi brands
If you're looking for a gluten-free gnocchi to buy from the store for a quick fix dinner option, you might want to consider some of these options.
All of these come with a gluten-free label, and I'll also mark the dairy-free options with an asterisk (*) to help you make a decision if you also follow that diet like I do.
Is Trader Joe's gnocchi gluten-free?
The Trader Joe's cauliflower gnocchi product page on their website lists just five ingredients: cauliflower, cassava flour, potato starch, extra virgin olive oil, and sea salt.
All of these ingredients are safe for a gluten-free diet, however there is no gluten-free label or statement on the packaging of this product.
While the ingredients are gluten-free, it looks like this brand doesn't make any claims about how it is processed. That said, if you are sensitive to trace amounts of gluten, then you will likely want to avoid this product.
If you know you can handle trace amounts of gluten from processing as long as gluten isn't one of the main ingredients, then you may or may not decide if this product is right for you based on what you know about how your body handles gluten.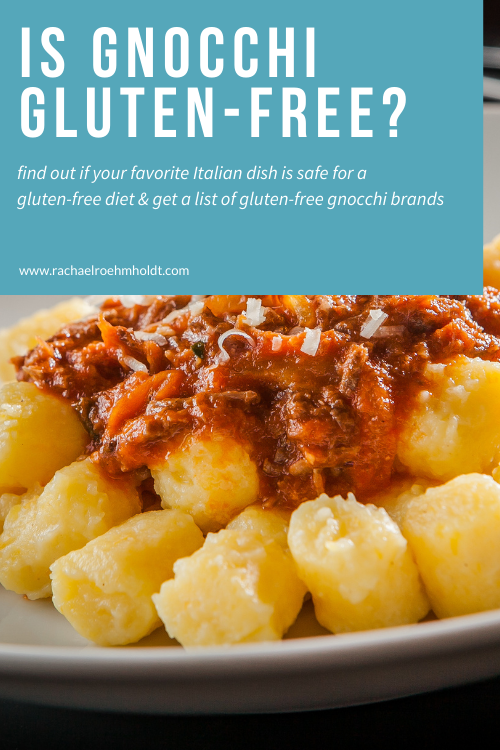 Is cauliflower gnocchi gluten-free?
Depending on the brand of cauliflower gnocchi that you are looking to buy, this may or may not contain gluten.
For example, Trader Joe's brand of cauliflower gnocchi has no gluten ingredients, but it doesn't have a gluten-free label either. You'll have to make your own decision whether or not to eat that, knowing there could be trace amounts of gluten due to the way it's processed.
Another brand, Jolly Green Giant, does contain gluten, so you'll want to avoid this option. It will depend on the brand that you buy of cauliflower gnocchi whether or not wheat or gluten ingredients are in the recipe used.
If you love cauliflower gnocchi and want to stick with your gluten-free diet, it's not a bad idea to learn to make it for yourself at home! Try a recipe like this one to make at home on your own with gluten-free ingredients.
If you enjoy eating gnocchi, I hope this post has given you all the information you need to keep it in your gluten-free diet without any issues to your stomach, gut, or other side effects.
Know that most gnocchi will contain gluten, but there are some products out there that are specifically gluten-free. As always, you can make your own gluten-free gnocchi at home to be 100% sure that it's going to work well for you and your diet.
If you loved this post, I hope that you'll share it with your friends on Facebook and pin it for future reference on Pinterest.
Love these posts? You might also find these interesting!