Have you been looking for some gluten and dairy-free breakfast ideas? Look no further! I have 75 delicious and healthy breakfast ideas and recipes to share with you. Read on for the full list and recipes.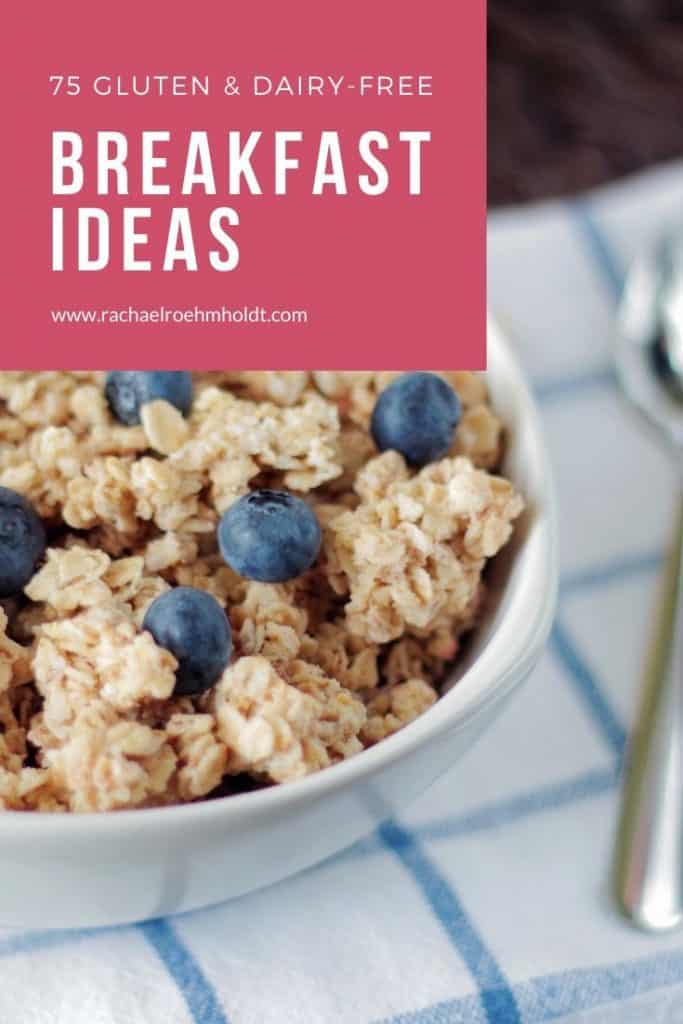 Note: I am a proud Amazon, Chomps, MunkPack, and Thrive Market affiliate and am happy to recommend their service and products to you. Please know that as an affiliate, I may receive a small commission on the products you purchase after clicking through my links. For more info, please see my disclosure policy here.
It's breakfast time on a weekday and once again you're staring into your fridge wondering what the heck you can eat…
On a gluten and dairy-free diet, it can be tricky to figure out exactly what foods are safe for breakfast anymore. Especially since all the foods that were super easy and convenient before are no longer part of your diet.
Cereal and milk, toast, breakfast burritos, english muffins, french toast, waffles, yogurt… all these foods aren't working for you since you decided to go gluten and dairy-free. So what the heck do you eat now?!
I'm here to share with you 75 gluten and dairy-free breakfast ideas to make to keep you feeling inspired to keep up this diet (even if it feels really tough or even impossible sometimes) for the long term.
I want to share with you gluten and dairy-free breakfast ideas that are light and simple to a little more complex and delicious.
These are different ideas to get you through all 12 months of the year, weekdays and weekends alike, and even some that will wow your family members if you ever hosted a breakfast or brunch at your home.
Here are my 75 best gluten and dairy-free breakfast ideas – and why I love them. Many of them have recipes, so click through the links for those too!
75 Best Gluten and Dairy-free Breakfast Ideas
1. Sweet oatmeal
Gluten-free oatmeal bowls with fresh or dried fruit mixed in are great as a sweet and hearty breakfast idea.
You can add nuts, chia, hemp, or flax seeds, and really anything else that you love. Coconut milk, coconut flakes, and nut butters like peanut or almond butter are great additions too.
Read on: Is oatmeal gluten-free?
2. Savory oatmeal
Make your oatmeal bowl take a savory flavor by adding eggs, cooked bacon, sausage, or even steamed greens.
This is a great way to mix up the old standby and enjoy your bowl of oatmeal in a different way. Just be sure your bacon or sausage is gluten-free!
Read on: Is bacon gluten-free?
With overnight oats, you simply add oats to a jar along with some dairy-free milk (I like almond milk or coconut milk, but any dairy-free milk will do).
You can get creative by adding in mashed bananas, fresh berries, jam, pumpkin puree, nuts and seeds (especially chia seeds), and flavor it to your liking.
Refrigerate overnight so the oats break down and absorb the liquid. You can eat them cold from the refrigerator or even warm them up in the microwave.
Read on: Is almond milk dairy-free?
Read on: Is almond milk gluten-free?
I love making peanut butter chocolate overnight oats with peanut butter and cacao powder mixed in.
5. Protein powder overnight oats
If you're a fan of protein powder, consider adding it to your overnight oats to get a hearty dose of carbohydrates and protein in the morning.
Choose whatever your favorite protein powder is and add a scoop or two to your overnight oats or even old-fashioned oats.
Read on: 5 Best Gluten-free Dairy-free Protein Powders
Read on: The Best Dairy-free Protein Powders and Shakes
6. Scrambled or fried eggs
Eggs are naturally gluten and dairy-free, high in protein, and very filling, which makes them a great choice for breakfast.
Scramble or fry eggs in just minutes, serve them with gluten-free toast, and some fresh fruit for a well-rounded breakfast.
Read on: Are eggs gluten-free? Are eggs dairy-free?
Turn your run of the mill scrambled eggs into something more exciting by rolling them up in gluten-free tortillas.
Add some dairy-free cheese and some beans and salsa for a delicious and easy breakfast
Read on: Gluten-free Tortillas: Types, Gluten-free Options, and Brands
You can make breakfast tacos by toasting up some corn tortillas to get them crispy, adding some eggs, bacon, roasted russet or sweet potatoes, and guacamole.
Are these much different from burritos? Nope, but they still sound delicious!
A few great make-ahead gluten and dairy-free breakfast ideas are made using eggs and creating a big batch of a gluten-free dairy-free breakfast casserole.
You can easily make single servings or cut them into individual portions and refrigerate. Pop them in the microwave for about a minute when you're ready for them!
Read on: 25 Gluten-free Dairy-free Breakfast Casserole Recipes
Mini egg muffins are another great make-ahead breakfast idea. Using a mini muffin tin, put a few whisked eggs with salt and pepper, and even some veggies or bacon in each cup, and bake. These refrigerate and reheat super easily!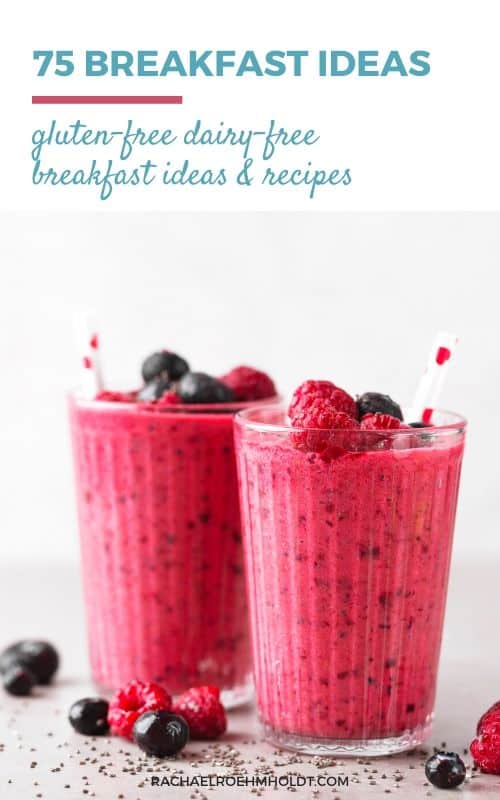 Smoothies are some of my all-time favorite things to have for breakfast on a gluten-free dairy-free diet all year long, because they take only minutes to prepare and I can get tons of fruits and veggies in with just one drink.
I try to stick to green smoothies, because I know that I probably don't get enough greens throughout the day as it is. Add some greens, fruits, and any other mix ins you like (chia seeds, hemp seeds, flax meal, coconut oil, etc.)
12. Fruit smoothies
If you're not a big fan of green smoothies, getting your fruit first thing in the morning is another great idea. My son loves smoothies, but isn't always up for the greens.
I like to make fruit smoothies for him, especially in the summer when fresh fruit is on sale and at its prime for the season.
13. Protein smoothies
Kick any smoothie up a notch with a scoop or two of protein powder. I enjoy protein smoothies more when I'm working out a little harder and feel like I need that little boost.
I also have become a bit of a protein powder convert over the years, because this breakfast really is the ultimate convenience when I'm needing breakfast but super short on time.
14. Smoothie bowls
If you feel like you have to actually EAT something in order for a meal to be satisfying, you can try making your smoothie into a bowl. I've seen these become really popular over the years, and even going for close to $10 at cafes and brunch spots.
Make a normal green, fruit, or protein smoothie and top it with your favorite toppings, like coconut flakes, chia seeds, hemp seeds, flax meal, fresh or frozen fruit, nuts, cacao nibs, goji berries… the options are really endless!
Sometimes you're just in the mood for a sweet treat that is healthy, but still feels like dessert for breakfast. Enter this chocolate banana smoothie that seriously couldn't be easier.
Mix up almond milk, a banana, almond butter, honey, and cocoa powder for this decadent breakfast smoothie that's full of healthy fats and protein.
Can you tell I like chocolate for breakfast sometimes? This smoothie recipe is fun for Valentine's Day or really any day that you're in the mood for a little chocolate and strawberries.
This recipe has almond milk, frozen strawberries, cocoa powder, a banana, flax seed, and honey. It is super delicious – and simple too!
This smoothie recipe is an example of a fruit smoothie I like to make in the summer months. It's tart and sweet, and great alongside a piece of peanut butter gluten-free toast or just plain on its own.
You can add protein powder to any smoothie and make it a little more filling, but this recipe is just one example of how I like to make my protein smoothies. I load up the fruits and veggies, then add the protein powder.
If you love chocolate protein powder but only have vanilla on hand, just add a teaspoon of cocoa powder and you'll get the same flavor without having to go out and get another container of protein powder.
Here's a quick and easy winter smoothie recipe that's not only filling, but will keep you warm and happy to enjoy your smoothies even through the cooler months.
With some of my favorite fruits, spinach, and some warming almond butter and cinnamon, this smoothie is perfect for the winter!
20. Peanut butter gluten-free toast
Gluten-free toast or breakfast sandwiches are a safe bet for gluten and dairy-free breakfast ideas. When you find a gluten-free bread that you love, you can use it in all kinds of recipes.
When I'm really hungry, I'll have a piece or two (gluten-free bread is notoriously tiny!) of gluten-free toast with peanut butter on top.
Read on: 15 Gluten-free breakfast sandwich recipes
21. Avocado gluten-free toast
You can make avocado toast on gluten-free bread just by mashing up some avocado, mixing it with salt and pepper, and slathering it on your toasty bread.
22. Almond butter gluten-free toast
Spread some almond butter on some gluten-free toast for a peanut-free breakfast classic! You can enjoy it plain or add some bananas and cinnamon on top.
If you were ever a fan of Nutella, you can buy (or make your own) dairy-free chocolate hazelnut butter and still enjoy the flavors you love.
This is a super delicious treat that my son gets so excited for every time we make it!
24. Vegan butter on gluten-free toast
I don't know about you, but sometimes when I'm feeling sick or just not in the mood for much of a breakfast, nothing satisfies quite like butter on toast.
But this is vegan butter on gluten-free toast. I don't eat this often as there's just not much nutritionally to offer here, but it feels like simple comfort food sometimes.
Read on: Dairy-free Butter and Butter Substitutes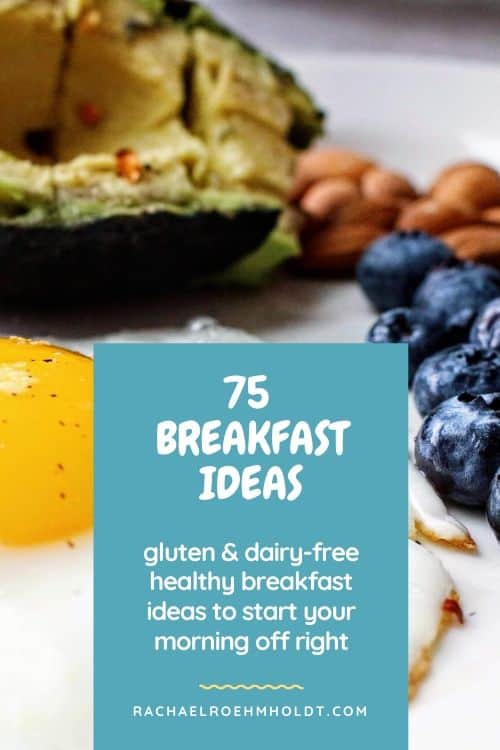 25. Gluten-free breakfast sandwich
Turn any of your favorite gluten-free toast into a breakfast sandwich very easily. Load up with bacon, eggs, greens, avocados, you name it – and put it between two slices, and voila! Easy hearty breakfast done!
When it comes to pancakes and waffles, you can definitely buy a prepared mix either at your local store, on Amazon, or through Thrive Market.
There are plenty of gluten and dairy-free pancake mixes to try, so you can definitely buy a number of them, try them out, and decide what your favorite brand is.
Mine is King Arthur Pancake Mix, because it's gluten and dairy-free, makes the lightest pancakes, and is easy to use flax eggs in place of real eggs.
Read on: 5 Best Gluten-free Dairy-free Pancake Mixes
Read on: 5 Best Gluten-free Flour Blends
27. Homemade gluten-free pancakes
You can make your own gluten-free pancake mix using just four ingredients to store in your pantry. Mix up this easy pancake mix with a few other ingredients and you can have gluten-free dairy-free pancakes in less than 20 minutes.
You can even make a batch of gluten-free pancakes for the freezer so you can easily reheat them in the microwave for a quick and easy breakfast any morning of the week.
Read on: 5 Best Gluten-free Flour Blends
Read on: Dairy-free pancakes
28. From a mix waffles
You can find gluten-free packaged mixes that are great for waffles too. Like I said, I like the King Arthur blend the best, but you can find others like Pamela's or Enjoy Life that are also great.
Read on: 5 Best Gluten-free Dairy-free Pancake Mixes
29. Homemade (using gluten-free flours) waffles
If you decide to make your own gluten-free waffle mix at home, make a few batches to keep in pantry, that way you always have the hard part done and completely ready for you to add a couple ingredients and get cooking.
I actually love making homemade waffles ahead of time and freezing them, so they're ready to pop in the toaster for a minute and they're done and ready almost instantly.
Get the recipe: Gluten-free Waffles (Dairy-free, Vegan)
This recipe is a great option if you like to get pancakes made quickly. I love this recipe because you can throw everything in your blender and mix it up before putting them on the griddle. You only need eggs, bananas, oats, applesauce, vanilla, and cinnamon.
These almond flour pancakes are really easy and only made with 4 ingredients. What I love about this recipe is that it's a blank canvas so you can add berries or bananas and nuts, or any other toppings to make them your own.
If you're avoiding all grains, these 2 ingredient pancakes are made with just eggs and bananas. These are great for kids since they're high in protein and are good for breakfast and as snacks if you make a few extra and pop them in the fridge for later.
If you like your pancakes with a little more flavor, these pumpkin pancakes are a great choice with the pumpkin puree and spices.
Coconut flour pancakes are light and fluffy and great as a gluten and dairy-free option for breakfast. They're great with butter and vegan syrup or with your favorite toppings.
Here's another delicious pumpkin pancake recipe to try that's both gluten-free and dairy-free. These are great around the fall months, but really good any time of year.
Gluten-free waffles from scratch are simple to come together with a gluten-free flour blend along with a few other baking essentials. These are great to make on the weekend or meal prep ahead of time and freeze.
These almond flour waffles are simple to make and perfect for gluten-free meal prep. Double the recipe on the weekend and pop the ones you don't eat into the freezer for more delicious breakfasts later in the week or month ahead.
If you want a little more protein in your waffles or your kids are just looking for something a little different, try these peanut butter banana oatmeal waffles. These only take 15 minutes to put together and are super healthy and delicious.
39. Gluten-free dairy-free French toast
If you're a huge lover of French toast but don't know how to enjoy this classic breakfast dish on a gluten and dairy-free diet, try this.
Swap out normal bread for gluten-free bread, replace non-dairy milk for the milk, and use vegan butter or coconut oil in the pan or in the recipe as it's called for.
Using your favorite gluten-free bread, whip up this gluten-free French toast plus some almond milk, vanilla extract, cinnamon, eggs, and coconut milk for a custardy delicious breakfast treat.
If you're looking for a French toast recipe that's not only delicious, but free of all top 8 allergens, this one is for you.
This is my go-to French toast recipe in my house as I also avoid eggs – and it turns out consistently good every time!
This coconut oil French toast is a great example of how to swap out the dairy-filled ingredients for dairy-free ones.
Coconut oil is mild tasting, but seriously good in sweet breakfast dishes like French toast. Enjoy this breakfast with maple syrup and vegan butter or your favorite French toast toppings.
Quinoa breakfast bowls are simply cooked quinoa loaded up with my favorite breakfast flavors. I'll often treat these breakfast bowls like a version of oatmeal and top them with my favorite fruit, nuts, and nut butter. Get creative here!
Read on: Is Quinoa Gluten-free?
44. Buckwheat breakfast bowls
You can also make breakfast bowls with buckwheat, a gluten-free grain. This whole grain has a mild nutty flavor (kasha) and really filling so a little goes a long way.
I like this type of breakfast usually in the winter when a warm breakfast is just what my body is craving.
45. Brown rice breakfast bowls
One more breakfast bowl idea is to use brown rice as the base and load it up with your favorite breakfast flavors.
Eat it like you would oatmeal, or even reheat it with some dairy-free milk in a pan with cinnamon and dried fruit before loading up your bowl. Super simple and delicious on cold mornings.
Read on: Is Rice Gluten-free?
46. Sweet breakfast bowls
Make any type of breakfast bowl into a sweet breakfast bowl by adding sweet toppings, like fruit, nuts, nut butter, coconut flakes, dried fruit, and honey or maple syrup.
Get creative here and try whatever sounds good to you – there are no rules!
Read on: Is Maple Syrup Gluten-free?
47. Savory breakfast bowls
You can also make savory whole grain breakfast bowls with steamed or sauted greens (like chard, spinach, or kale), some cooked sweet potato, a fried or scrambled egg, and avocado slices. I like these when I'm tired of sweet breakfast bowls and my body is craving more substance and greens.
48. Your favorite breakfast foods bowls
Another way to make up a breakfast bowl is by combining any of your favorite breakfast foods, like eggs, gluten-free sausage (you can even make your own at home!), steamed or sauted greens, roasted potatoes, hash browned potatoes, cooked beans, any veggies you like….
Seriously, just put stuff in a bowl, add some hot sauce, salt and pepper, and call it breakfast! It can be as simple as that!
Chia pudding is one of my favorite breakfast bowls to make too. I love it because it's SO simple and requires very minimal time and prep.
But even if you're the type to always be running behind in the morning, you can even do this minimal prep the night before and put it in the fridge for the morning.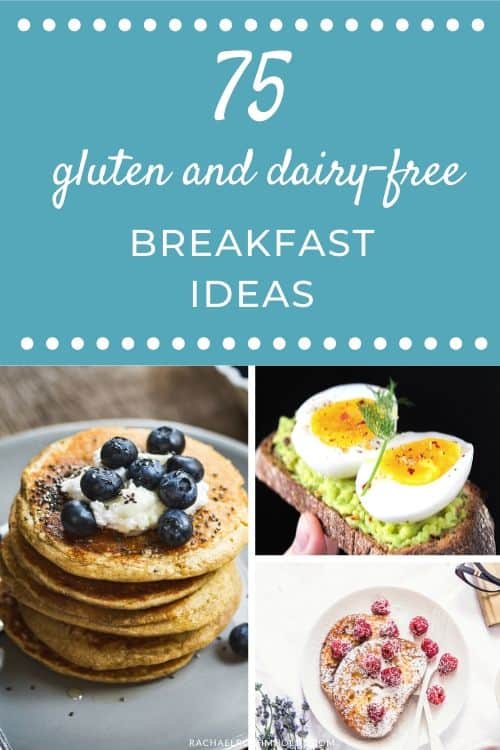 50. Chia pudding with fresh fruit, nut butter, and vanilla
You can truly make chia pudding your own with different flavors like cocoa or cacao powder, vanilla extract, spices, any fresh fruit, nut butter for some extra protein, and you can even swap out the dairy-free milk for whatever YOU like.
There are really no rules, just ratios to follow.
51. Stuffed breakfast sweet potatoes
Roasted sweet potatoes are one of my favorite veggies to stuff, because they're super versatile. I like to go savory or sweet with mine for breakfast.
My favorite way is to top them with almond butter, cinnamon, and a drizzle of maple syrup.
52. Stuffed breakfast russet potatoes
For stuffed russet potatoes, I'll bake them up either in the oven or the microwave first, then hollow them out to fill with some tasty breakfast sausage and sautéed greens.
53. Stuffed breakfast zucchini
In stuffed breakfast zucchini, I'll cut them in half, scoop the seeds out, then roast them for a few minutes in the oven until they're soft.
Then I'll add in breakfast sausage some Daiya vegan cheddar cheese, and put back in the oven until the cheese melts.
54. Stuffed breakfast avocados
In stuffed avocado halves, I'll fill half an avocado with just about anything that sounds good that morning. Bacon and eggs would probably be my husband's first choice and I like sausage and vegan cheese.
55. Stuffed breakfast tomatoes
Get creative with filling stuffed tomatoes for breakfast. Try a mixture of cooked quinoa, bacon, fresh herbs, and Daiya vegan cheddar cheese! Pop that in the oven for a few minutes until everything is warmed through – so easy and yummy!
56. Dairy-free yogurt and gluten-free granola
There are a lot of different dairy-free yogurt brands and flavors made with a variety of different dairy-free milks these days, which is great news.
You don't have to go without yogurt if you're eating dairy-free and can still enjoy it when you want to! Look for coconut, almond, cashew, rice, and soy milk based yogurts.
There are tons of options, so try out a few and decide if it's something you want in your regular breakfast rotation. When it comes to gluten-free granola for your yogurt, luckily these days there are loads of options in all kinds of flavors.
Check out your natural food aisle for some gluten-free and dairy-free options. A few of my favorite brands are Purely Elizabeth, Bear Naked, and Love Grown.
Read on: Dairy-free Yogurt: What You Need To Know
Read on: Is granola gluten-free?
You can easily make your own homemade dairy-free yogurt in an Instant Pot or a pressure cooker, along with a yogurt starter and some dairy-free milk.
Try this recipe for making your own! Enjoy this yogurt with fresh fruit mixed in, like berries, bananas, or chopped mango.
I love to make my own granola at home, because it's pretty inexpensive and easy to do! Here is a recipe for my Nutty Coconut Granola that's been a hit in our house for a few years. It's sweet, crunchy, and full of healthy ingredients.
If you are always on the go when it comes to breakfast time, having a muffin at-the-ready is a great option.
There are SO MANY gluten-free dairy-free muffin recipes out there online, and I'll be the first to tell you, some are delicious! I found so many at one point, I decided to do a few recipe roundups on them.
If you love pumpkin flavored food during the fall, try these gluten, dairy, and egg-free muffins! They're made with a gluten-free flour blend, pumpkin puree, coconut oil, coconut milk, and a few other baking essentials. You'll love this recipe!
These lemon blueberry almond flour muffins are made with almond flour, lemon juice, frozen blueberries, flax meal, vegan butter, and a few other baking essentials to make them gluten-free, dairy-free, AND egg-free.
You'll love to make these in the spring and summer months!
I'm a fan of any recipe that uses just one bowl to mix together. Try these banana muffins, made with oat flour, rolled oats, bananas, and ground flax seeds. These are great for kids and perfect for meal prep. You can even take them on the go!
This breakfast egg casserole can be made in your Instant Pot, is gluten and dairy-free, and loaded with healthy veggies and flavor. If you want a delicious breakfast where you can leverage a favorite kitchen appliance, give this one a try!
Read on: 101 Gluten-free Dairy-free Instant Pot Recipes
If you love eggs in the morning, this recipe is perfect for you. You can make a whole pot full of hard-boiled eggs in your Instant Pot once a week and have them at the ready for on-the-go breakfasts or snacks whenever you need them.
I love saving time in the mornings, and better yet, love saving time in the kitchen overall. This recipe delivers on both – they take 5 minutes in the pressure cooker (Instant Pot), and are ready for you in the morning when you want to reheat. They even freeze well!
Here's an excellent Instant Pot oatmeal recipe to help lighten your load in the morning.
The best part about making oatmeal in the Instant Pot is that you don't have to stand over the stove watching and stirring for 10 minutes until it's done. You set the timer and it'll let you know when it's ready.
This crockpot millet can easily be made into an Instant Pot recipe by using the Slow Cooker function on your Instant Pot. Opt for some a millet-based breakfast if you've been in an oatmeal slump, using this gluten-free dairy-free tasty breakfast recipe.
This recipe is uses some egg whites to make everything come together, and lets the slow cooker do all the work for you – so you don't need to be babysitting your oven while you're making this tasty breakfast treat.
A veggie omelet made in the slow cooker is easy and healthy. You can make one of these to please anyone in the family and feel good about getting your veggies before the day has gotten too far along.
This is a slow cooker meal, but can easily be made in your Instant Pot overnight using the slow cooker function.
This is such an awesome recipe, because you get all your favorite breakfast flavors and can prep ahead the night before – and breakfast will be ready when you get up for the day!
French toast is one of those hard dishes to recreate when you're gluten-free and dairy-free, but it's been done!
This recipe is great, because you can use gluten-free bread, dairy-free milk (coconut milk), and vegan butter. Best of all, you can prep it ahead and slow cook in your crockpot until you're ready for it.
This slow cooker breakfast casserole looks divine. It's made with sausage, onion, garlic, sweet potatoes, mushrooms, and bell peppers. No one will even know it's gluten-free and dairy-free friendly.
Read on: 101 Gluten-free Dairy-free Crockpot Recipes
There are a few cereal options available that are both gluten and dairy-free, and can be enjoyed on their own or with your favorite dairy-free milk.
While cereal isn't always the most nutrient-dense, sometimes it's nice to have the convenience of a breakfast that involves just one step – adding some milk – before sitting down to eat.
Read on: 5 gluten and dairy-free cereals
Read on: Dairy-free Milk Alternatives
Read on: Are Corn Flakes gluten-free?
74. Homemade hash browns
This isn't exactly a breakfast on it's own, but an idea worth sharing anyway. Just peel and shred a potato using a box grater.
Then add about 1 tbsp of oil to a pan over medium high heat. Add the shredded potato to a large preheated skillet and cook 3 to 4 minutes on each side, flipping once. Remove from heat, cut into pieces and serve.
Read on: Are Potatoes Gluten-free?
75. Homemade breakfast sausage
To make your own chicken maple breakfast sausage, mix together 1 lb of ground chicken, 1 tbsp steak seasoning, and 2 tbsp maple syrup.
Form into patties and cook on each side for 3 to 4 minutes. Remove and serve. These are great as a side or an addition to a homemade breakfast sandwich or breakfast burrito.
Since making this list, I've added a few more recipes and ideas to my list… here are some new ideas!
Try this gluten-free coffee cake recipe that's also dairy-free, egg-free, and vegan! Enjoy this coffee cake for breakfast, brunch, or for entertaining guests.
With a simple white cake, cinnamon swirl, and crumble topping in this gluten-free coffee cake, you'll love the sweetness enjoyed a tasty cup of coffee or tea for brunch of dessert!
Enjoy these delicious gluten-free scones made with just 7 ingredients. They work well for a dairy-free, egg-free, or vegan diet too!
They're made with a measure-for-measure flour and come together similarly to biscuits, but with a little extra sweetness and your favorite fruit mix-ins, they're so simple and so delicious!
I hope this list has inspired you to mix up your breakfast routine and try something new and different!
If you loved this post, I hope that you'll share it with your friends on Facebook and pin it for future reference on Pinterest.
Love this post? Be sure to check out some of my other great breakfast posts!
Not sure what to make for breakfast on a gluten and dairy-free diet? These posts will give you loads of ideas!