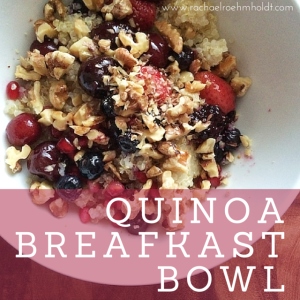 Breakfast has become the hardest meal for me to adjust to in my gluten-free dairy-free life. It's why I've been sharing more recipes about it lately here and here, because I'm constantly trying to get out of my breakfast rut of gluten-free oatmeal or peanut butter gluten-free toast.
I've tried many different things lately – from making waffles to stash in the freezer to a breakfast version of chia pudding.
The problem with keeping breakfast interesting is that time isn't really on my side.
I'm still nursing my son, so every morning I start my day in bed with a feeding session that usually turns into a leisurely nap – for him, not me. By the time he wakes up, I usually have anywhere from 30 minutes to an hour to get myself showered (a true non-negotiable for me), dressed, hair brushed and up in a bun, breakfast made and eaten before it's time for my husband to head upstairs for work.
Everything moves at a quick clip, but I always manage to do it. Some days I'm scarfing down my breakfast as he heads up to work, and other days I've been done and am just hanging out for 20 minutes sipping on some coffee or tea.
The thing is that I am notoriously not a morning person – and my husband would gladly agree. So even the thought of making breakfast in the morning feels like scaling a mountain some days.
One of the best tips I share with anyone living a gluten-free dairy-free life is to be prepared and to prep ahead. So I took some of my own advice this week – and decided to make up a big batch of quinoa for breakfast.
One less thing to check off my list in the morning? Yes please!
All I did was make a batch of quinoa – made just with 2:1 ratio of water, let it cool, transferred to a bowl, then popped in the fridge.
Every morning, I took some out of the bowl, reheated it, added a few yummy toppings and shaved quite a bit of time off my morning hustle.
This is my version with reheated frozen berries, toasted walnuts (that I toasted and chopped beforehand), and a drizzle of maple syrup.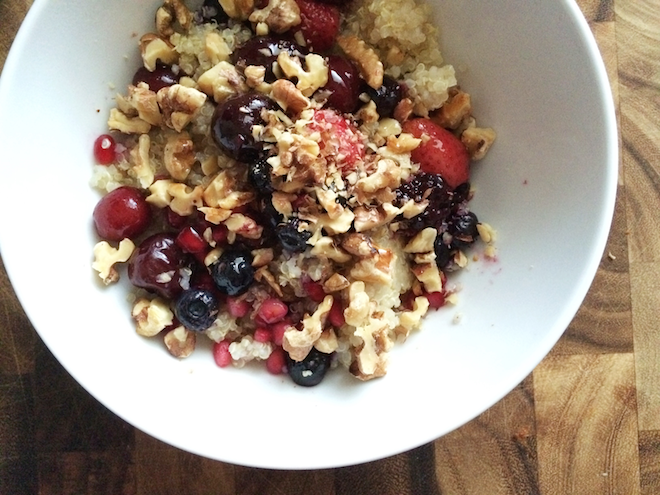 This is my version with peanut butter, banana, and a drizzle of honey.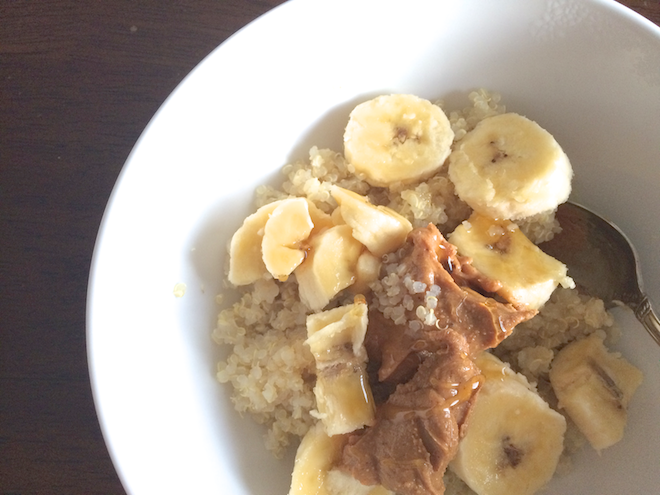 Breakfast, like showers, are non-negotiables in my day. Batch prepping a ton of quinoa for breakfast is just one of the ways I've been getting creative with ways to eat healthy, stick to my gluten-free dairy-free diet and still be ready for the day by 9am.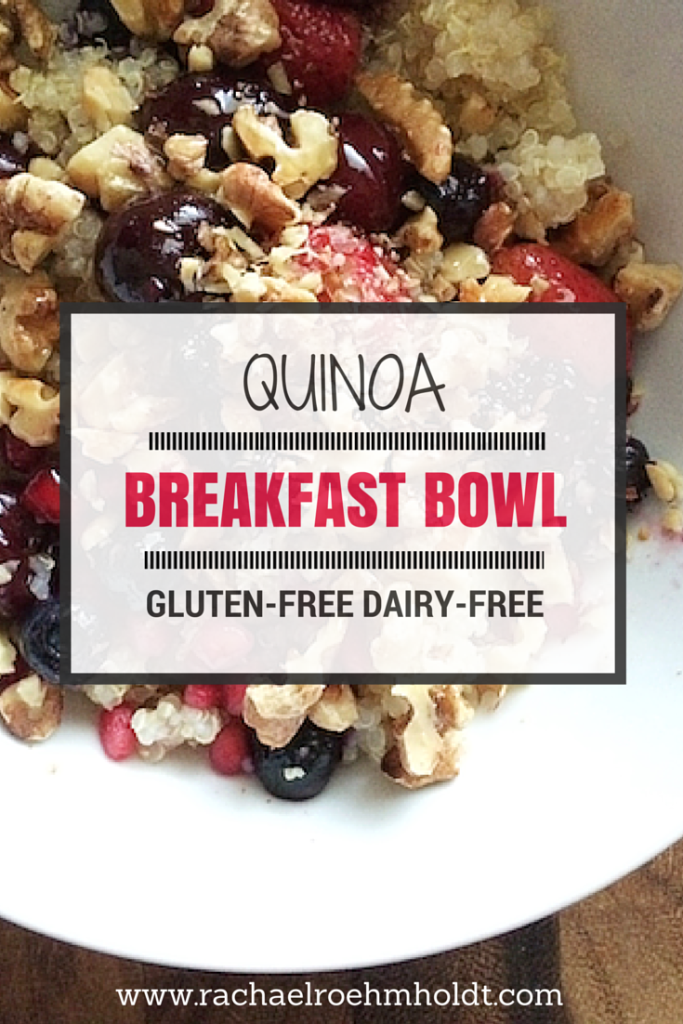 Now it's your turn – what's your morning routine like? Do you always get breakfast in before you start in on your day?