Try these gluten-free dairy-free (and vegan) cinnamon rolls for a weekend breakfast or special holiday treat!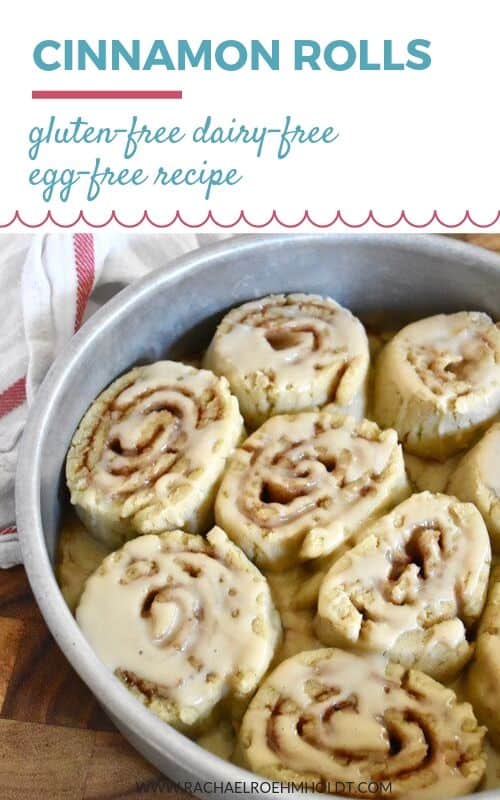 Note: I am a proud Amazon, Chomps, MunkPack, and Thrive Market affiliate and am happy to recommend their service and products to you. Please know that as an affiliate, I may receive a small commission on the products you purchase after clicking through my links. For more info, please see my disclosure policy here.
Cinnamon rolls are one of those breakfast foods you probably think you can never eat again once you go gluten-free and dairy-free. At least I did.
I didn't even try to find a replacement for this tasty breakfast treat for at least 3 years after cutting gluten and dairy out of my diet. I never felt like anything could measure up to the ones I was so used to before changing what I ate.
But as I got more comfortable with my gluten and dairy-free diet, I started trying recipes I'd found in cookbooks and online.
None of them quite hit the mark for me, and so I've been working on my own for a little while now to get it right. I'll be honest… it's still not perfect. It's still not where I'd like it to be.
Being someone who isn't really into baking can make gluten-free baking, well… difficult. But I'm trying. And when I make these, there's never one cinnamon roll left over in my household after two days, so I call that a win – even if they aren't perfect to me.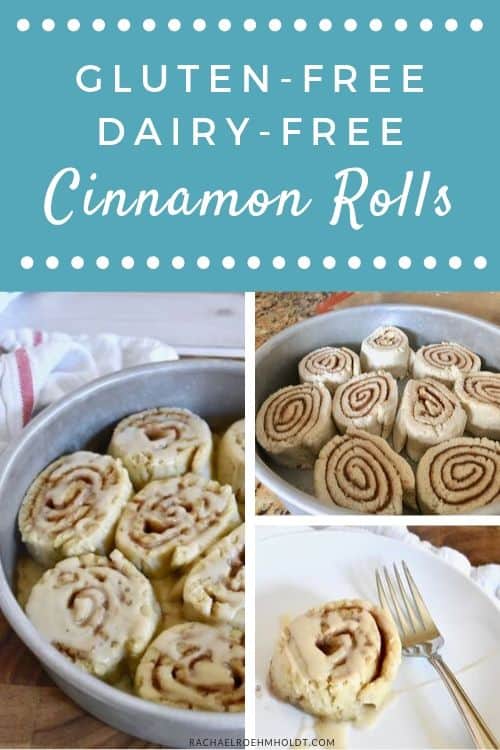 Over time, I've learned that I'm not a baker. As much as I love science and formulas and things perfectly clicking into place, baking is just not something I am great at. In theory, it all makes sense to me.
But once I get going, things don't always wind up as they're supposed to. And that has never been more true than it is with gluten-free baking.
Can I just take a moment to say gluten-free baking is HARD?!? Even when you try to use gluten-free all purpose flour blends… even when you use measure for measure gluten-free flour blends, things just don't combine the way you'd anticipate they would like in normal baking (which I mentioned I'm not great at already, right??).
Does gluten-free flour rise? I didn't know.
Does gluten-free dough need to be kneaded? I did it and it flopped… but it was never very doughy or big to begin with.
Does gluten-free bread actually need to rise twice? I didn't know that either as I was working on this recipe.
But you know what, I googled the heck out of these questions, and found out that…
Yes, gluten-free flour rises.
No, you shouldn't really knead gluten-free dough too much.
And no, I could actually save myself a little bit of time by not letting the dough rise twice. Mainly because… apparently, gluten-free dough doesn't really rise twice. Who knew? (Not me, obviously)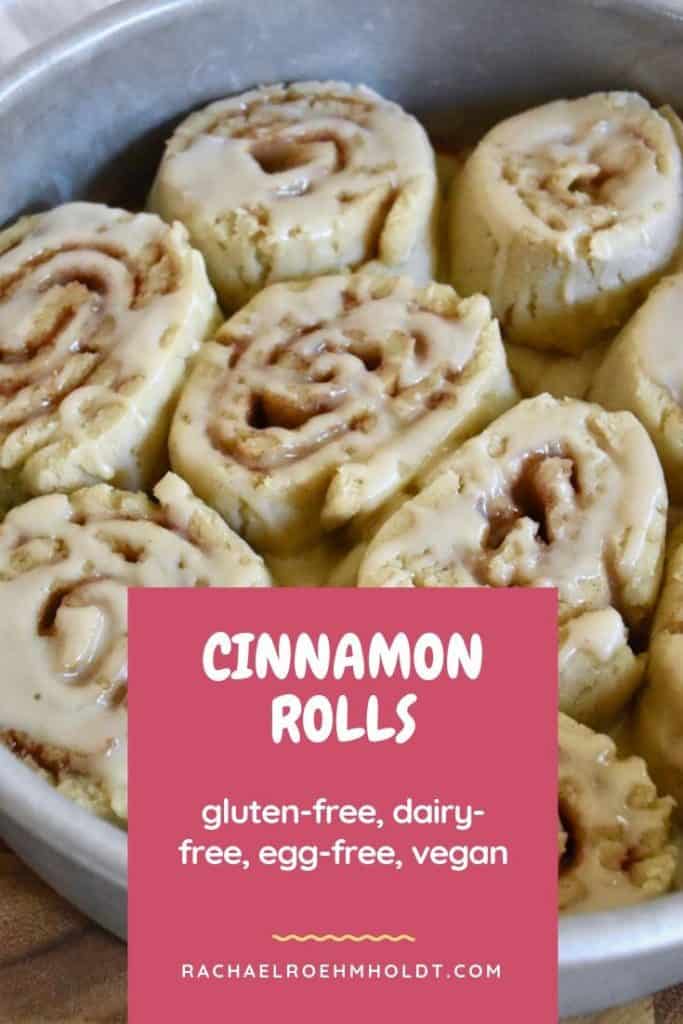 Anyway, when I set out to make these cinnamon rolls, my big goal was to make them simple and as quickly as possible. I'm not one to like to wait around in the kitchen (a possible reason I'm a terrible baker), and baking sometimes involves waiting for proofing or rising.
This recipe I still did my very best to make it taste great, satisfy that craving for cinnamon rolls, and not be overly complicated with a bunch of different ingredients.
I used my go-to gluten-free flour blend, King Arthur Flour measure-for-measure flour blend, for this recipe. I like that it's all together and I don't have to add xanthan gum or anything else to bind it.
I learned from good old Google that gluten-free flour does need to be mixed, but not kneaded. I also learned that it will rise once, but not twice, so I could cut some of the time down waiting around for these lovely treats to be done and get in my belly.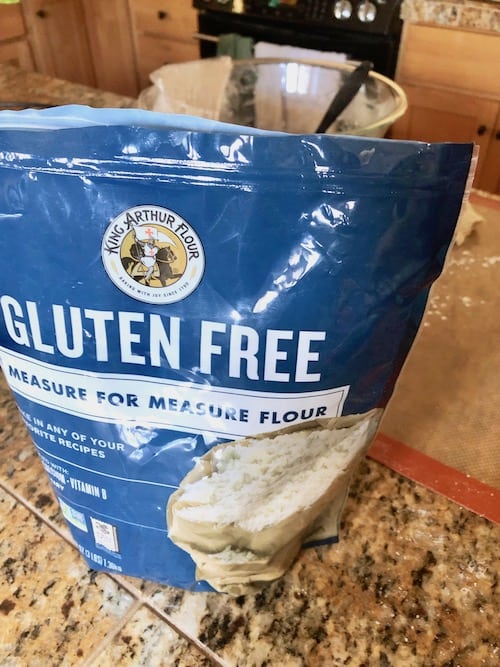 I made these cinnamon rolls dairy-free by using vegan butter for both the dough and the filling. Also, I used coconut milk for the dough itself. This was the variety that comes in the carton, not the can, but I'm pretty sure both would work here.
These gluten-free dairy-free cinnamon rolls are:
Sweet and spicy
Covered in a delicious sweet maple-flavored glaze
The perfect cinnamon roll flavor
How To Make Gluten-free Cinnamon Rolls from Scratch
Making these gluten-free dairy-free rolls is easy, here's what you do:
First, activate the yeast.
Combine the yeast, warm water, and sugar in a small bowl and set aside for ten minutes to activate.
Second, melt the butter and coconut milk.
Melt the vegan butter and coconut milk together in a saucepan to warm through. Don't overheat this, just get it warmed through – and not to boiling!
Next, add the melted butter and coconut milk.
In the small bowl along with your yeast, add the melted butter and coconut milk. Gently mix this together, being careful to not over mix.
Next, add the flour and salt to a large bowl.
In a large bowl, add both the flour and salt. Pour in the the warm butter, coconut milk, and yeast mixture and mix together, but DON'T over mix.
Prepare your bowl for rising.
Remove the dough from the bowl and set aside. Spread some coconut oil in the bottom of your large bowl, then add the dough back to the bowl. This will help keep the dough from sticking to the bowl later when you remove it.
Let the dough rise.
Cover the bowl with plastic wrap and set aside for one hour. This will allow the dough to rise and keep the warmth inside the bowl with the plastic wrap covering it.
Prepare the filling.
In the last few minutes of the dough rising, get your filling prepared by combining the sugar and cinnamon in a small bowl. You'll also want to melt the vegan butter either in the microwave or on the stove top.
Prepare your baking dish.
I used a round cake pan and sprayed it with some coconut oil cooking spray to prevent the cinnamon rolls from sticking later. This is also a great time to preheat the oven to 350 degrees F.
Roll out the dough.
Once the dough has risen, remove it from the bowl and place it on a silicone baking mat lined with a bit of flour. You can also use a cutting board or another surface, just be sure to toss a bit of flour out to make sure the dough doesn't get too sticky.
Roll the dough out into an even layer of about ½ to ¾ inch. At this point, you can also trim the dough to be a perfect rectangle, but I found I just did this at the end and didn't worry about the extra dough in the middle of my rolls.
Add the filling.
Next, you want to brush an even layer of the melted butter on the surface of the cinnamon roll dough. There's no right or wrong way to do this, just get the butter on the rolled out dough.
I used a pastry brush for this and "painted" it on – I even got a little help from my son on this part, because it was pretty fun. Once it's spread out, add the cinnamon sugar mixture in an even layer across the entire surface of the dough.
Again, don't overthink it, just try to get it pretty even so all areas are covered.
Roll the cinnamon rolls.
Starting at one end roll your dough carefully onto itself creating a log. I did this on the short side for big fat cinnamon rolls.
Cut the cinnamon rolls.
At this point, I trimmed both sides and decided how many rolls I wanted. Since I planned to make 9 (you could also make 8, 10, 12… however many you want!), I cut the dough into thirds, then thirds again. My rolls were about 1 ½ inches. Transfer them to the baking dish.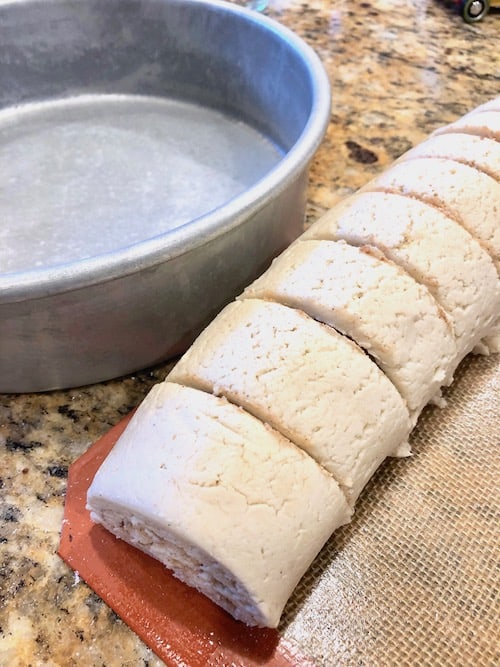 Bake for 25 minutes.
Place the gluten-free dairy-free cinnamon rolls in the preheated oven and bake for 25 minutes at 350 degrees.
I found that the cinnamon rolls didn't really look all that different after they were baked, but they certainly let me know when they were done, because the house smelled amazing, and the butter had started melting down into the bottom of the pan. Remove the pan from the oven once baked.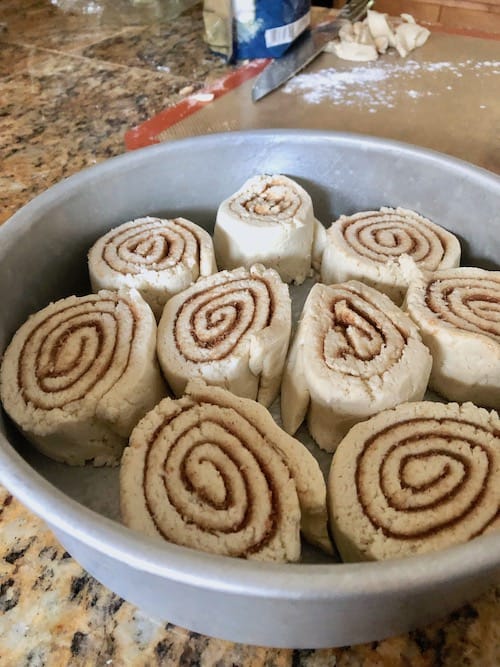 Make the glaze while the cinnamon rolls bake.
While the cinnamon rolls are in the oven, prepare the maple glaze. Combine powdered sugar, maple syrup, vanilla extract, and coconut milk in a small bowl and whisk to combine.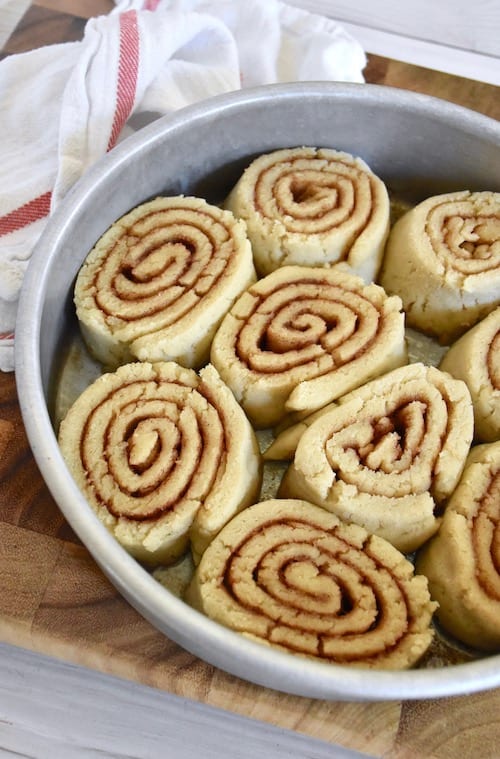 Add the dairy-free maple glaze.
Let the cinnamon rolls cool for about 5 or 10 minutes, then spread the glaze over top. I just used a spoon and that worked perfectly. Nothing too fancy over here.
I also had a little extra glaze that we kept in a container in the fridge for the next couple of days when we enjoyed the rest of them after reheating in the microwave.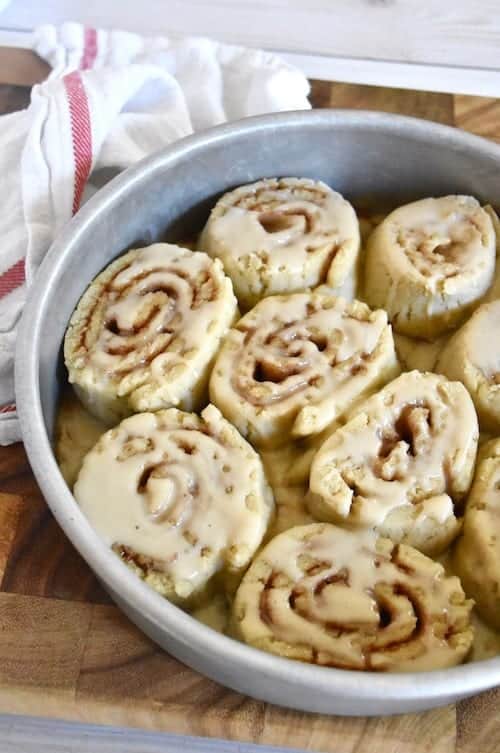 Enjoy!
Everyone in my family loves these cinnamon rolls and I'm over the moon excited that I have finally been able to make a recipe that tastes good and satisfies my craving for cinnamon rolls when it strikes.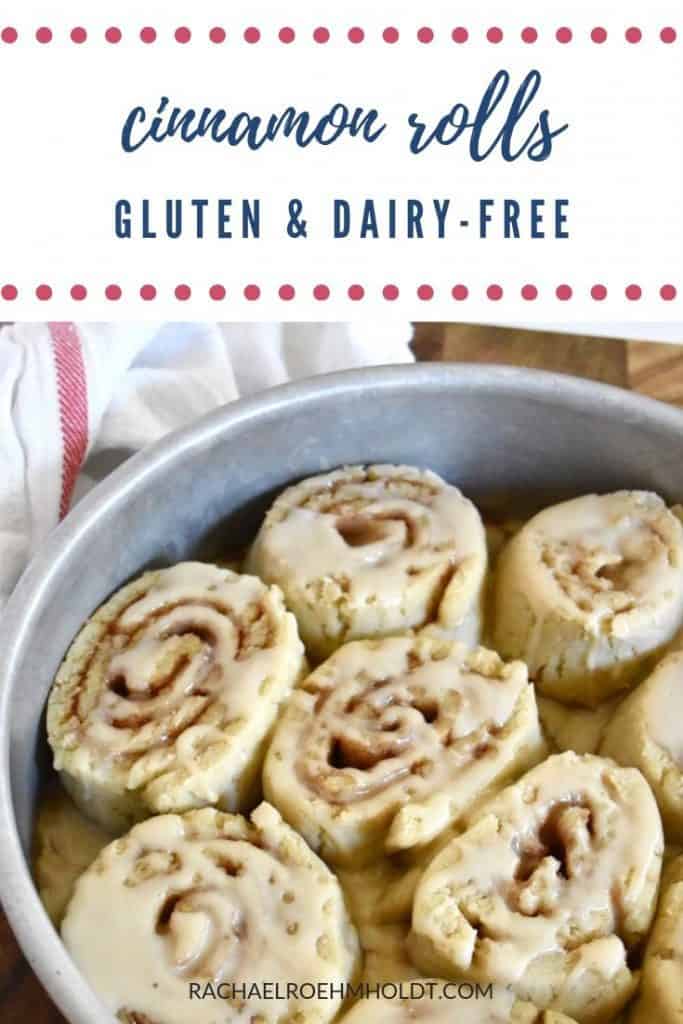 I hope that if you've been on the hunt for a gluten-free dairy-free cinnamon roll that his recipe serves you well. It didn't disappoint in my household, even with two gluten and dairy eaters!
Yield: 8 cinnamon rolls
Gluten-free Dairy-free Cinnamon Rolls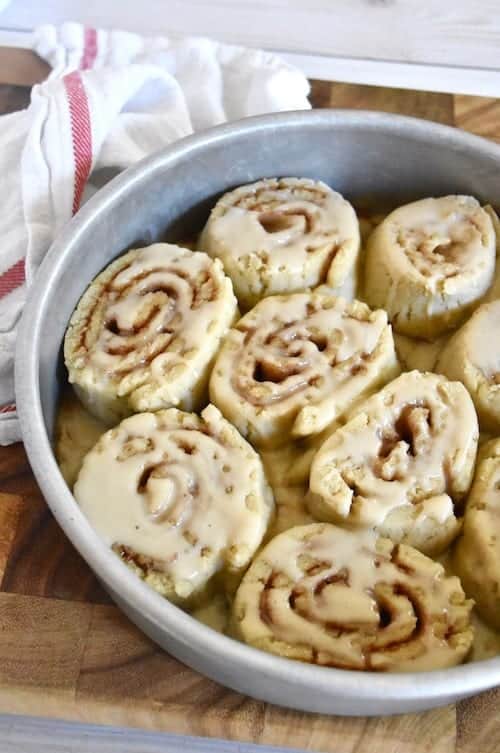 Try these gluten-free dairy-free (and vegan) cinnamon rolls for a weekend breakfast or special holiday treat!
Total Time
1 hour
55 minutes
Ingredients
Roll Ingredients
1 tbsp white sugar
¼ cups warm water
6 tbsp Earth Balance vegan butter
½ tsp salt
Filling Ingredients
2 tbsp Earth Balance vegan butter, melted
½ cup white sugar
Glaze Ingredients
Instructions
In a small bowl, combine yeast and sugar. Slowly pour the warm water into the bowl, stirring together to combine ingredients. Set aside for 10 minutes to allow the yeast to activate.
While the yeast is activating, heat a small saucepan over medium high heat. Melt the butter and coconut milk together, stirring as it heats to prevent it from boiling. Once the butter has melted, set aside. In a large mixing bowl, mix together salt and flour.
Combine the yeast and the butter and coconut milk mixture together.
Add the wet ingredients to the large mixing bowl. Mix everything together with your hands to combine, but don't overmix.
Remove the dough and set aside on a plate, while you spread some coconut oil in the bottom of the bowl so the dough won't stick to it later. Place the dough inside the bowl, cover it with plastic wrap, and sit for 1 hour. The dough will rise and double in size.
In the last few minutes of the dough rising, prepare the filling. Melt the butter and set aside. In a separate bowl, combine the cinnamon and sugar, and mix together.
Get out your baking dish (whatever you want to cook the cinnamon rolls on) and spray with a light coating of cooking spray on all sides of the pan.
Once your dough has risen, lay out a baking mat, and toss a bit more flour there to help keep the dough from getting too sticky. Flour your hands before handling the dough.
Transfer the dough to the baking mat, roll the dough into a rectangle, about 9" by 14." If you want clean lines, you can trim the edges, but you certainly don't need to, and clean up your ends at the end.
Brush the dough with melted butter, then spoon the cinnamon-sugar mixture over the top, and spread evenly. Roll the dough up into one long log. I like to roll it on the short side, so I have big fat cinnamon rolls, but you can go the other way if you want more smaller rolls.
Using a sharp knife, cut the log into 1 ½" rolls. I cut the log into thirds, then thirds again, to make 9 rolls. Carefully transfer each of the rolls to a circular cake pan, cut side down. Bake for 25 minutes at 350 degrees F.
While the cinnamon rolls are in the oven, make the glaze by combining the powdered sugar, maple syrup, vanilla extract, and coconut milk in a bowl. Mix up with an electric mixer or whisk by hand.
Once they rolls are finished baking, transfer them out of the oven, and allow to cool for at least 5 minutes. Drizzle the glaze on top, and dig in!
Recommended Products
As an Amazon Associate and member of other affiliate programs, I earn from qualifying purchases.
Love this post? Be sure to check out some of my other great breakfast posts!
Not sure what to make for breakfast on a gluten and dairy-free diet? These posts will give you loads of ideas!
If you loved this post, I hope that you'll share it with your friends on Facebook and pin it for future reference on Pinterest.
If you'd love even more inspiration and recipes for a gluten-free dairy-free diet, be sure to grab my free shopping list – plus 5 free recipes – by entering your details below!