There is nothing more romantic than chocolate covered strawberries. Truth be told, I wouldn't say I'm the most romantic gal on the planet. I'd definitely choose practical over romantic any day of the week. But there's something just so quintessentially sinful about slathering chocolate on top of an otherwise totally healthy and already delicious fruit.
As I was thinking up ideas for how I could make this year's Valentine's Day special this year – it is our last kid-less one after all – I was trying to come up with an idea for breakfast that could be fun and festive, yet not totally over the top. Something that tasted great, felt a little different, and didn't leave us feeling incredibly gross from the sugar overhaul afterwards.
My solution? The chocolate covered strawberry smoothie. I wrote a very similar recipe to this last year and shared it over on The Peaceful Mom. This year, I've updated my recipe a little bit (after a few chocolate covered cherry smoothie trials) and am loving it even more than last year's.
As a side note, you can easily swap out the strawberries for any other fruit that you'd like to "cover" with chocolate. I just happen to love the lightness of this option – and I think you and your Valentine will too.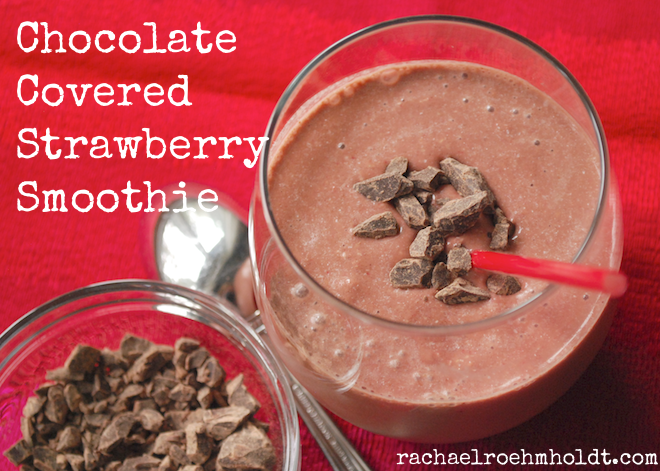 Chocolate Covered Strawberry Smoothie
Ingredients
1 ½ cups almond milk
1 ½ cups frozen strawberries
2 tbsp unsweetened cocoa powder or raw cacao powder
1 small banana
2 tbsp flax seed
1 tbsp honey (optional)
Instructions
Place all ingredients in a blender (I love my Vitamix for this).
Blend until all ingredients come together and everything is smooth.
Share with your sweet Valentine (or enjoy all to yourself!).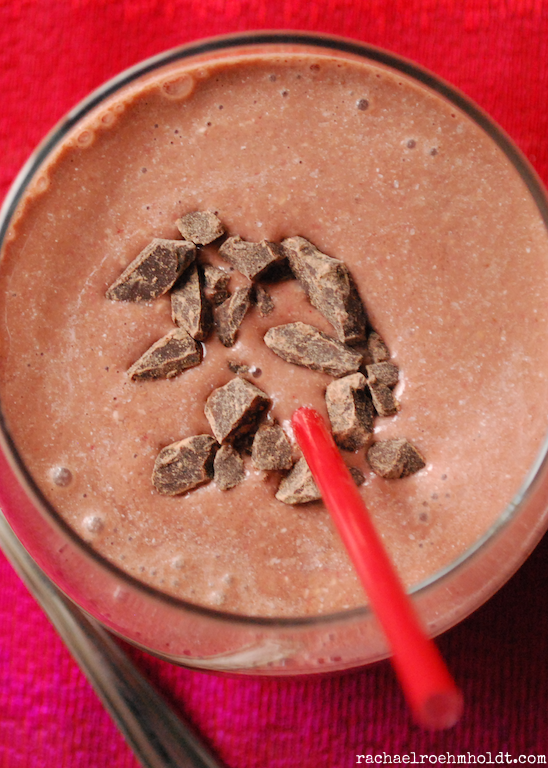 What yummy recipe will you be making for your one and only for Valentine's Day this year?