It's probably no surprise that I'm a huge fan of smoothies. As a health coach, I know that smoothies can be one of the quickest, easiest and most delicious ways to get your fruits and veggies in each day. While I'm a big fan of green smoothies, lately with this pregnancy I've been making my way back to fruit smoothies.
Fruit smoothies sometimes get a bad rap due to their high sugar content, but they're also great for getting valuable antioxidants, vitamins and phytonutrients into your diet regularly. Of course, if having a fruit smoothie makes you feel like you're not doing your body enough good, you can add a handful of spinach or other leafy green to bump up the nutritional value. I do a bit of both these days and feel like my diet is pretty well balanced.
My latest smoothie concoction came from a bunch of fruit I had either in my fridge or freezer and I fell in love not only with the flavor, but the color! Look how beautiful bright pink this gorgeous smoothie is. There's likely nothing more sunny and chipper than a hot pink drink on a cold winter day.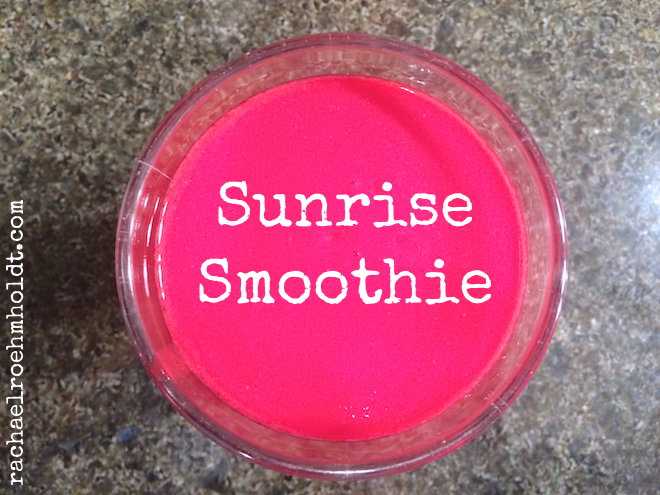 Sunrise Smoothie
1 cup frozen raspberries
1 banana
1/2 orange, peeled
1/2 lemon, juice only
Combine all ingredients in a blender and serve. Serves 1 or 2.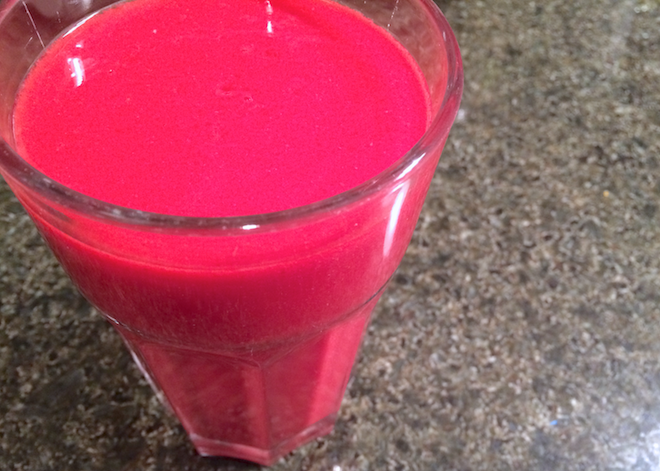 Truth be told, this smoothie made me feel a little bit better about not being taken along on a tropical vacation like my hubby got to go on a few weeks ago to Hawaii. I know he lived it up with his coworkers and pals and had fruity drinks at the bar and on the beach.
I'll be the first to admit I'm jealous, but I also know if I tagged along, I wouldn't have been able to have any alcohol in my drinks anyhow with little Baby R on the way. This was a nice way to remind myself I can get out of my mental funk and have a tropical holiday in my own home whenever I want.
I loved the tartness of this fruity smoothie from the raspberries, lemon and orange and plan to make this one again in the very near future – or at least every time I'm ready to whisked away somewhere tropical!
What yummy smoothies have you made lately?