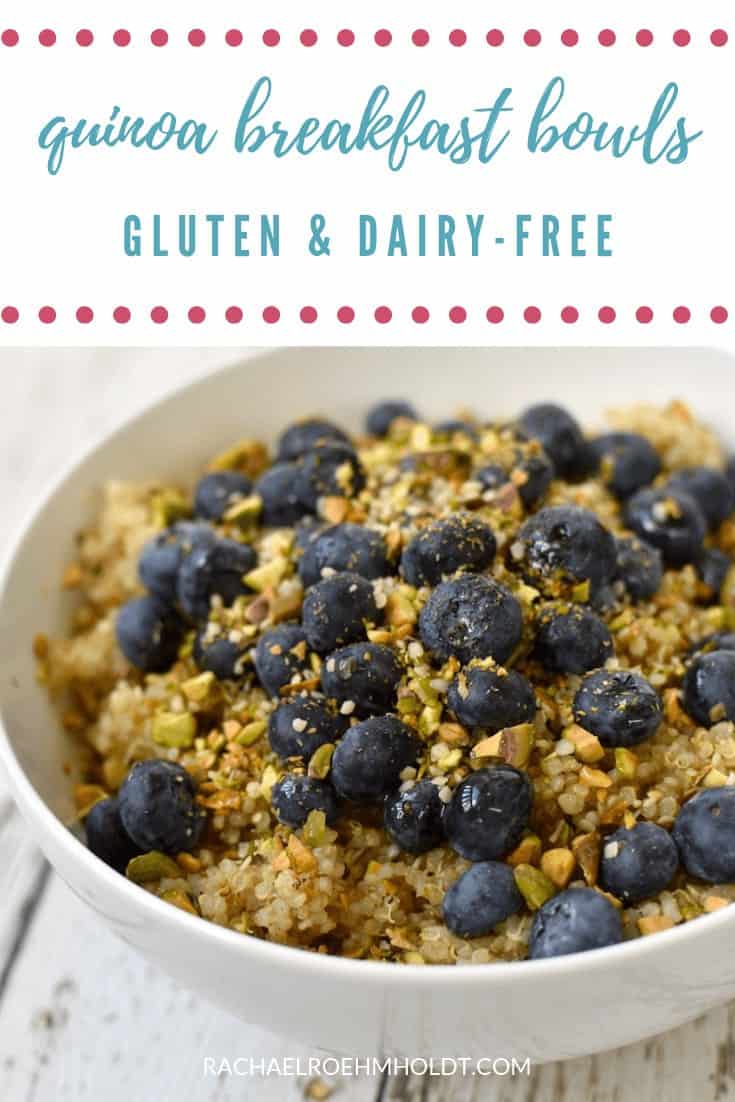 Looking for a healthy gluten-free dairy-free breakfast idea? Check out this quinoa breakfast bowl for a fast and filling breakfast perfect for back to school season.
Note: I am a proud Amazon affiliate and am happy to recommend their service and products to you. Please know that as an affiliate, I may receive a small commission on the products you purchase after clicking through my links. For more info, please see my disclosure policy here.
When it comes to getting breakfast on the table, my only rules are that it has to be fast, healthy, and filling. While plenty of things fit those criteria, one recipe that I come back to time and time again are Quinoa Breakfast Bowls.
Not only are they great for a gluten and dairy-free diet, but they're full of protein, packed with flavor, and completely versatile.
You may or may not be familiar with breakfast bowls, but put simply: a breakfast bowl is just throwing some of your favorite breakfast foods in one dish and calling it a meal.
I know that may sound slightly obnoxious, but this is how a lot of my meals come together. When something tastes good, why complicate it?
A lot of my breakfast bowls are made in the same way that I eat oatmeal. But I don't limit them to just oatmeal: many times I'll make a big batch of quinoa, buckwheat, or brown rice.
For the sake of today's post, I'm going to share some of my best ideas for quinoa breakfast bowls.
I choose quinoa for my breakfast bowls over and over again, because:
It's easy to make a big batch all at once in my Instant Pot

It keeps well in the fridge for up to 5 days – awesome for meal prep

Quinoa is packed with protein and fiber, which is great for getting you going in the morning and to keep you full until lunch

It's super versatile – you can add all kinds of different ingredients to make it sweet or savory

It's super quick to reheat and eat later in the week

It's naturally gluten-free and dairy-free!
Quinoa is insanely easy to make on the stovetop or my favorite – in my Instant Pot. This is the Instant Pot I have and all I have to do is add water and quinoa to the pot, turn it to 1-minute on the Manual setting, and it's ready in about 10 or 15 minutes. Super easy!
What's great about these quinoa breakfast bowls is that they're versatile. You can make it taste just about any which way you want.
You can make it taste like French Toast one day, then like a eggs and bacon the next. You could add sautéed kale and a fried egg to it, or mix in some cooked sweet potato and hot sauce for another meal.
When you make up a big batch of quinoa and store it in the fridge in a sealed container, all you need to do is reheat it in the fridge or microwave, add some toppings – and voila! Breakfast is done!
Here are some of yummy gluten-free dairy-free quinoa breakfast bowl ideas:
Fresh berries + toasted nuts + cinnamon + vanilla

Bananas + peanut butter

Coconut milk + cinnamon + raisins

Sautéed chard + fried eggs + avocado

Roasted sweet potatoes + scrambled eggs + bacon

Roasted bell peppers + avocado + scrambled eggs + hot sauce
Honestly, the options are endless with these quinoa breakfast bowls. If you're looking for a quick-fix breakfast idea – these are it!
Check out my blueberry + pistachio + cinnamon + vanilla quinoa breakfast bowl below!
Yield: 1 serving
Quinoa Breakfast Bowls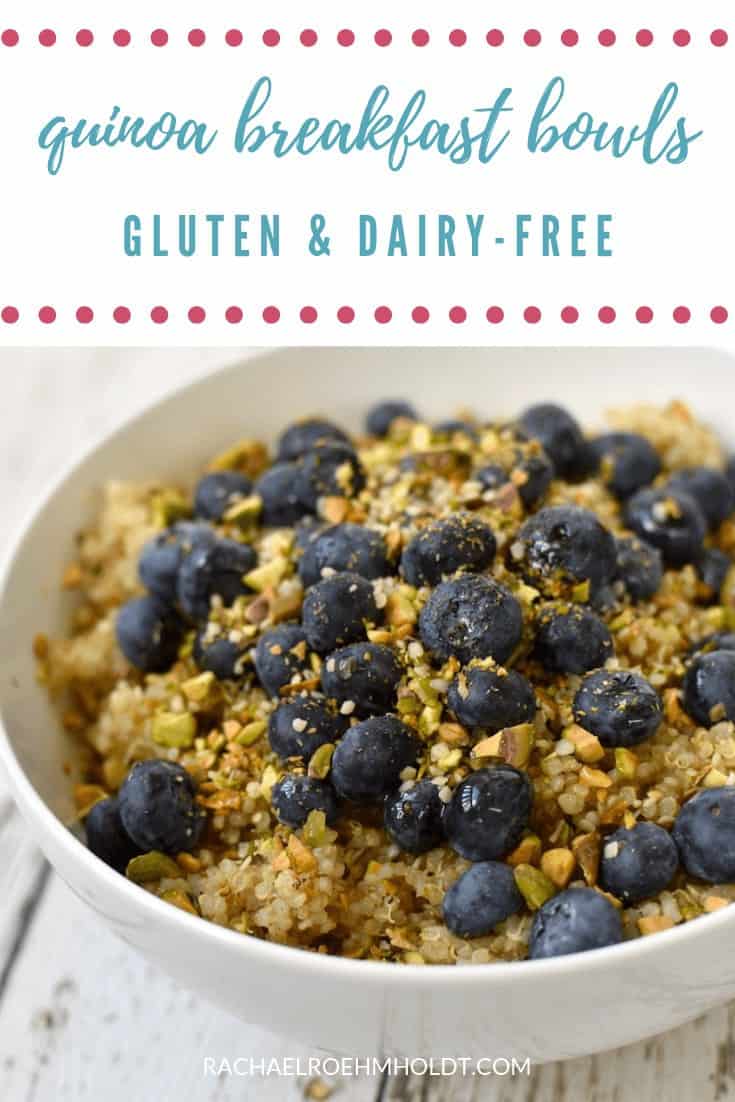 Quinoa breakfast bowls are great for a gluten and dairy-free breakfast idea! Make the quinoa ahead of time, then reheat and add your favorite toppings!
Ingredients
2 cups water
1 cup fresh or frozen berries
Handful your choice toasted nuts, chopped
Instructions
Heat quinoa, water, and cinnamon in a pot over medium high heat. When the water comes to a boil, reduce the heat to low, cover and cook for 15 minutes.
Once the quinoa is cooked, stir in the vanilla.
You can dish up your breakfast bowl right away or transfer to an airtight container and place in the fridge. When ready to eat, add cup quinoa to a bowl and pile high with berries, walnuts, and top with a drizzle of maple syrup.
Notes
Make it your own! Try any combination of toppings - fresh or frozen fruit, spices, nuts, or sweeteners.
Recommended Products
As an Amazon Associate and member of other affiliate programs, I earn from qualifying purchases.
Love this content? Be sure to save it on Pinterest or share with your friends on Facebook! If you want to hear more from me every week for more gluten-free dairy-free content, I'd love to share with you my free shopping list and 5 sample recipes! Just enter your details for instant access.
Love this post? Be sure to check out some of my other great breakfast posts!
Not sure what to make for breakfast on a gluten and dairy-free diet? These posts will give you loads of ideas!