Can I just be real for a minute?
No one tells you how hard motherhood will hit you. Maybe some women go through their entire child's lifetime thinking "wow, I really have this under control."
I'm just a little over 13 months in to my sweet baby's life and I do NOT have anything under control yet.
The truth is that I had very different ideas of what motherhood would be than what it has turned out to be (that's gotta be normal, right?).
Don't get me wrong. It's amazing to watch this little human – this miracle… that you CREATED – learn things. Grow. Develop. And just be totally awesome in ways you never knew possible.
I am amazed every time I see him gain a new skill – even if it involves pulling every item from the bottom three shelves of the bookshelf and each item has to be moved up to the next shelf (just slightly) out of reach.
Or how he learned to turn pages – that's freaking amazing to watch for the first time. Until he learned how to rip half the pages out of most of my cookbooks.
Or how much he LOVES toilet paper… I've got to give the kid props for his attention to detail to get those pieces so very very tiny.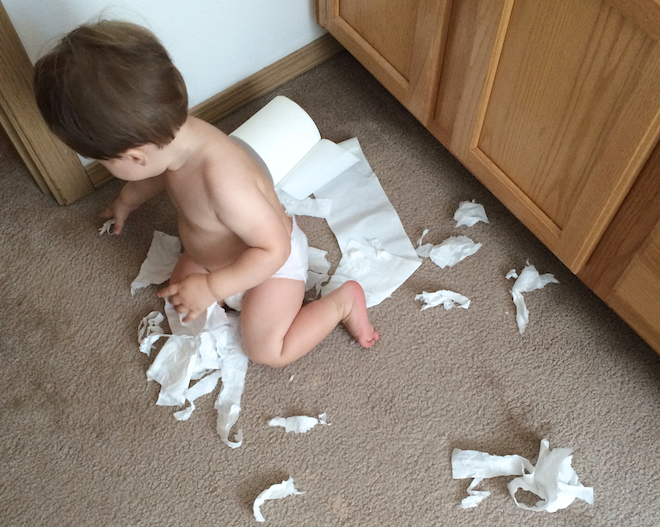 Almost everything has been half amazing, half terrifying, and half stress-inducing. That's too many halves. But you get what I mean.
My ideal life as a mother involved a sweet darling little boy who nursed himself to to a happy deep sleep, then slumbered away for hours in his crib while I snuck away to get some mama time.
But reality hit hard when my little boy came along. And he is not that "normal" stereotypical baby who sleeps anywhere, loves to go for rides in the car to mellow out, or just snuggle.
This kid was brought to this planet for amazing things. But as far as I can tell, for MY life – he is meant to teach me patience and flexibility.
Take for example sleep.
My son has NEVER wanted to sleep independently – from the moment he came into the world. For the first five months of his life, I tried (very determined and naively) to get him to sleep on his own. This kid wasn't going to sleep in a crib, in a carseat, in a bouncer, in a swing.
Nope, he still – to this day, at 13 months, will only nap in my arms. I know. It sounds crazy even typing it. But it's my reality. (Side note: he can sleep on his own for the first few hours of the night which actually allows me a tiny reprieve during my day).
He loves his mama. He loves to nurse. He loves to nurse and sleep at the same time. He most certainly does not love to sleep alone. Which is why we have been co-sleeping. Or n0-sleeping as I like to call it.
All the "snuggling" at night actually means I get shoved off to the side of the bed and barely sleep all night, while in a weird contorted position, so I (hopefully) don't wake him while moving. It's absurd – and yet, it works for our family right now.
This minimal "me time" and less-than-great sleep has forced me to get a LOT more organized for mornings. That means planning ahead on what I'll be eating – and oftentimes, preparing breakfast ahead of time, so I can sneak in a few extra(alone) minutes of sleep when my hubby lets me.
One of the breakfasts I've been making a lot lately is overnight oats. These are so easy to put together – and I like to create a double batch (for two of us) so I can double my efforts and meals. Plus they're awesome, because you can eat them hot (warm them in the microwave) or just plain cold – which is great in the summer.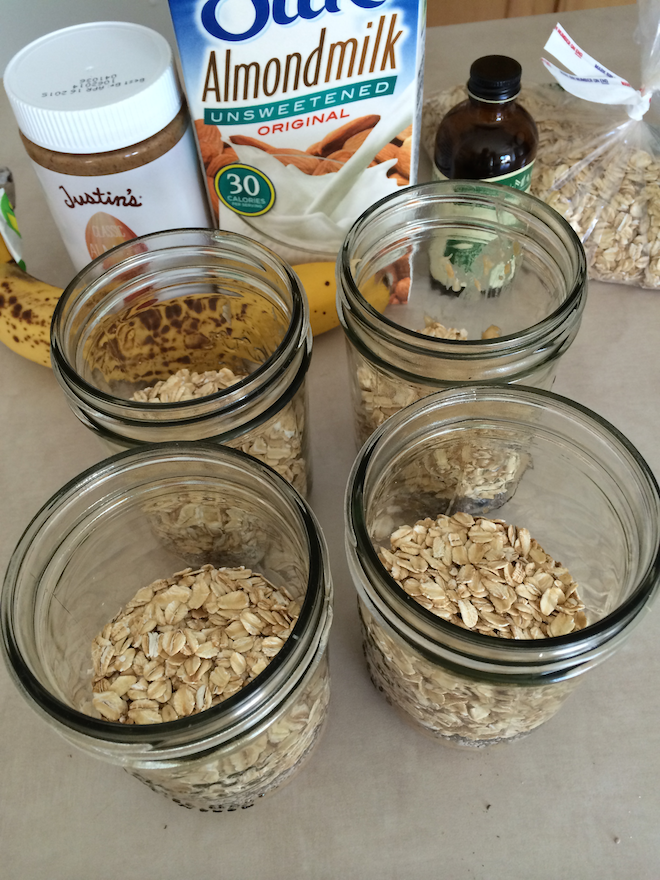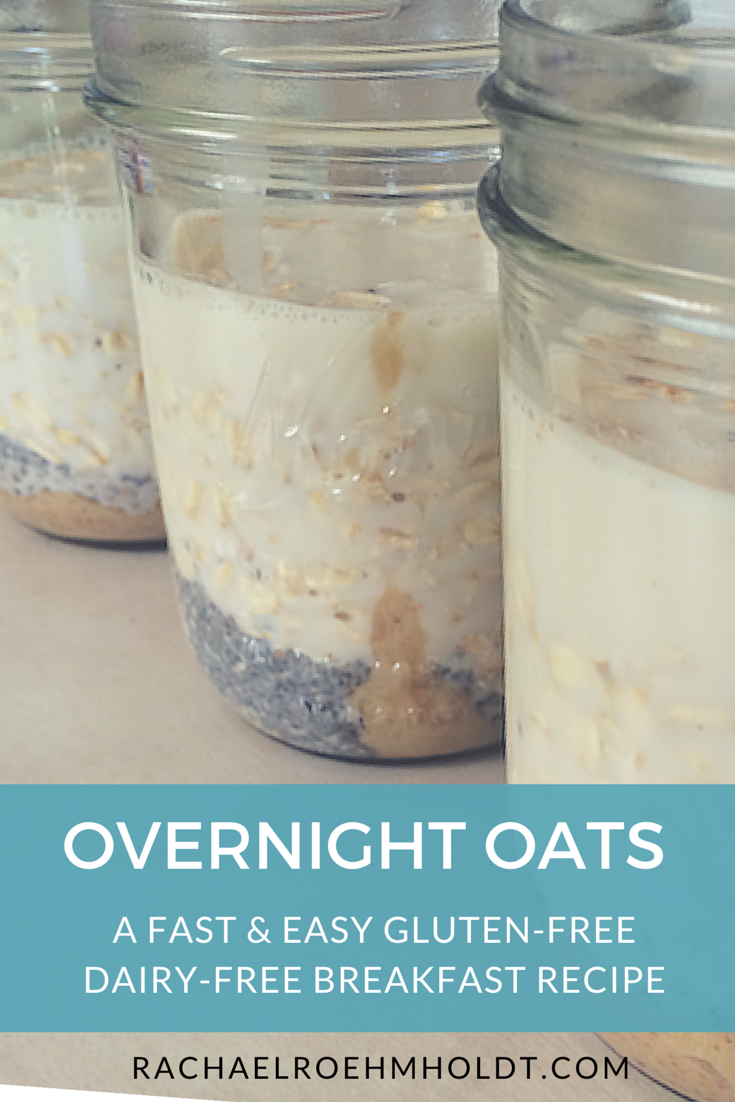 Here's a few tips on how I put my overnight oats together:
Add the liquid last
Pump it up with some protein and/or superfoods
Use any nut butter or non-dairy milk that you like – there's no right or wrong
Get creative with fruit or veggie combos (pumpkin, applesauce, or pureed berries would be great too!)
Use any container with a lid that you like – pint-sized mason jars are great for this
Read on: Are oats gluten-free?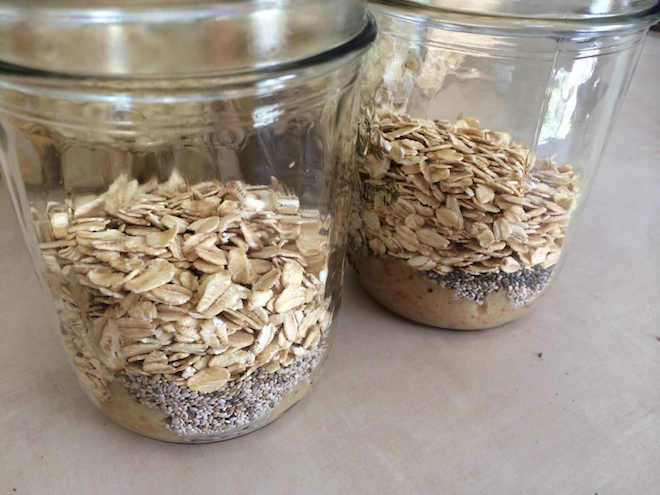 Almond Banana Overnight Oats
Makes one serving (double or triple for multiple servings)
Ingredients
Directions
Combine all ingredients in jar or bowl.
Mix together.
Cover with lid.
Refrigerate overnight.
Pull out of fridge and dig in – or warm through in the microwave before enjoying.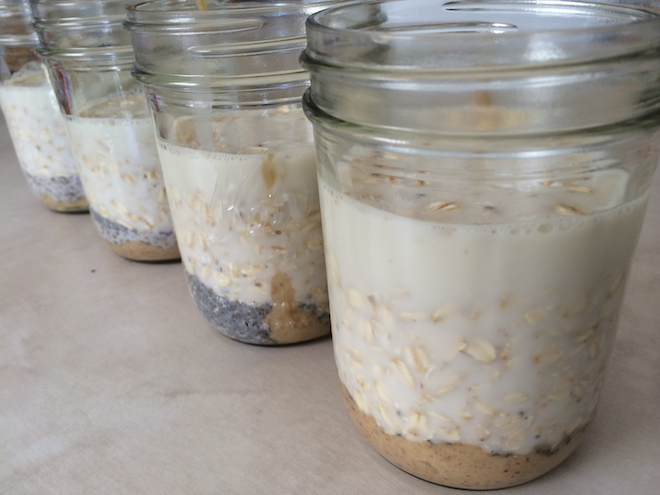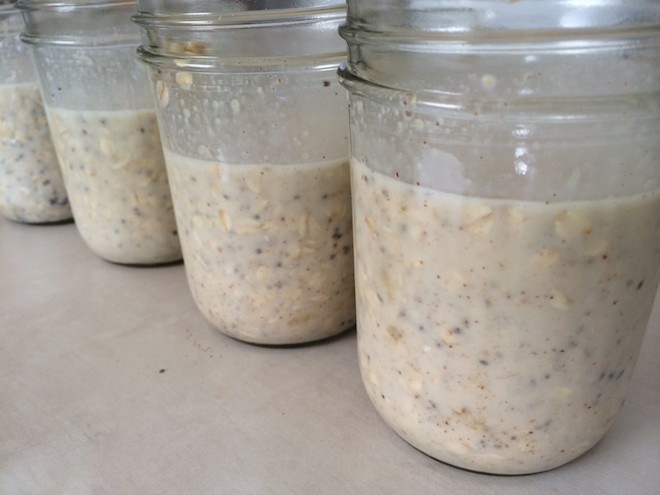 Get the FREE Gluten-free Dairy-free Shopping List
Get access to the most comprehensive - and healthy! - gluten-free dairy-free shopping list around!
Plus get 5 sample gluten-free dairy-free recipes!