I've always been a big fan of breakfast. When I was younger, my mom always made special breakfasts every Sunday morning before the whole family headed off to church.
It was never anything too fancy – waffles, pancakes, or eggs, toast and bacon. But it left a lasting impression that breakfast could and should be simple during the weekdays and a little more interesting once the weekend came around.
All through my early adulthood, I would still hold this tradition in place – making waffles, frittatas, or pancakes on the weekend (admittedly, I never seemed to completely master the non-burnt pancake-making skill). I started to discover just how much I loved creating a homemade breakfast of my own – for myself and now – my husband too.
One of the few recipes I mastered – before going gluten-free and dairy-free (and for now egg-free), was biscuits and gravy. It wasn't like I made them from scratch or anything – but they were a decadent treat that I looked forward to a few times a year.
I'd pop open a can of biscuits (you know the ones), toss them in the oven and get to work on my sausage gravy. I have to tell you that once I learned how to make gravy in my early 20's, almost every recipe I made was slathered in it.
I said "sayonara" to gravy when I left gluten and dairy in the dust a few years ago. I never tried to recreate it – because well, gravy is mostly delicious because of the flour and the milk. And biscuits just didn't seem like biscuits if they weren't made with all-purpose flour. Or so I thought.
I finally got around to trying to make this recipe more "allergy-friendly" – free of gluten, dairy, and eggs – last weekend. I've got to tell you, it wasn't as bad as I thought it would be.
My fear of recreating a food that I had such fond memories of was overcome with the sheer determination to stop eating oatmeal every morning – and start enjoying my weekend breakfasts again.
Over time, I think I've finally come around to the fact that gluten-free dairy-free baking and cooking doesn't have to be scary. I was always nervous about all the ingredients, doing things wrong – having no idea what kinds of gums or starches I'd need (or what the purpose of them really was). I've gotten comfortable with it all in the past couple years and you know, I was impressed with myself when all was said and done.
The recipe turned out damn delicious. Maybe it's because I hadn't had "real" biscuits and gravy in years. Or maybe it's because I've gotten used to the flavor of gluten-free biscuits after trying to find just one that tasted decent and didn't take a million steps to make them.
Of course, these don't taste exactly like my old recipe. But they're an excellent replacement that works so well with where I'm at with my diet now. And I can't deny that having something like biscuits and gravy once in a while on my weekend breakfast rotation makes me feel deprived in the least while living with food intolerances.
Gluten-free Dairy-free Biscuits & Gravy
Serves four
Easy Gluten-free Biscuits Recipe
Recipe from The Whole Life Nutrition Cookbook
Ingredients
2 cups brown rice flour
1/2 cup tapioca flour
2 tsp baking powder
1 tsp xanthan gum
3/4 tsp sea salt
1/2 cup cold coconut oil
3/4 cup hemp milk
Directions
Preheat oven to 425 degrees F.
Combine brown rice flour, tapioca flour, baking powder, xanthan gum, and sea salt in a large mixing bowl.
Add the coconut oil. Mix together with your fingers until well combined and crumbly.
Slowly add the milk, stirring with a wooden spoon as you pour. Gently knead the dough with your hands until just combined, being careful not to overmix.
Drop batter onto a cookie sheet by the large spoonful (they give instructions for how to make these biscuits rolled and pretty, but I take this shortcut).
Bake for 10 to 12 minutes, or until done.
Sausage Gravy Recipe (gluten-free, dairy-free)
Ingredients
1 package pork breakfast sausage

1 cup hemp milk
1 cup chicken stock
2 1/2 tbsp cornstarch
Directions
Heat a skillet over medium high heat. Cook breakfast sausage until brown.
Mix together hemp milk, chicken stock, and cornstarch in a bowl, then pour into the skillet.
Stir the gravy until it is heated through and has noticeably thickened, about 5 minutes.
Remove from heat then ladle over gluten-free biscuits. Enjoy!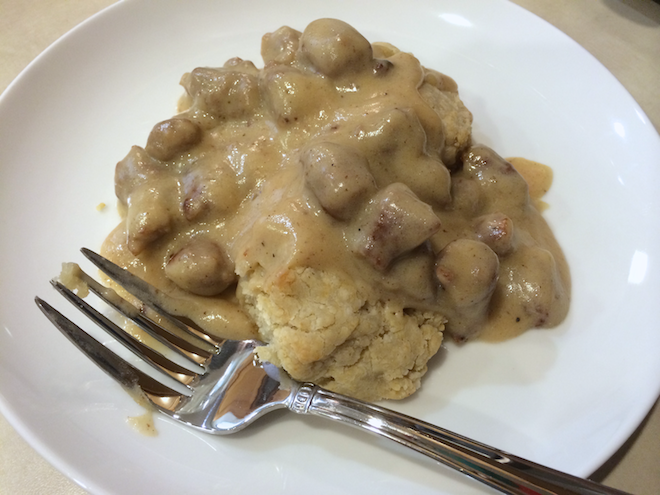 Now it's your turn – share in the comments what your favorite breakfast food is – either that you've eaten recently or had in a long time.