Try these delicious lemon blueberry almond flour muffins that are full of flavor and made with no gluten, dairy, or eggs.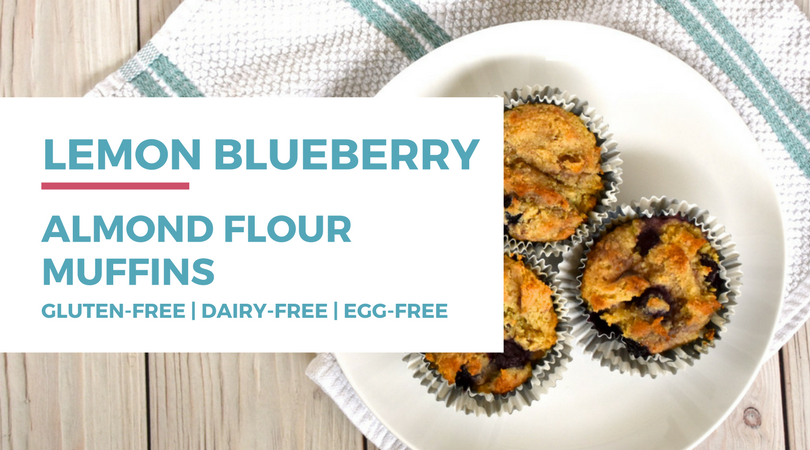 Note: I am a proud Amazon affiliate and am happy to recommend their service and products to you. Please know that as an affiliate, I may receive a small commission on the products you purchase after clicking through my links. For more info, please see my disclosure policy here.
Let's talk a little bit about being a blogger. I've been blogging for at least half my life in some form or another. Back when I was a teen, I had a Melodramatic account (anyone remember this site??), followed by Livejournal. My Livejournal account followed me all the way through college and even a little bit through the first part of my 20's when I was getting started in my corporate career (and then leaving it).
I've had multiple other blogs ranging from talking about lifestyle (really just random ramblings), health, food, being a stay-at-home mom, and this specific blog where I talk about my gluten-free dairy-free diet and lifestyle.
What I've found in my half-life of blogging to be so insanely interesting is how pervasive blogging is to the life of a blogger. (Did I lose you there?)
I mean, as an example, I used to simply make food and go about my day, feeding myself. I used to think of little anecdotes throughout my day that meant only something – or nothing – to me. As a blogger, I feel like I have to capture these interesting notes, thoughts, and ideas so that I can share them.
I have to take notes on what is interesting so when I come here to say something anything I have SOMETHING of interest to say to you. Because we all know that the ins and outs of anyone's day (including bloggers) are just straight-up boring. We go through the normal routines and maybe have a few interesting things to note, but we often never actually write them down. I mean, what would you do with random thoughts that mean close to nothing?
Well, for a blogger those nothings can become everything. So having been a blogger in some format since I was in my teens, I'm always looking for those little nuances or random trains of thought to share with you.
Still with me? Here's today's random train of thought
When it comes to food blogging, I'm convinced that none of us food or health bloggers think that we have it all figured out, that our recipes are somehow more interesting or better than anyone else's, or that by making someone else's recipes or taking some other blogger's advice is less than. Because we're all just contributing to a bigger conversation in some way.
One hangup I've had about being a food/specific diet/health blogger over the years is around making and sharing other people's recipes. For some reason that felt like cheating. Like who am I to make someone else's recipe and then share it? And I don't mean as my own (that's just not cool, man), but even photographing it or citing it back to its original creator.
So today when I made a blueberry muffin recipe from someone else's blog and altered it to suit the ingredients I had on hand and what sounded good to me, I thought to myself as I was eating it "Man, this is so good it's shareable." And I had full intentions of just sharing out the link and saying "Hey friends, this is good, try it!"
But then I thought that there must be some missed opportunity to add to the conversation. To tell you how I changed the recipe to suit my needs and my swaps to make it my own. To tell my side of this recipe's story.
Yeah, this recipe is awesome. It turned out great. And my son gobbled one of these muffins up in 1 minute flat. Which is saying a lot for the kid who refuses to eat ANYTHING that I tell him we're having for breakfast, lunch, or dinner.
I think as bloggers, we all have some sort of responsibility to share what we make/create/believe in, give our version of what's good (not what we think is better), for the greater good.
We all have voices that should be heard. Even if you read 176 blogs about being and eating gluten-free and dairy-free, you come here to hang out with me and hear my stories for some reason, yeah? And I'm so happy you're here. I'm so happy that I get to make food, take pictures of it, and share silly stories about my life. It's the most fun thing ever to me.
So all this to say I found a freaking delicious gluten-free dairy-free blueberry muffin recipe. I made some swaps to it. I loved it. I enjoyed it. I want you to try it. And I want you to know who wrote this original recipe too. Because she's awesome. She's adding to the conversation too. And I'm sure she loves what she does also.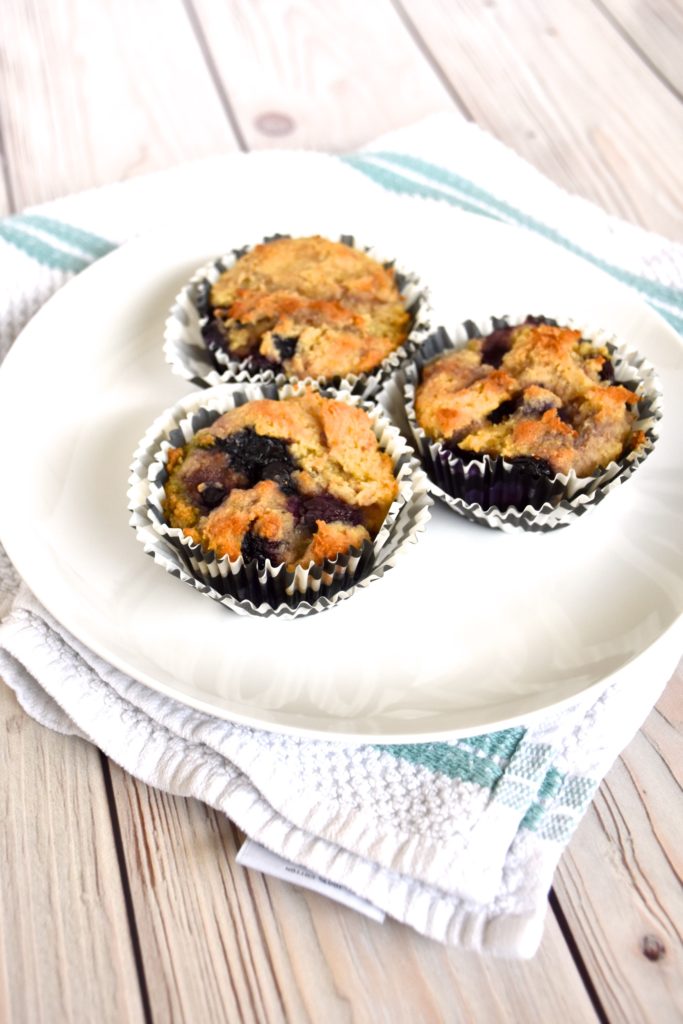 Lemon Blueberry Almond Flour Muffins
Gluten-free Dairy-free Egg-free
Recipe adapted from Veggie Balance
Ingredients
Directions
Preheat oven to 350 F.
Prepare muffin tin with muffin liners or grease.
Add all ingredients except the blueberries into a large bowl. Mix together until texture thickens and ingredients are combined.
Fold in blueberries.
Spoon batter evenly between muffin pan filling them almost full.
Bake for 20-25 minutes.
These muffins had the perfect balance of lemon and blueberry with enough muffin goodness in between. The batch made 8 muffins instead of the 6 that the recipe developer mentioned, and she cautioned against using frozen blueberries, but I didn't find them to be a problem with them. I was surprised how much my husband – who eats a 'normal' diet – liked these. He was eating all the extras the next day, which shocked me. He usually leaves every single baked good I make on the counter for me, but these ones I was swatting his hand away from to leave some for me.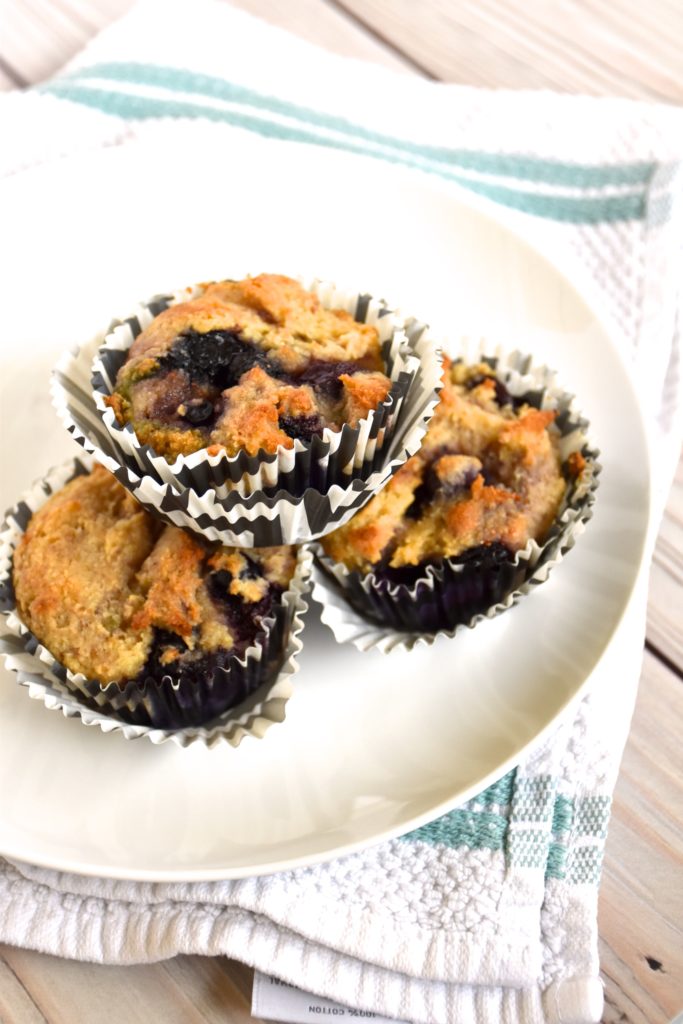 If you love muffins and are still trying to keep things allergy-friendly with a gluten-free, dairy-free, and egg-free version – I hope you love this one. And thanks again to Lindsay from Veggie Balance for the recipe inspiration for this one.
If you loved this post, be sure to download my free gluten-free dairy-free food and shopping list plus 5 sample recipes by entering your information below.

Love this post? You might also want to check out these!
Find recipes and inspiration for sticking with your gluten and dairy-free diet throughout the spring months!