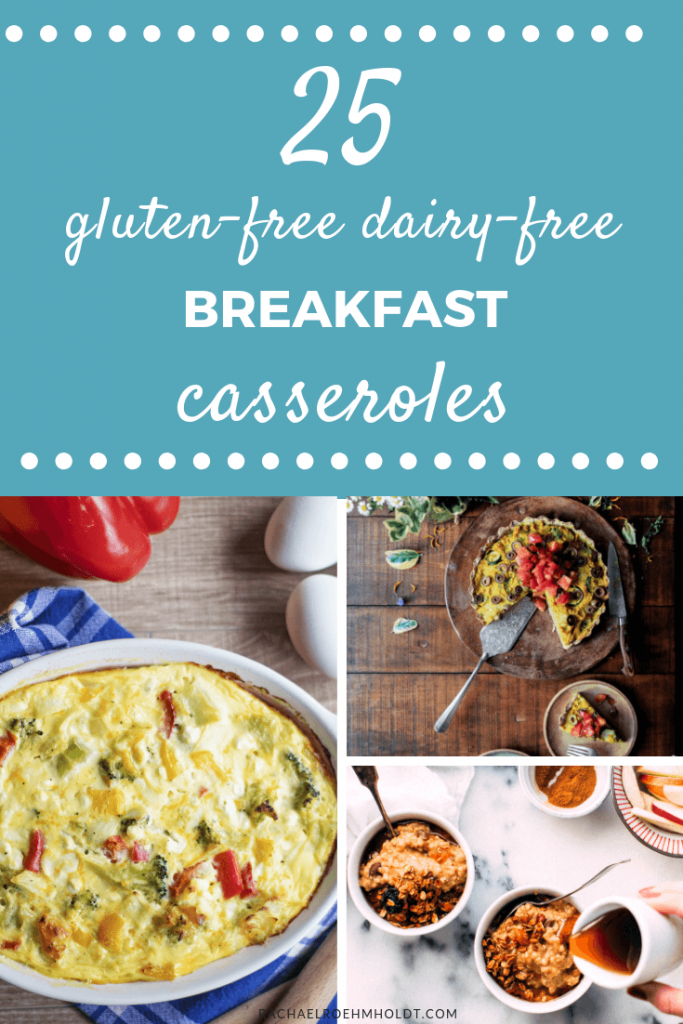 Note: I am a proud Amazon affiliate and am happy to recommend their service and products to you. Please know that as an affiliate, I may receive a small commission on the products you purchase after clicking through my links. For more info, please see my disclosure policy here.
Time isn't always of the essence when it comes to mornings around my house. Whether it's getting my kid ready for the day – or myself, I don't love spending a ton of time in the kitchen.
But that doesn't mean we don't make time to eat. Even on a gluten-free dairy-free diet, breakfast time is important in our house.
If you think that just because you're gluten and dairy-free that you can't enjoy the ease of throwing some ingredients together and tossing it in the oven while you continue on your frantic pace to move things along in the morning, you're wrong.
Breakfast casseroles are an awesome pseudo shortcut to getting a tasty and hearty breakfast to the table without having to spend tons of time actually IN the kitchen.
You might think it's tricky to actually have a dairy and gluten-free breakfast casserole, because so many of them use bread, milk, and cheese in the ingredients.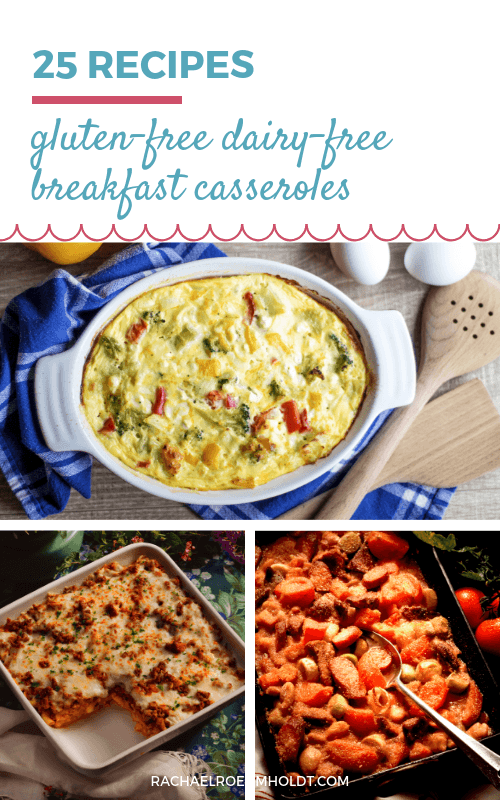 You're right – it definitely takes a little bit of know-how to make the proper swaps to make it work. BUT it's totally do-able – and I'm determined to show you in this recipe roundup blog post.
Inside this gluten-free dairy-free breakfast recipe roundup, I've gathered up some of the best recipes I could find that fit the needs of a hearty breakfast full of things like eggs, bacon, or sausage – without all that bread, cheese, and milk that we stay away from on a gluten and dairy-free diet.
I've included recipes ranging from sweet to savory, Mexican to pizza dairy and gluten-free breakfast casseroles.
There are even French toast, oatmeal, sweet potato, and veggie breakfast casseroles. So many options – so many delicious healthy gluten-free breakfast casserole recipes to try!
As you make your way through this recipe roundup, you'll want to be sure you've got everything you need for whipping up any one of these recipes when you know you have friends coming over, have some serious getting ready to do, or when you're asked to bring a dish to brunch.
These recipes are also great for holidays, like Thanksgiving breakfast or Christmas brunch, because many of them can be made ahead of time. Below are my top 10 tools to keep on hand for any breakfast casserole creation.
Read on: 25 gluten and dairy-free brunch recipes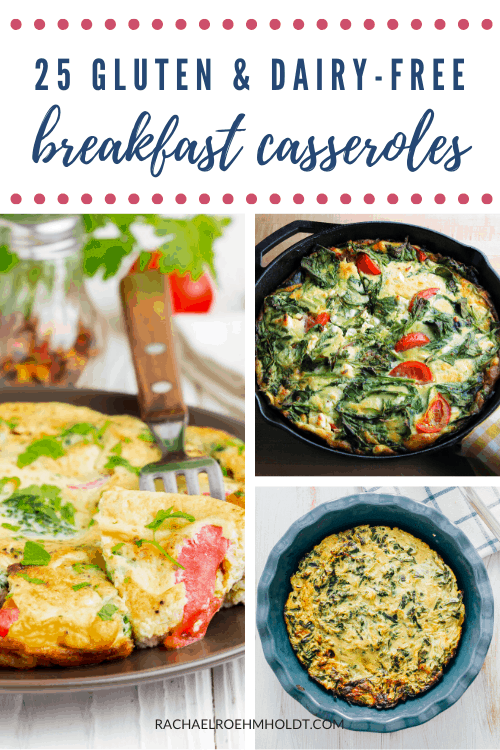 Top 10 Tools for Dairy and Gluten-free Gluten-free Dairy-free Breakfast Casseroles
If you're wondering what tools you need to make delicious breakfast casseroles easily in your kitchen, these are the things I'd consider checking your kitchen for. If you don't have any of them and are looking for a tool to fill that gap in your tools, consider one of the links for each of the items below.
Dairy and Gluten-free Breakfast Casseroles with Potatoes
Potatoes are a go-to ingredient for many home cooks for breakfast, because they're hearty and filling. Plus, they're often one of the most inexpensive options in the produce department. Check out these recipes with both russet and sweet potatoes to help you make a delicious gluten and dairy-free breakfast casserole.
This make ahead Mexican breakfast casserole has got to taste good, because it has almost all my favorite Mexican flavors included: ground beef, sweet potatoes, jalapeno, chili powder, and tomatoes.
Add some eggs, spinach, and some seasonings – and a beautiful breakfast that can be prepped ahead is born.
This Mexican breakfast casserole is a great option for a weekend morning when you know you have to be somewhere and you won't have time to prep. You can simply pop it in the oven as you get ready for the day and have breakfast ready when you need it.
Read on: 25 Gluten and dairy-free Mexican casserole recipes
This slow cooker breakfast casserole looks divine. It's made with sausage, onion, garlic, sweet potatoes, mushrooms, and bell peppers. No one will even know it's gluten-free and dairy-free friendly.
I love dishes like this, because you can make it overnight and have it ready for you when breakfast time rolls around. This dish is full of protein so you can fill up before getting on with your busy day.
Sweet potatoes are probably one of my all-time favorite ingredients, because they're starchy and sweet but also jam-packed with vitamins you need. This sweet potato breakfast casserole is going on my must-try list ASAP.
This breakfast casserole dish has sweet potatoes, Italian sausage, green and red bell peppers, and loads of protein-rich eggs. You'll love this savory breakfast casserole dish!
Read on: Are sweet potatoes gluten-free?
This recipe looks amazing and blogger, Becky from a Calculated Whisk says it's packed with flavorful ingredients that no one will ever notice it's dairy-free. Plus it's make ahead friendly – woo!
This dish has bacon, sausage, AND eggs – if you're looking for a big-time protein option for a meal prep breakfast, this is a great option for you
Read on: Is bacon gluten-free?
This sweet potato sausage breakfast casserole is perfect for any breakfast or brunch. It's hearty, filling, and has no added sugars, gluten, or dairy.
With sweet potatoes, onions, bell peppers, and sausage all in an egg-based breakfast casserole, know that you're getting loads of healthy ingredients in one delicious breakfast dish.
While most breakfast casseroles have eggs in them, I wanted to include just one recipe in this roundup that was egg-free.
This gluten-free breakfast casserole with potatoes recipe is made with sausage, onion, cornstarch, hash browns, and some optional spices. It's essentially sausage gravy on a bed of hash browns and dairy-free cheese on top.
I've made this recipe a handful of times and it is delicious! This recipe has quickly become my go-to dairy and gluten-free breakfast casserole choice. I even made this for Christmas breakfast for myself, while I made a cheesy egg breakfast casserole for the rest of my family.
Read on: 21 gluten and dairy-free Christmas breakfast ideas
This recipe is super healthy and full of nutrient-dense foods like sweet potatoes, spinach, and baby peppers. You'll need to swap out the cheddar cheese for Daiya cheddar cheese shreds or omit the cheese completely – and it will still taste great.
This recipe uses Egg Beaters, but if you can enjoy eggs in your diet, feel free to use them in this dish.
Read on: Are potatoes gluten-free?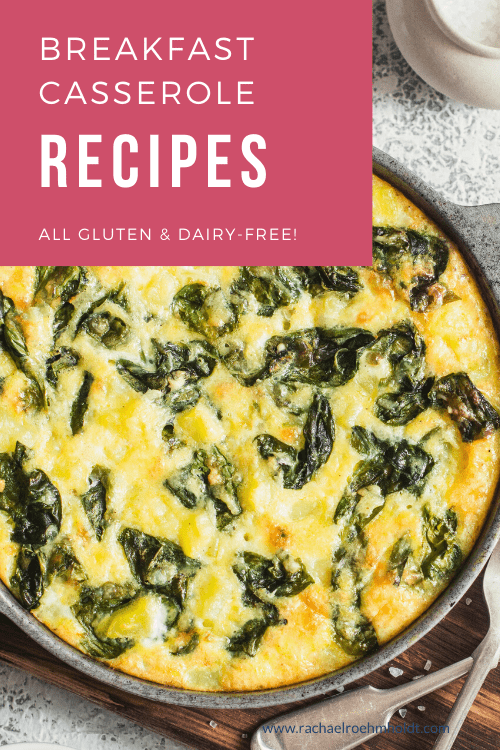 Dairy and Gluten-free Breakfast Casseroles with Spinach
Spinach is a popular addition to gluten-free breakfast casseroles, because it's naturally gluten-free, is full of fiber and vitamins that your body needs. Enjoy some of these delicious breakfast casseroles that highlight the ease of getting your greens first thing in the morning.
This hamburger spinach quiche was remade from a favorite recipe. Author MamaShire leaves out the crust for an instant gluten-free upgrade – and you have the option to use dairy-free cheese or skip it entirely for a dairy-free option. Looks delicious!
This ground beef and spinach egg casserole has only 9 ingredients, so you know it's got to be simple: olive oil, red onion, ground beef, salt, pepper, garlic powder, spinach, nutmeg, and eggs.
Without any gluten or dairy, you're still going to make sure you get your veggies and protein in this dish.
This delicious breakfast bake is packed with protein, fiber, and veggies – a perfect start for the morning. It's gluten-free and dairy-free too.
Two of the ingredients in this recipe you'll want to swap out are the milk and the shredded cheddar cheese.
You can easily swap these for coconut or hemp milk and Daiya cheddar cheese shreds to make this recipe both gluten and dairy-free.
I love the combination of spinach and artichokes – and if you're in my GFDF Weekly menu planning service, you'll see them incorporated into a few different meals over the months.
This breakfast casserole adds bacon, onions, garlic, spinach, and artichokes to the egg mixture before it bakes up. This savory dish is great for breakfast or even dinner!
I love recipes that look insanely healthy before you even have to read the recipe to find out what's inside.
This Whole 30 breakfast casserole combines super good-for-you spinach, eggplant, avocado, broccoli, and tomato with the egg mixture for the perfect mixture of veggies and protein to start your day off right.
Read on: 75 gluten and dairy-free breakfast ideas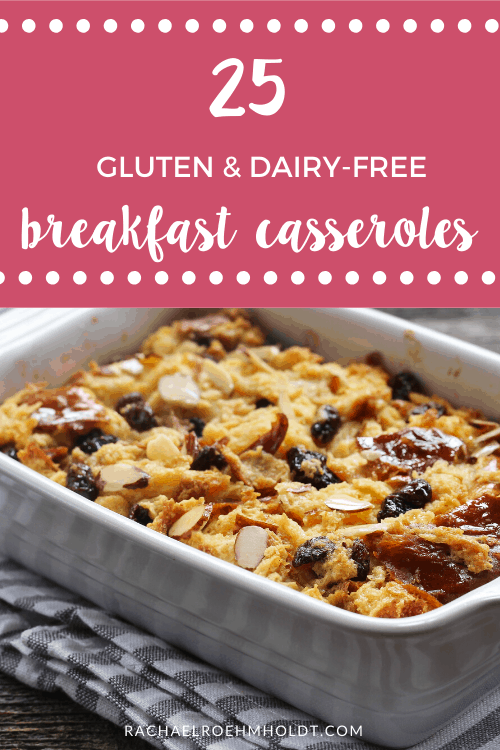 Sweet Dairy and Gluten-free Breakfast Casseroles
Some folks prefer a sweet breakfast while others flock to the savory. If you're someone who loves a sweet breakfast, you'll love these four sweet breakfast casserole options. There's both oatmeal and french toast casseroles to choose from.
I feel like I'm constantly on the hunt for a good french toast casserole recipe – and this one looks simple and straight forward. With gluten-free bread, berries, eggs, dairy-free milk, maple syrup, nutmeg, and cinnamon, this casserole sounds divine.
Perfect for any weekend breakfast or great for entertaining. This one only takes 10 minutes of prep and one hour of cooking time.
Read on: 7 Best gluten-free dairy=free bread brands
Overnight chai eggnog french toast casserole is an awesome make-ahead breakfast casserole option. While it says it's for the holidays only, you could totally swap the eggnog out for coconut milk to make it for any weekend brunch or breakfast year-round!
The recipe even says that's freezer-friendly if you want to prep ahead and enjoy in single portions.
Healthy apple pie oatmeal breakfast bake is a sweet option in this sea of savory breakfast casserole options.
With gluten-free rolled oats and almond milk, it's 100% gluten and dairy-free friendly – plus it's packed with superfoods like chia and hemp seeds, so you can feel good about indulging in this dessert for breakfast option.
While the title of this recipe is long, the prep time isn't. This recipe uses gluten-free cinnamon raisin bread, eggs, and pumpkin puree as a base. It's flavored with molasses, cinnamon, ground ginger, and ground nutmeg and has a delicious maple drizzle to go on top.
It's perfect for the cooler months with its fall and winter flavors of warm spices like cinnamon, ginger, and nutmeg.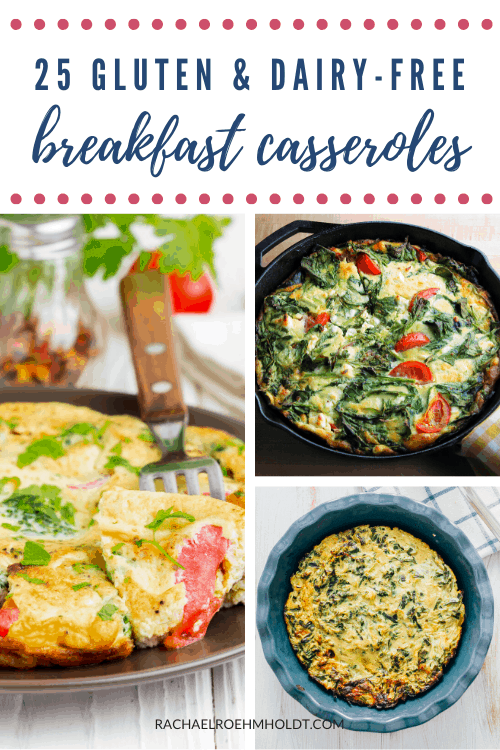 Savory Dairy and Gluten-free Breakfast Casseroles
For folks who love a savory breakfast, you'll love these nine gluten-free breakfast casseroles. Choose from sausage egg casseroles, Mexican casseroles, pizza casseroles, ground turkey casseroles, a roasted veggie casserole, and an eggs Benedict breakfast casserole.
Breakfast casseroles are a favorite in our house, but without the gluten and dairy- you have to get creative. This paleo and whole 30-friendly breakfast casserole makes it happen with bacon, ground beef, onion, garlic, zucchini, carrots, and eggs.
Try making this breakfast casserole ahead and freezing single portions to eat whenever you need a hearty breakfast done quickly.
I love that this gluten-free dairy-free sausage egg casserole can be made into individual portions so that you can make them ahead and reheat for easy on the go breakfasts.
This recipe only has five ingredients: ground sausage, eggs, dairy-free cheese, garlic salt, and black pepper. Super easy to prep and it only takes 30 minutes in the oven!
Pizza and breakfast? I'm in! This paleo and whole 30 breakfast pizza casserole recipe uses less than 10 ingredients is packed with flavor so you won't even miss the cheese or gluten!
My kiddo loves cold pizza for breakfast, so this healthy pizza inspired breakfast casserole will be a hit for him! Make this gluten-free breakfast casserole with onions, garlic, Italian sausage, arugula, eggs, marinara sauce, and oregano.
This Mexican breakfast casserole dish is a great recipe to have on hand, because you make it ahead of time. With all your favorite Mexican inspired ingredients, this one is bound to be delicious!
With sweet potatoes, onions, red bell peppers, sausage, eggs, coconut milk, chili powder, cumin, nutritional yeast, and salsa, you'll love how these flavors come together.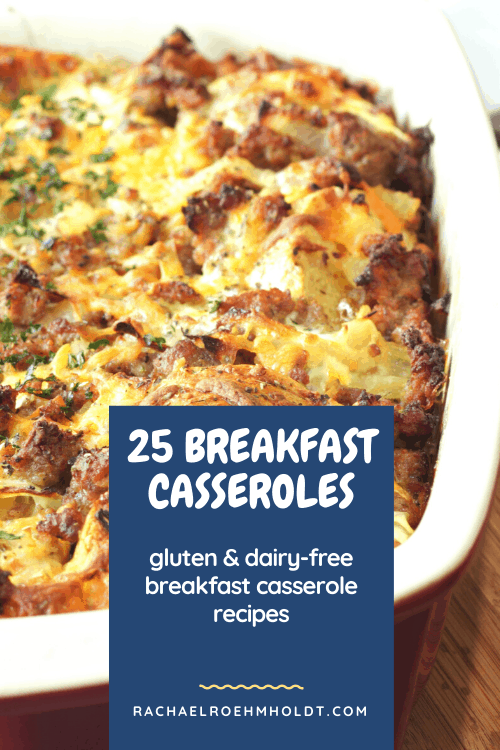 While most gluten-free dairy-free breakfast casserole dishes tend to lean towards the paleo or whole 30 direction, this recipe is a nice change.
This breakfast casserole recipe calls for gluten-free bread heels, sausage, eggs, dairy-free milk, herbs de Provence, and salt and pepper. Couldn't be easier!
As if you needed more reasons to love pizza, why not try a breakfast pizza egg casserole..?
This recipe can easily feed 8 people and only has a handful of ingredients that you probably already have on hand.
This easy turkey sausage breakfast casserole recipe is made with ingredients you probably already have on hand and only 10 minutes of prep time.
It's naturally gluten and dairy-free, and is perfect for any weekend, holiday, or family get together.
This roasted veggie breakfast casserole is a delicious combination of a sheet pan dinner and a breakfast casserole.
Kim from Kim's Cravings repurposed roasted veggies from one meal and baked them into some whisked up eggs and almond milk. Gluten-free, dairy-free, and super healthy!
If you're a fan of eggs Benedict, but are eating gluten-free and dairy-free – you may think there's no option for you to enjoy this delicious dish. This recipe from Mama Knows Gluten Free uses gluten-free bread and a dairy-free Hollandaise sauce to make it possible!
This recipe feeds a crowd to keep this one handy for those big gatherings you host or brunches where you're asked to bring a dish.
I hope next time you're short on prep time but need something hearty and filling for you and your family, you'll try one of these recipes out.
With just a few minutes to prep, you can have a gluten-free dairy-free breakfast casserole worth sharing.
If you try any of the recipes in this list, be sure to share in the comments what you think – so everyone who reads this knows which ones are winners!
If you loved this recipe roundup, I'd love for you to share it on Pinterest and Facebook, or send it to a friend.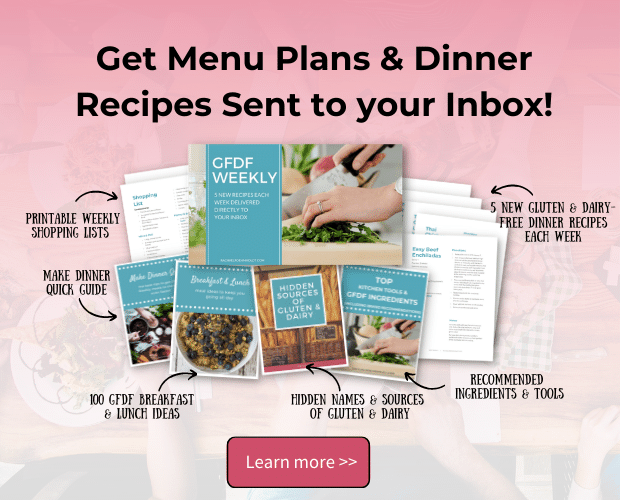 Looking for more breakfast ideas? Check out the Ultimate Gluten-free Dairy-free Breakfast Guide here.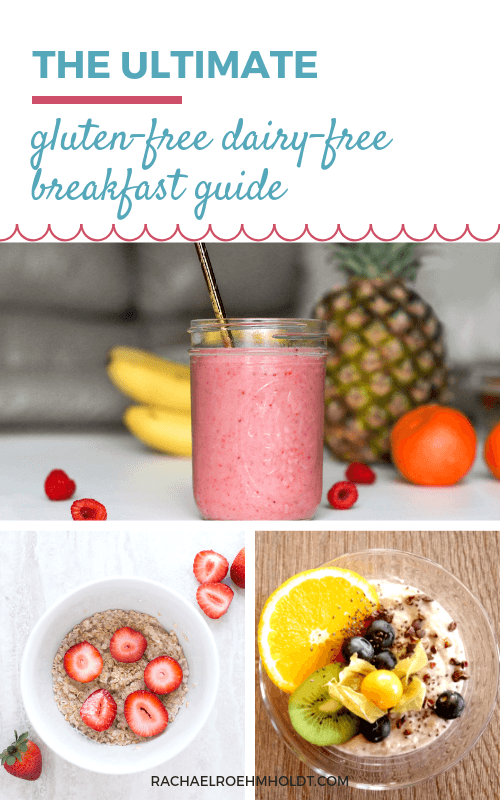 Love this post? Be sure to check out some of my other great breakfast posts!
Not sure what to make for breakfast on a gluten and dairy-free diet? These posts will give you loads of ideas!