Looking for gluten-free dairy-free recipes and meal ideas for winter? Check out these 25 awesome recipes, including breakfast, lunch, dinner, drinks, and dessert.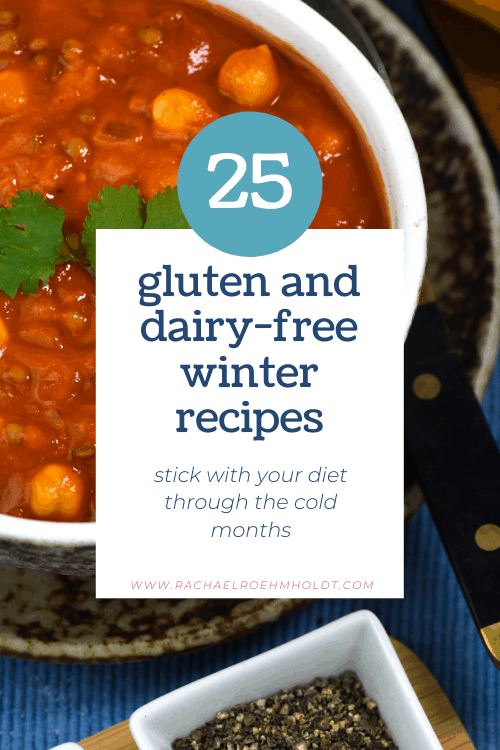 Note: I am a proud Once a Month Meals affiliate and am happy to recommend their service and products to you. Please know that as an affiliate, I may receive a small commission on the products you purchase after clicking through my links. For more info, please see my disclosure policy here.
Truth time: winter is not my favorite season of the year. But with layers to keep me warm plus delicious food that I can whip up in my kitchen all season long, there really are some great reasons to actually love and embrace winter.
So even if it's not your favorite season of the year, it's still one to love, especially if you're a food lover like me.
In this post, I have put together 25 awesome winter recipes, including from breakfast, lunch, dinner, desserts and drinks.
I've got you covered all season long from everything from breakfast casseroles and porridges in the morning to delicious soups and chili recipes for lunches.
There's also hearty shepherd's pie and rice bowls for dinner, and amazing gingerbread cookies and paleo mug cakes for dessert.
Finally, what would winter be without some cozy warm drinks? I'm sharing five delicious gluten and dairy-free drinks that you'll want to indulge in all winter long.
With all these seasonal, delicious, healthy recipes, I hope you find a few favorites to get you through these chilly months. I encourage you to try some of them out and get inspired to keep creating awesome gluten and dairy-free meals all season long.
Gluten-free Dairy-free Recipes for Winter Breakfasts
If you love hot chocolate, you'll love this breakfast smoothie. With almond milk, nut butter, maple syrup, rolled oats, cocoa powder, and vanilla extract, this smoothie is packed with flavor and chocolatey goodness.
If you're a fan of oatmeal, you'll love this winter porridge. This oatmeal bowl is full of warm spices, like cinnamon, nutmeg, allspice, and ginger. Yum!
This chia seed pudding can be eating for breakfast or dessert! With a simple chia seed pudding made with cashew milk and a sticky pecan topping, you can feel good about getting some good protein and healthy fat first thing in the morning.
These beautiful cranberry oat muffins are made with oats, cranberries, applesauce, eggs, syrup, baking soda, vanilla, and fresh orange juice. These are a perfect make-ahead breakfast option for busy winter mornings.
If you're hosting friends or family any time this winter, try this yummy french toast casserole. The best part is that it can be made ahead of time or even the night before for quick and easy prep!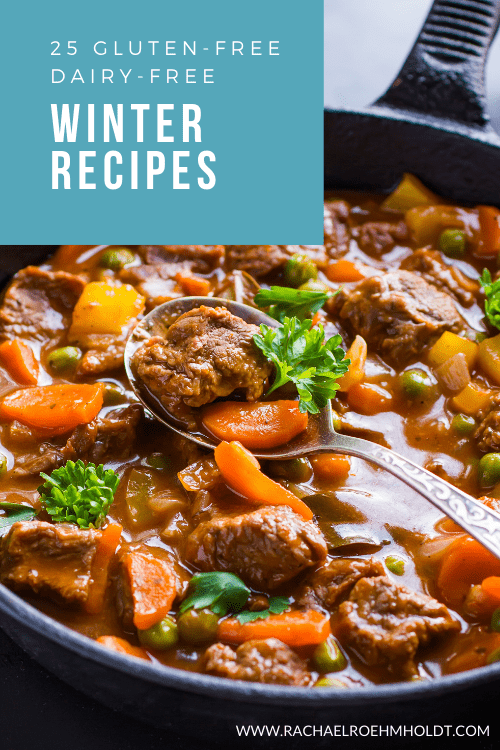 Gluten-free Dairy-free Recipes for Winter Lunches
This flavorful soup is full of healthy ingredients, like butternut squash, onion, garlic, brown rice, and coconut milk. Get some big flavor from curry powder and fresh cilantro, and enjoy this naturally gluten and dairy-free soup this winter.
This chicken chili uses roasted red peppers in place of tomatoes that you'd normally find in a chili recipe. Packed with flavor and heartiness from chicken and beans, this chili is sure to be a crowd pleaser this season.
I love having a good winter salad recipe on hand, and this one fits the bill. It uses in season Brussels sprouts, pomegranate seeds, and apples.
Enjoy this with a homemade vinaigrette with olive oil, apple cider vinegar, shallot, honey, coconut aminos, and sesame seeds for a delicious and healthy lunch option.
This delicious and healthy cabbage soup is full of flavor from kielbasa sausage, leeks, carrots, celery, cabbage, garlic, and Italian seasoning.
Enjoy making this ahead for the perfect winter meal prep for lunches.
This roasted vegetable salad might not be an everyday lunch option, but it still looks amazing and full of delicious in season vegetables, like Brussels sprouts and greens.
Top this salad with some pumpkin seeds, dried cranberries, and avocado for a filling and healthy winter salad.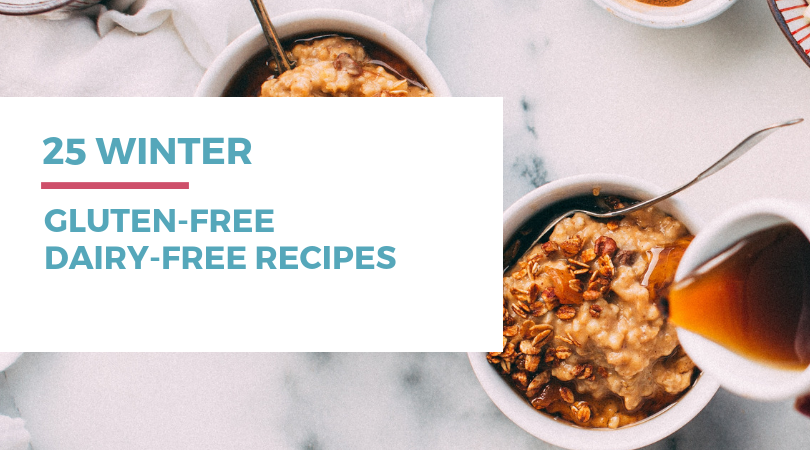 Gluten-free Dairy-free Recipes for Winter Dinner
This Shepherd's pie is the ultimate comfort food for winter. It's full of hearty ground beef, mashed potatoes, Brussels sprouts, onions, garlic, and fresh thyme and rosemary. Best of all, it's gluten and dairy-free!
If you like to eat simple food but big flavor, try this chicken and cauliflower rice bowl recipe.
Mix up your boring chicken and rice with spiced chicken, cauliflower rice, bacon, asparagus, and some avocado. Simple food that's jazzed up is my favorite way to eat!
Read on: Is bacon gluten-free?
This healthy carrot soup is great for the winter, because it will warm you through after you've been out in the cold.
Enjoy making the most out of a bag of carrots with tons of fresh ginger, garlic, and veggies.
These bliss bowls are full of homemade falafel, spinach, cabbage, and roasted veggies.
If you love big flavors and loads of vegetables, this a wonderful gluten and dairy-free recipe to try out!
I love curry and it's one of my go-to orders from any Asian restaurant we go to. This recipe is perfect for warming you up with delicious spices of curry powder and cayenne.
Get onions, carrots, tomatoes, and snow peas in a homemade curry sauce over coconut quinoa in this delicious dinner.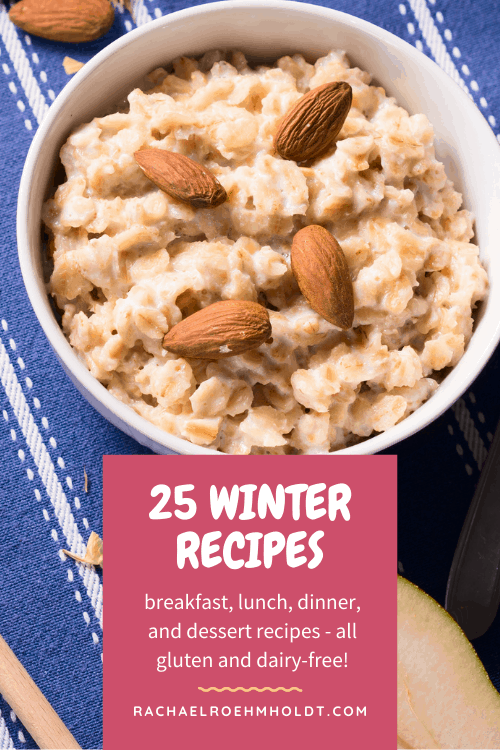 Gluten-free Dairy-free Recipes for Winter Desserts
Do you love gingerbread cookies? You'll love these big cookies that are perfect for the holidays or all winter long. Best of all, they're gluten-free and dairy-free!
These cute little spiced cookies are full of warming chai spices, like cinnamon, ginger, cardamom, cloves, allspice, and nutmeg.
They're easy to make and are also gluten, dairy, and egg-free!
I don't know about you, but when I look for desserts to make, I often look for them to be as simple as possible.
The less time or ingredients it takes me to make a recipe, the better. These yummy chocolate coconut bars only have 5 ingredients and take 15 minutes!
If you're looking for a delicious dessert idea this winter, try these paleo cheesecake bars.
They're made using a good amount of cashews, and made with a blondie crust, a cheesecake layer, and a caramel pecan topping. What's not to love?
For a quick and easy winter dessert idea, try a mug cake! This cake is made with almond meal, cacao powder, baking powder, salt, egg, maple syrup, olive oil, and vanilla.
It can be made entirely in your microwave and it's gluten and dairy-free!
Gluten-free Dairy-free Recipes for Winter Drinks
If you love chai tea lattes but know you can't enjoy the milk that usually comes in them, try this recipe instead.
It uses almond milk instead of normal cow's milk and loads of spices from allspice, cardamom, and a cinnamon stick.
Hot chocolate and hot cocoa is perfect in the cold months, but what about a dairy-free version?
Try out this homemade dairy-free hot chocolate mix that you can mix into seven different variations!
When I came upon this recipe, I was enamored by the idea of making such a fancy sounding tea at home.
This recipe looks divine with ground cinnamon, cardamom, vanilla bean powder, dried rose petals, dried chamomile, and raw honey. It sounds luxurious and perfect for the winter.
This mulled wine is great for the winter and comes together with just seven ingredients.
You can warm up with warm drink with an orange, orange juice, cloves, sugar, cranberries, cinnamon stick, and your favorite dry red wine.
If you're looking for something 'lighter' this winter, try an infused water.
I love this apple cinnamon water that gives you some flavor without adding any extra sugar to your drink. "Steep" some water with fresh apples and cinnamon sticks for a winter twist on your drinking water.
If you love staying organized and getting ahead when life is busy, check it out Once a Month Meals. This service offers gluten-free dairy-free recipes for freezer cooking and menus for all year around, but right now they have an awesome new winter one for even more meal and recipe inspiration.
I say over and over that one of the best ways to get ahead with sticking with any diet and lifestyle change is by being prepared, so creating freezer meals with Once a Month Meals can really help you stay with your gluten-free dairy-free diet.
Since I can't go without the opportunity to share more about what I do, I'd also love to invite you to join my recipe and menu planning service, GFDF Weekly. If you'd love 5 gluten-free dairy-free recipes delivered straight to your inbox each and every week to help you stick with this diet and eat amazing dinners all winter long, I've got you covered.
Check out GFDF Weekly and sign up right here.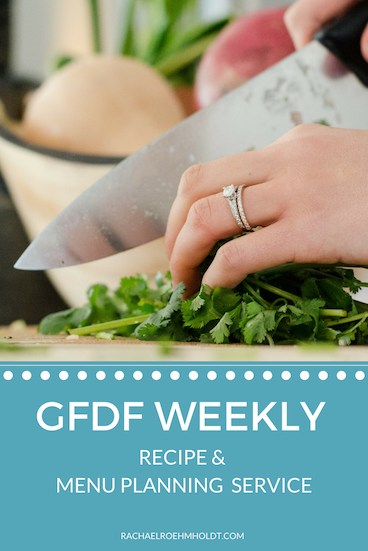 With all these options, you're sure to have a delicious winter season ahead! Thanks for checking out these recipes – and I hope you have loads of recipe inspiration all winter long!
If you loved this post, be sure to check out my comprehensive gluten-free dairy-free food list below for free. Enter your details for instant access plus get 5 free recipes.
Love this post? You might want to check out these posts!
Check out these great posts that are perfect for sticking with your gluten and dairy-free diet all through the winter months.