Enjoy this gluten-free dairy-free crockpot potato soup whenever you need a filling hearty meal! It's easy and delicious!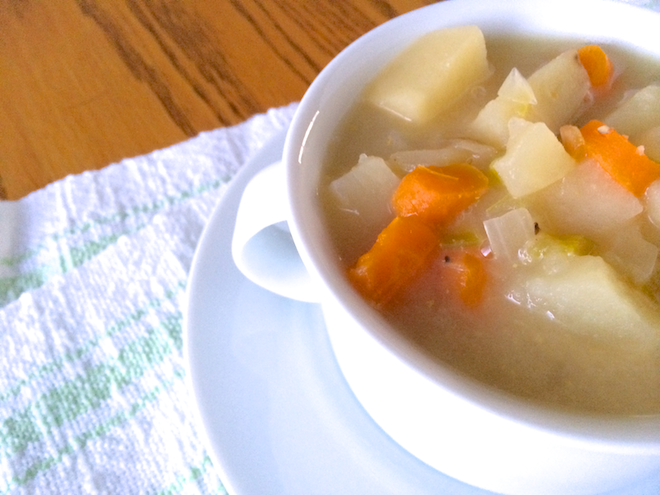 Note: I am a proud Amazon, Chomps, MunkPack, and Thrive Market affiliate and am happy to recommend their service and products to you. Please know that as an affiliate, I may receive a small commission on the products you purchase after clicking through my links. For more info, please see my disclosure policy here.
There are those days during pregnancy where all you want to eat are potatoes. Don't ask me why, but carbs have been one of my best friends the past few months.
I've been craving potatoes in all forms for weeks now and lately the only thing that has sounded good is potato soup.
On the heels of our move and trying to find places for just about everything, I was in food fight-or-flight mode.
After a few days of eating out at fast food and restaurants far more than I care to admit, I was ready to hit the easy button with my gluten-free crock pot recipes once again.
I tried my hand at a recipe for potato soup that didn't include anything too fancy. Perfect to make on a Monday night when prep wasn't sounding too appealing and I couldn't find half my kitchen utensils since they were tucked in a box somewhere in the house.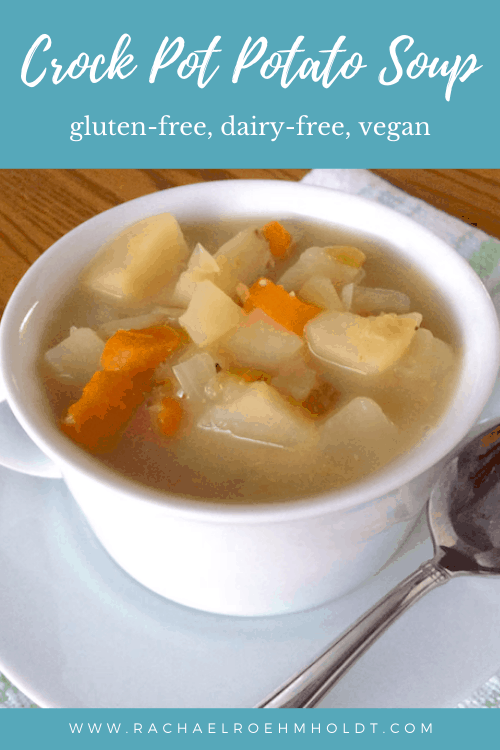 I whipped out the prep work in about 20 minutes and had dinner right away after the full day of work and unpacking.
I used to love making potato soup before my gluten and dairy-free days. I made it with a ton of cheese, milk, and of course, flour to thicken it up.
These days, I've opted for a cheese-free version and replaced the milk with my trusty almond milk (you can use whatever dairy-free milk you prefer) and the flour with cornstarch. Although this soup was simple, it really hit the spot for this pregnant lady on a cold winter night.
Read on: Are Potatoes Gluten-free?
Read on: Gluten-free chicken broth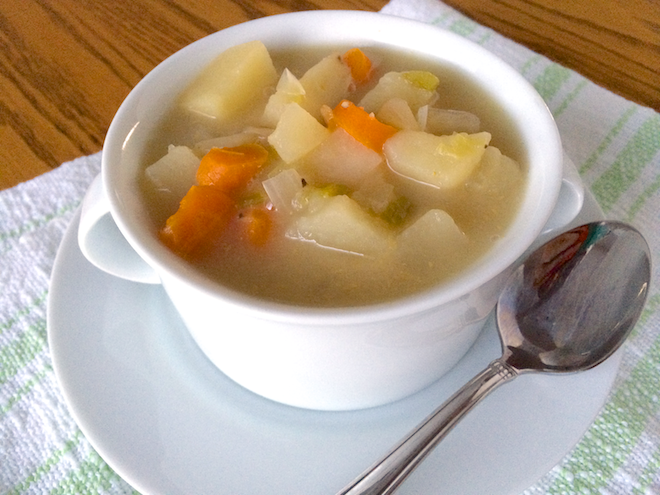 Yield: 6 servings
Crock Pot Potato Soup (Gluten-Free Dairy-Free)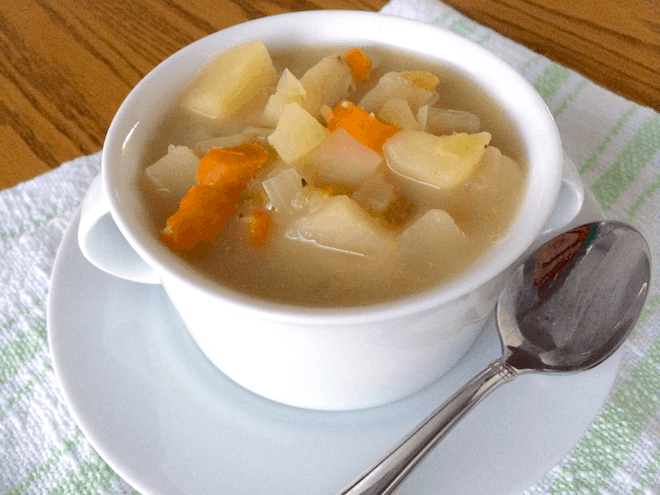 Enjoy this crock pot potato soup that's gluten-free and dairy-free for a warm-you-up meal that's made with minimal effort!
Total Time
6 hours
10 minutes
Ingredients
3 russet potatoes, peeled and cubed
3 celery ribs, chopped
1/2 chopped onion
3 chopped carrots
4 cups chicken stock
1 tsp. salt
1/2 tsp. black pepper
1 tbsp corn starch
1 cup almond milk
Instructions
In a crockpot, combine potatoes, celery, onion, and carrots. Cover with chicken broth and season with salt and pepper.
Set on low 6-7 hours, or high 3 hours.
Once finished cooking, combine almond milk and corn starch in a small bowl until fully combined and pour into soup. Mix gently and allow to cook for 15-20 minutes longer on low.
Serve alone or with any optional toppings, like bacon or chives.
Recommended Products
As an Amazon Associate and member of other affiliate programs, I earn from qualifying purchases.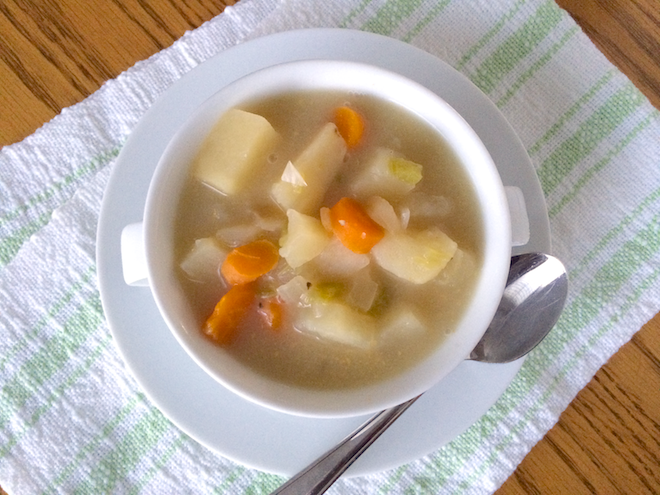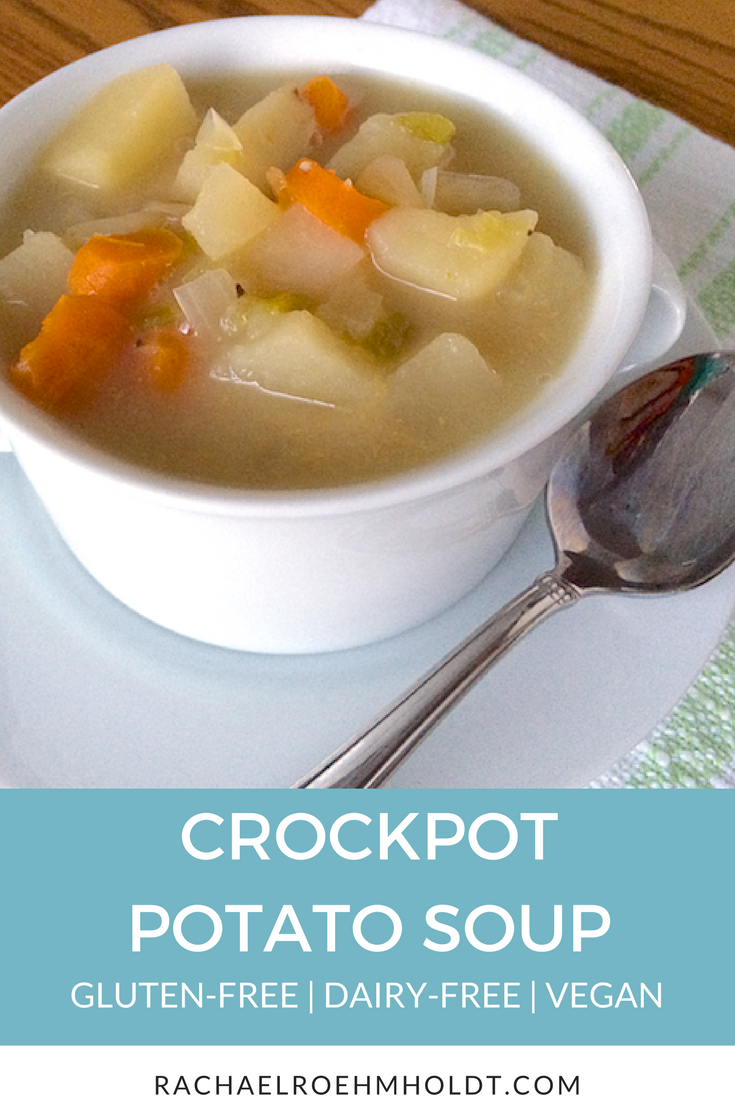 What are your go-to cooking tactics for a busy day? Do you whip out your crockpot? Pull out a freezer meal? Share in the comments below!