Find out if honey is safe for a gluten-free diet, the health benefits, and discover some gluten-free honey brands.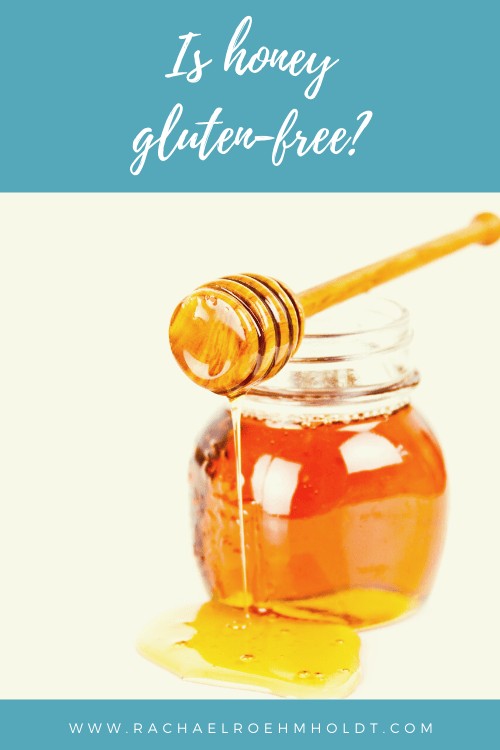 Note: I am a proud Amazon, Chomps, MunkPack, and Thrive Market affiliate and am happy to recommend their service and products to you. Please know that as an affiliate, I may receive a small commission on the products you purchase after clicking through my links. For more info, please see my disclosure policy here.
Do you like to add a little bit of honey to your tea or like to use this natural sweetener in place of processed sugar for your baking?
If you're getting started with a gluten-free diet, you may have learned that some foods are naturally gluten-free, while others aren't safe to include in your diet.
In this post, we're going to answer the question, "Is honey gluten-free?" and find out if this ingredient is something you'll want to include in your regular diet.
First, let's go over some of the basics of honey and talk about what you need to know about gluten.
How is honey made?
Honey is made from the nectar of flowers that have been gathered by bees, then stored in their honeycomb. Inside the honeycomb, the nectar gets broken down into simple sugars as the water evaporates.
Interestingly, honey can vary in flavor and color based on what flowers the bees have collected nectar from. That means honey can vary in flavor based on where it is harvested and what the surrounding plant life is like.
What are the health benefits of honey?
Honey is useful for many things in the diet and can be a really healthy ingredient to add to your regular diet. According to the National Honey Board, here are some of the health benefits of honey:
Honey is a useful cough suppressant when you're sick
Honey provides a natural source of carbohydrates, 17 grams per tablespoon
Honey has antioxidants, minerals, vitamins and amino acids packed into one healthy food
What is gluten?
Gluten is a protein found in most wheat products, and acts as the "glue" that helps to hold wheat, barley, kamut, spelt, farro, durum, bulgur, rye, and semolina together to maintain their shape.
Gluten is naturally occurring, and therefore is impossible to strip away from the grain. If a grain naturally has gluten in it, there's no way to make that food gluten-free.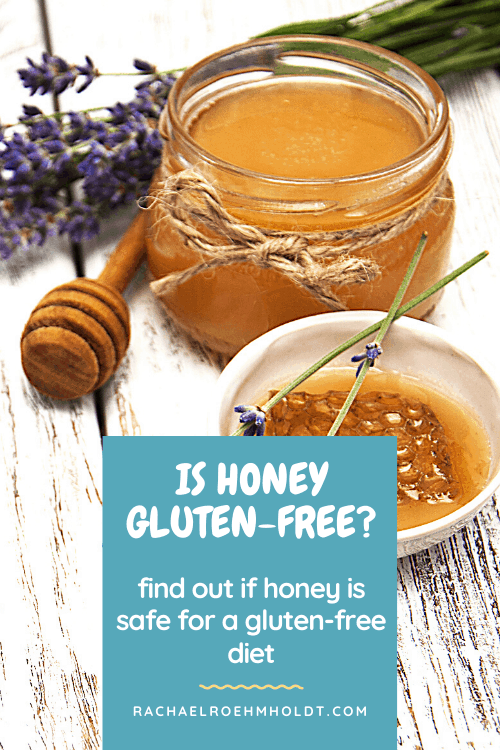 Is honey gluten-free?
Based on what we know about how honey is made, we know that the sugars that form honey are gathered from nectar from flowers in the surrounding area near the bees' hive.
Since we know that the honey is made from nectar and not from a grain itself, we know that there can't be any gluten in it naturally.
Honey is gluten-free as long as it doesn't come into contact with other machinery that processes gluten-containing grains or other flavorings aren't added to it. Raw honey is always gluten-free.
Is honey safe for a gluten-free diet?
Yes, honey is naturally gluten-free.
One thing to be aware of is the potential for cross contamination. If the honey is processed on machinery that also processes gluten-containing grains when bottling, it's possible that cross contamination may occur.
Also, if the honey is sourced in an area that is close to a wheat, barley, or other gluten grain, it is possible that particles could make their way into the honey by way of wind.
However, this would only be cause for concern if you are extremely sensitive to gluten or Celiac. Most folks with a gluten intolerance can eat honey without issue.
Is honey dairy-free?
Dairy is the name given to any product or byproduct of animal milk. Since honey is created from the nectar of flowers and then turned into honey over time in the hives, this isn't a dairy product.
Honey is not milk from a bee, so honey is safe for a dairy-free diet.
If you follow a vegan diet, you will not want to include honey in your diet, as honey is an animal byproduct. Vegans avoid animal products and byproducts.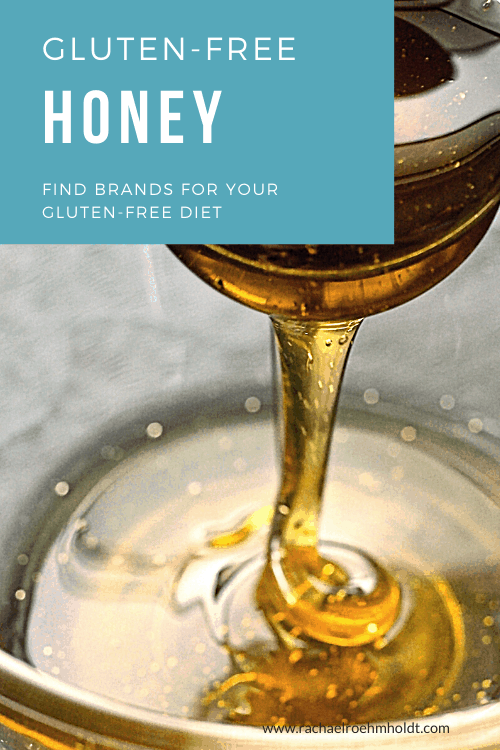 Gluten-free Honey Brands
If you're searching for honey that is definitely gluten-free with no risk of cross contamination, you can look for a few of these brands when you're at the grocery store.
These brands are raw honey, meaning there's no additives and they're used on machinery that processes only gluten-free products, mitigating any risk for cross contamination.
There are many more gluten-free honey brands, but these are just to give you some ideas! If you've been looking for an answer as to whether or not honey is gluten-free, I hope this post has helped you.
If you have more questions about what foods are gluten-free, please check out the FAQ's in my Gluten and Dairy-free Basics.
If you loved this post, I hope that you'll share it with your friends on Facebook and pin it for future reference on Pinterest.
Love this post? You might also want to check out these!
Find out if your favorite foods and ingredients contain gluten with these posts!