Find out if dumplings are considered a gluten-free food, what dumplings are made of, and a shortcut for gluten-free dumplings.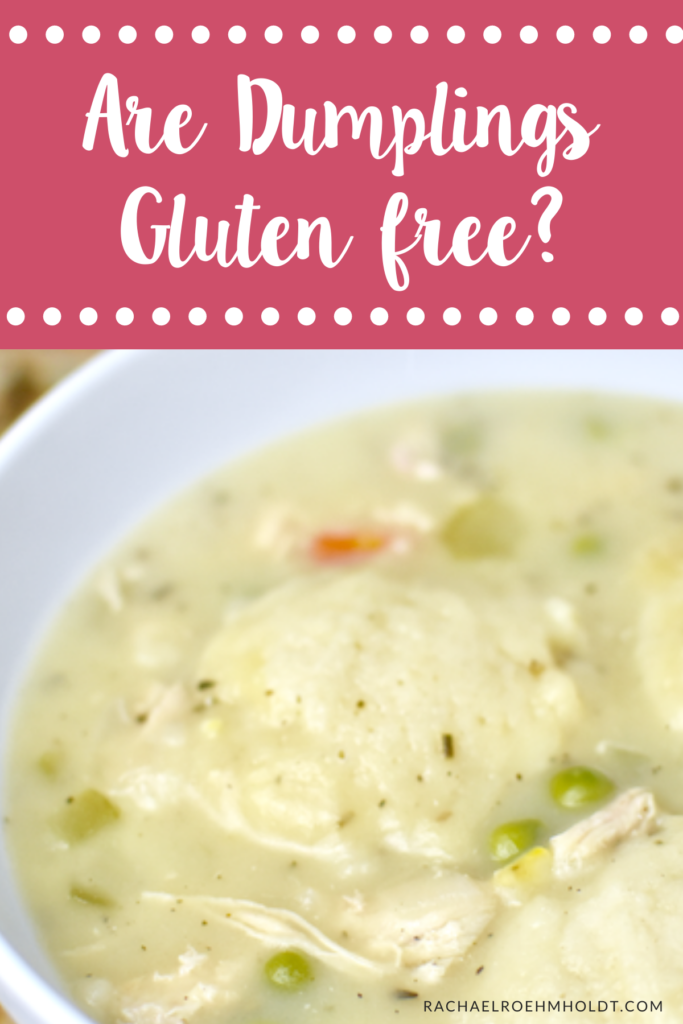 Note: I am a proud Amazon, Chomps, MunkPack, and Thrive Market affiliate and am happy to recommend their service and products to you. Please know that as an affiliate, I may receive a small commission on the products you purchase after clicking through my links. For more info, please see my disclosure policy here.
Are you a fan of chicken and dumplings but also follow a gluten-free diet? I bet you've been wondering now that the cold weather is upon us this season how this ultimate comfort food dish can fit into a gluten-free diet.
I myself love chicken and dumplings and had been intimated to make them for a long time, because it seemed like way too many substitutions to make.
After doing some research, I learned that with a few simple changes to the ingredients, I'd be able to enjoy this dish anytime my family needed some warm belly hugs.
This post is all about dumplings, how they fit into a gluten-free diet, and how you can make them work for your gluten-free diet. Plus I'll give you two options for how to make them work for you if you're avoiding gluten.
Let's find out: Are dumplings gluten-free?
What are dumplings?
There are two types of foods that people often refer to as dumplings. One type are the little pockets with meat or vegetable filling and a wrapper that's been pinched closed. These are usually steamed, boiled, or fried.
The other type of dumplings you may have heard of are soup dumplings. These are dough that have been added to a soup or other dish and are baked or boiled on the top of a dish.
Chicken and dumplings is a popular dish in the US, which is a thick chicken soup with little dumplings made of dough, similar to a biscuit dough, that's been cooked on top of the soup in the last few minutes of cooking.
For this post, we're going to focus on and talk about dumplings that are used in chicken and dumplings, a comfort food dish here in North America.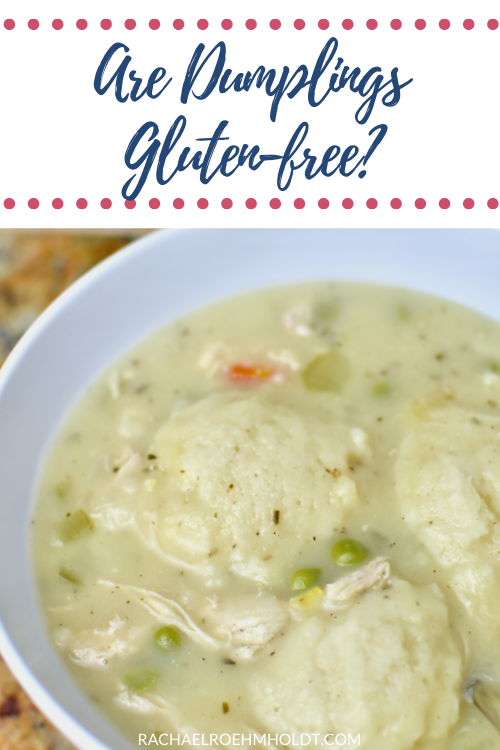 What are dumplings made out of?
Dumplings are traditionally made with all purpose flour, baking powder, milk, and butter. Some recipes call for shortcut ingredients, like biscuit mixes you can buy premade from the store. Bisquick baking mix and Grands canned biscuits are popular options for making dumplings at home.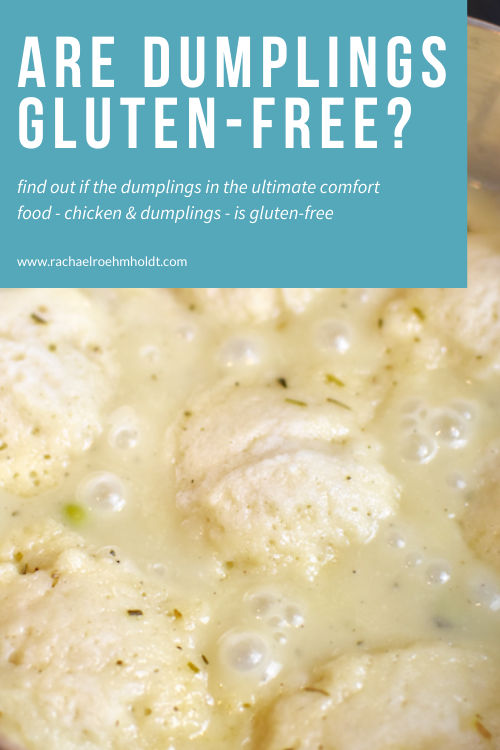 What is gluten?
Gluten is a protein found in most wheat products, and acts as the "glue" that helps to hold wheat, barley, kamut, spelt, farro, durum, bulgur, rye, and semolina together to maintain their shape.
Gluten is naturally occurring, and therefore is impossible to strip away from the grain. If a grain naturally has gluten in it, there's no way to make that food gluten-free.
Gluten can be found in some cereal products in the form of wheat, wheat flour, malt flavor, or malt barley. You can also find gluten hidden in flavorings in some cereal.
Are dumplings gluten-free?
Since dumplings are most often made with all purpose flour, we can say that most dumplings are not gluten-free. There is gluten in all-purpose flour, which is often not only in the dumplings of chicken and dumplings themselves, but also in the chicken soup that's been thickened with flour as well.
Can I make dumplings gluten-free?
Yes! You can easily make your own dumplings at home using a gluten-free flour blend. I like to use a measure-for-measure flour blend to keep my recipes simple, and my go-to option for that is King Arthur Gluten-free Measure for Measure Baking Mix.
You can also use a shortcut if you'd like to and you're familiar with using Bisquick for your chicken and dumplings recipe by using gluten-free Bisquick baking mix. I like to use this in my recipe and enjoy the ease of having all the dry ingredients mixed together for me. Plus they taste delicious too!
How to make gluten-free Bisquick dumplings
To make gluten-free Bisquick dumplings for a chicken and dumplings dish, you simply need to add a few ingredients to a bowl, mix them together and cook them in the soup. Easy peasy!
In a bowl, combine ¾ cup of gluten-free Bisquick baking mix with ½ cup of dairy-free (or regular) milk and 2 tbsp of melted vegan (or regular) butter. Combine this mixture together, but don't overstir it.
Scoop the dumplings from the bowl and gently drop them into your simmering chicken soup using a rounded spoonful or cookie scoop. Lower the heat to low, and cook the soup uncovered for 10 minutes.
Cover the pot and cook for 15 more minutes to finish cooking the dumplings.
Get the full gluten-free chicken and dumplings recipe.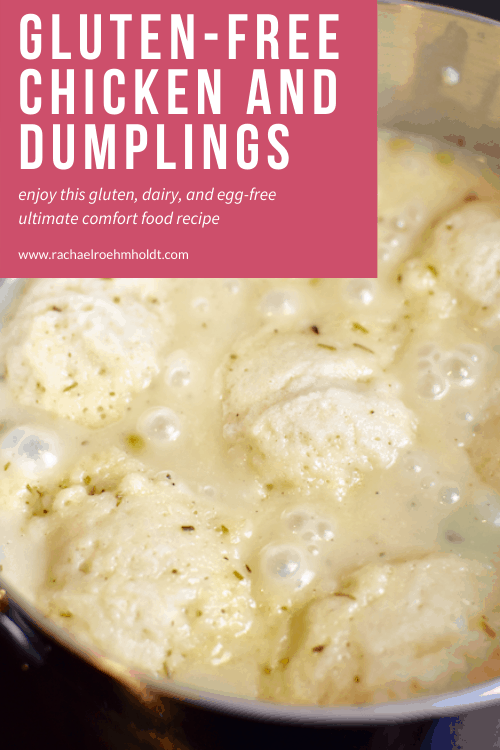 If you love chicken and dumplings and have been wondering if dumplings are gluten-free, I hope this post has helped you determine what substitutes will work best for you on this diet.
There are options and you'll need to replace a few ingredients in your recipe to make it work, but with some simple swaps, you can still enjoy this dish any time you like!
Read on: 25 gluten-free dairy-free winter recipes
Read on: 50 gluten-free dairy-free soup, stews, and chili recipes
f you loved this post, I hope that you'll share it with your friends on Facebook and pin it for future reference on Pinterest.
Love this post? You might also want to check out these!
Find out if your favorite foods and ingredients contain gluten with these posts!