When I was a kid, I loved noodle soup in any form – chicken noodle soup, tomato noodle soup, and ramen from those 10 cent packages from the store. Every once in a while, particularly on cold days, I get a huge hankering for noodle soup to take me back to my childhood. This recipe has been one that I've been working on for a long time – mainly because I never seem to write down any of the ingredients or measurements.
This week after a huge delicious bowl that I couldn't put my spoon down in between bites, I decided it was time to write it down and finally document this soup that always makes my belly happy.
This isn't a recipe that needs to be followed to the T – in fact, I don't think I've ever made it the same way twice. Sometimes I'll add chicken, other times I'll leave it out.
Sometimes I'll add more veggies, other times it's only spinach. You get the idea. It's flexible and as long as you get the broth to taste divine, the rest of the soup will be amazing.
Read on: Gluten-free Ramen Noodles: Brands & Alternatives
Read on: Are Rice Noodles Gluten-free?
Read on: Is tamari gluten-free?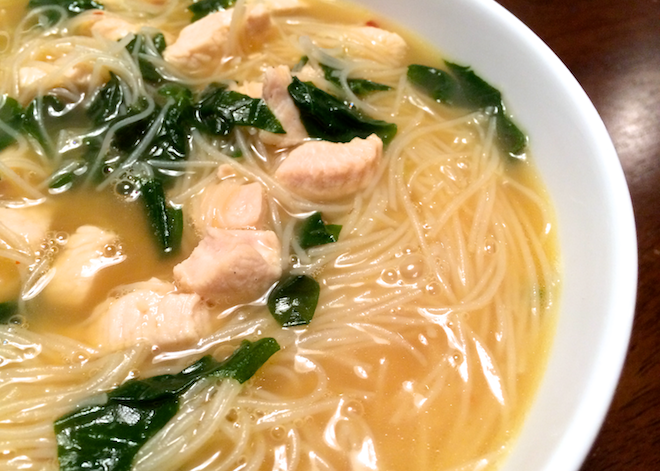 Ramen-Style Noodle Soup
Serves two
Ingredients
1 quart low-sodium organic chicken stock
1/2 box maifun brown rice noodles (I used Annie Chun's brand)
1/2 large chicken breast, cubed into 1/2 inch pieces
1/2 tbsp sesame oil
1 tbsp white miso
2 tbsps tamari
1/2 tsp red pepper flakes
1 cup fresh spinach, sliced into ribbons
1/2 tsp garlic powder
1/2 tsp onion powder
Pinch of salt
Directions
In a large soup pot, combine chicken stock, miso, tamari, red pepper flakes, garlic powder, onion powder and salt over medium high heat.
While the broth is coming together, heat a skillet over medium high heat. Add sesame oil, then brown the cubed chicken breast on all sides, about 7-10 minutes.
Once the chicken is cooked through, add it to the broth along with the spinach and brown rice noodles.
Cook everything for an additional 5 minutes. Give it all a taste test and adjust seasonings to taste. Divide between two bowls and serve.
Now that I have finally gotten this recipe down, I can add it to my arsenal of "feel good foods" or "make once a week until you get sick of it" – because it is just that good. This recipe has just gotten better and better as time has gone on and I can't wait to keep making it better as time goes on.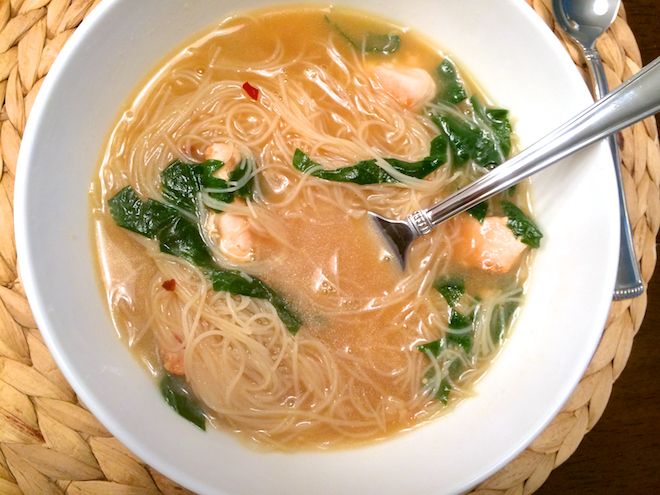 What are some of your favorite recipes that you've never written down?
Love this post? You might want to check out these posts!
Check out these great posts that are perfect for sticking with your gluten and dairy-free diet all through the winter months.