Find out if cheesecake is gluten-free and how this popular dessert fits into a gluten-free diet.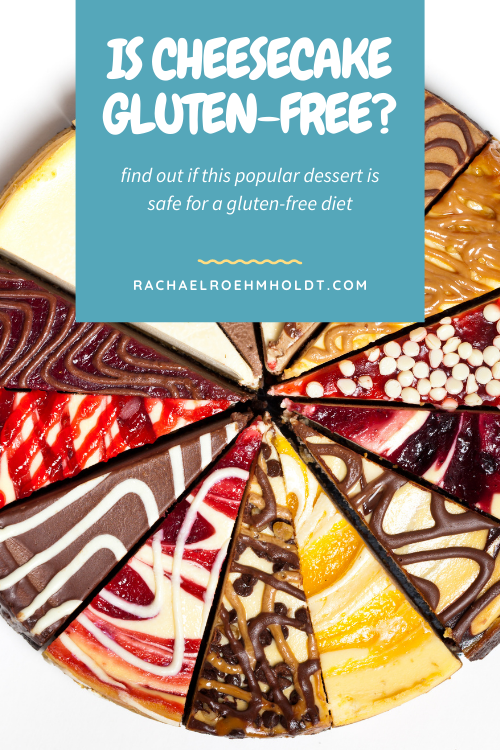 Note: I am a proud Amazon, Chomps, MunkPack, and Thrive Market affiliate and am happy to recommend their service and products to you. Please know that as an affiliate, I may receive a small commission on the products you purchase after clicking through my links. For more info, please see my disclosure policy here.
Cheesecake is a popular dessert that you can find at many restaurants and holiday gatherings year round (at least in my family). It's a cake made with cream cheese, sour cream, eggs, sugar, and can be flavored in a million different ways.
People love cheesecake so much that there's even an entire restaurant named after it. You guessed it – The Cheesecake Factory.
If you follow a gluten-free diet, you may have wondered if this decadent dessert is gluten-free. After all, with its name, it almost sounds like it could be, right?
In this post, we're going to clear up some common questions about cheesecake and how this delicious treat can fit into your diet if you are gluten-free.
We'll talk about what cheesecake is made of, if it's gluten-free, if store-bought cheesecake is gluten-free, and if you could simply just eat the filling and it be safe for a gluten-free diet. Like I said, we're answering the real questions about cheesecake today.
Let's get to it!
Read on: Gluten-free Cheesecake Factory menu items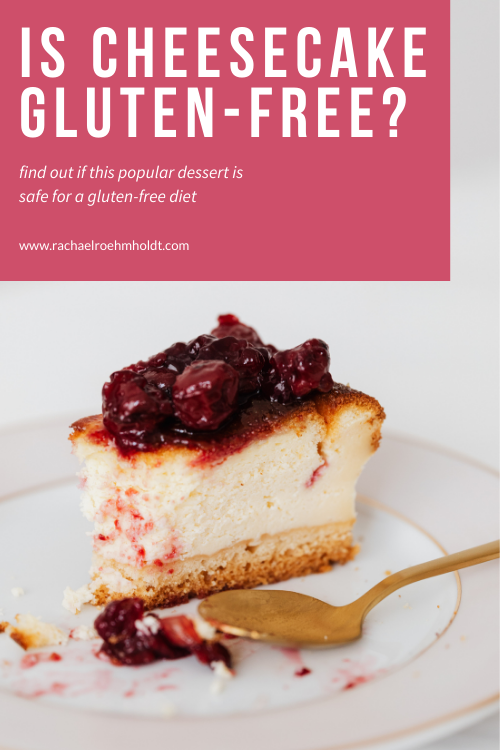 What is cheesecake made of?
A traditional cheesecake is made with a graham cracker crust or other crust that usually contains gluten.
The filling is usually made with cream cheese, sour cream, sugar, eggs, vanilla, and lemon. A traditional plain cheesecake filling is generally going to be gluten-free.
Read on: Is sour cream dairy?
Read on: Is cream cheese gluten-free?
What is gluten?
Gluten is a protein found in most wheat products, and acts as the "glue" that helps to hold wheat, barley, kamut, spelt, farro, durum, bulgur, rye, and semolina together to maintain their shape.
Gluten is naturally occurring, and therefore is impossible to strip away from the grain. If a grain naturally has gluten in it, there's no way to make that food gluten-free.
Gluten is found in many processed foods in the form of flour, like bread, cookies, and crackers.
Read on: What is gluten?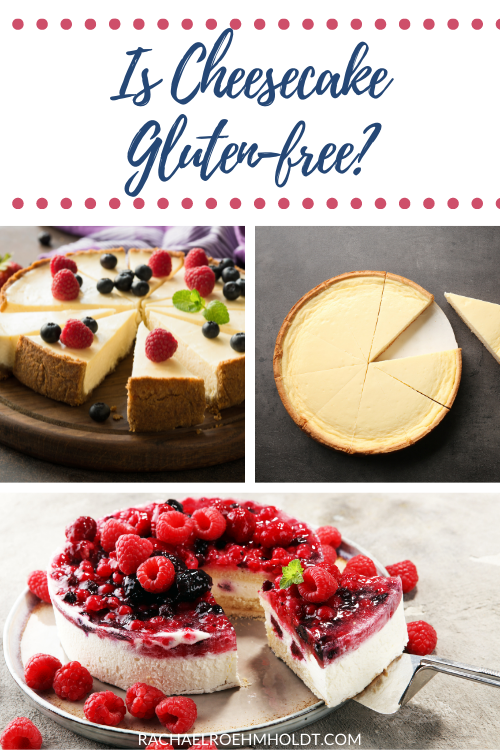 Is cheesecake gluten-free?
For normal cheesecake recipes, the crust is often made using graham cracker crumbs which usually contain gluten. This would make the crust of the cheesecake not safe for a gluten-free diet, but the filling may be safe to eat.
In most traditional cheesecake recipes, cheesecake filling doesn't contain gluten. Many recipes contain cream cheese, sour cream, sugar, eggs, vanilla, lemon juice, and lemon zest. None of these ingredients have gluten in them, making a classic cheesecake recipe gluten-free.
The times when a filling of a cheesecake may contain gluten would be if another ingredient added into the filling had gluten already.
For example, if you included cookie crumbs in the filling mixture and the cookies had gluten or wheat in them, then the filling would not be gluten-free.
Read on: Are graham crackers gluten-free?
Can people on a gluten-free diet eat cheesecake?
Most cheesecake contains gluten in the crust, so this should be avoided if you're trying to stick with a gluten-free diet.
That said, many cheesecake fillings do not contain gluten ingredients. There will likely still be the opportunity for cross contact with gluten in the crust, so you may or may not choose to eat only the filling if you're on a gluten-free diet.
Of course, if you make your own cheesecake at home, you can ensure it is gluten-free by using gluten-free ingredients in your crust recipe.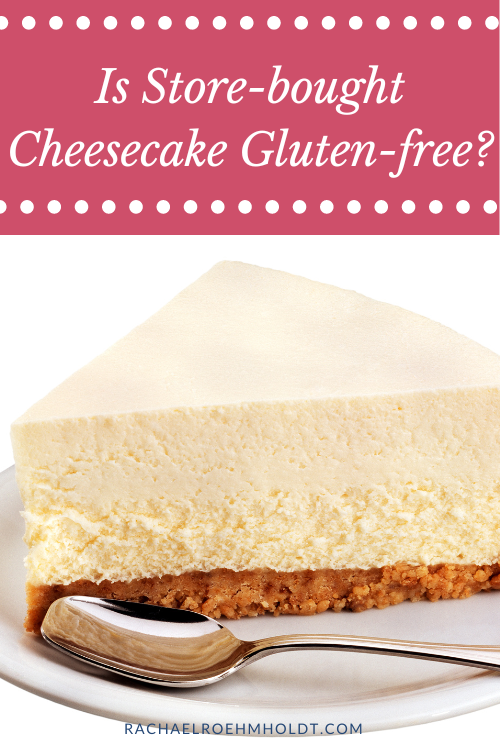 Is store-bought cheesecake gluten-free?
Most store-bought cheesecake contains gluten in the crust. Since the crust is usually made with graham crackers, this ingredient specifically is what makes the cheesecake not safe for a gluten-free diet.
Some store-bought cheesecakes also use wheat flour as a thickener for the filling. If you are thinking about eating a store-bought cheesecake and avoiding the crust, know that there may be some gluten in the filling.
The best option is to look over the ingredients list of the cheesecake you're looking to buy for any hidden names of gluten in the filling.
Usually the filling and crust ingredients are distinguished in an ingredients list, so you should be able to find this information easily.
One of my little secrets is that I carry around a copy of my GFDF Take Along Cards so that I always have a point of reference when I can sneak a peek at the ingredient list of a food.
>> Get your copy of the GFDF Take-Along Cards to make this easy on you.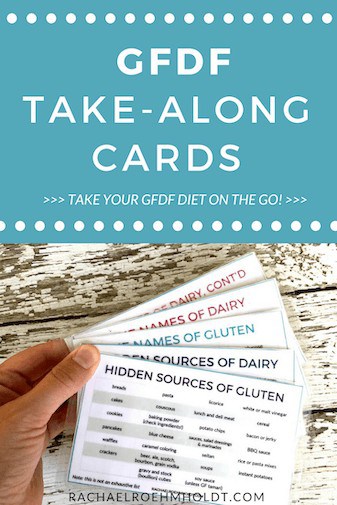 The other thing to keep in mind is that even if the filling doesn't contain gluten and the crust does, there is going to absolutely be some potential for cross contamination with the gluten in the crust.
Use your best judgement knowing how your body reacts to gluten to decide if that is a risk worth taking.
Is cheesecake gluten-free without the crust?
The real question here is really "can I just eat the filling of the cheesecake if I want to stay gluten-free?"
The answer is it depends.
Is the cheesecake homemade or store-bought?
Can you review the ingredients list before making a decision?
Do you know where it has been made and what the facility or kitchen is like in terms of cross contamination?
What is your own level of sensitivity to gluten?
Depending on the answers to those questions, you may decide that you DO feel okay eating just the filling out of the cheesecake and forgoing the crust.
If the cheesecake is made in someone's kitchen who you know and trust, can review the ingredients of the recipe used, and you aren't sensitive to trace amounts of gluten, then maybe this feels okay to you.
If the cheesecake comes from a store or you are very sensitive to cross contamination from gluten, it might be wise to skip the cheesecake altogether and opt for a different dessert.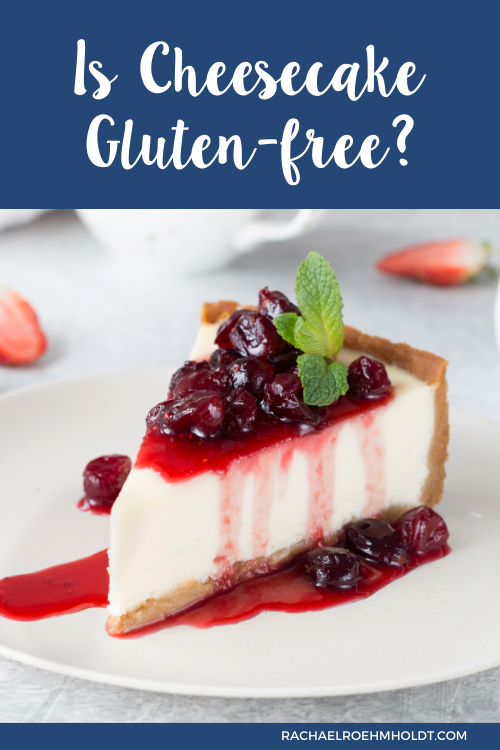 Is Philadelphia cheesecake filling gluten-free?
If you like to take a shortcut and buy a premade cheesecake filling from the store, you might have picked up a package of Philadelphia cheesecake filling.
After having a quick look at this product's ingredients list, it looks like this product contains no gluten-containing ingredients.
This product is not labeled as gluten-free, so know that this brand probably doesn't do any testing to confirm if this product is safe for folks on a gluten-free diet and if there is any cross contamination happening during manufacturing.
Can I make gluten-free cheesecake at home?
You can! You can make a cheesecake at home that uses a gluten-free cheesecake crust and a filling that contains no gluten ingredients.
Try this gluten-free cheesecake recipe that I love to make for my family. Or this gluten-free pumpkin cheesecake that's dairy-free and vegan – it's perfect for the fall months or Thanksgiving.
If you're looking for a cheesecake crust to stick with your diet, try this gluten-free cheesecake crust recipe that uses nuts and dates. It's a healthy take on a cheesecake crust that you can feel good about making.
You can also make your own gluten-free graham cracker crust with gluten-free graham crackers, vegan butter, and sugar. These graham crackers aren't super easy to find, but the result is delicious!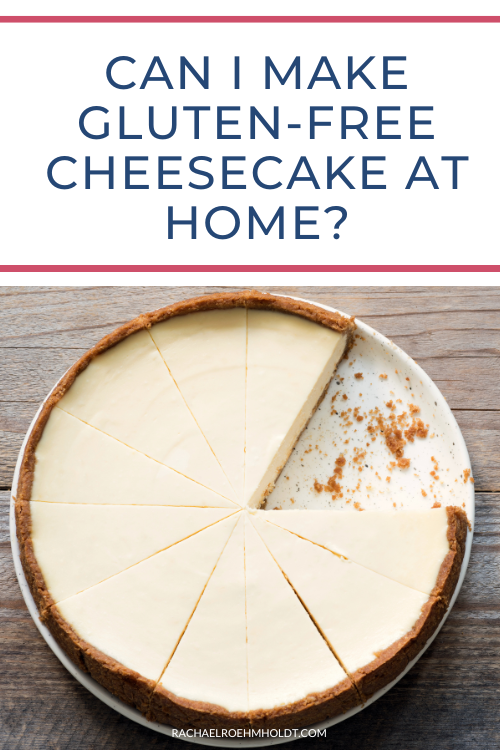 Does Cheesecake Factory cheesecake have gluten?
Many folks love going to the Cheesecake Factory and have wondered if their cheesecake will be safe for them on a gluten-free diet.
I have written a whole post dedicated to this menu and their gluten-free options. Be sure to check it out here: Gluten-free Cheesecake Factory Menu Items
I hope if you're following a gluten-free diet that this answers your question of "is cheesecake gluten-free?" gives you all the information you need to make an informed decision about where cheesecake can fit into your gluten-free diet.
Most cheesecake from the store or homemade will contain gluten in the crust, while some use flour in the filling. Check ingredients lists before you buy to help you know for sure what a good choice for you is.
f you loved this post, I hope that you'll share it with your friends on Facebook and pin it for future reference on Pinterest.
Love this post? You might also want to check out these!
Find out if your favorite foods and ingredients contain gluten with these posts!