This roasted veggie soup makes the most of fall flavors and is both gluten and dairy-free! Scroll down for the full recipe and post.
Now into November, the one thing I've been starting to crave more of is homemade soup. Not just any soup, though – something hearty that will fill me up and keep me warm for hours. Something that makes my belly happy and my taste buds sing.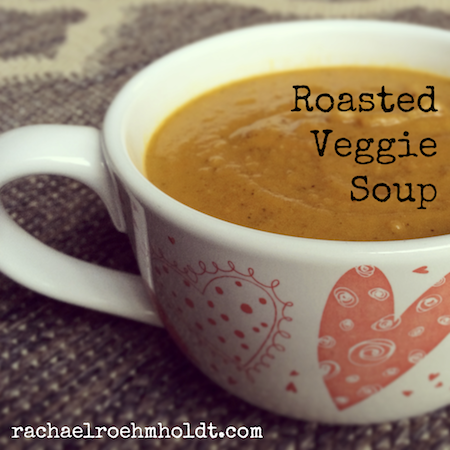 I came up with the idea for this recipe after a few leftover roasted veggies were in my fridge for a while. I first tried this out as an accident – throwing all the leftover scraps into a pot, adding some stock and giving it a blend with my immersion blender. I was surprised how hearty a simple veggie soup could be – and how much flavor the roasting gave them.
This time I made it a little more intentioned. I did have leftover broccoli from earlier in the week sitting in the fridge so I pulled that out too. That's the beauty of a recipe like this – you can add any vegetables that suit your preferences – and it will always come out tasting excellent. This is my version of roasted veggie soup – I'd love to hear what veggies would make it into your dish.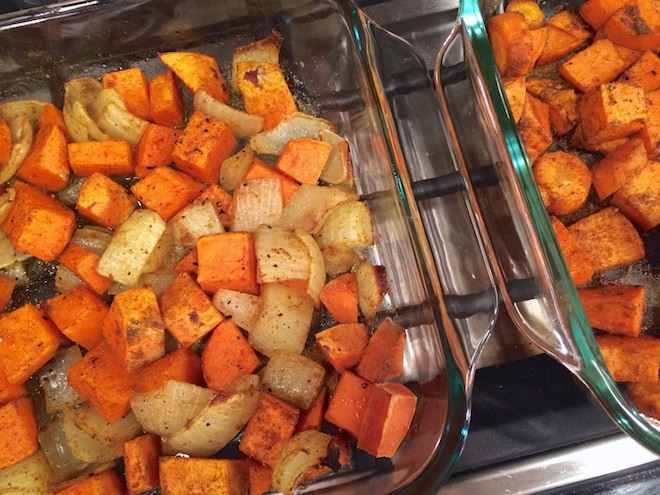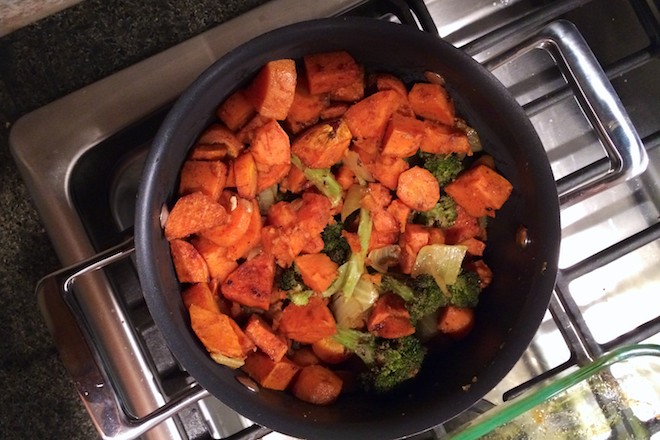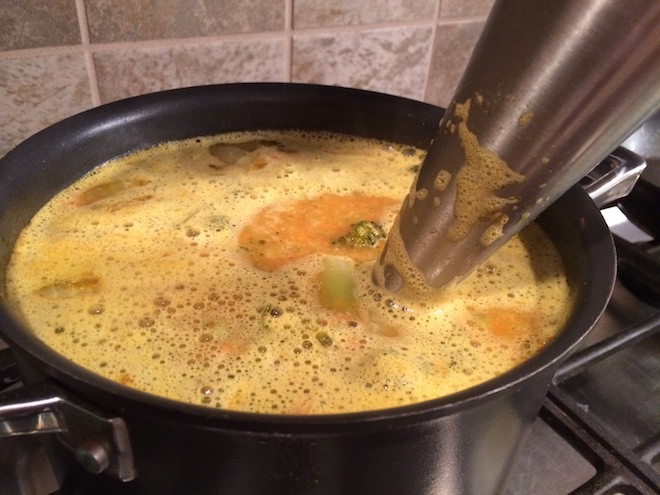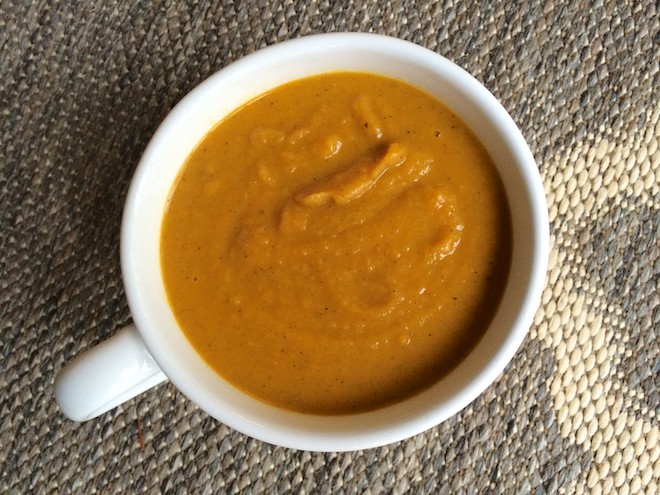 Roasted Veggie Soup
Ingredients
2 large sweet potatoes
4 carrots
1 onion
1/2 head broccoli
1/2 head garlic
1/2 tbsp curry powder
1/2 tbsp cumin
pinch of salt
fresh ground pepper
4 cups vegetable or chicken stock
2 cups water (or more stock)
Cooking Directions
Preheat the oven to 375 degrees F.
Chop all the veggies except the garlic into 1-inch cubes. Spread into an even layer in two baking dishes.
Drizzle with olive oil and seasonings. Toss to combine with your hands.
Split the head of garlic in half and set one half aside for later cooking. Trim about 1/2 inch off the top of the remaining half and place in a sheet of foil. Drizzle a little olive oil over the top, then close up the foil around the garlic. Nestle the garlic packet into the veggies to roast.
Roast for 50 minutes. Remove from oven and transfer to a soup pot.
Bring soup to a simmer and allow to cook 10-15 minutes.
Once warmed through, use an immersion blender to blend into a smooth and velvety consistency. Serve in big bowls and enjoy!
If you loved this post, I hope that you'll share it with your friends on Facebook and pin it for future reference on Pinterest.