Looking for a dinner idea that's full of flavor and Mexican-inspired ingredients? Try one of these gluten and dairy-free Mexican casserole recipes!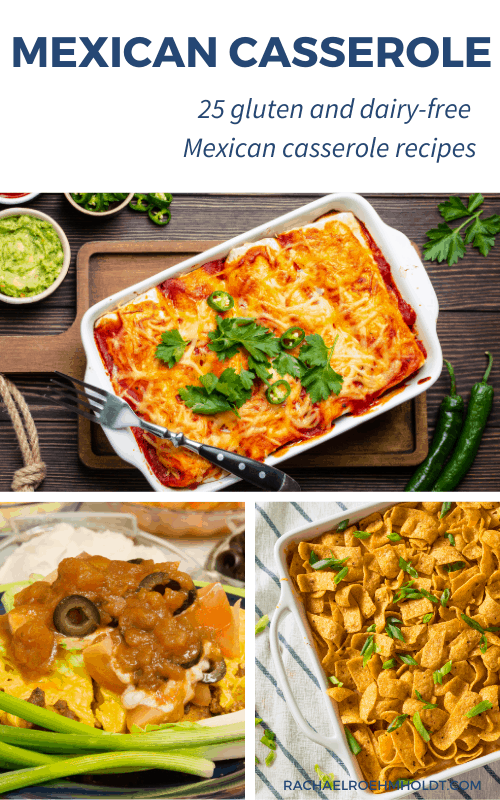 Note: I am a proud Amazon, Chomps, MunkPack, and Thrive Market affiliate and am happy to recommend their service and products to you. Please know that as an affiliate, I may receive a small commission on the products you purchase after clicking through my links. For more info, please see my disclosure policy here.
If you love a quick and easy meal and Mexican food that fills you up and tastes amazing, you're probably in the right place. My family LOVES Mexican food: tacos, enchiladas, quesadillas, you name it!
A lot of American-made Mexican foot contains a lot of dairy and plenty of gluten if you make certain dishes. For example, there's cheese on almost every dish I can think of. Or flour tortillas used in loads of meals.
Luckily, we can make our own gluten-free and dairy-free Mexican food at home with ingredients that work for us! Like omitting the cheese or using a dairy-free cheese instead. Or using a gluten-free tortilla or corn tortillas in place of flour tortillas.
The thing I love most about Mexican food is that the flavors are so bold that you generally won't even miss the cheese or gluten ingredients. There are plenty of ways to make swaps in many Mexican inspired meals to still work out and taste amazing.
Read on: Gluten-free Tortillas: Types, Gluten-free Options, and Brands
Read on: Do corn tortillas have gluten?
Read on: Are flour tortillas gluten-free?
If you love Mexican flavors and getting a meal prepped to stick in the oven for an easy set-it-and-forget-it style of cooking, you'll love this recipe roundup.
In this roundup, you'll find gluten and dairy-free Mexican breakfast casseroles, taco casseroles, enchilada casseroles, casseroles with chicken, and casseroles with beef. There's something delicious for everyone – and you won't even miss the cheese!
If you love sour cream with your Mexican inspired meals, check out this dairy-free sour cream recipe!
Read on: Gluten-free Mexican food
Gluten-free Dairy-free Mexican Breakfast Casseroles
If you love breakfast casseroles, you might love to try one of these Mexican inspired breakfast options. In this set of recipes, you'll find make ahead options, and recipes loaded with delicious flavors like chorizo, chipotle, and jalapeños.
This Mexican breakfast casserole dish is a great recipe to have on hand, because you make it ahead of time. With all your favorite Mexican ingredients, this one is bound to be delicious!
This make ahead Mexican breakfast casserole has got to taste good, because it has almost all my favorite Mexican flavors included: ground beef, sweet potatoes, jalapeno, chili powder, and tomatoes.
Add some eggs, spinach, and some seasonings – and a beautiful breakfast that can be prepped ahead is born.
Read on: 25 Gluten-free ground beef recipes
This chorizo chipotle breakfast casserole is a great alternative to the breakfast burritos you maybe used to eat before going gluten and dairy-free.
With some tasty Mexican flavors, you can still enjoy a dish that tastes the same without all the ingredients that make you feel icky.
This Mexican breakfast casserole is full of potatoes, eggs, and red and green peppers.
You can buy or make your own gluten-free taco seasoning for this dish, and have a ton of great topping ideas to make it your own, like salsa, guacamole, and fresh cilantro.
This breakfast casserole is full of flavor from ground sausage, ground beef or turkey, bell peppers, onions, taco seasoning, salsa, corn, black beans, and eggs.
Make this dish dairy-free by swapping out the milk for a dairy-free milk of your choice and using dairy-free cheese.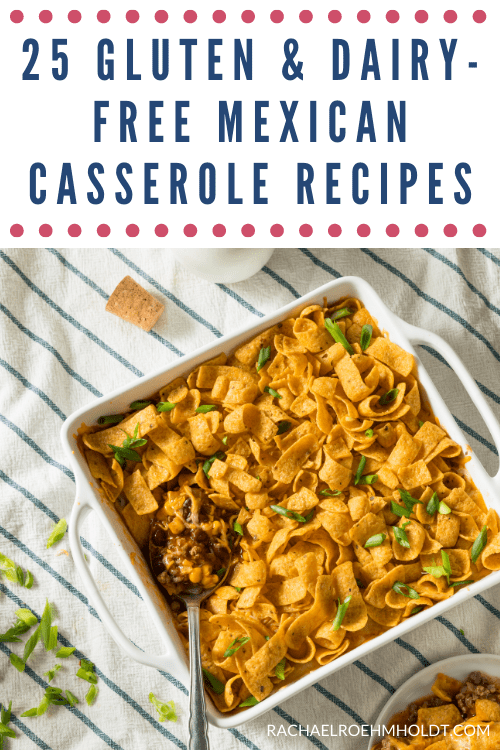 Gluten-free Dairy-free Taco Casseroles
This recipe is the best of both worlds: tacos and casserole. Enjoy a quick and easy dinner with all the flavors of tacos but served in a big casserole dish.
The base of this casserole is refried beans, then it's topped with salsa, ground beef, bell peppers, and corn. Top everything with crushed tortilla chips, lettuce, tomatoes, and olives.
This taco casserole is full of yummy taco ingredients, like ground beef, green peppers, onions, and potatoes. You can top it with avocado, guacamole, salsa, dairy-free sour cream, and black olives.
Although it looks like a lot of ingredients, you're pretty much making your own taco seasoning, so don't be too overwhelmed with the list!
This gluten and dairy-free taco bake is made with refried beans, rice, ground beef, and plenty of spices from taco seasoning, salsa, and hot sauce.
Be sure to use dairy-free cheese to make sure this recipe is fully dairy-free!
Read on: Is Frank's Red Hot gluten-free?
If you're looking for a little help from the store, check out this taco casserole recipe that uses canned beans, tomato sauce, and corn.
You take a shortcut with a gluten-free taco seasoning mix to make this dish come together quickly and easily. Be sure to use dairy-free cheese in place of cheddar!
This dairy-free taco casserole looks like it could be for breakfast, brunch, or dinner.
With eggs, ground beef, bell peppers, red onions, and jalapeños, you really could have this dish all day long, depending on your mood. Spice things up with some chili powder, garlic, and paprika to give this casserole tons of flavor.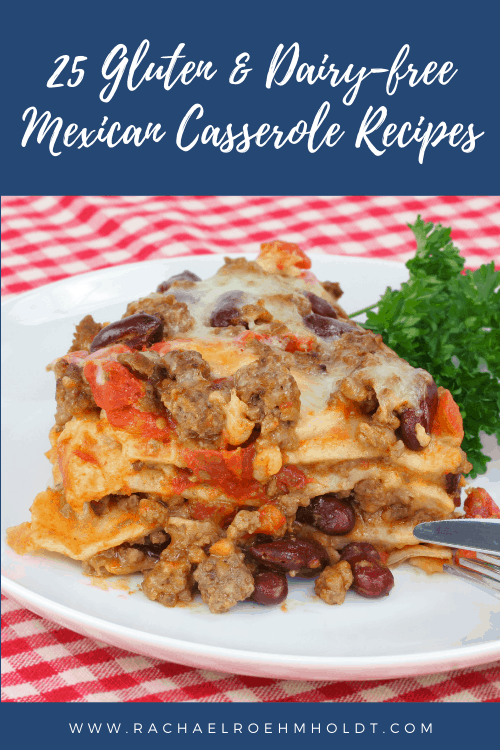 Gluten-free Dairy-free Enchilada Casseroles
Enchiladas are a great dinner option. Get some inspiration for mixing up your plain old enchiladas with these new takes on this classic dish. Cauliflower, sweet potato and ground turkey, and a layered enchilada casserole are all highlighted here.
Enchiladas made healthier? Yes please! This recipe uses a homemade enchilada sauce plus cauliflower, kale, tomatoes, and Mexican seasonings for a tasty but healthy casserole you can make any night of the week.
Enchilada casseroles range from super heavy on the ingredients to super simple.
I love this recipe because it leverages some pre-made items while still staying on the healthy side. Try this one to get your Mexican food fix on a weeknight.
When I think of sweet potatoes and turkey, I don't think of enchiladas. But that's what makes this dish so unique – I love the layers of sweet potatoes, ground turkey mixture, and a homemade enchilada sauce that uses coconut flour to thicken it.
Just be sure to omit the goat cheese crumbles for following a strict dairy-free diet.
Read on: Is coconut flour gluten-free?
Enchiladas are a favorite in my house. I love to create new versions of recipes and try my hand at homemade sauces when I get a chance.
This homemade enchilada sauce is naturally gluten-free and dairy-free and the entire casserole looks to die for.
I love love love Mexican food – any time I can make it at home easily and healthy, I'm in heaven. This recipe is easy, takes under an hour, and is easy to make dairy-free by swapping out for Daiya or another vegan cheese option.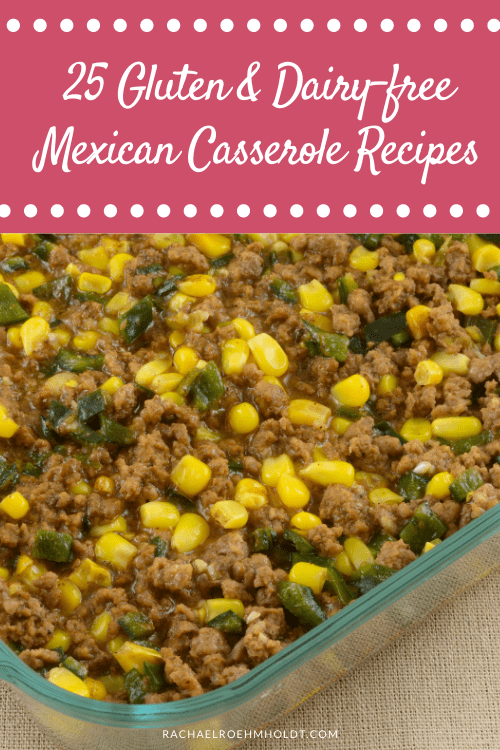 Gluten-free Dairy-free Mexican Casseroles with Chicken
Chicken is great in Mexican casserole dishes, because it's easy and quick to prepare. It's also naturally gluten-free. Enjoy these few recipes that feature chicken, rice, and green chiles.
Read on: 25 Gluten-free dairy-free chicken casserole recipes
Read on: Does chicken have gluten?
This Southwest chicken and rice casserole claims that even kids can make it!
With ingredients you likely already have on hand, you can have a tasty dinner in under an hour. Just be sure to swap out the flour for a gluten-free version.
This recipe is great for a crowd – and with gluten-free and dairy-free options, it's easy to throw together and feed everyone in the family or for a get-together.
This chicken verde casserole is full of chicken, riced cauliflower, frozen hash browns, and salsa verde.
It gets some extra flavor from onion powder, garlic powder, and paprika. This recipe comes together in under an hour!
Try this green chili casserole with chicken, cauliflower, rice, canned green chilis, eggs, salsa verde, and a homemade creamy cashew sauce. This recipe takes a little while to cook, so plan ahead!
Gluten-free Dairy-free Mexican Casseroles with Beef
Beef casseroles are so simple to prepare and work well with Mexican flavors. You'll love these few recipes that are flavored with taco seasoning and other Mexican inspired beans and vegetables.
Read on: 25 Gluten and dairy-free ground beef casserole recipes
Read on: 25 Gluten-free ground beef recipes
What's great about this recipe is not only that you get some of the best flavors of Mexican food, but that you can freeze it ahead of time for easy prep later on.
This Mexican casserole recipe is an easy get-to-the-table kind of meal. Swap the cheddar cheese for Daiya or other vegan brand for a tasty gluten-free dairy-free dinner.
Try this simple Mexican casserole with beans, beef, tomato sauce, corn, and taco seasoning. Be sure to use gluten-free pasta or gluten-free egg noodles in place of traditional egg noodles and a gluten-free taco seasoning in this dish.
Read on: Is taco seasoning gluten-free?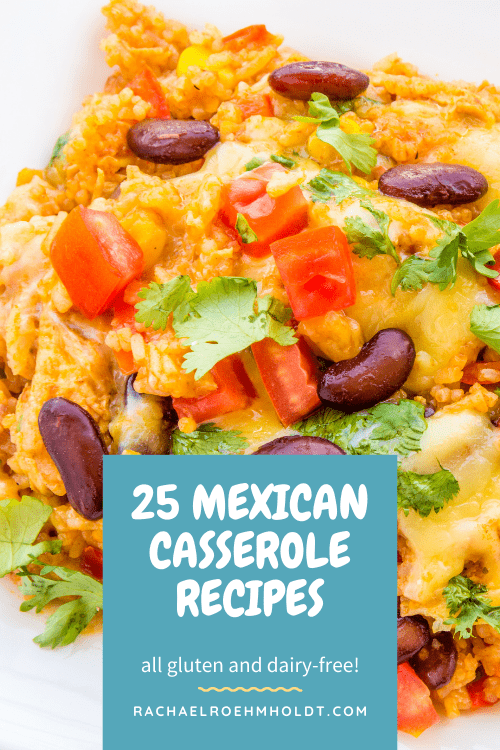 Gluten-free Vegan Mexican Casseroles
If you're looking for a lighter dish that's both vegan and gluten-free for your Mexican casserole, you won't want to miss these three recipes. Choose from two one pot and one skillet meals and a creamy vegan Mexican casserole.
I didn't even have to read the recipe for this before I knew I'd love it. One pot? I'm in!
But after looking further and seeing all of my favorite Mexican flavors in one dish, this is definitely going on my must-try list.
Another tasty one-skillet meal with all my favorite flavors. This recipe is quick and simple to put together.
Make sure to use dairy-free cheese or omit the cheese entirely to make sure it's 100% gluten-free and dairy-free.
Although this recipe isn't beautiful to look at, author Sarah over at Vegan Chickpea, says her family can't get enough of this healthy and tasty Mexican casserole.
I'm willing to give it a blind taste test and see if it gets a thumbs up in my family, how about you?
If you've been looking for a Mexican casserole recipe that's both gluten and dairy-free, I hope that one of these recipes looks delicious for you to try out! Whatever mood you're in, one of these recipes is bound to be a great choice for dinner tonight.
Love this post? You might also want to check out more of my recipe roundups here!
Find some delicious gluten and dairy-free recipes in these popular recipe roundup posts!
Want more? Check out all my Gluten-free Dairy-free Recipes!