Is corn gluten-free? Find out if corn contains gluten, if different types of corn contain gluten, and if this ingredient is safe for a gluten-free diet.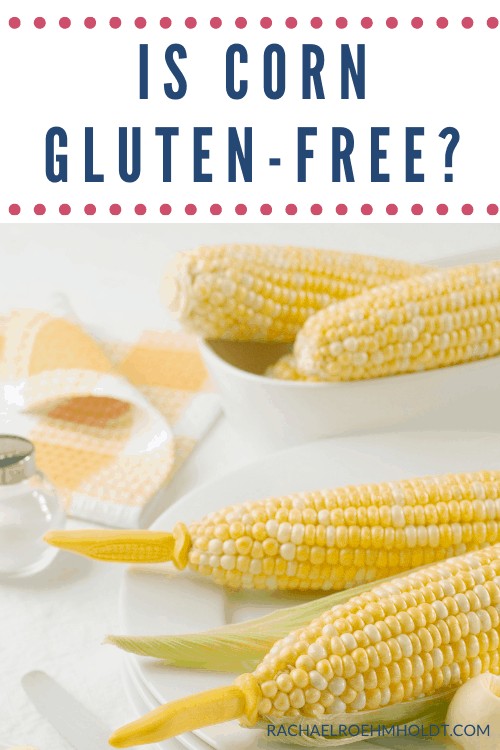 Note: I am a proud Amazon, Chomps, MunkPack, and Thrive Market affiliate and am happy to recommend their service and products to you. Please know that as an affiliate, I may receive a small commission on the products you purchase after clicking through my links. For more info, please see my disclosure policy here.
If you're just getting started with a gluten-free diet, finding the foods that you can eat can be tricky. Corn is an ingredient that many people get confused about, because it is a whole grain and many whole grains do contain gluten.
In this post, we're going to get down to facts and answer the question "Is corn gluten-free?" so you can feel confident next time you're out shopping.
We'll go over the basics of the health benefits of corn, what gluten is and find out if corn is gluten-free. We're also going to discuss the controversy that surrounds corn and gluten, the different types of corn and if these are gluten-free, and finally answer a few common questions related to corn and gluten.
The health benefits of corn
Corn is a great source of fiber, making it good for keeping your digestion moving, as long as you can tolerate it well. It also contains B vitamins, zinc, magnesium, copper, iron, and manganese. It also helps with eye health since it's full of lutein and zeaxanthin.
What is gluten?
Gluten is a protein found in most wheat products, and acts as the "glue" that helps to hold wheat, barley, kamut, spelt, farro, durum, bulgur, rye, and semolina together to maintain their shape.
Gluten is naturally occurring, and therefore is impossible to strip away from the grain. If a grain naturally has gluten in it, there's no way to make that food gluten-free.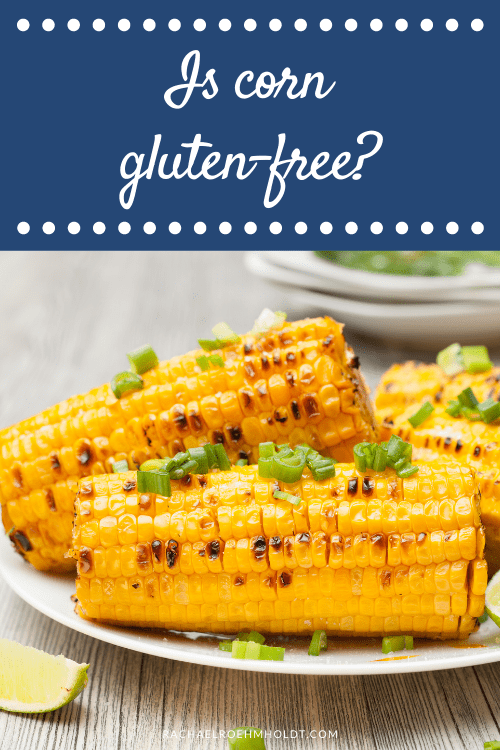 Is corn gluten-free?
While many whole grains contain gluten, corn does not. In its natural form straight from the cob, it is always gluten-free.
There are some cases where you'll want to be careful, however. While corn itself is naturally gluten-free, corn that comes in a sauce or is mixed into a processed food product, like canned soup, may contain gluten.
You'll want to be diligent about checking ingredients lists if you buy anything except for fresh corn from the produce department of your grocery store. While most frozen corn is gluten-free, you'll also want to be sure there is no hidden gluten in the form of flavorings or preservatives that have been added to the product.
As for canned corn, again look at ingredients lists for any hidden names of gluten.
One of my little secrets is that I carry around a copy of my GFDF Take Along Cards so that I always have a point of reference when I can sneak a peek at the ingredient list of a food.
>> Get your copy of the GFDF Take-Along Cards to make this easy on you.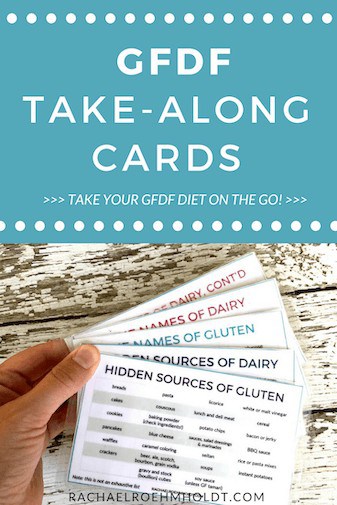 The controversy of corn and gluten
You may have been doing research around this topic and come across some conflicting information. Some people say that corn contains gluten, while others say the opposite is true.
Depending on where you look online, you'll see that some people feel very strongly that corn contains gluten. They say that all whole grains contain gluten, and therefore corn is not gluten-free.
However, others have done studies to detect levels of gluten in corn and have come to prove there is no gluten in corn. (source)
The bottom line here is it doesn't necessarily matter if corn contains gluten or not, but rather if it creates an immune system response in your body or not.
Read on: What are the symptoms of a food intolerance?
Getting caught up in semantics feels like a waste of time when most people can agree that corn is gluten-free. For me and my body, I know that I can tolerate corn without issue. If you feel sick after eating corn, then know that it isn't a good food for you to keep in your diet.
Read on: Which whole grains are gluten-free?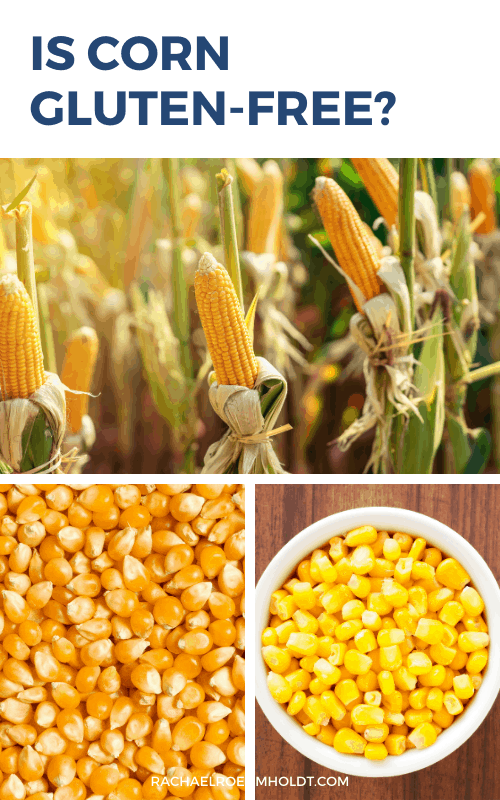 Other types of corn
Now that we know that corn is naturally gluten-free, let's talk about some of the other types of corn you might find at the grocery store and called for in recipes.
Cornstarch
Cornstarch is the carbohydrate portion of a corn kernel that has been ground up. This starch is used as a thickening agent for soups, stews, gravy, and sauces, and you'll see it called for in a lot of gluten-free recipes in place of flour.
Cornstarch is naturally gluten-free.
Read on: Is cornstarch gluten-free?
Hominy
Hominy is made from dried corn which is soaked in a lime or lye bath, then used in tortillas or added to soup.
Hominy is naturally gluten-free.
Cornmeal
Cornmeal is made from corn that has been ground to make a coarse flour. You can find cornmeal in varying textures for different uses in recipes, like cornbread, grits, or polenta.
Is cornmeal gluten-free?
Cornmeal is gluten-free, as long as it has not had any cross contact with other grains during the manufacturing process. Look for a gluten-free label or a note that it has been processed on a dedicated gluten-free line.
Read on: Is cornmeal gluten-free?
Are grits gluten-free?
Grits, or course cornmeal, are considered gluten-free. However, you'll want to look for that gluten-free label to ensure no cross contamination has taken place during harvesting or processing.
Read on: Are grits gluten-free?
Is polenta gluten-free?
Cornmeal that's sold as or prepared as polenta is gluten-free. Look for a package with a gluten-free label to ensure that cross contamination with other gluten-containing grains is avoided.
Read on: Is polenta gluten-free?
Popcorn
Popcorn is naturally gluten-free when you buy plain kernels in bags from the grocery store.
The issue of gluten coming into a popcorn product comes in when you add flavorings. Gluten likes to hide in different flavorings, so look for any microwavable popcorn or bagged popcorn with a gluten-free label to be sure.
Read on: Is popcorn gluten-free?
Corn tortillas
Corn tortillas are made from corn masa flour and water, along with some preservatives.
Most corn tortillas are naturally gluten-free, making them an easy choice for people with gluten intolerance in place of flour tortillas.
Read on: Gluten-free Tortillas: Types, Gluten-free Options, and Brands
Read on: Do corn tortillas have gluten?
Corn Nuts
Corn Nuts are considered gluten-free as there are no gluten ingredients added to any of the flavors of this snack food. When looking around online, I found that many retailers market Corn Nuts as gluten-free and they say they are labeled gluten-free, though I wasn't able to find that myself.
Read on: Are Corn Nuts gluten-free?
Is cream corn gluten-free?
Creamed corn that comes in a can may or may not be gluten-free. Some brands use cornstarch as a thickener, while others use flour.
Look at the ingredients list for any hidden names of gluten or a gluten-free label to be sure what you choose is gluten-free. You can also make your own at home, using a recipe like this one.
I hope if you've been searching for the answer as to whether or not you can eat corn on a gluten-free diet, that you've found it here. There are many places that gluten can hide in your food, but luckily, corn isn't one of them!
Feel safe to enjoy corn on a gluten-free diet, as long as you can tolerate it without any digestive issues or other symptoms.
If you loved this post, I hope that you'll share it with your friends on Facebook and pin it for future reference on Pinterest.
Love this post? You might also want to check out these!
Find out if your favorite foods and ingredients contain gluten with these posts!