Do you love coffee and just getting started with a gluten-free diet? You may be wondering if coffee is safe to continue drinking while making this transition in your diet. This post will give you all the information you need to know about gluten and coffee.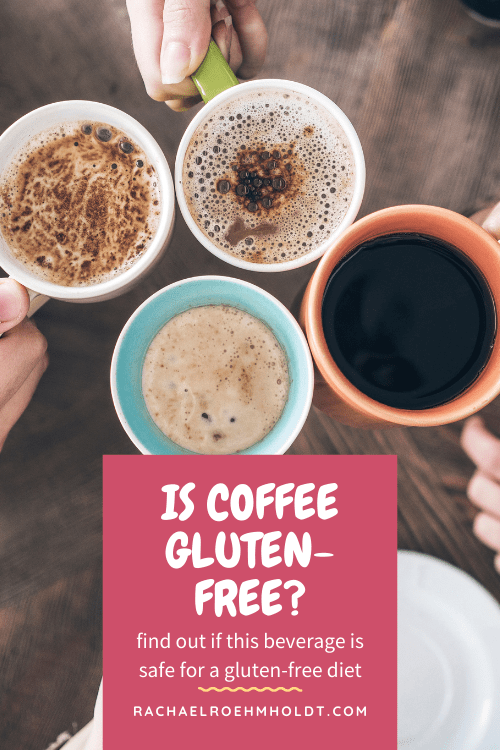 Note: I am a proud Amazon, Chomps, MunkPack, and Thrive Market affiliate and am happy to recommend their service and products to you. Please know that as an affiliate, I may receive a small commission on the products you purchase after clicking through my links. For more info, please see my disclosure policy here.
I know so many people rely on the routine and ritual of drinking coffee in the morning. In fact, my husband is one of those people who has come to love his craft coffee and makes it two different ways throughout the day, because it's simply become his hobby and favorite thing to do.
I personally love the flavor of some types of coffee and enjoy the routine of having the same thing every morning, but I could live without it and still be okay to miss a day here and there. I'm super caffeine sensitive also, so I only drink one cup of decaf coffee every morning and I have to be finished before noon, otherwise I'm staring at the ceiling all night and twiddling my thumbs.
So many people wonder about different foods and drinks when going gluten-free, that I thought I'd make a point to touch on this very important and vital topic of coffee, so you feel assured that what you're enjoying every morning is still a good option for you.
In this post, we'll go over whether coffee is gluten-free, if ALL coffee is gluten-free and if there are some exceptions to the rule, and we'll talk about a few popular brands, so you get all the answers you need on the topic of gluten and coffee. Let's get into it, shall we?
What is gluten?
Before we say whether or not you can drink coffee on a gluten-free diet, let's make sure we're on the same page with the basics.
Gluten is a protein found in most wheat products, and acts as the "glue" that helps to hold wheat, barley, kamut, spelt, farro, durum, bulgur, rye, and semolina together to maintain their shape.
Gluten is naturally occurring, and therefore is impossible to strip away from the grain. If a grain naturally has gluten in it, there's no way to make that food gluten-free.
If a food does not have gluten in it by nature, i.e., from a wheat source, then it sometimes can be added in the form of flavorings, additives, binders, and oftentimes by complete accident with cross contact from other food sources. It's strange, but gluten has been found to wind up just about anywhere you can think of.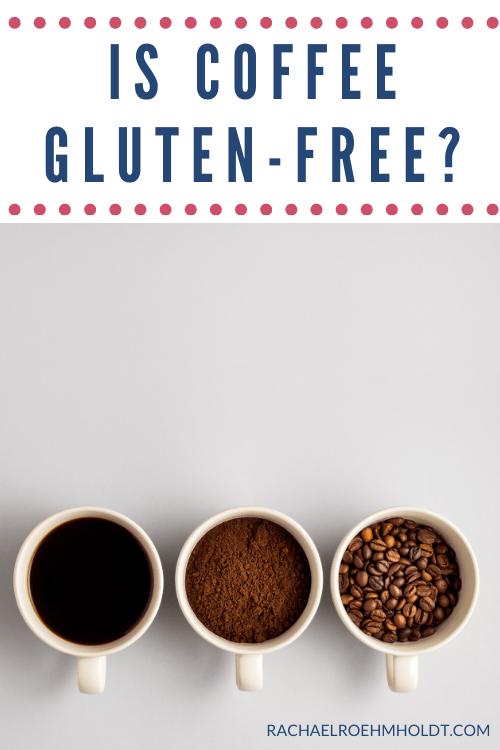 Is coffee gluten-free?
The quick answer that I know you're looking for is YES, coffee is naturally gluten-free and is therefore safe to enjoy on a gluten-free diet.
However, there are a few caveats to that "yes" that you'll want to know if you are celiac or have extreme gluten sensitivity. These are the same caveats that can be made to just about any other food that is naturally gluten free.
Coffee can be contaminated during processing
If you're expecting all coffee to be considered gluten-free, you might be surprised to learn that sometimes coffee is processed on the same machines as some coffees that are NOT gluten-free.
Wait, what?
MOST coffee is gluten-free, but some – like flavored coffee or instant coffee – can have cross contamination or gluten sources added to it, making it not safe for a gluten-free diet. We'll go over more of that further down in the post under "Is flavored coffee gluten-free?"
Coffee can come into contact with gluten at coffee shops and cafes
Let's say you're at a coffee shop and you order a drip coffee right after someone has ordered a flavored coffee. These two different beverages might have been brewed with the same equipment, while one coffee could have trace amounts of gluten and the other doesn't.
This makes it a little tricky to be sure that your coffee is, in fact, gluten-free. Again, if you're extremely sensitive to gluten, this is something to take into consideration.
If you are extremely sensitive to gluten or are celiac, you'll want to look for a gluten-free label on your coffee beans.
With a gluten-free label, you can guarantee by the FDA that you will be consuming less than 20ppm of gluten with your cup of coffee.
For most people with gluten intolerance, coffee is safe, but if you are one of those people who is extremely sensitive, then do your due diligence and opt for buying beans that are labeled as gluten-free.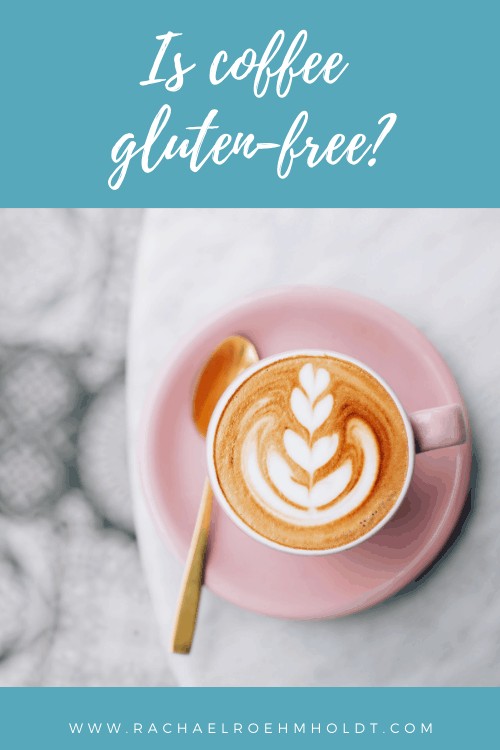 Is all coffee gluten-free?
Now that we know that most coffee is safe to enjoy on a gluten-free diet, let's go over some of these popular coffee varieties that people know and love.
Is flavored coffee gluten-free?
Flavored coffees, like vanilla, hazelnut, or other spiced coffees that are flavored after the beans have been roasted may not always be gluten-free, even if the package is labeled that way.
In a Verywell Health article, they explain that these coffees gets their flavor from "natural flavors," which often comes from an alcohol base. And alcohol is typically derived from grains, including those that contain gluten.
The idea is that even if the alcohol distillation process removes the gluten proteins, making it gluten-free, SOME people still have reactions to these drinks.
The bottom line with flavored coffee is that if they affect you and give you symptoms, don't drink them. If you can tolerate them without feeling icky the next day after enjoying it, then you can keep them in your diet.
Is instant coffee gluten-free?
While plain black coffee is gluten-free, instant coffee may cause you to pause to check a little longer. In theory, most instant coffee should be gluten-free, because it is simply brewed coffee that has been freeze-dried then packaged.
The biggest issue with instant coffee when it comes to gluten is the potential for contamination while on the processing and packaging lines. If there has been gluten on the same machines before this instant coffee, then the possibility of gluten being in your instant coffee is high.
Again, instant coffee is like anything else on your gluten-free diet. If you are especially sensitive or celiac, you might want to look for a gluten-free label before purchasing. Always look at ingredients lists to be sure there's nothing but coffee in the package too.
Is decaf coffee gluten-free?
In order to figure out if decaf coffee is gluten-free, there are four main methods to decaffeinate coffee according to Coffee Confidential. These are Indirect-Solvent Process, Direct-Solvent Process, Swiss Water Process, and Carbon Dioxide Process.
If you plan to drink decaf coffee regularly, I highly recommend finding a brand that uses a water process and organic coffee bean if possible.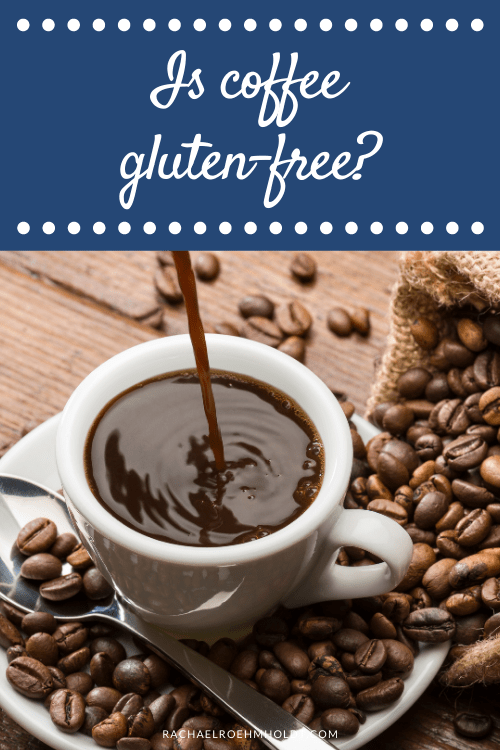 Do I have to give up coffee on a gluten-free diet?
If you have a gluten intolerance, it's quite likely that you'll be able to tolerate coffee and enjoy it regularly on your gluten-free diet.
Since coffee is a stimulant, even if you are following a gluten-free diet, know that you may still have reactions to it. It is known that while coffee may or may not contain gluten, that many folks who are celiac or very gluten sensitive still react to drinking it.
The main thing to know is that if you still drink the highest quality organic coffee with a gluten-free label and react to it, then it's just not a good idea to continue consuming it. Listen to your body more than what the packaging tells you.
If you have celiac disease, you may want to be more careful when it comes to where you source your coffee. Choose brands that are labeled as gluten-free or are small roasters (not big brands) where they only roast coffee without flavorings and at a dedicated location.
Is my favorite brand of coffee gluten-free?
Now that you know that most coffee is gluten-free, but some people still react to it, let's talk about some popular coffee brands and figure out if they are safe to continue drinking on a gluten-free diet.
Is Folgers coffee gluten-free?
According to the Folgers website, "Coffee is not a source of gluten, and our Folgers roast and ground coffee items are produced in a dedicated facility where no other types of agricultural crops are handled or processed; however, due to the use of common equipment within the agricultural community to harvest, store, and transport crops, our roast and ground products may contain trace amounts of grain-based ingredients. Additionally, our flavored coffee products may contain added ingredients that are not gluten free."
In short, they have a dedicated line, but they share equipment that may come into contact with other gluten-containing grains.
Are K-cups gluten-free?
According to the Keurig website, "All K-Cup® pods are gluten and gluten byproduct-free except for the Timothy's® Lemon Blueberry K-Cup® pods. This product contains traces of malted oats. For additional nutritional information, you can always contact the roaster directly."
When asked if they contain certain allergens, they state "All K-Cup® pods are eggs, dairy, and gluten-free."
Note that this is the response to JUST the K-cups brand of coffee and beverages. There are other brands that make K-cups that may contain gluten and you'll want to research those individually.
On my search, I was able to find these few options as specifically gluten-free: Crazy Cups and Cross Country Cafe.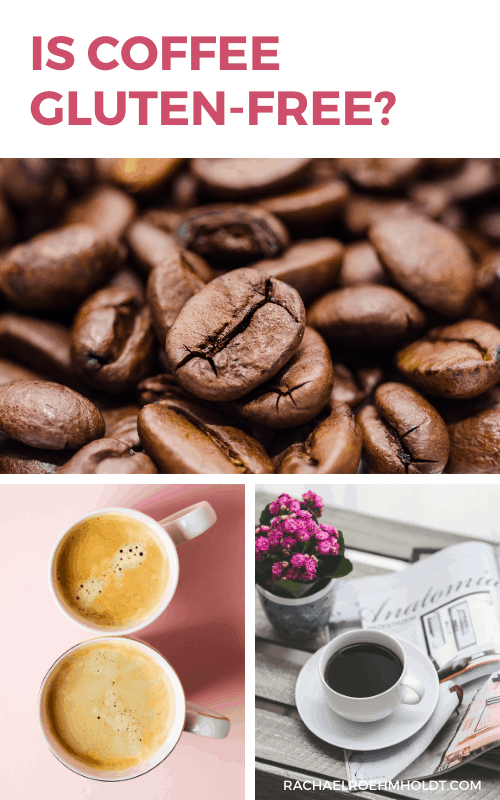 Is Lavazza coffee gluten-free?
After researching this, I wasn't able to come up with a confirmation that this brand is gluten-free. This leads me to believe that as long as the ingredients listed are only coffee, then the product is gluten-free, unless it has trace amounts from cross contamination.
Is Maxwell House coffee gluten-free?
I wasn't able to come up with a definitive answer on whether or not Maxwell House is gluten-free when researching this. My assumption is that if you are buying only products containing one ingredient – coffee – then it will likely be gluten-free, unless there are trace amounts of gluten from cross contamination.
Is Starbucks coffee gluten-free?
Starbucks coffee when it is plain beans or ground beans should be gluten-free, assuming the only gluten would be trace amounts from potential cross contamination. I wasn't able to confirm that their coffee is in fact gluten free, but like the other brands, this feels like a safe assumption.
Flavored coffees, coffee drinks, and mixes from Starbucks should be looked at carefully. Review the ingredients lists for any sources of hidden gluten before purchasing.
Read on: How to read ingredients lists
I hope if you're a coffee lover, that after reading this post, you can rejoice knowing that most coffee is gluten-free and safe to enjoy! Be wary of any flavored coffees and aware of your body and reactions when you drink different brands of coffee.
If you are extremely sensitive to gluten or celiac, do your best to look for whole or ground beans with a gluten-free label on them.
If you loved this post, I hope that you'll share it with your friends on Facebook and pin it for future reference on Pinterest.
Love this post? You might also want to check out these!
Find out if your favorite foods and ingredients contain gluten with these posts!