Find out of semolina and foods made with semolina flour are safe for a gluten-free diet, plus some gluten-free alternatives.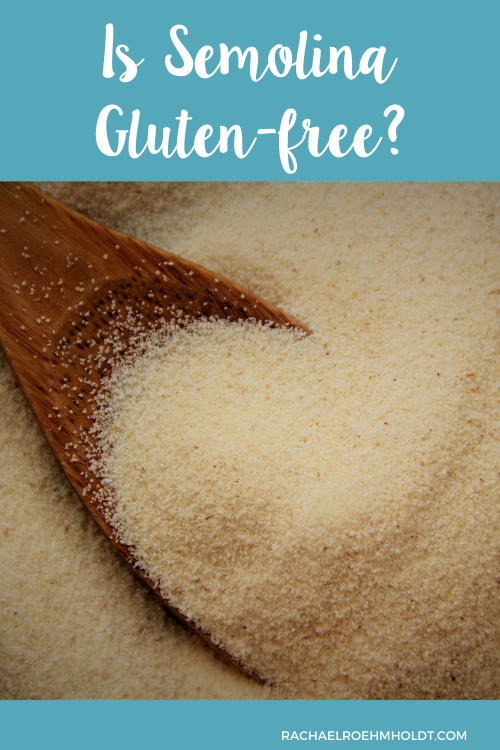 Note: I am a proud Amazon, Chomps, MunkPack, and Thrive Market affiliate and am happy to recommend their service and products to you. Please know that as an affiliate, I may receive a small commission on the products you purchase after clicking through my links. For more info, please see my disclosure policy here.
Have you just decided to go gluten-free and are wondering what ingredients should be avoided? Maybe the ones that don't specifically say "wheat" on them? Semolina is an ingredient that you may have seen on boxes of pasta or in store bought pizza crusts.
In this post, we're going to talk about this ingredient and what you need to know about it while getting started with – or sticking with a gluten-free diet. We'll talk about what semolina is, what it's used for, and answer some common questions about this ingredient.
We'll also talk about some gluten-free alternative ingredients you can use if your favorite homemade recipes include semolina.
What is semolina?
Semolina is a type of flour that's made from durum wheat. This wheat is milled, then ground into semolina. It has a signature pale yellow color after being milled that we associate with semolina.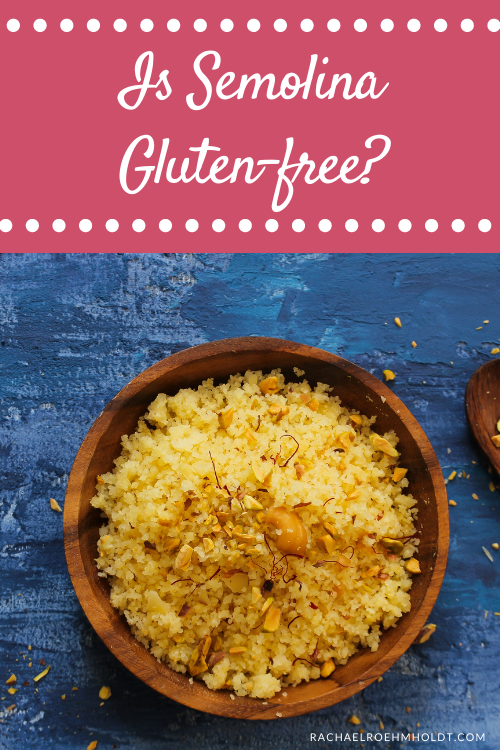 What is semolina used for?
Semolina is most popularly used in making pasta. Couscous, pizza, and many other Italian, Indian, and Middle Eastern dishes.
Is semolina the same as semolina flour?
The terms semolina and semolina flour are often used interchangeably. If you find a recipe or ingredient list that contains semolina instead of semolina flour, know that they are one in the same.
Is durum wheat semolina the same as semolina?
Yes, semolina is made from durum wheat, therefore these two terms are interchangeable.
What is gluten?
Gluten is a protein found in most wheat products, and acts as the "glue" that helps to hold wheat, barley, kamut, spelt, farro, durum, bulgur, rye, and semolina together to maintain their shape.
You can find gluten in whole grains, but also in many processed foods as well. Many processed foods have hidden gluten in them in the form or gluten or wheat derivatives.
These are also in the form of flavorings, binders to keep ingredients together, or other additives.
Read on: What is gluten in food? The basics of a gluten-free diet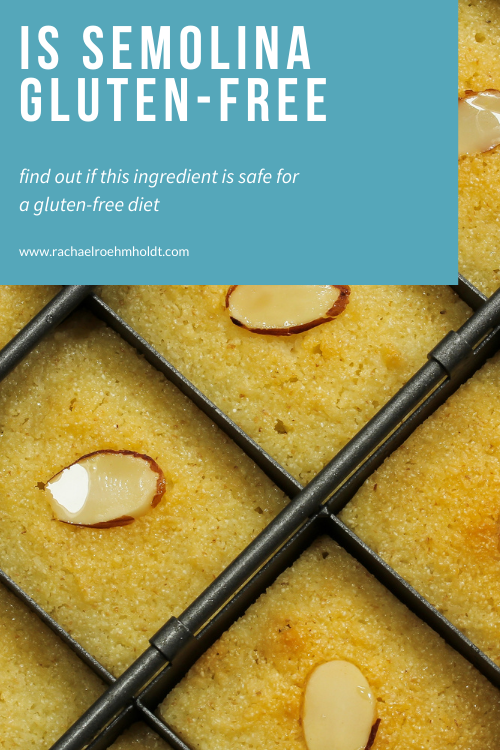 Is semolina gluten-free?
Since semolina is made from durum wheat, it is not a safe choice for those of us on a gluten-free diet. This grain contains gluten and it can't be removed no matter how much processing is done to it.
If you follow a gluten-free diet, you'll want to find alternatives to the foods that you eat that most often containing semolina, like pasta, pizza, or couscous.
Read on: Gluten-free pasta: brands & options
Gluten-free substitutes for semolina
If you make your own pasta at home, you may be interested to find out what you can use in place of semolina. Try one of these options next time you find a recipe that contains semolina and you're looking for a replacement:
Amaranth flour
This flour is full of fiber and protein and is a great alternative to semolina for bread or pasta.
Buckwheat flour
This gluten-free flour is full of protein and is great in pasta, pancakes, and other baked goods. It's darker in color than semolina so don't be alarmed if you get a result much darker than you would with semolina flour.
Read on: Is buckwheat gluten-free?
Read on: Is buckwheat flour gluten-free?
Corn flour
Corn flour has the same yellow color that mimics semolina that will make you feel at ease replacing this ingredient in your recipes. It's good for pasta when mixed with rice flour or other starch.
Read on: Is corn gluten-free?
Read on: Is corn flour gluten-free?
Garbanzo bean flour
Garbanzo bean flour is useful in many Indian or other Middle Eastern dishes that call for semolina flour.
Potato starch flour
Potato starch flour is a great gluten-free substitute for semolina when you are using this ingredient as a thickener.
Read on: Are potatoes gluten-free?
Rice flour
Rice flour is light in texture and is a good substitute for semolina, particularly in pasta and your favorite baked goods.
Read on: Is rice gluten-free?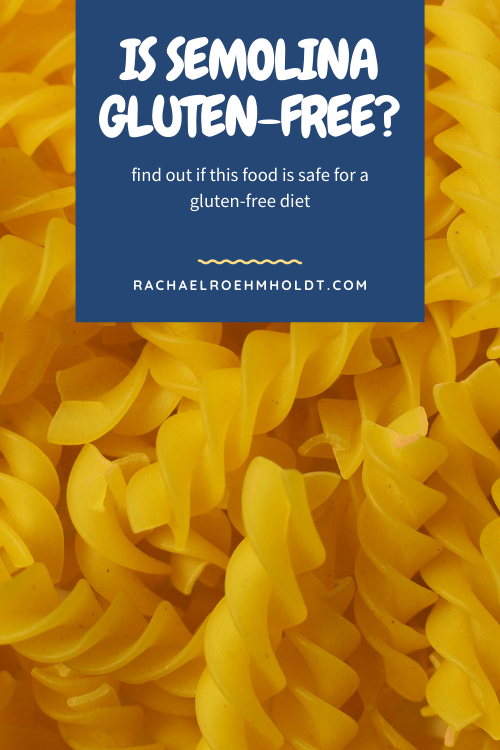 What kind of pasta can I eat if I'm gluten-free?
Most pasta contains semolina. If you're following a gluten-free diet, be sure to choose a brand that only uses gluten-free ingredients.
Look for brands that use corn flour, rice flour, lentil flour, garbanzo bean flour, buckwheat flour, or amaranth flour. Whatever type you choose, be sure to review for gluten-free labels before buying.
Read on: Top 5 gluten-free spaghetti brands
Read on: Is orzo gluten-free? Plus gluten-free alternatives
Read on: Is couscous gluten-free? Plus gluten-free alternatives
Read on: Are egg noodles gluten-free?
Read on: Gluten-free Lasagna Noodles
Can celiacs eat semolina?
If you are celiac, you will want to avoid eating semolina. This ingredient is made from durum wheat, which contains gluten. Unfortunately, there is no way to remove the gluten from the grain even if all the processing in the world was done to it.
If you follow a gluten-free diet, I hope that this post has helped you get some answers as to whether or not you'll want to continue eating products with semolina or making recipes with this ingredient.
Remember, it is not a gluten-free ingredient, so it's wise to find an alternative if you try to follow a gluten-free diet.
If you loved this post, I hope that you'll share it with your friends on Facebook and pin it for future reference on Pinterest.
Love this post? You might also want to check out these!
Find out if your favorite foods and ingredients contain gluten with these posts!