Wondering if barley or barley malt is gluten-free? Find out if this food is safe for your gluten-free diet – and what to look for on ingredients lists!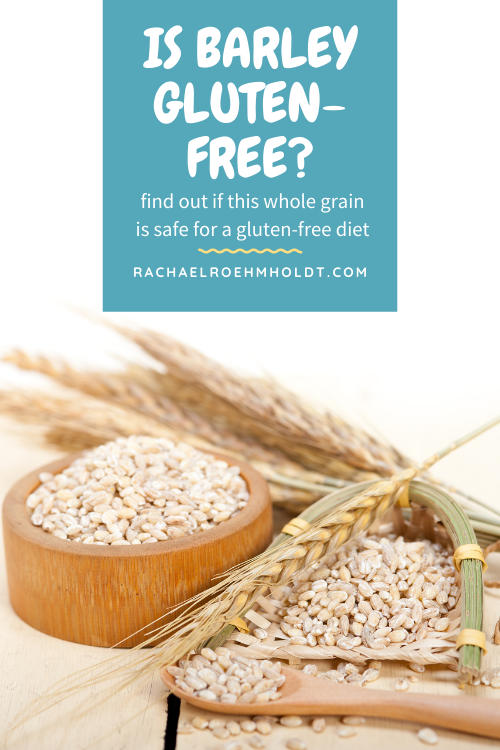 Note: I am a proud Amazon, Chomps, MunkPack, and Thrive Market affiliate and am happy to recommend their service and products to you. Please know that as an affiliate, I may receive a small commission on the products you purchase after clicking through my links. For more info, please see my disclosure policy here.
You may not think that barley is a very common ingredient if you don't enjoy it in soups or stews often, but you may be surprised at just how often this ingredient shows up in many of the foods you run into on the shelves of your local grocery store.
If you follow a gluten-free diet, you also know that gluten can hide in a number of unexpected places.
With so many whole grains available today, it's hard to know which ones contain gluten and which are safe to enjoy on a gluten-free diet. Barley is touted as a healthy whole grain, but is it an ingredient you should keep in your diet?
What about ingredients that look and sound like they might not contain wheat or gluten, like malt flavoring or malt vinegar? Are these gluten-free?
In this post, let's discuss the basics of barley, gluten, the many ways barley shows up in food we eat and buy regularly, and answer the question: Is barley gluten-free?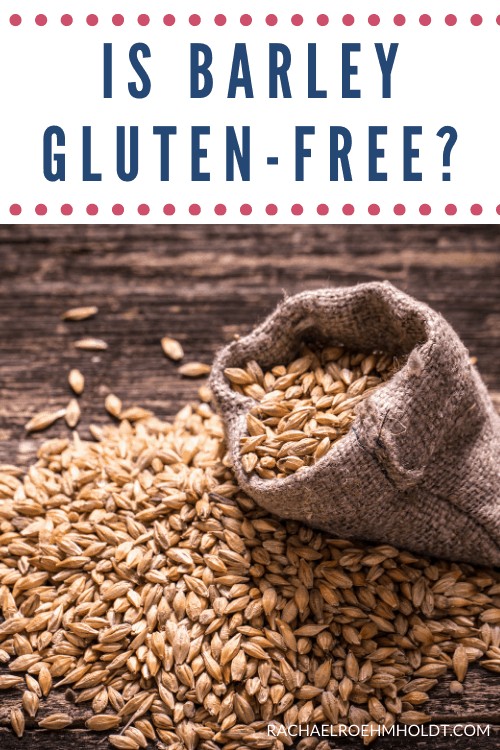 What is barley?
Barley is a chewy nutty grain that is high in fiber, vitamins, and minerals. It is a versatile ingredient and can be used in soups, stews, salads, pilafs, or mixed into veggie burgers.
You can find barley in many different forms, such as hulled barley, pearl barley, barley flour, barley flakes, barley grits, and barley malt.
Barley can be turned into malt and used in beer, malted milk, malt vinegar, and other foods.
What is gluten?
Gluten is a protein found in most wheat products, and acts as the "glue" that helps to hold wheat, barley, kamut, spelt, farro, durum, bulgur, rye, and semolina together to maintain their shape.
Gluten is naturally occurring, and therefore is impossible to strip away from the grain. If a grain naturally has gluten in it, there's no way to make that food gluten-free.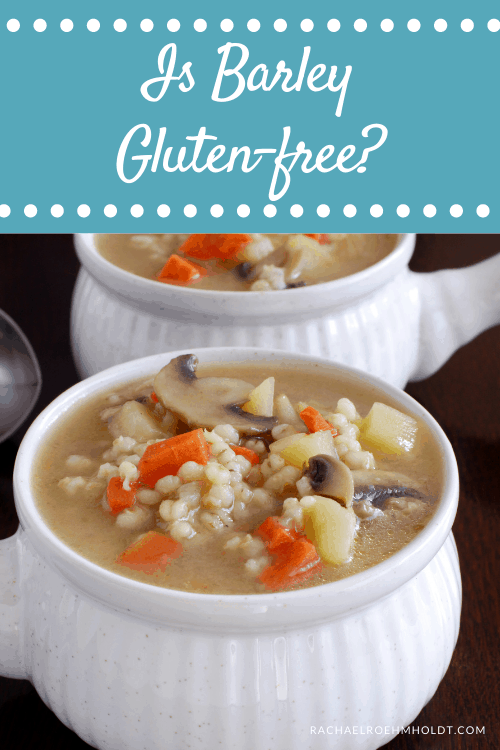 Is barley gluten-free?
Barley contains gluten, so it is not safe to enjoy on a gluten-free diet. Knowing that this is a grain with gluten, it's important to know the different ways that barley might show up in food or in an ingredients list so you can avoid it.
Barley may be found in soups, stews, beer, brewer's yeast, protein bars, malt vinegar, malted milk and milkshakes, snack foods, food coloring, cereal, and even in some medicine.
When you're looking at ingredients lists, look for these names that barley might hide under:
malted barley flour
barley flour
barley flavoring
barley enzymes
malt extract
malt flavoring
maltose (malt sugar)
malt syrup
dextrimaltose
caramel coloring (if made using barley)
Knowing these names of barley, you can actively look for them on ingredients lists to avoid them if you're following a gluten-free diet.
One of my little secrets is that I carry around a copy of my GFDF Take Along Cards so that I always have a point of reference when I can sneak a peek at the ingredient list of a food.
>> Get your copy of the GFDF Take-Along Cards to make this easy on you.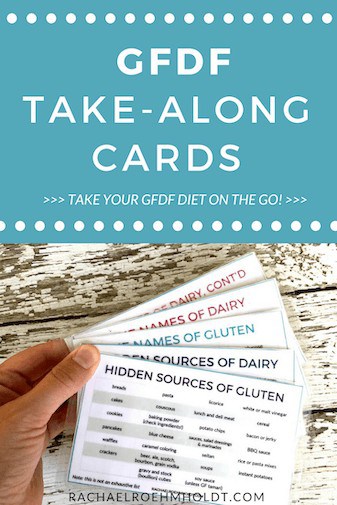 Read on: Is malt gluten-free?
Alternatives to barley
If you're looking for replacing barley in a recipe, you might consider using buckwheat, brown rice, wild rice, or quinoa, as these are gluten-free grains. Depending on the recipe, you might also consider gluten-free oats, sorghum, teff, or millet as well.
There are plenty of gluten-free grains available to you, so if you find yourself worrying that you can't replace barley in a recipe, know there is likely a gluten-free option that you'll be able to use in its place.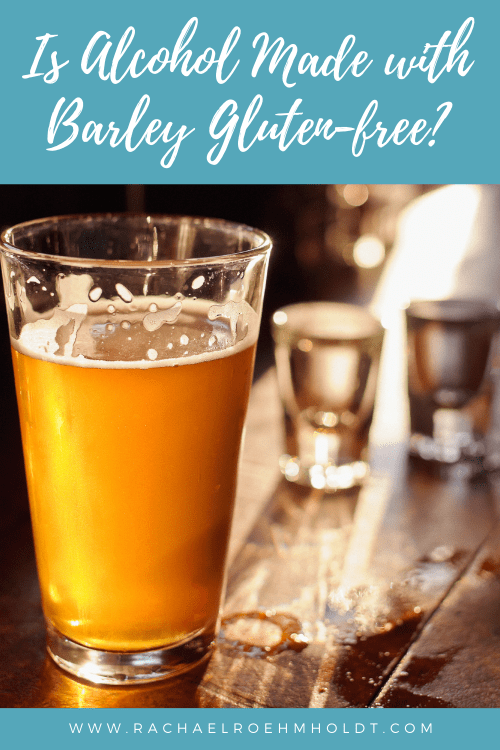 Is alcohol made with barley gluten-free?
The answer to this question may surprise you!
Beer and most malted beverages are made using malted barley and sometimes wheat, making it not safe for a gluten-free diet. In the process of making beer, the gluten remains in the drink. If you follow a gluten-free diet, you'll want to avoid beer that is not labeled as gluten-free.
Interestingly, when making distilled drinks with barley malt, the gluten gets distilled out of the final product making it safe to enjoy on a gluten-free diet. Surprising, I know!
Read these three posts for more details: Is Whiskey Gluten-free? Is Bourbon Gluten-free? Is Scotch Gluten-free?
If you're looking for a gluten-free beer, be sure to check out this post for a full list of gluten-free and gluten-removed beer options: Does Beer Have Gluten?
Is barley flour gluten-free?
Barley flour is simply barley that has been ground into a flour, keeping all the parts of the grain as a part of the flour. Since barley isn't gluten-free, barley flour isn't either.
Is pearl barley gluten-free?
Pearl barley, also known as pearled barley, is the barley grain with the bran and hull removed, leaving the starchy insides left over. This ingredient is often used in soups and stews. Pearl barley still contains gluten, as it can't be removed from the grain. Pearl barley is not gluten-free.
If you have been wondering if you can enjoy barley or its derivatives on your gluten-free diet, I hope you have found your answer in this post. Barley and barley malt products contain gluten, but there are so many other gluten-free grains available that you can easily find a replacement for this ingredient in most foods.
Be on the lookout for barley and its many names in ingredients lists when shopping and buying foods from the grocery store. If you have questions, pop them in the comments section below!
If you loved this post, I hope that you'll share it with your friends on Facebook and pin it for future reference on Pinterest.
Love this post? You might also want to check out these!
Find out if your favorite foods and ingredients contain gluten with these posts!