Find out if bread contains dairy, what ingredients to look for in store-bought breads, and get a list of dairy-free bread brands you can buy.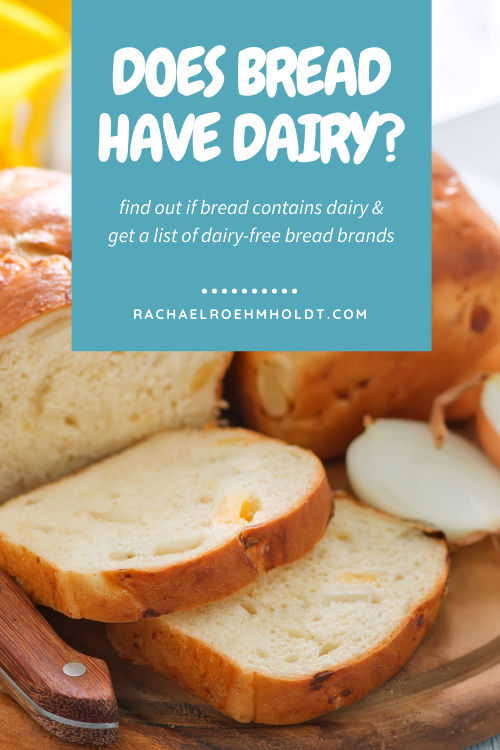 Note: I am a proud Amazon, Chomps, MunkPack, and Thrive Market affiliate and am happy to recommend their service and products to you. Please know that as an affiliate, I may receive a small commission on the products you purchase after clicking through my links. For more info, please see my disclosure policy here.
If you're just getting started with a dairy-free diet, you may be wondering what foods you need to start substituting in your daily meals. As with most diets that tell you to avoid an entire grouping of food, this can be extremely overwhelming to know which options are safe for you to enjoy.
Growing up, we're told that bread and whole grains are an important part of anyone's diet so the potential for having to review these foods in our diet can be daunting especially if you have favorite brands you've enjoyed for years.
If you love toast or French toast for breakfast, sandwiches for lunch, and breadsticks or rolls with your dinner, bread is likely a decent part of your regular diet. It's important to know which options are going to work best for you while you're learning to avoid dairy in your diet.
This post will hopefully get you all the information you need to know about bread containing dairy, what types of bread you'll definitely want to avoid while being dairy-free, and a list of some dairy-free bread brands you can start researching to find options that work well for you.
Let's answer the question "does bread have dairy?"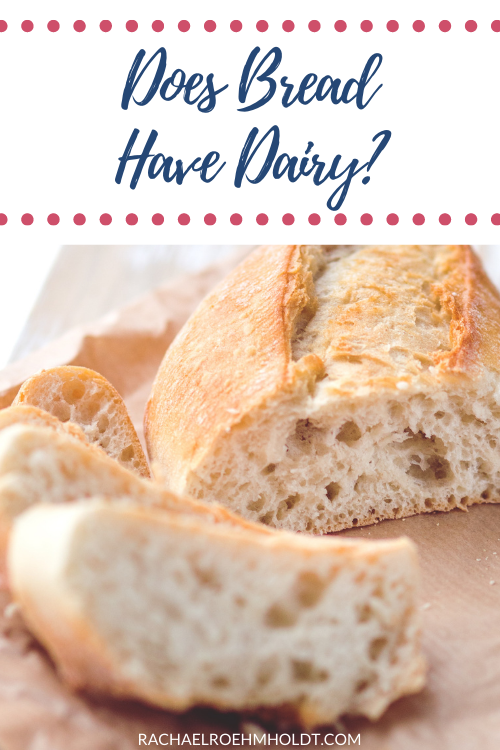 What is bread made out of?
The most common ingredients in bread are flour, water, and yeast. Bread may contain other ingredients for preservatives, flavor enhancers, and to get just the right texture.
Depending on whether you buy bread at a store or make it at home, the ingredients will likely vary. You can make a very simple bread recipe at home using gluten-free ingredients if you also follow a gluten-free diet. You can also make a simple bread with just a handful of ingredients, like wheat or enriched flour, yeast, and water.
Different types of bread may contain different ingredients. For example, sandwich bread or a loaf of French bread or baguettes may have fewer ingredients than a breakfast bread, rolls, or breadsticks.
Sometimes eggs, dairy, spices and other seasonings are added to breads to give them extra flavor and a unique texture.
What is dairy?
Dairy is a general name for ANY food that is made from milk. Technically, this is any food made from cow's milk or goat's milk or sheep's milk. Any animal milk is dairy. However, mostly when we're talking about dairy, we're talking about drinking cow's milk, because that's what is most popular here in the United States.
The most common foods that are considered to be dairy are: milk, cream or heavy cream, cheese, ice cream, and yogurt. This includes different variations of each of these as well, such as: hard cheeses, soft cheeses, cottage cheese, feta cheese, flavored milks, different flavored ice creams and yogurts, pudding, and sherbet.
If a product is made from cow's milk or any animal milk, it is considered to be a dairy product.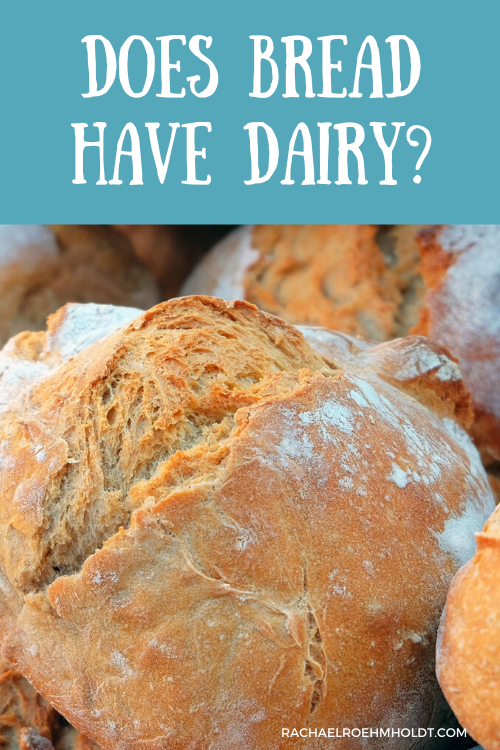 Does bread have dairy?
While not all bread contains dairy ingredients, many breads you buy at the store do. If you make homemade bread, you can easily keep dairy out of your recipes.
In store-bought breads, dairy can show up in the form of whey powder, butter, and skim milk powder.
If you avoid dairy, but not gluten, or are looking to avoid both like I do, be sure to review ingredients lists before purchasing. Look for those hidden names of dairy to help you make an informed decision on what brands and products to buy.
When does bread have dairy?
Any store bought bread may contain dairy products. While making bread at home from scratch, it's easy to avoid dairy ingredients because you can search for recipes without them. You can also choose to replace any ingredients with a dairy-free substitute if necessary.
At stores, dairy products are often added to enhance a bread's flavor and texture. You might find this under the names whey, whey powder, butter, and skim milk powder. Other dairy ingredients might be added buttermilk bread, garlic bread, breakfast breads or rolls, like cinnamon rolls or raisin bread.
When is bread dairy-free?
Bread is considered dairy-free when there are no dairy ingredients or milk derivatives in the ingredients. There are plenty of bread options that are dairy-free, and the easiest way to find them is to review ingredients lists before buying so you know what you're getting is safe for your diet.
Something to consider when you're following a dairy-free diet and avoiding dairy while eating bread is what you serve with your bread. Many people enjoy spreading butter on their bread and rolls. Since butter is a dairy product, you'll want to avoid doing this. Opt instead for a dairy-free butter or vegan butter option.
Be aware of all spreads and other ingredients you enjoy with the bread that you're planning to eat and ensure those are dairy-free as well. There's no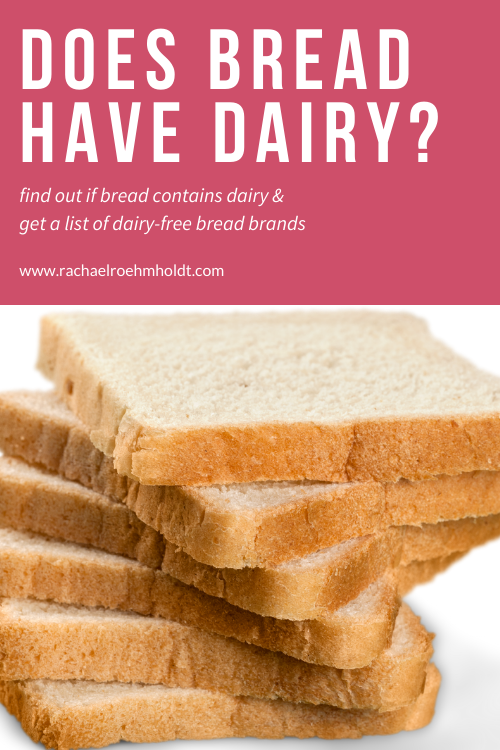 Are there certain types of bread that contain dairy?
There are a number of different types of bread and bread products that contain dairy that you'll want to watch out for. Here are a few types that you'll likely want to avoid on a dairy-free diet or at the very least review ingredients lists before buying.
Croissants
Babka
Biscuits
Breadsticks brushed with butter
Brioche
Buttermilk
Challah
Cinnamon bread
Cinnamon rolls
Cheese bread
Garlic bread with butter
How to be sure your bread is dairy-free
If you make your own bread at home, be sure to choose a recipe that includes no dairy ingredients. This is the easiest way to know your bread is dairy-free.
If you buy bread from the store, the best way to know if it is dairy-free is to read ingredient lists and search for any names of dairy in the list. Review the entire list to look for any obvious or subtle dairy ingredients. Sometimes these are dairy derivatives so knowing what ingredients to look for is important.
Another way to look for dairy products is to look for a "contains milk" note near an ingredient list on the packaging of bread. This will let you know if there is any dairy or milk in the product. Even if you don't find one of these notes, a product may still be dairy-free, so it's always a good idea to review ingredients in the list before buying.
One of my little secrets is that I carry around a copy of my GFDF Take Along Cards so that I always have a point of reference when I can sneak a peek at the ingredient list of a food.
>> Get your copy of the GFDF Take-Along Cards to make this easy on you.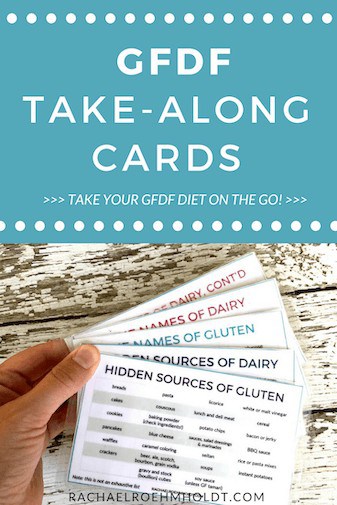 Brands of dairy-free bread
I have researched many gluten and dairy-free bread brands and while there aren't endless options, there are a few to choose from to try to find one that works for you from the store.
These include some varieties (not necessarily all their product offerings) from the following brands:
Other brands of bread that carry at least one dairy-free option and do contain gluten include the following brands:
Amy's
Artesano
Dave's Killer Bread
Market Pantry
Mestemacher
Nature's Own
Sara Lee
Silver Hills
This is not a complete list of all dairy-free bread brands and options, but will hopefully give you some ideas to jump off from as you are looking for options to add to your diet.
Dairy-free bread recipes
Try one of these dairy-free bread recipes to make the most of your dairy-free baking.
If you've been looking for a dairy-free bread option or have just been wondering if bread has dairy, I hope this post has given you the information you've been looking for.
While some bread brands are dairy-free, the easiest way to know if the bread you're eating contains no dairy is to make it at home. If that's not possible, always do your research and look at ingredients lists before purchasing any bread product to help you stick with your dairy-free diet.
If you loved this post, I hope that you'll share it with your friends on Facebook and pin it for future reference on Pinterest.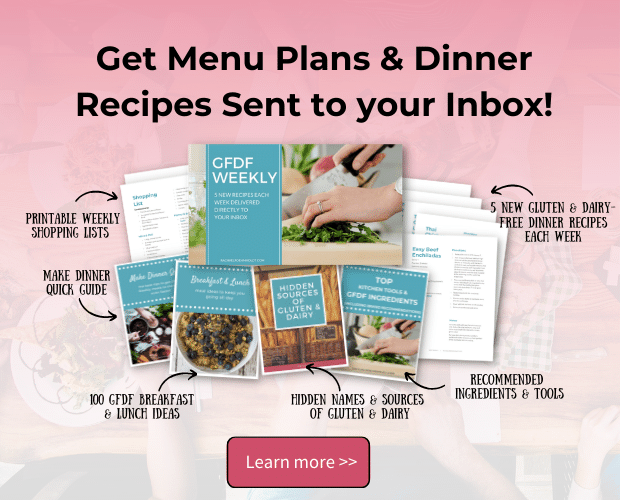 Love this post? You might also want to check out these!
Find out if your favorite foods and ingredients contain gluten with these posts!