Do you love sourdough bread? Find out if it's safe for a gluten-free diet and what your options are for enjoying this delicious bread.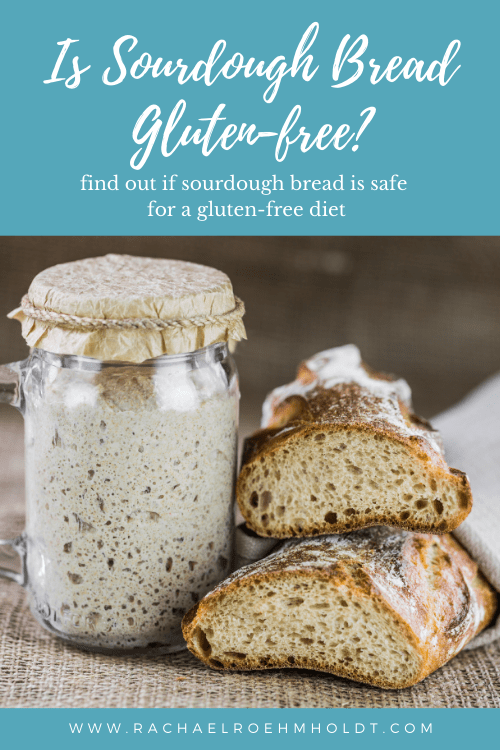 Note: I am a proud Amazon, Chomps, and Thrive Market affiliate and am happy to recommend their service and products to you. Please know that as an affiliate, I may receive a small commission on the products you purchase after clicking through my links. For more info, please see my disclosure policy here.
If you've been around the gluten-free world for a little while, you may have heard that most bread contains gluten.
While it's obvious that bread with all-purpose flour or wheat flour contains gluten, what about sourdough bread? There are some mixed messages around this bread.
Some people say that sourdough bread is gluten-free, while others say that people on a gluten-free diet can actually eat sourdough bread without issue.
I'll be the first to tell you the sourdough bread is delicious and I loved eating it when I was a kid.
When I was little and my family used to go to Seattle on special weekends, we would always stop by the sourdough bread shop that was on the waterfront pier and buy a loaf of bread for the ferry trip home.
I'd love smelling the baking bread and seeing the people through the window form the dough into loaves. It was always one of my favorite things about Seattle and a very fond memory for me.
If you're a baker and you follow a gluten-free diet, you may be wondering if you can still enjoy making and eating sourdough bread.
If you're not a baker, you might be wondering how you can still eat sourdough bread without sacrificing your health or your digestion.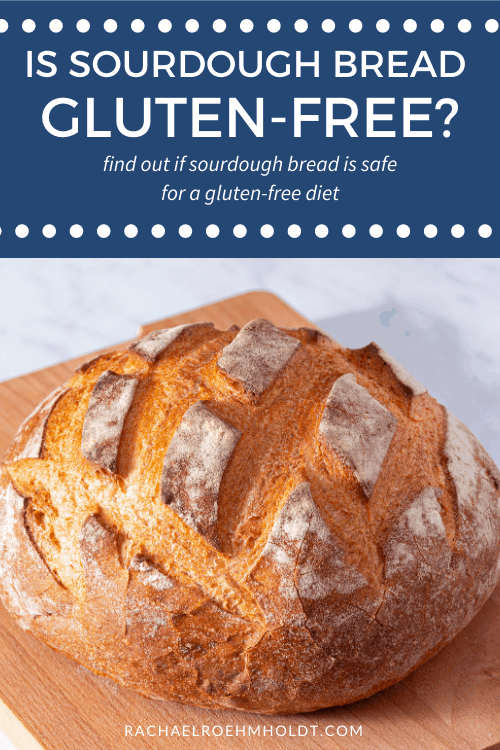 In this post, we're going to talk about sourdough bread, what sourdough bread is made out of, if it's gluten free, and answering the question of: "Does sourdough bread contain less gluten than regular bread made with wheat or all-purpose flour?"
Finally, we're going to wrap this post up by talking about where you can find gluten-free sourdough bread, what some different gluten-free sourdough bread brands are, and even share some sourdough bread recipes with you if you want to start making your own at home.
What is sourdough bread made of?
Sourdough bread is traditionally made using flour, a sourdough starter, water, and salt. Most sourdough bread is made using bread flour, all purpose flour, or wheat flour.
However, you can also make sourdough bread with rice flour and flours made from gluten-free grains.
According to Bon Appetit, "the main difference between bread flour and all-purpose flour is a matter of protein. Bread flour, which comes in white and whole wheat varieties, has a higher protein content than all-purpose, usually 11-13%.
It's called "bread flour" because most bread requires higher amounts of protein to produce lots of gluten. Gluten is the stringy strands that give bread dough its stretch and elasticity, and baked bread its characteristic chew."
What is gluten?
Gluten is a protein found in most wheat products, and acts as the "glue" that helps to hold wheat, barley, kamut, spelt, farro, durum, bulgur, rye, and semolina together to maintain their shape.
You can find gluten in whole grains, but also in many processed foods as well. If you purchase wheat bread, there will be gluten in it, because wheat by nature has gluten.
When you think of squishing a piece of bread in your hands, it will form a ball, then will bounce back. That bouncing back is often indicative of gluten. The gluten is the naturally sticky glue that is part of many whole grains.
Read on: What is gluten in food? The basics of a gluten-free diet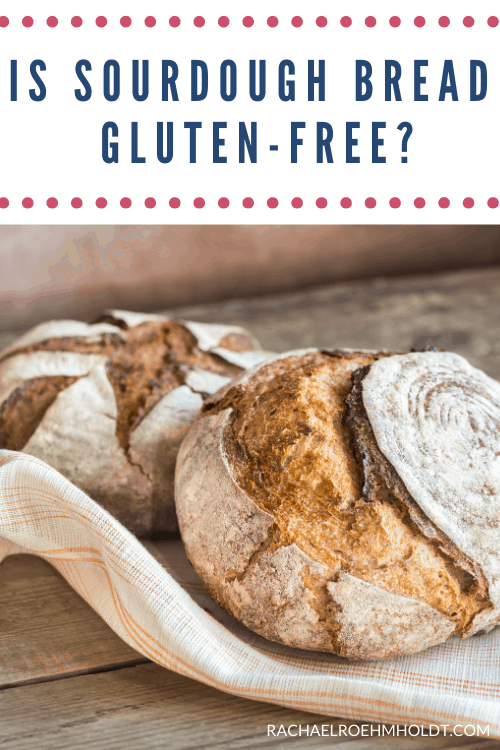 Is sourdough bread gluten-free?
Sourdough bread that is made using bread flour or all-purpose flour is not gluten free. These flours contain wheat, which also contain gluten, making it not a safe choice for a gluten-free diet.
Sourdough bread can be made using gluten-free flours, and therefore can be made gluten-free. Sourdough bread will need to be made using both a gluten free sourdough starter, as well as gluten-free flours in order to be safe for your gluten-free diet.
Read on: Is rye bread gluten-free?
Does sourdough bread have less gluten?
It is shown that sourdough bread does actually contain less gluten, because the bacteria and the yeast ferment the starches in the wheat, breaking down the gluten proteins.
Some people who follow a gluten-free diet don't seem to have any symptoms from eating sourdough bread, even if it still contains some amount of gluten. It is important to note that you may react to it or you may not. That's a risk that you will have to be willing to take and be aware of before you decide to add it to your diet.
The best way to enjoy sourdough bread on a gluten-free diet is to make or buy a loaf that is made using gluten-free flours and a gluten free sourdough starter. This way, you've reduced your risk for having a reaction from the gluten and you know that you will not have the potential for any symptoms to pop up from your food intolerance or food allergy.
To me, it's safer to avoid it entirely than to eat it and regret it later, knowing you may or may not have a reaction to it.
Where to buy gluten-free sourdough bread
If you're on the hunt for gluten-free sourdough bread, your best bet is to search for it locally. If you have a grocery store or a health food store that offers a variety of gluten-free options, start there.
If you have a hard time finding this locally, you can always look online through Amazon or one of the brands listed below directly.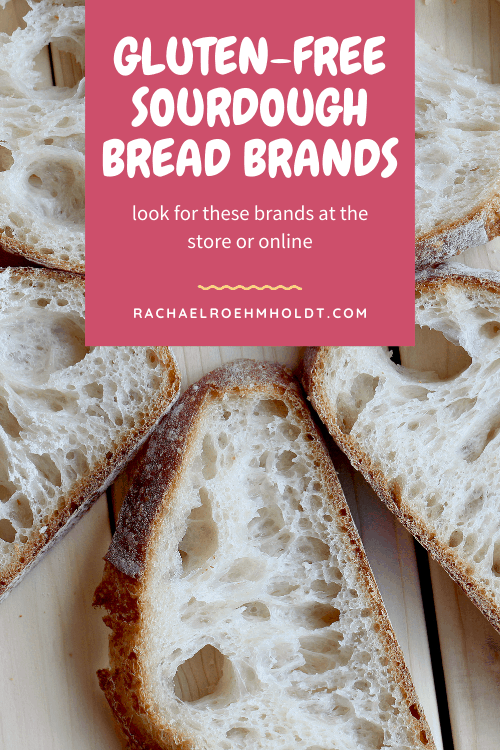 Gluten-free sourdough bread brands
If you've been looking for a gluten-free sourdough brand to buy at the store, you might want to check out some of these options. You can look for them locally, as well as online.
Classic Sourdough*
Seeded Sourdough*
Sourdough Sandwich Rolls*
Classic Sourdough Dinner Rolls*
Sourdough Pullman*
Original*
French*
Rosemary*
Select Sourdough White Bread*
Organic Sourdough Loaf*
Gluten-free Sourdough Bread
Gluten-free Multiseed Sourdough Bread
* Notes also dairy-free
Where to buy gluten-free sourdough starter
If you'd like to start baking your own gluten-free sourdough bread at home, you'll need a few ingredients: sourdough bread flour and a sourdough starter.
You can find these gluten-free sourdough starters online in a few places, but here are a few that I found quickly and easily on Amazon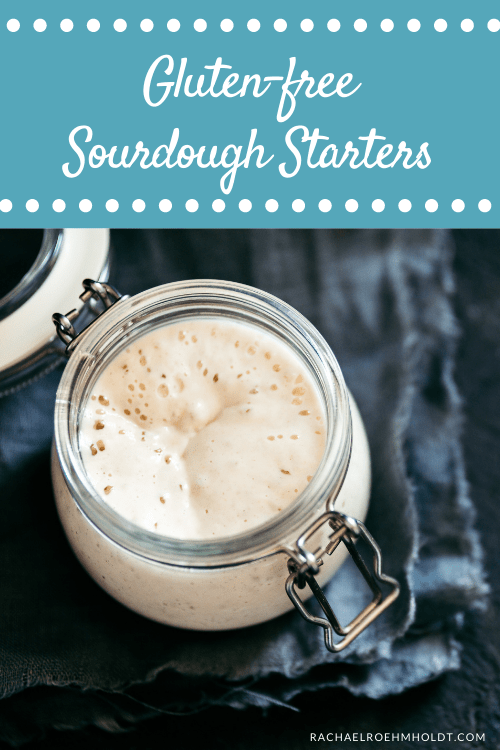 Gluten-free Sourdough Starter Recipes
To get started baking sourdough at home, you can also make your own gluten-free sourdough starter. Try one of these easy recipes!
Gluten-free Sourdough Bread Recipes
Try any one of these gluten-free sourdough bread recipes if you'd like to try your hand at baking this delicious bread on your own at home!
If you love sourdough bread, know that you don't have to live without it even if you follow a gluten-free diet. While it's in your best interest to use a gluten-free sourdough starter and gluten-free bread flour, some people report having no symptoms when eating traditionally prepared sourdough bread.
Do what's right for you and your diet, and maybe even try your hand at baking your own bread! There's nothing more fun than a weird science experiment growing in your kitchen that turns into a tasty food later on.
If you loved this post, I hope that you'll share it with your friends on Facebook and pin it for future reference on Pinterest.