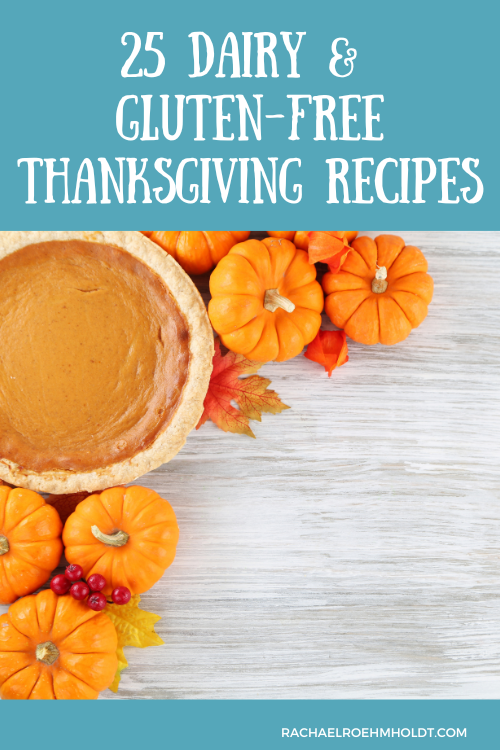 Note: I am a proud Amazon affiliate and am happy to recommend their service and products to you. Please know that as an affiliate, I may receive a small commission on the products you purchase after clicking through my links. For more info, please see my disclosure policy here.
Thanksgiving is just around the corner and if this is your first (or second or third…) Thanksgiving eating a gluten-free dairy-free diet, you may be on the hunt for some recipes that taste great but still will leave you feeling your very best the next day after.
Thanksgiving was always my favorite holiday… until I had to cut a bunch of foods out of my diet. Gluten, dairy, eggs…
For a few years in a row, I felt like the odd one out at holidays.
I couldn't eat my Grandma's famous sweet potato casserole.
I couldn't enjoy the stuffing or rolls anymore.
I couldn't even have a piece of pumpkin pie without regretting it the next morning. Or before we even made it home from the big dinner itself.
My favorite holiday became my least favorite in one year flat.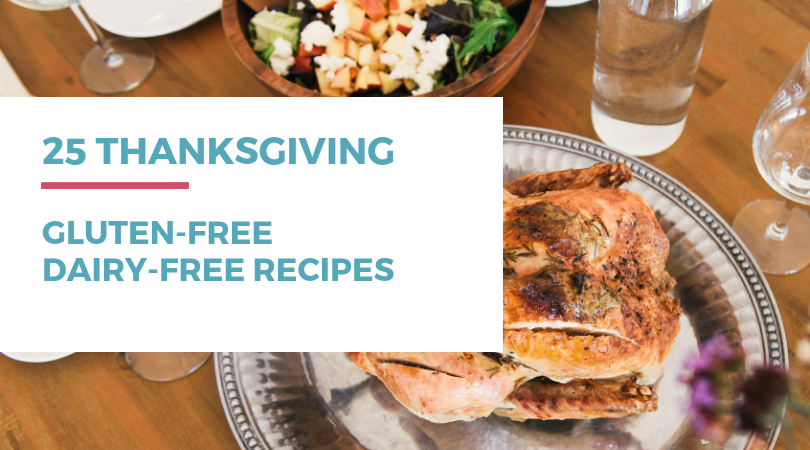 After that first year of feeling so out of touch with what everyone else was enjoying, I decided to take things into my own hands. I decided I would try to contribute more to the menu.
I brought a new sweet potato dish. I brought a quinoa stuffing in addition to the stuffing that everyone else enjoyed. I even made my own pumpkin dessert pumpkin parfaits.
To say the least, I was the only one who really enjoyed the new dishes. No one was willing to touch let alone eat and enjoy my new creations.
After all, Thanksgiving is almost always about tradition and family recipes that everyone loves. There was nothing traditional about quinoa stuffing. I guess I can't blame them.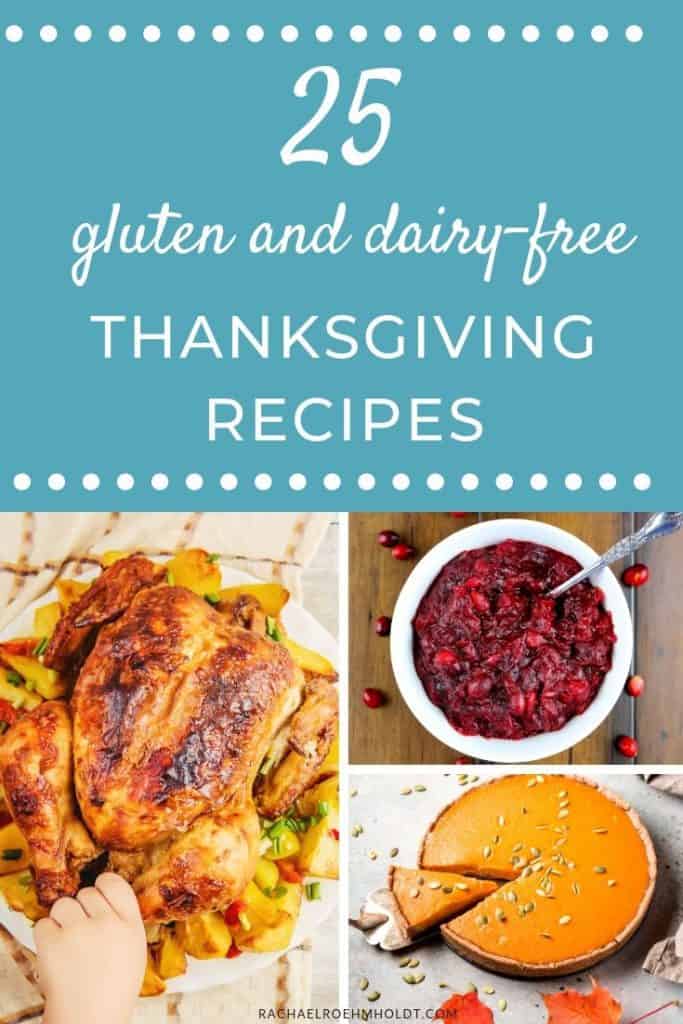 Fast forward a few years, I've learned a few things about making it through Thanksgiving (and really all the food-related holidays):
Try to make gluten-free dairy-free dishes as close as possible to their traditional versions. And then don't mention that they're completely gluten-free and dairy-free friendly. (People can be weird when they know its not the real thing)
Don't be afraid to bring a dish or two of your own.
Talk to the host/hostess about making the dinner gluten-free and dairy-free friendly. I know it's a total pain and potentially awkward, but you'd be surprised how people who care about you are willing to help you on your journey. (Not always, but many times)
These days, I love Thanksgiving again. I have shared my Thanksgiving menu in the past, when I created a new slew of recipes that are adapted to be gluten and dairy-free friendly AND taste good to everyone else in my family.
In fact, I've even hosted Thanksgiving since going gluten and dairy-free – and everything turned out to be a hit – woohoo!
If you're on the hunt for some excellent Thanksgiving recipes that will help you stick with your gluten-free dairy-free diet AND still enjoy the food on the table, you're in the right place.
I've rounded up 25 awesome recipes, including breakfast, appetizers, main courses, side dishes – and best of all, desserts.
I hope you enjoy this holiday season as much as I will – and vow to never be the odd one out at the table again!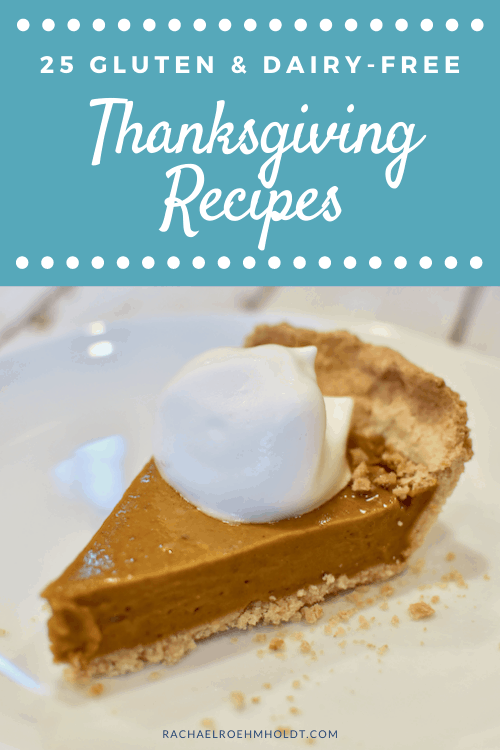 Dairy-free Gluten-free Thanksgiving Breakfast Recipes
You can go any sort of direction you wish for Thanksgiving breakfast. You can keep it light and simple with some pumpkin muffins or bread, or even apple cider donuts and coffee.
Or if you have guests, you might decide to make up a gluten-free coffee cake to let folks graze on as they wake up.
If your family likes a little more for breakfast even when a big meal is coming up later in the day, you might want to make a breakfast casserole or go for an old standby like gluten-free pancakes or gluten-free waffles.
These gluten-free pumpkin muffins are allergy-friendly all around – no gluten, dairy, or eggs in this Thanksgiving-inspired breakfast option.
If you want to get a little festive for Thanksgiving morning, try these tasty muffins a try!
Read on: 101 gluten-free dairy-free muffins
I love that this gluten-free dairy-free sausage egg casserole can be made into individual portions so that you can make them ahead and retreat for easy on the go breakfasts.
For a busy morning where food prep will be happening all day long, I can't think of a better thing than a make-ahead breakfast!
Read on: Get more dairy and gluten-free breakfast casserole ideas
These apple cider glazed donuts are a perfect treat for Thanksgiving morning. Making gluten-free and dairy-free donuts at home is super easy as long as you have a donut pan on hand. This is the one I have and love to use.
Read on: gluten-free vanilla cake donuts and gluten-free chocolate cake donuts are my family's go to recipes
This pumpkin quick bread is fun breakfast idea for fall morning, but feels perfect for Thanksgiving because the cinnamon and nutmeg in this recipe that just scream FALL to me.
This one is made with gluten-free measure for measure flour, so you know it's gluten-free and coconut milk and vegan butter, so it's dairy-free too.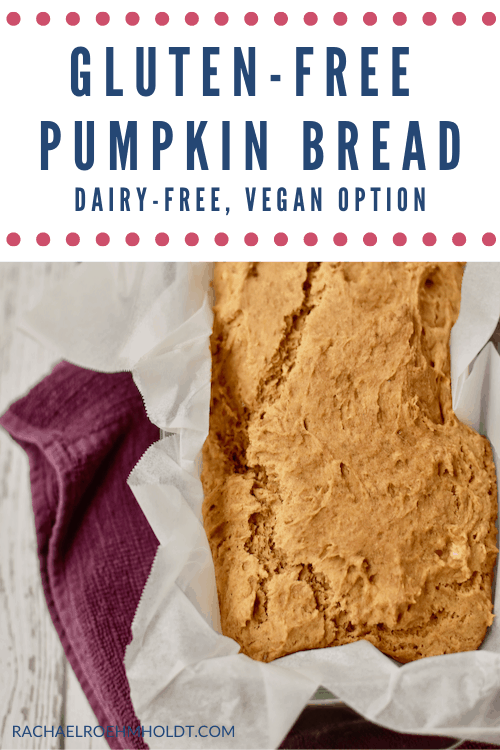 These paleo pumpkin muffins with a swirl look divine – straight out of a magazine or a rainy day at a coffee shop in the fall.
What makes these muffins great is that they're gluten-free and dairy-free AND can be prepped all in one bowl. Easy cleanup and a delicious result on Thanksgiving morning? I'm in!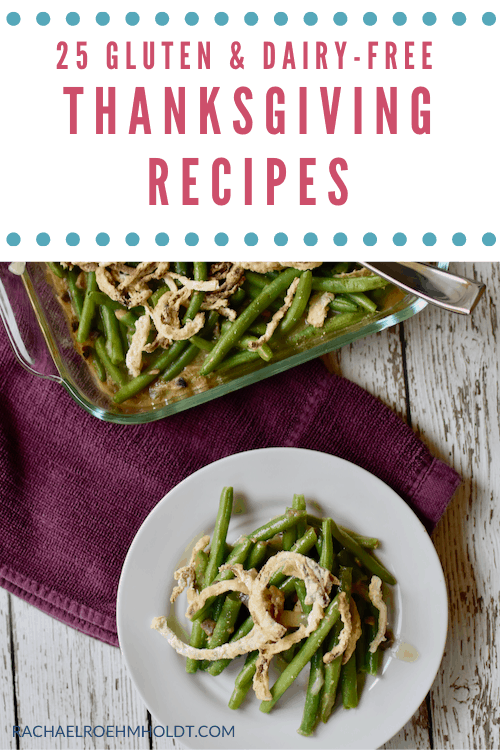 Dairy-free Gluten-free Thanksgiving Appetizer Recipes
Thanksgiving appetizers can be as fancy or as simple as you wish.
When my mom hosts, we usually have trays of crackers, dip, and cheese (which I always skip over). At my house, I try to put out a snack board for easy grazing.
Whatever you choose, keep it light so the main meal doesn't get overshadowed.
Snack boards, also called charcuterie boards, are an awesome option for appetizers, because you can put whatever ingredients you have on hand on a cutting board or plate and ta da! It's as easy as it gets, plus it wow your guests with the spread.
Put some gluten-free crackers, hummus, homemade or store bought dairy-free dips, fruit, veggies, nuts, and olives… whatever you have on hand or want to pick up from the store on the board.
People love these things – and you don't even need to have a board! You can lay out a piece of parchment paper on your table or kitchen island and build it there.
Make it festive by putting it in the shape of a turkey, using pumpkin or roasted garlic hummus, foods in shades of yellow orange, red, and purple.
Foods that will look great are red or black grapes, oranges, salami or pepperoni, crackers, dried fruit, and nuts.
These pumpkin pie candied nuts are simple and take only a few ingredients and just 15 minutes to prepare. These come together with almonds (though you could use any type of raw nuts you love), cinnamon, pumpkin pie spice, sea salt, maple syrup, and vanilla extract.
These will be a hit for serving guests during your holiday get-togethers, and an awesome sweet snack to serve as an appetizer before the big meal.
Read on: Are nuts gluten-free?
Roasted Brussels sprouts with bacon aioli are a healthy and a fresh twist on your standard appetizer.
The bacon aioli is made using a dairy-free mayo, lemon juice, garlic, bacon, and fresh thyme. Super easy and super flavorful.
There's nothing like something simple to impress your guests, without all the effort!
Read on: Is bacon gluten-free?
Spinach and artichoke dip can be a tricky one to make dairy-free since it's usually loaded with cream cheese and loads of cheese.
This gluten-free and dairy-free version is made with cashews and mayonnaise for a healthier dip. Try this one for big flavor before the big meal!
If you want to serve a festive appetizer at your Thanksgiving dinner this year, try this roasted pumpkin walnut dip is just for you.
This recipe is Low FODMAP, gluten-free and dairy-free, and is great with veggie sticks or gluten-free crackers.
Read on: Get more gluten and dairy-free appetizers!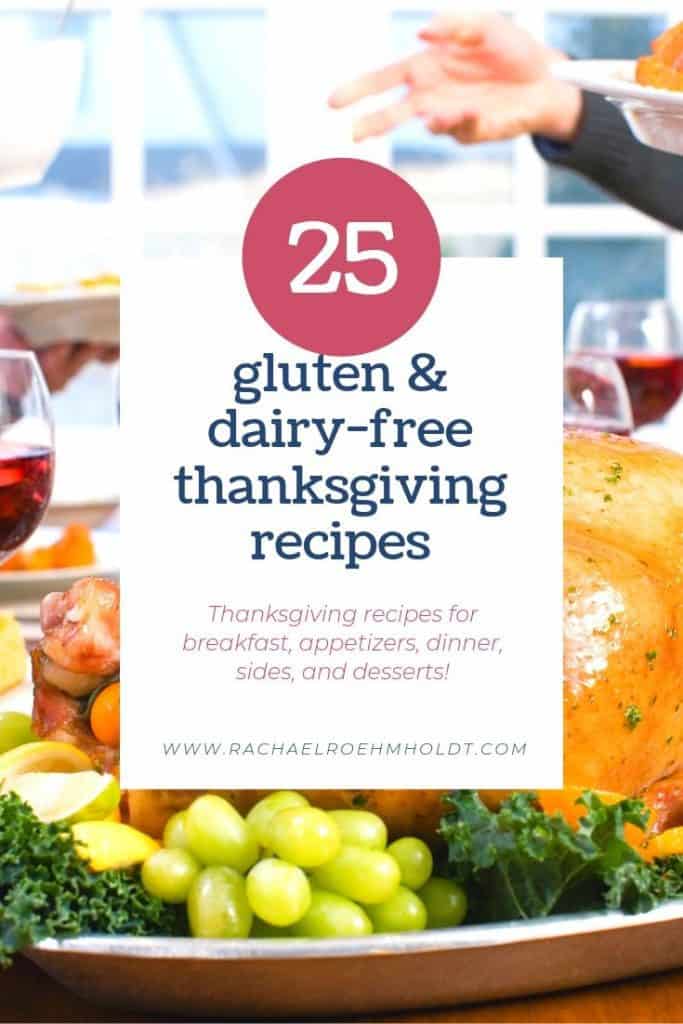 Dairy-free Gluten-free Thanksgiving Main Course Recipes
Most people think of turkey when they think of Thanksgiving, but you can get wild and crazy if you want to and serve ham, chicken, or even pork loin!
To keep your main course gluten and dairy-free, be aware of any brining, rubs, and basting liquids (I'm looking at you, butter).
Review ingredients lists and recipes to help you make decisions on what recipes to use.
If you love turkey for Thanksgiving (who doesn't, right?), well here's a great gluten-free Thanksgiving turkey recipe for you.
This recipe is cooked up in a foil tent so it steams inside, then at the end you get to take the foil off for an extra crispy skin.
Best of all, you don't need any gluten or dairy for this flavorful holiday main dish.
If your family likes turkey AND ham on Thanksgiving, try this baked ham recipe. This one is super yummy with the addition of apple cider as the base of a glaze.
I feel okay about using butter in this recipe since it's on the glaze, but you can always swap for vegan butter or coconut oil if you're more comfortable with that.
Not sure about going through all the trouble of cooking a turkey on Thanksgiving? Try this delicious garlic rosemary chicken with cranberries that's full of flavor, but way less effort.
There's no flour or butter in this recipe, so it gets the thumbs up for being gluten-free and dairy-free too.
This lovely holiday ham recipe is made in your crockpot for an easy main dish that won't take you away from spending time with your family.
If you wind up serving a ton of people at Thanksgiving, having a ham going in your crockpot is a pretty easy way to feed more people with minimal extra effort.
Best of all, this recipe couldn't be simpler – just put the ham in the crockpot, rub brown sugar over it, then pour maple syrup and pineapple over everything. Cook for 4 to 5 hours, and voila! Dinner is served!
Here's another non-turkey option for you this Thanksgiving. This stuffed pork loin is gorgeous filled with a deep red cranberry and rosemary sauce.
This recipe is dairy-free, and can be made gluten-free by swapping out the whole-wheat breadcrumbs for gluten-free breadcrumbs.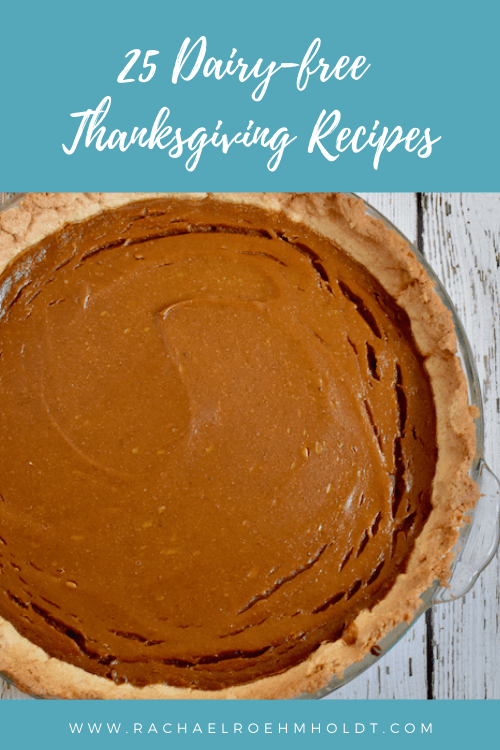 Dairy-free Gluten-free Thanksgiving Side Dish Recipes
There are so many ways you can go with Thanksgiving side dishes. I've covered some of the basics in this post, but remember that you can go any direction you want with some of these options.
Instead of bread stuffing, try wild rice or quinoa stuffing. Use gluten-free breadcrumbs on your green bean casserole instead of French fried onions. Or serve your sweet potato casserole with gluten-free marshmallows in place of the praline topping.
Whether you go canned or homemade, don't forget the cranberry sauce!
My grandma makes a sweet potato casserole for every Thanksgiving and Christmas for our family – we love it so much.
When I first went gluten and dairy-free, she had no idea how to make changes so I could eat it. Here's a similar version of what she makes and an awesome gluten and dairy-free recipe for you to check out if your family loves sweet potato casserole too.
Read on: Are sweet potatoes gluten-free?
Try this delicious dairy-free green bean casserole recipe that's also gluten-free and vegan! This is perfect for Thanksgiving or any other holiday feast.
The secret to this reinvented dish is homemade dairy-free cream of mushroom soup and gluten-free French fried onions. Yum!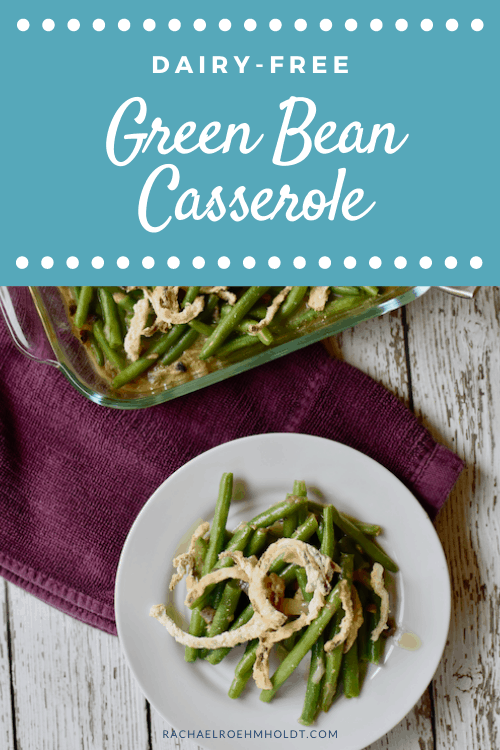 This gluten-free stuffing is a simple, yet moist, fluffy, and flavorful Thanksgiving side dish.
This basic recipe can be mixed and matched to make your own customized stuffing too – add sausage, apples, mushrooms, nuts, or any of your other favorite stuffing ingredients! Serve with a drizzle of gluten-free gravy on top.
This gluten-free stuffing comes together quickly and easily with a loaf of gluten-free bread. Plus it's dairy-free and egg-free too.
Read on: Gluten-free Stuffing Mixes from the Store
Read on: Dairy and gluten-free bread brands to make your own stuffing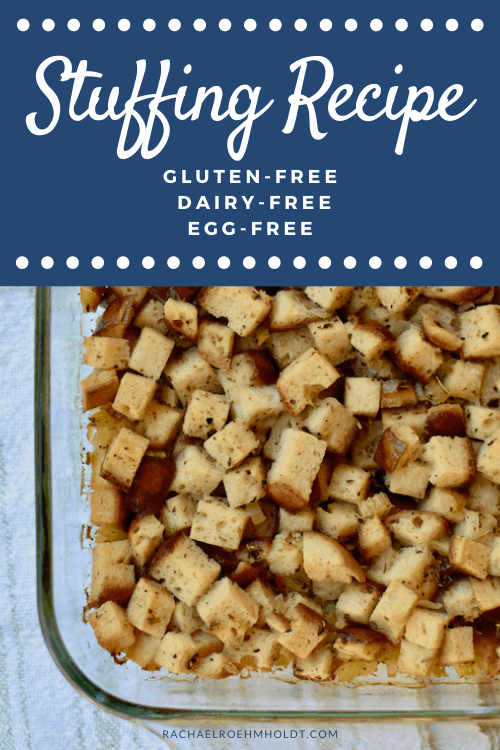 Did you know mashed potatoes don't require loads of butter and cream to make at home? These mashed potatoes are made using dairy-free milk and vegan butter.
Try these plain or add your favorite mix-ins, like roasted garlic, fresh herbs, or bacon. Serve with some delicious gluten-free gravy on top.
Read on: Are mashed potatoes gluten-free?
Read on: Are potatoes gluten-free?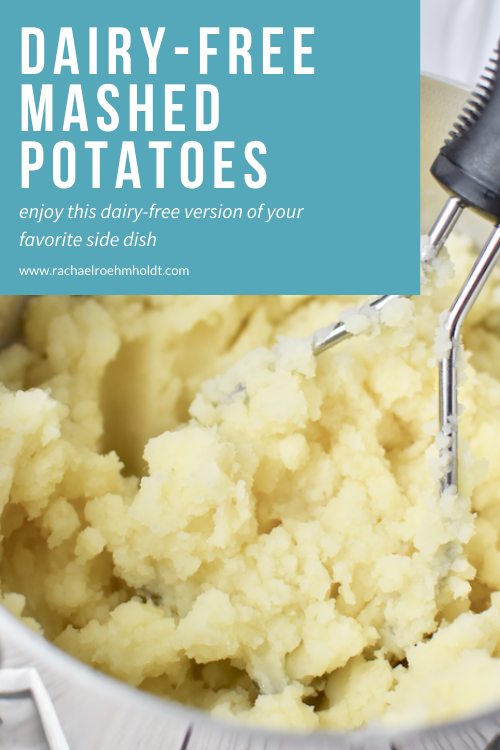 These gluten-free pull apart dinner rolls are an awesome recipe to keep handy during the holidays, and Thanksgiving is no exception.
It's tough to find a bread or roll recipe that doesn't have gluten or dairy – and that turns out. You can make these dairy-free by substituting the butter for vegan butter or vegetable shortening.
Read on: If you love cornbread at Thanksgiving, give this gluten-free cornbread recipe a try!
Read on: 25 Gluten-free side dishes
Gluten-free Dairy-free Thanksgiving Dessert Recipes
Thanksgiving is usually known for its pumpkin pie and all things pumpkin flavored. I've included a few different pumpkin desserts, as well as some apple crisp, and a few cookie options to get you thinking outside the box.
Depending on the size of your gathering, you may opt for a few different desserts! Check out this post for more gluten-free Thanksgiving dessert ideas and inspiration.
Pumpkin pie is the quintessential Thanksgiving dessert, but it's not perfectly straight-forward how to make this gluten-free and dairy-free.
This recipe is made with a simple and quick gluten-free pie crust and delicious dairy-free pumpkin pie filling. Top it off with dairy-free whipped cream or aquafaba whipped cream!
This gluten-free and dairy-free maple pumpkin pie will make sure even us gluten-free dairy-free folks can enjoy our holiday and round out the meal with our favorite dessert.
Read on: Is crust not your thing? Try this gluten-free Dairy-free Impossible Pumpkin Pie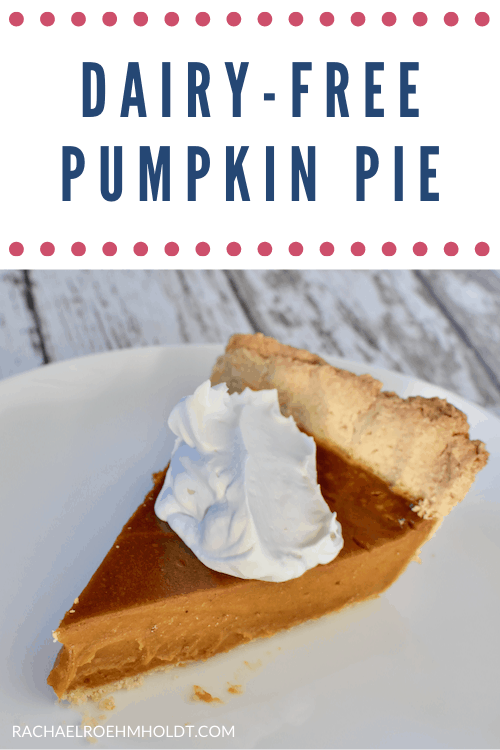 Gluten-free apple spice cake is great for an alternative Thanksgiving dessert if you're sick of (or want extra options in addition to) pumpkin pie.
Try one of these gluten-free apple crisp recipes that are also dairy-free to help you make the most of this fall flavor with some delicious crispy or cobbler like topping!
Read on: 101 Gluten-free Dairy-free Cake Recipes
If pumpkin is your thing but pie feels a little overdone, you might love this gluten-free pumpkin cheesecake.
It's made with a gluten-free graham cracker crust, and a dairy-free and vegan pumpkin cheesecake filling. The filling is made with soaked cashews, coconut milk, pumpkin puree, pumpkin pie spice, and a few other ingredients.
The festive cheesecake will wow your guests without having to put in too much effort. Only the base of the cheesecake is baked, the filling gets frozen, so it's easy to make this recipe ahead.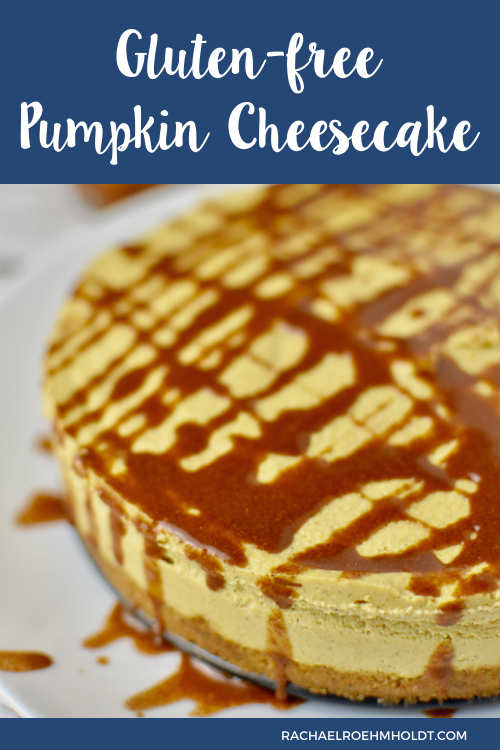 Read on: Is cheesecake gluten-free?
Read on: An alternative (no-bake) gluten-free cheesecake crust
Read on: If you don't love pumpkin, but still want a gluten-free cheesecake that's also dairy-free and vegan
If you love to serve a few dessert options at Thanksgiving, or if the traditional pie isn't your jam, these gluten-free dairy-free snickerdoodle cookies are an easy and quick treat to whip up.
Simply mix up the dough, roll them in a cinnamon sugar mixture, flatten them out, and bake. They're made with almond flour, coconut oil, and maple syrup, as the main ingredients, so you know they're a little healthier than other cookie recipes.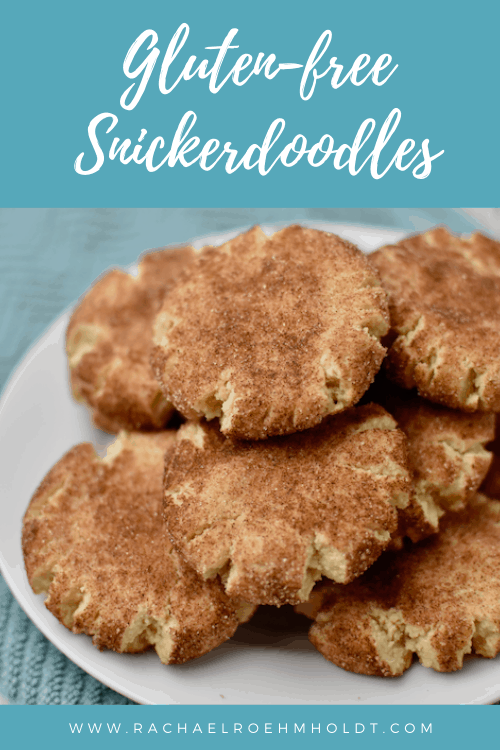 Read on: Get more gluten-free dairy-free cookie recipes
These gluten-free, dairy-free, and vegan pumpkin cookies are awesome, because they are moist, fluffy, soft, easy to make, and perfect for adding to a Thanksgiving dessert spread.
These are awesome for Thanksgiving, because they will suit you and your guest's love of chocolate – and combine it with the truly festive ingredient: pumpkin.
Make these ones for your guests or bring them to your family get-together to really impress them!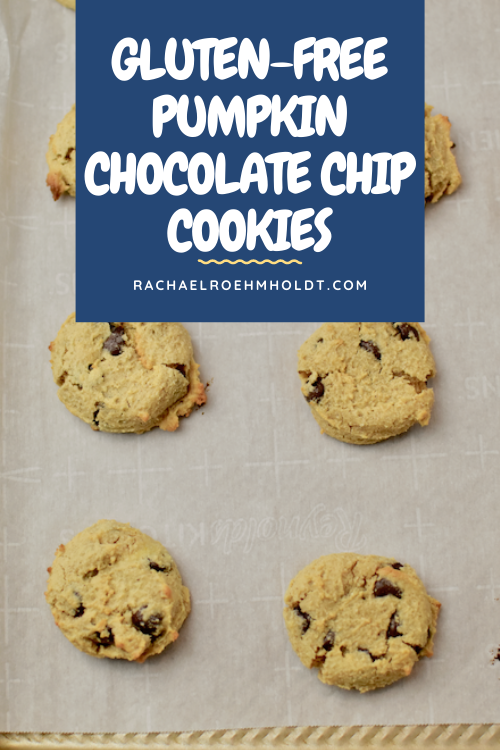 Read on: Not a fan of chocolate chips? Try these gluten-free pumpkin cookies instead
Create your own dairy-free gluten-free Thanksgiving menu
Using these 25 recipes, you can easily mix and match recipes from the appetizers, main dishes, side dishes, main dishes, and desserts to create a dairy-free gluten-free Thanksgiving menu that's perfect for your gathering.
So there you have it! 25 delicious Thanksgiving recipes (plus a few more!) that will help you stick with your gluten-free dairy-free diet – no sweat!
If you are looking for more Thanksgiving recipes, be sure to check out my Gluten and Dairy-free Thanksgiving Recipes & Tips post.
Want to see more Thanksgiving content? Check out these posts!
Try these delicious gluten and dairy-free recipes and tips for your next Thanksgiving or family feast! This list includes stuffing, green bean casserole, pumpkin pie, and more!