Try these gluten and dairy-free camping recipes and tips for your next camping adventure. Stick with your diet in the great outdoors.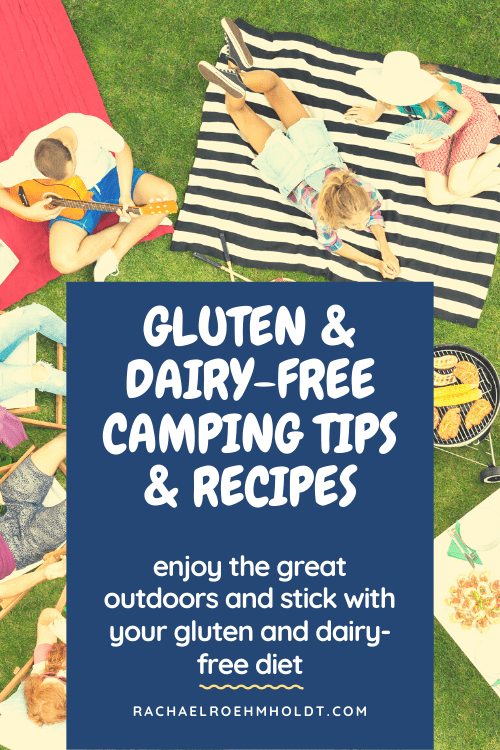 Note: I am a proud Amazon, Chomps, MunkPack, and Thrive Market affiliate and am happy to recommend their service and products to you. Please know that as an affiliate, I may receive a small commission on the products you purchase after clicking through my links. For more info, please see my disclosure policy here.
Does the summer time mean camping trips and loads of time spent outdoors for you? If so, you'll want to read this post for some gluten and dairy-free camping recipes and tips to help you stay on track with your diet.
If you think of summer and think of packing up your tent or trailer and hitting the road, you might want to consider how this travel will affect what you eat. On a gluten and dairy-free diet, you have to be aware of what ingredients are in the foods you eat, and when camping and traveling, there is a lot of potential for accidentally eating gluten or dairy without meaning to.
In this post, I'll share a few camping tips for sticking with your gluten and dairy-free diet, as well as some great recipes you might want to try on your next trip.
When you're eating a gluten and dairy free diet, it will take a little bit more prep work, preparation, and organization in order to stick with your diet. However, if you've been at this for a while, you'll know this is par for the course when it comes to everyday eating.
7 Gluten and Dairy-free Camping Tips
Here are a few gluten and dairy-free camping tips you might find useful on your adventures.
Keep the gluten and dairy-free ingredients separate from those that aren't
If you live with other family members who continue to eat gluten and dairy, you might find yourself back two different versions of the same ingredient. For example, cow's milk and dairy-free milk, and wheat bread and gluten-free bread.
When possible, keep these ingredients separate so that there isn't any mixup on your trip, and someone doesn't accidentally eat the gluten or dairy-free versions of foods you need to stay on track.
Have a dedicated pot or pan for yourself and your own cooking
This really only pertains to people who have extreme intolerances or allergies. If you can't handle any amount of cross contamination, be sure you have a second pot or pan to cook your gluten and dairy-free meals in.
This way you won't have a reaction to gluten or dairy that may have been missed during the cleaning process.
Menu plan in advance
On a gluten and dairy-free diet, menu planning is critical to sticking with eating this way all the time, but especially when camping.
When you don't have a whole pantry or fridge at your disposal when it's time to eat, it's best to keep in mind which meals you want to make before you even leave the house. Plan all your meals for your trips, so you know which ingredients you'll need to have on hand.
Prep ingredients ahead of time
One thing I've learned about eating while camping is that being prepared goes a long way. Instead of bringing ingredients and doing your measuring and chopping at your campsite, try to do some of this work at home and only pack what you'll need.
This can help you save some of the more expensive ingredients, like dairy-free cheese, from going bad while you're out on your trip. Doing this will also help save that much-needed space in your packed cooler too.
Make sure ingredients are well labeled
If you are camping with others who don't avoid gluten and dairy, make sure that any prepared ingredients or foods that are specifically for you and your gluten and dairy-free diet are labeled.
While it wouldn't be the end of the world for someone who usually eats these foods to eat your ingredients, it wouldn't be fun to find out that someone accidentally ate the foods that you can eat, leaving you with minimal options.
Pack cold ingredients at the bottom of a cooler
Keep your cold foods cold longer by packing the ingredients that need to be cool on the bottom. Put ice or ice packs at the bottom, then stack the cold foods on top of one another.
I find meats do best when closest to the cold source, and pack the other foods atop that. I usually put fruits and vegetables on top, because these are best kept cold but you don't want them to be squished when it's time to eat them.
Bring ingredients for special treats
When camping, there's nothing like having s'mores or your favorite camp dessert. Make sure to pack ingredients that are gluten and dairy-free, so you don't have to go without these special treats. Gluten-free graham crackers, marshmallows, and dairy-free chocolate are all available online if you can't find them locally.
With all these camping tips in mind, here are some gluten and dairy-free recipes you might want to try for your next camping trip.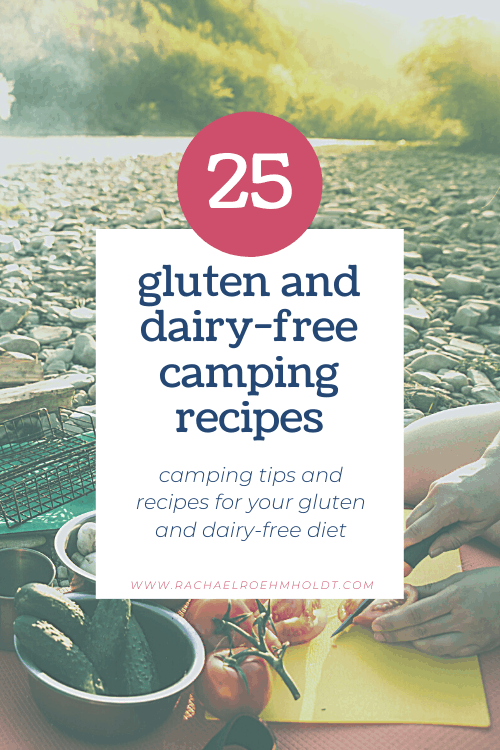 Gluten-free Dairy-free Camping Breakfast Recipes
Overnight oats are a great option for camping, because they don't require any cooking at all. Combine oats with some dairy-free milk, chia seeds, a smashed banana, and some vanilla as a very basic recipe, then keep cold overnight in a cooler or fridge. When it's time to eat, you can top with more fresh fruit or enjoy as is.
These lemon blueberry muffins are great to prep ahead for camping, because they're full of protein and flavor. Pack a batch for breakfasts or snacks to fill you up before a day of adventuring.
You don't have to miss out on pancakes while you're out camping! Try these genius vegan camping pancakes. Mix the dry ingredients at home, then add the dairy-free milk and apple cider vinegar before baking up on a pan. It's so easy when you do the majority of the work at home.
Read on: Gluten-free Pancakes (Dairy-free, Egg-free, Vegan Options)
My family loves chia pudding for breakfast, snacks, or dessert. Depending on what you add to yours, you can make it fruity, peanut buttery, or even chocolatey. Get creative with flavors and prep this ahead of time for an easy breakfast while you're living it up in the great outdoors.
This savory chicken apple breakfast hash is perfect for a slow morning when you want to put in a little more effort at the campsite. Enjoy this chicken apple sausage cooked with potatoes, onion, and apple. You can also make up some eggs to go with it if you want a little more protein added.
Gluten-free Dairy-free Camping Lunch Recipes
Quinoa salads are a good idea for camping, because you can prep them at home before you even hit the road and all you need to do is keep it cold long enough to eat it. Enjoy this Greek quinoa salad with loads of flavor from olives, tomatoes, cucumbers, celery, and a homemade simple vinaigrette. If you aren't planning to eat it within a day or two, prep the ingredients at home and cook the quinoa to assemble while you're at your camp site.
Sandwiches are a good option for a gluten and dairy-free lunch idea when camping. I like to keep it simple with just 5 ingredients or less.
This post has tons of ideas and options, but some of my favorite are Spicy Tuna with sriracha sauce, almond butter and peach, and roasted red pepper and hummus. Be sure to pack gluten-free bread!
Read on: Is hummus gluten-free?
What's camping without hot dogs? Roast some hot dogs over a campfire and load them up with your favorite condiments.
Pack some gluten-free buns or opt for a "hot dog salad" – which is my way of saying eat it in a salad instead of on a bun to keep things simple.
Read on: Are hot dogs gluten-free?
Read on: Gluten-free Hot Dogs: Brands & What To Look For
Read on: Gluten-free hot dog buns
Skewers are fun to pack for a camping trip, and these grilled Hawaiian chicken skewers are great to prepare at home and keep cold until you're ready to use them at your site. Load up chicken and fresh veggies for a delicious and healthy lunch while you're out in nature.
Read on: Is teriyaki sauce gluten-free?
Cowboy caviar is a dip made from beans, corn, tomatoes, and a few other ingredients. It's often served as a dip, but I'll tell you that it isn't uncommon for my family to enjoy it as a meal itself with some tortilla chips.
Think outside the box and turn your favorite healthy snack into a meal in itself!
Read on: Gluten-free tortilla chips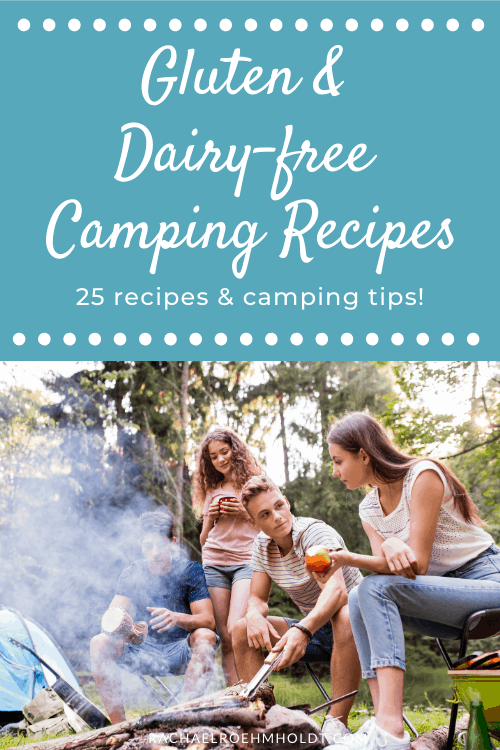 Gluten-free Dairy-free Camping Dinner Recipes
If you like something hearty when you're out in the great outdoors, consider making a pot of chili before you head off on your adventure. This is my favorite recipe that's naturally gluten and dairy-free, and we serve it with homemade gluten and dairy-free cornbread muffins (great to prep ahead too).
Make a plate of nachos at your campfire with tortilla chips, dairy-free cheese, and your favorite Mexican toppings. Use a foil pan for cooking over a campfire for easy cleanup.
If you love pizza, don't discount having it while you're out adventuring! Make some gluten-free dry pizza dough mix and bring it along with you.
You can finish off the pizza dough at your campsite and pack some dairy-free cheese, tomato sauce, and your favorite toppings to cook over a campfire or on your grill.
Try these turkey tacos on your next camping trip. What I love about this recipe is that you prep everything in foil packets which makes grilling and cooking so much easier. Cleanup is a breeze too!
If you love grilling or cooking over a campfire, foil packets are a must! Try this grilled sausage foil packet meal for quick and easy cooking and cleaning up when you're done!
Read on: Are baked beans gluten-free?
Gluten-free Dairy-free Camping Dessert Recipes
There's nothing like s'mores when you're out camping, but how do you eat them on a gluten and dairy-free diet? Pack some gluten-free marshmallows, dairy-free chocolate (I like Theo and Endangered Species brands) and some gluten-free graham crackers, like these from Kinnickinnick.
No bake cookies are great when you're out camping, because the most 'cooking' you need to do is heat the chocolate and peanut butter until it gets melted.
You will need a cold place to let them set, but if that's an issue, plan to make them before you leave the house and pack them done and ready to eat.
This quick and easy campfire apple crisp feels decadent for camping, but it looks really easy with apples, bourbon, spices, brown sugar, and some gluten-free granola to go on top. I can't imagine ending a day with anything better!
When I think of camping, I always think of rice krispie treats, because I ate them so much on trips with my dad as a kid. These gluten and dairy-free rice krispie treats are great to make at home and pack for your next camping adventure.
Read on: Are rice crispy treats gluten-free?
Read on: Are rice krispies gluten-free?
These gluten-free trail mix cookies look easy to make and full of flavor from oats, almond butter, cinnamon, dried cranberries, almonds, and sunflower seeds. These are also packed with protein, so they'd make a great snack on the trail too!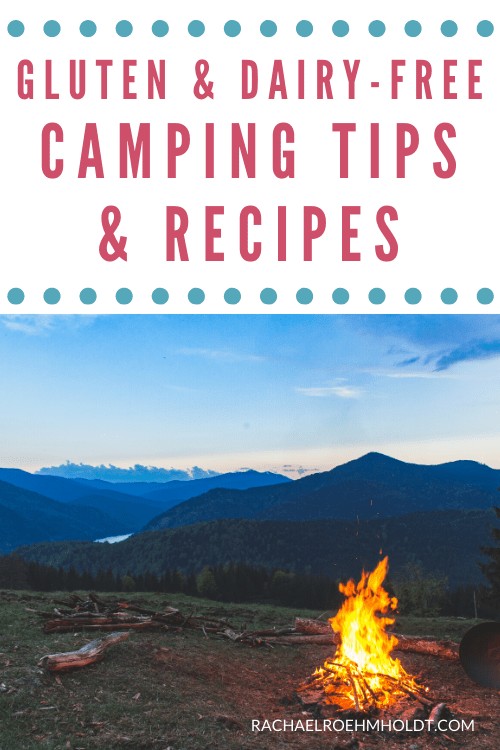 Gluten-free Dairy-free Camping Snack Recipes
If you're on the road or at the camp site and get a little snacky, try this homemade gluten and dairy-free chex mix. It's made from corn and rice Chex cereal with vegan butter. Make a half or full batch depending on how much you love snacking!
Read on: Is Chex Mix gluten-free?
Hummus is easy to make at home and pack for camping, and while it does need to be kept cold, it's great for snacking with gluten-free crackers, gluten-free pretzels, or chopped veggies. My family loves carrots, celery, and red pepper slices.
If you like snacking on sweets mid-day or on the road, try this delicious homemade granola with loads of coconut flavor and sweetness. Make this up at home and pack it for the road!
Get another one of my favorite gluten-free granola recipes.
These energy bites are a crowd pleaser and extremely easy to prep. In a food processor, combine dates, pecans, cashews, cocoa powder, almond butter, and a few other ingredients. With a few spins around the food processor, and rolling the mixture into balls, you have a quick, healthy, and easy snack that tastes more like dessert than a snack!
If you have kiddos on your camping trip, try these peanut butter and banana pinwheels. Spread a layer of peanut butter on a corn or gluten-free tortilla, place a banana in the middle, and roll it up. You can add dried fruit, cinnamon, coconut flakes, or even chocolate chips if you want to add even more flavor!
Read on: Gluten-free Tortillas: Types, Gluten-free Options, and Brands
I hope with all these tips and recipes, that you feel confident to take your gluten and dairy-free diet out to the campsite all season long! Preparation and having ingredients on hand for simple and easy-to-make meals on hand will set you up for success sticking with your diet while on the road.
What's your favorite food to eat when camping? Share in the comments below!
Love this post? You might want to check out these!
Find recipes and inspiration for sticking with your gluten and dairy-free diet throughout the summer months!