Looking for some gluten-free dairy-free recipes for summer? Check out these 25 awesome recipes, including breakfast, lunch, dinner, dessert, and drinks.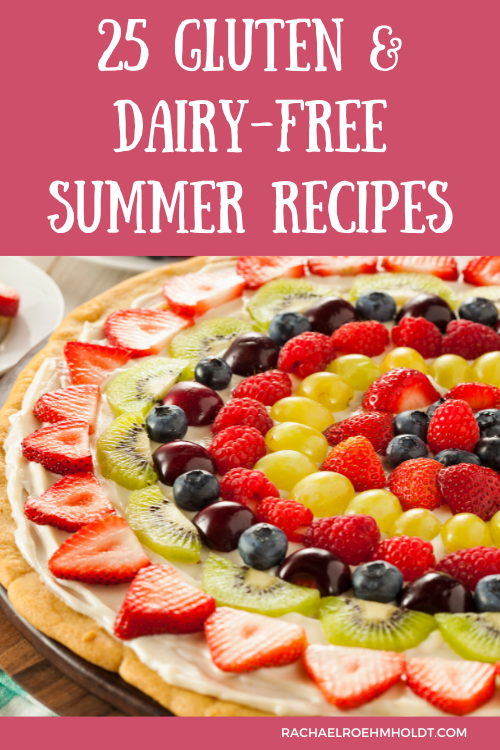 Note: I am a proud Amazon, Chomps, MunkPack, and Thrive Market affiliate and am happy to recommend their service and products to you. Please know that as an affiliate, I may receive a small commission on the products you purchase after clicking through my links. For more info, please see my disclosure policy here.
Living in the Pacific Northwest, summer is always the longed for season here. Everyone lives for the summers and outdoor activities. The second the sun comes out in mid-spring, I try my best to get outdoors.
Summers to me are for more hiking, soaking up the sun at the beach, a few small road trips with my family, seeing how successful I can make my home-grown garden, and I definitely enjoy as much grilling and smoking as I possibly can.
I've always been a fan of eating seasonally, and some of my favorite summer foods revolve around fresh berries, lettuce, spinach and other greens, and refreshing takes on old standards – like chicken and vegetables or spring rolls.
I love summer for iced coffees, smoothie bowls, homemade popsicles, and smoked and grilled burgers (of all kinds), and grilled pizza.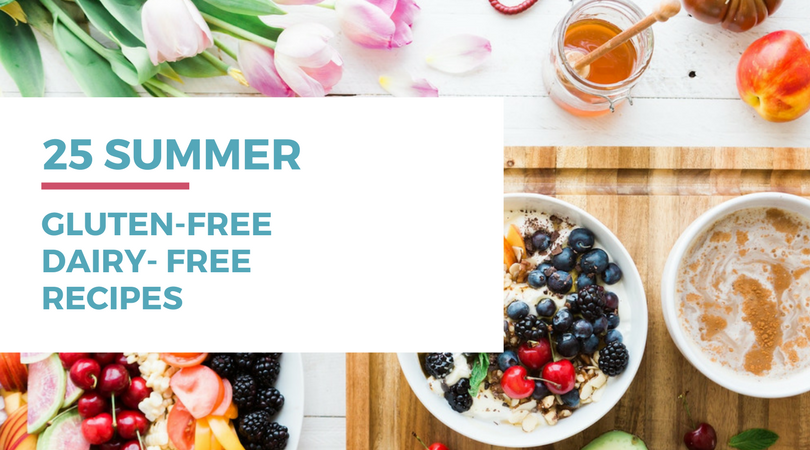 One of my best tips with sticking with a gluten-free dairy-free diet is to try new recipes regularly, so you don't get stuck in a rut with cooking.
So I've rounded up 25 awesome recipes that I want to try this summer – but also to hopefully inspire you to try some of them too.
I've only included gluten-free and dairy-free recipes, so you don't have to do any extra legwork when it comes to making ingredient swaps. Enjoy!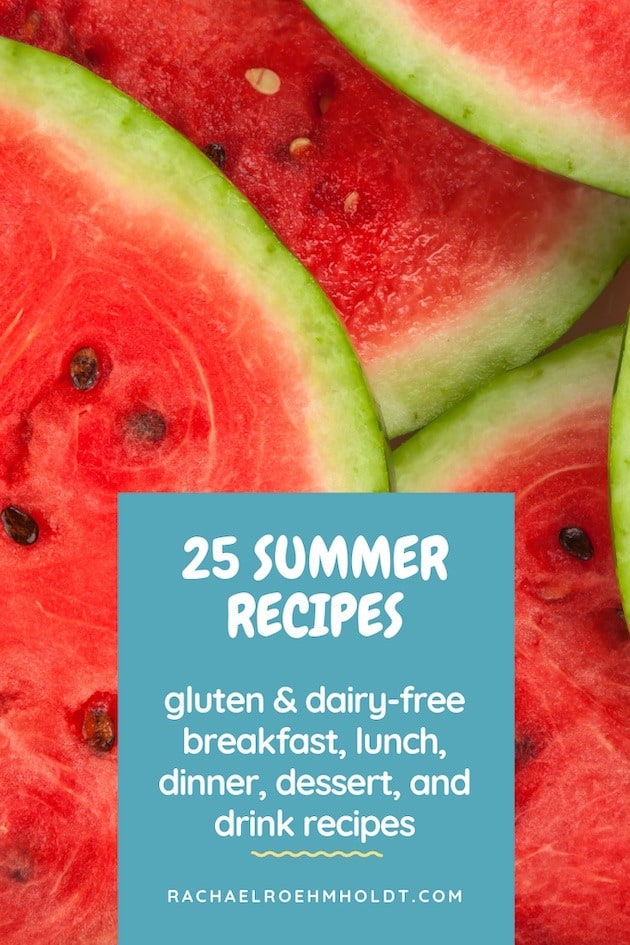 Gluten-free Dairy-free Summer Breakfast Recipes
Enjoy these summer options for breakfast making the most of seasonal berries and fresh fruit. Quick and easy options like smoothie bowls, breakfast tacos, and make-ahead chia pudding are all great ideas this season.
These beautiful raspberry coconut smoothie bowls are a great way to start your day off right in the summertime. They'll cool you down, help you get your fresh fruits in, and are full of flavor. Best of all, they're gluten and dairy-free.
I can't think of anything more delicious than tacos – and tacos for breakfast? Yes please! These look incredible. To make them gluten-free, be sure to use corn tortillas, and for dairy-free, omit the cheese and use vegan butter.
Read on: Gluten-free Tortillas: Types, Gluten-free Options, and Brands
Chia pudding is the perfect summer breakfast food, because you can make it in advance the night before, then add your toppings, and voila! Breakfast is done and ready to eat when you are.
Enjoy these gluten-free, dairy-free, and vegan scones that allow you to make the most of summer's berries. The recipe has chopped strawberries, but you can add any berries you wish – including any from your garden or whatever's in season at the store.
Mix up your normal breakfast routine with these lemon blueberry pancakes. These are gluten and dairy-free, and loaded with fresh blueberries, and lemon zest and juice.
Read On: Gluten-free Pancakes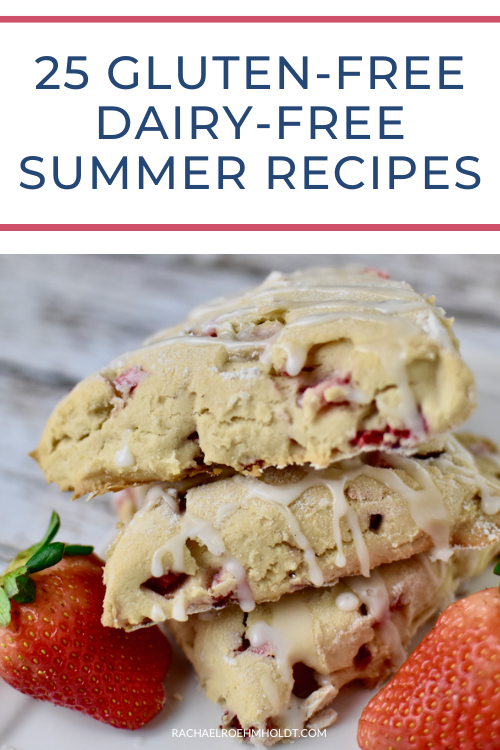 Gluten-free Dairy-free Summer Lunch Recipes
Summer is the perfect season to break out your favorite salad recipes. With loads of greens being in season, fresh produce can really shine in the summer. Try one of these recipes for an easy summer lunch!
This strawberry avocado salad is a perfect lunch option, because it's full of fresh strawberries and pineapple. This salad is salad greens layered with fruit, and topped with a strawberry and lime vinaigrette dressing.
Read on: 75 gluten and dairy-free salad recipes
This delicious salad is full of black beans, corn, cilantro, tomatoes, and a homemade lime cumin dressing. It's gluten-free and dairy-free, but you can easily pump up the protein with a little grilled chicken.
If you're looking for something different for lunch this summer, try this Thai zucchini noodle salad.
It's made from spiralized zucchini noodles, carrots, and cabbage and topped with a homemade peanut sauce. Yum!
Read on: Gluten-free salad dressing brands and types
This summer salad is full of delicious ingredients like fresh cilantro, corn, grape tomatoes, black beans, and avocados. It can be served as a salad or as a dip for tortilla chips or gluten-free crackers.
These quinoa spring rolls are full of fresh ingredients like cabbage, celery, and green onions. They're wrapped in rice paper wraps and are served with a homemade duck sauce. Best of all, they're gluten and dairy-free!
Read on: Are spring rolls gluten-free?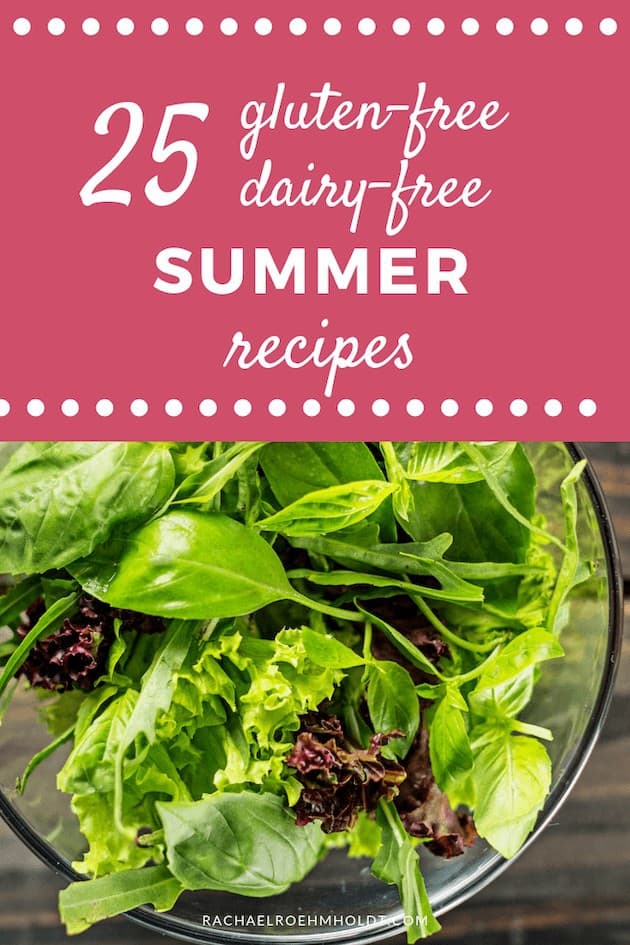 Gluten-free Dairy-free Summer Dinner Recipes
Summer dinners are for grilling outside, loading up your dishes with loads of flavorful sauces, and eating in the nice weather. Try one of these burger, grilled chicken or steak options this summer to make the most of outdoor cooking.
Ground turkey has a reputation for not having a lot of flavor, but these ginger miso turkey burgers are full of it! With white miso paste, fresh cilantro, ginger, and garlic, these burgers are gluten-free, dairy-free, and perfect for grilling.
Read on: Is miso soup gluten-free?
If you're looking for some delicious grilling recipes, this pineapple chicken recipe is not to miss! It's full of flavor from a homemade chicken rub, pineapple glaze and even seasoned pineapple before putting them on the grill. Best of all, no gluten or dairy in this recipe!
I love quick fix dinners in the summer time that require minimal effort on my part. This recipe is a one-pan dish with chicken, asparagus, carrots, and grape tomatoes and takes only 20 minutes.
Want a dinner that feels fancy but isn't super complicated? Try these balsamic-glazed steak rolls.
Red and green bell peppers, zucchini, and yellow onion are rolled up inside thinly sliced sirloin or flank steak, then brushed with a homemade rosemary balsamic glaze. Be sure to use a gluten-free beef stock to ensure it's completely gluten-free.
These salmon burgers are something a little different to add to your weeknight menu plan. Enjoy them with lemon juice, a homemade avocado garlic sauce, and wrapped in lettuce wraps.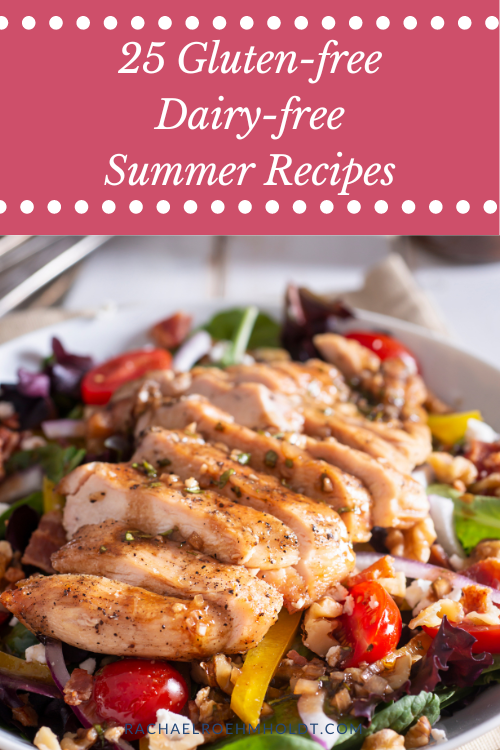 Gluten-free Dairy-free Summer Dessert Recipes
Summer requires cool treats in a flash. You'll love these recipes for instant dairy-free frozen yogurt, a cake that works for weeknights or entertaining, s'mores bars, and a pretty and flavorful rainbow fruit pizza.
Make a quick and easy dessert in just seconds and in any flavor you love! You'll love this recipe that combines dairy-free yogurt with frozen fruit. All you need is a blender and you'll have a happy family with DIY froyo in no time!
Read on: The ultimate list of dairy-free ice cream brands & flavors
Read on: Dairy-free ice cream bars
This almond flour cake is full of flavor from lemon zest in the batter, a homemade lemon honey glaze, and an optional coconut cream and fresh berry topping. This would be a great dessert for having company over or as a birthday cake alternative.
This rainbow fruit pizza is a show stopper. Enjoy a delicious crust made from gluten-free flour, shortening, sugar, and dairy-free milk and a homemade frosting with lemon zest. Top this with your favorite fresh fruits and decorate as intricate or as simple as you like.
S'mores are a quintessential summertime treat, and these s'mores bars are a really fun take on these classic treats. Enjoy a homemade graham cracker crust, dairy-free chocolate, and a sticky marshmallow layer for a gluten and dairy-free treat that's perfect for sharing.
Get my gluten-free graham cracker crust to use with this recipe.
Read on: Do marshmallows have dairy?
If you're growing zucchini in your garden or know someone else with a surplus, you've got to try this recipe! This was my grandma's recipe that I made gluten and dairy-free swaps to and it is oh-so-good. Everyone who's tried it adores it!
Use up that extra zucchini in your garden or help out your friend who's got a bumper crop and make this delicious, moist chocolate cake recipe.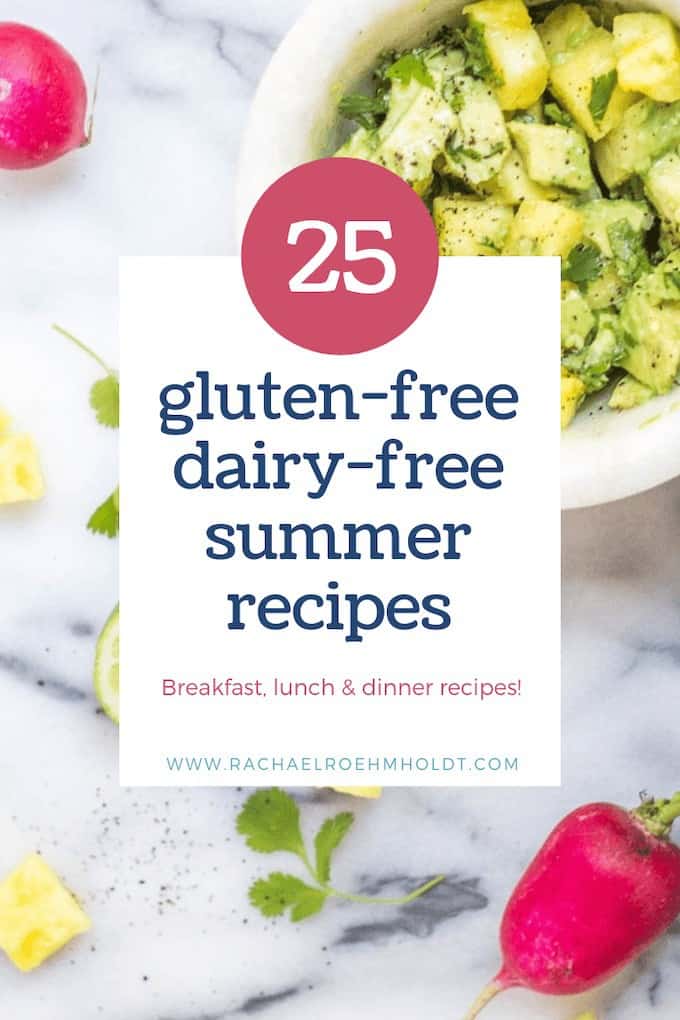 Gluten-free Dairy-free Summer Drink Recipes
What's summer without some signature drinks? Stay hydrated with one of these tasty summer-inspired recipes that also happen to be gluten an dairy-free!
21. Electrolyte Spritzer
I don't know about you, but in the summer, I'm always looking for new fun things to try that I wouldn't at any other time of year.
Last summer, my son and I were making our own sodas with raspberry syrup we made from our garden raspberries when we ran out of syrup.
He had the idea to mix our favorite electrolyte powder with seltzer water and it has fast become one of our favorite ways to hydrate on warm days!
Simply mix one scoop of your favorite flavor of Ultima – we love all of them, but in the summer lemonade and watermelon are our favorites – in a little bit of water in the bottom of a mason jar until dissolved. Then top up with seltzer water to 16 oz. It's like super-fruity-electrolyte-soda!
Nothing beats a homemade agua fresca! Enjoy this one made from watermelon, strawberries, and lime juice. It's a perfect drink to cool you down and keep you hydrated on a warm day.
Do you give up warm drinks in the summer? If so, try this iced dirty chai made with chai tea bags, cold brewed coffee, and coconut or almond milk. I cannot wait to give this recipe a try!
You don't have to spend a lot of money to have someone make you an iced dairy-free latte! Make your own iced vanilla bean latte at home with strong coffee, coconut milk, maple syrup, vanilla beans, cinnamon, and pour it all over ice. What a delicious treat to cool you off and caffeinate you at the same time!
In the summer, we have loads of raspberries growing in our yard. It's one of the things that sold me on the property we bought 5 years ago.
This sparkling raspberry lemonade is a perfect way to use up those raspberries, and have a delicious drink in hand too! Combine fresh raspberries, fresh lemon juice, cold water, sugar, honey, and sparkling water. This would be great for cookouts and barbecues too!
I know your summers can get busy with so many activities, so I wanted to mention that menu planning is a great way to stay organized and take one thing off your to-do list later.
When you spend less time planning, you have more time for playing and soaking up the sun. If that sounds like something you'd like some help with, be sure to check out my GFDF Weekly service.
With a weekly menu plan delivered every week with five recipes and a shopping list, you can print and go to the store. One less task off your to-do list!
Click here for gluten and dairy-free menu plans or the image below for more information!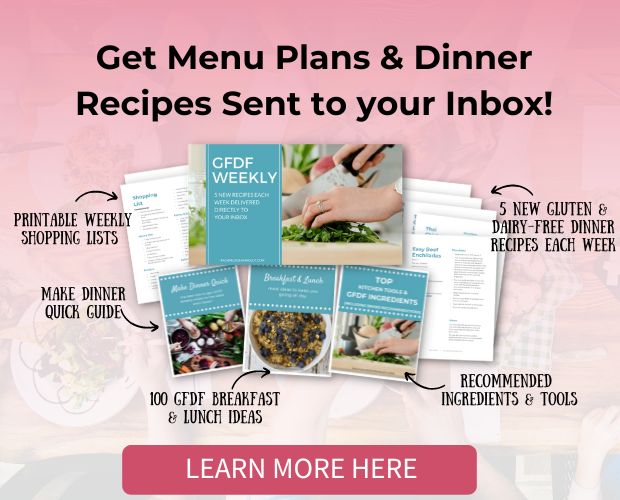 I hope this list has given you some recipe inspiration to make the most of this summer's fresh ingredients and to help you stick with your gluten-free dairy-free diet by enjoying some of these tasty recipes.
If you loved this post, be sure to check out my comprehensive gluten-free dairy-free shopping list below for free. Enter your details for instant access plus get 5 free recipes.
Love this post? You might want to check out these!
Find recipes and inspiration for sticking with your gluten and dairy-free diet throughout the summer months!